This time last year I was on the Spanish island of Mallorca, a place that completely surpassed my expectations. And a few weeks ago I found myself on another Spanish island that I had sorely misjudged: Gran Canaria. I'm embarrassed to admit that I had no idea there were so many unique things to do in Gran Canaria, I thought it was just a place with beautiful beach resorts.
I guess I know so many Norwegians who go to Gran Canaria and Mallorca to spend a week without leaving their resort, which of course is totally fine – I enjoy a resort holiday now and again as well – but I always took that to mean that there weren't many things to do in Gran Canaria and Mallorca away from the resorts.
You'd think after realizing how wrong I was about Mallorca that I should have known the same was probably true of Gran Canaria. And it was – Gran Canaria has so much more to offer than a brochure full of beautiful resorts.
And I think Gran Canaria ended up surprising me even more than Mallorca had, because the lovely week I spent there ended up having very little to do with beaches at all. There are so many stunning places to visit in Gran Canaria away from the beaches as well.
I only had ten days on Gran Canaria, but I was lucky to be here with a local friend who grew up in Gran Canaria and shared many ideas for what to do in Gran Canaria to have a magical week away.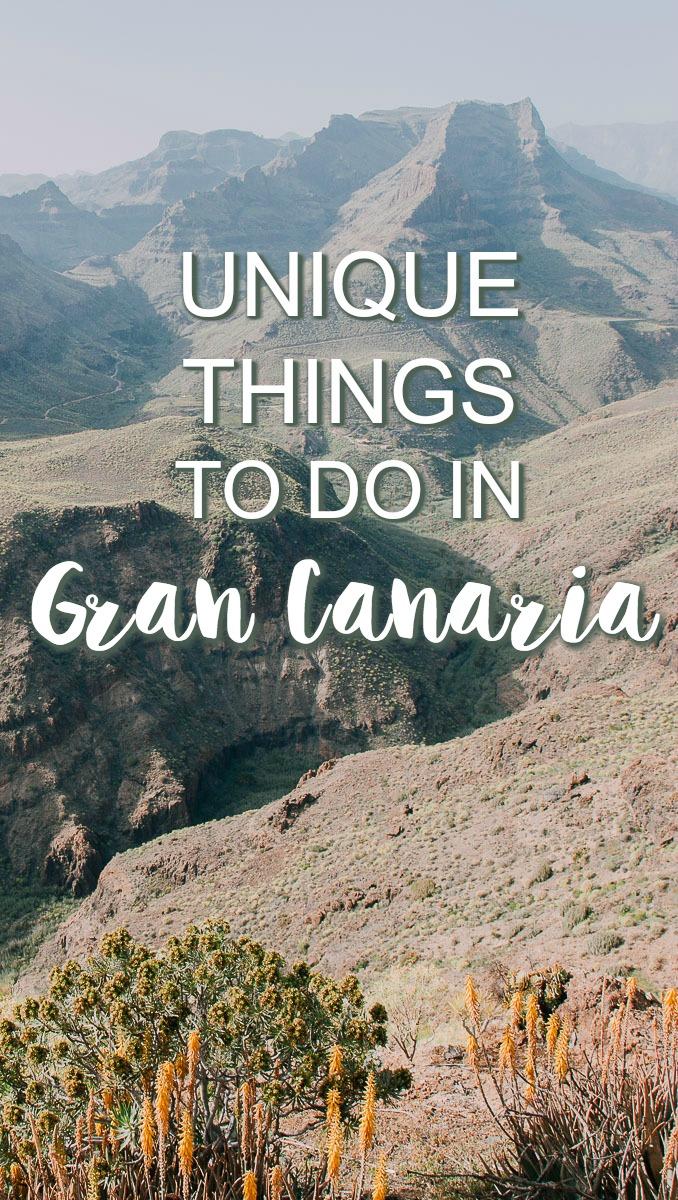 Things to Do in Gran Canaria
Stay in a cave
I was actually in Gran Canaria for a wedding. My friends Kathryn and Rene – whom you might remember as my first visitors after I moved to Norway – were getting married, and as Rene comes from Gran Canaria all the wedding guests were given an excuse for an island holiday! At least I think most of us ended up extending our stays for a mini vacation.
For my first four nights on the island I ended up sharing accommodation with some other wedding guests that they had chosen simply because it was within walking distance to the wedding venue. But it ended up being one of the loveliest and most unique places I've stayed at.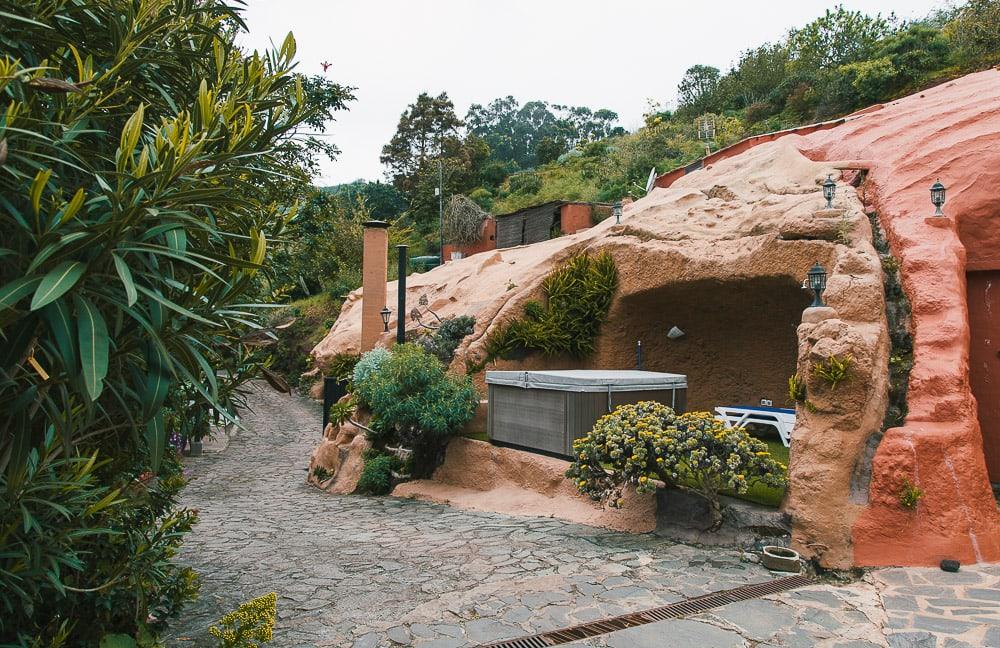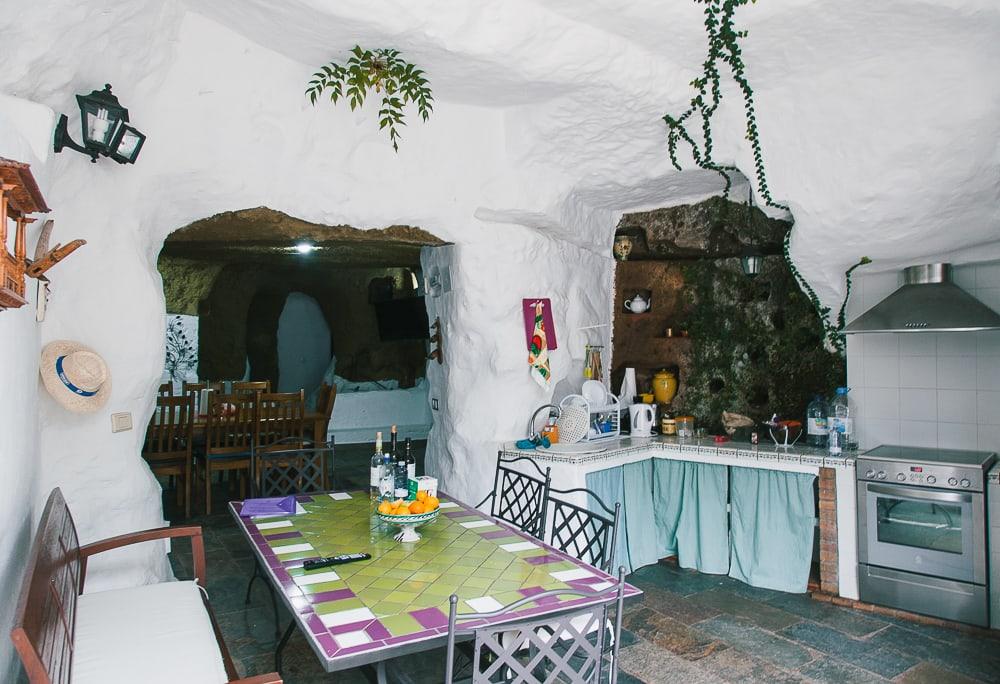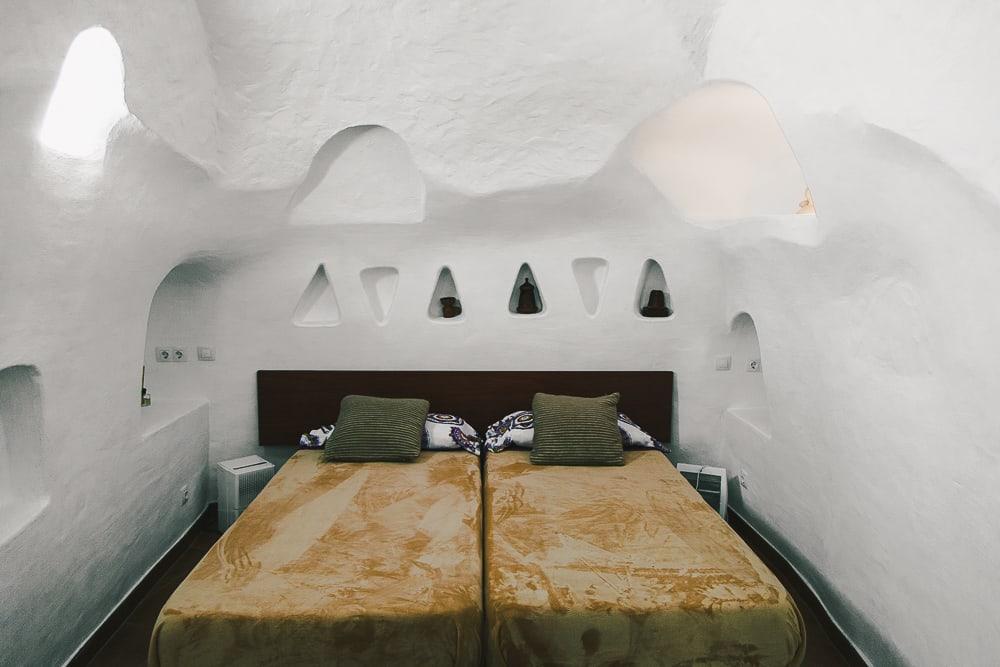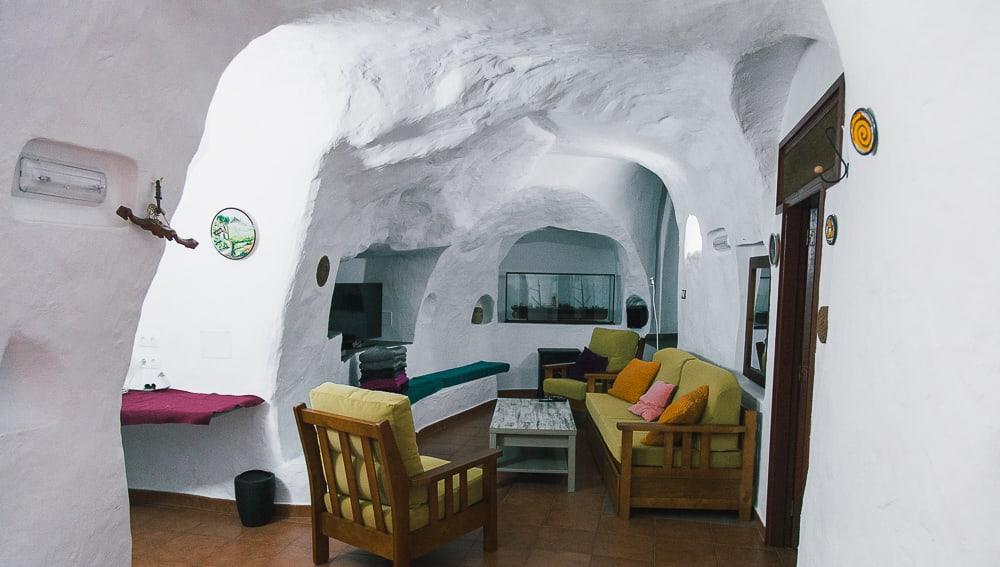 Yup, the accommodation is in a cave!
The Cuevas De Barreto have clearly been designed with a great deal of love and attention to detail. And the owner has filled the surrounding gardens with flora native to the area. I'd say there were several thousand dollars' worth of avocados in that garden – at least if you could get them to Norway, where they go for five dollars a piece. It was so fun picking avocados and lemons straight from the garden for our evening barbecues.
And as April is a bit chilly on Gran Canaria, I love that the property had a hot tub instead of a pool. The only problem I found was that the complex is so enormous, including five bedrooms and four bathrooms, that it felt a bit wasted on just four people. It would be ideal if you're coming with a big family or group of friends and want a quiet place to stay in the mountains.
You can check the listing for the caves here.
Drive through the mountains
I say this about most places I visit, so of course I'm going to say it here as well: Gran Canaria is the perfect place for a road trip!
I knew the center of the island was mountainous, but I was still surprised to see quite how mountainous the center of Gran Canaria is. Like forget Norway, come here if you want some stunning mountain views (and maybe bring some motion sickness tablets with you, because those hairpin turns are brutal.)
On my first mountain drive I drove from Firgas to Agaete, and then along the GC-200 through Tamadaba Natural Park, which had beautiful coastal and mountain views.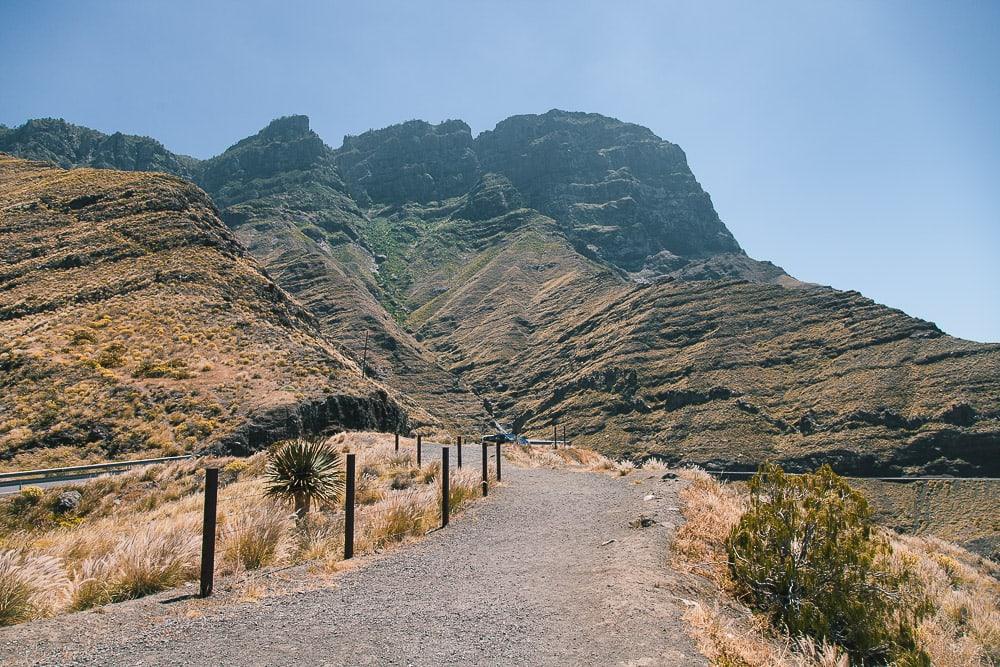 And then from La Aldea de San Nicolás I took the GC-210 up through the center of the island, which offered what I thought were some of the best views on Gran Canaria.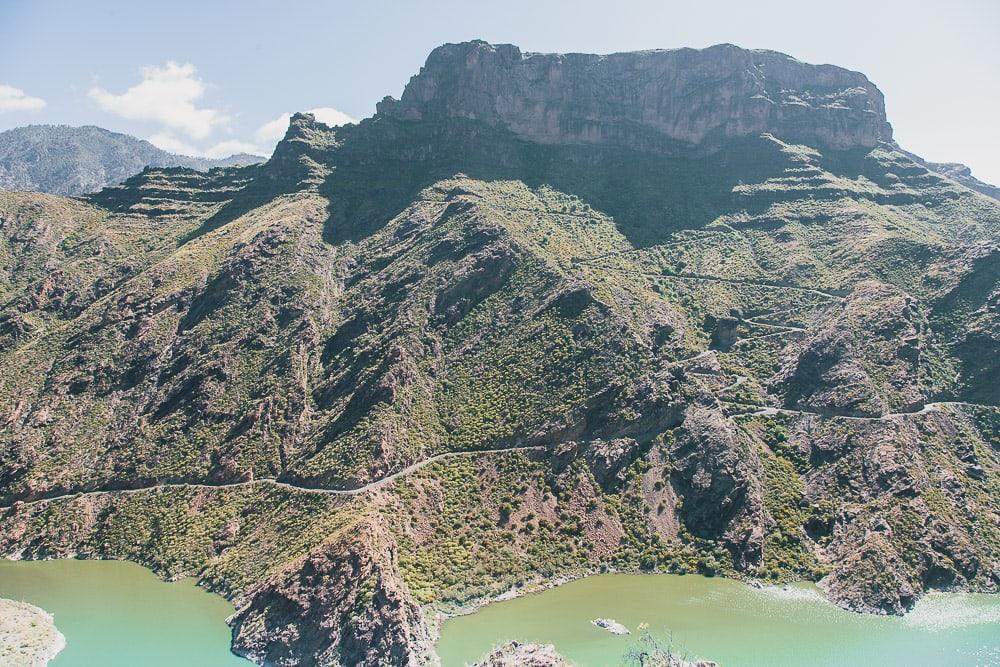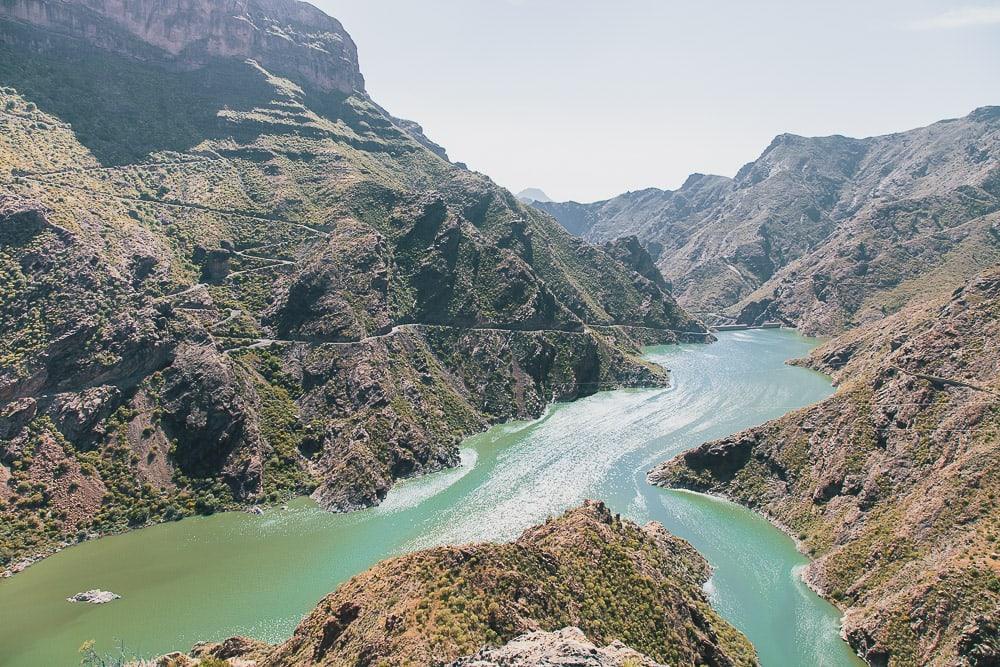 Did dinosaurs used to live here? Something about the landscape had me half expecting to round a corner and see dinosaurs hunting for food.
I actually just looked it up and apparently When Dinosaurs Ruled the Earth was filmed on Gran Canaria – so maybe that's why?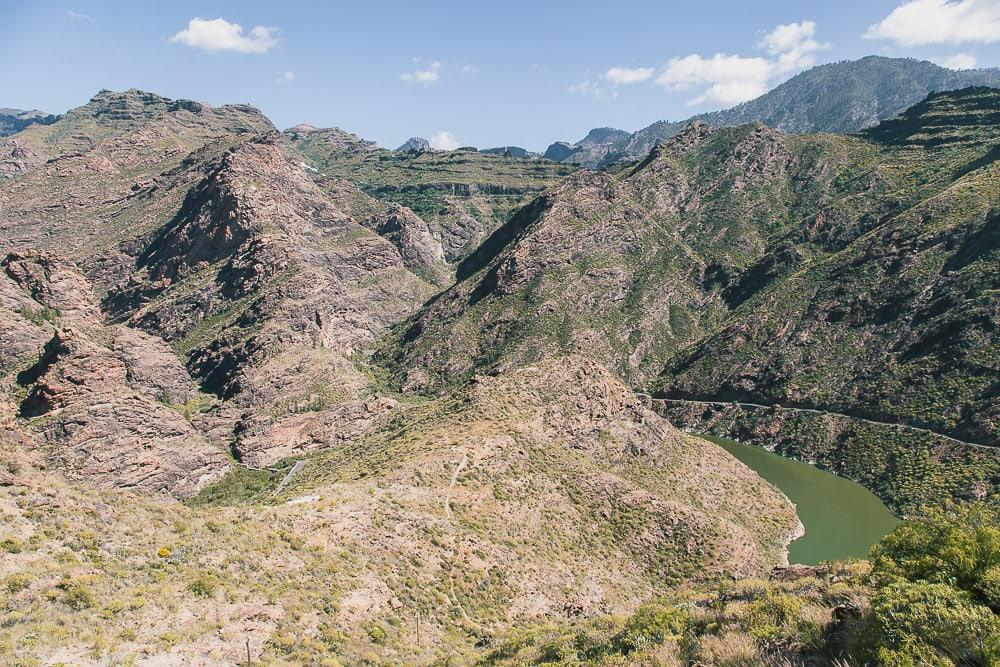 Another beautiful drive took me from the (not so beautiful) resort town of Maspalomas through the mountains to Fataga and on towards Teror.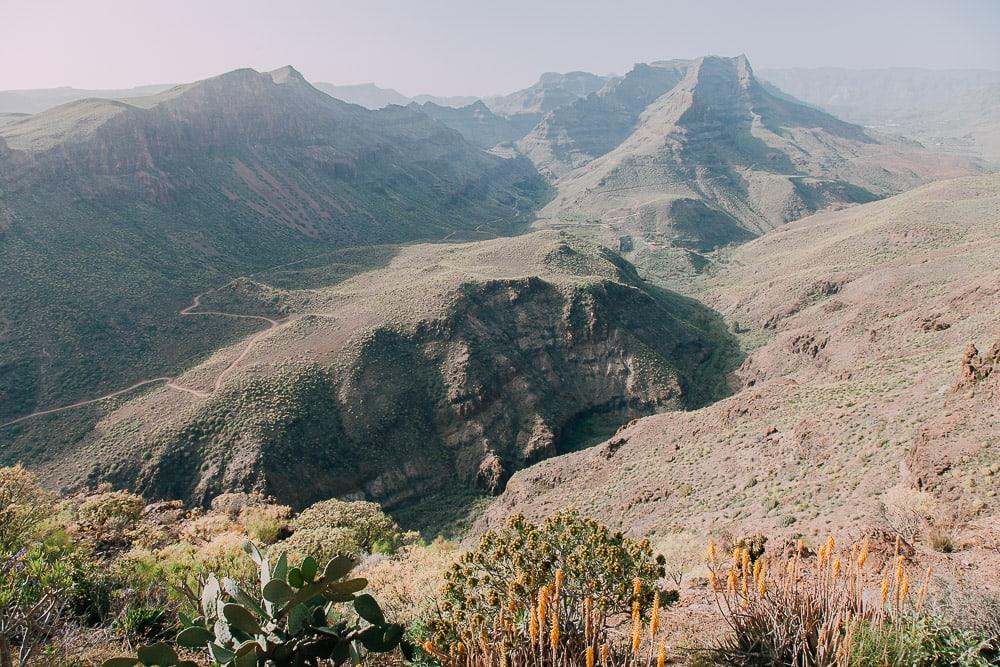 This road also took me over Pico de las Nieves, the highest peak of the island at 1,949 metres above sea level.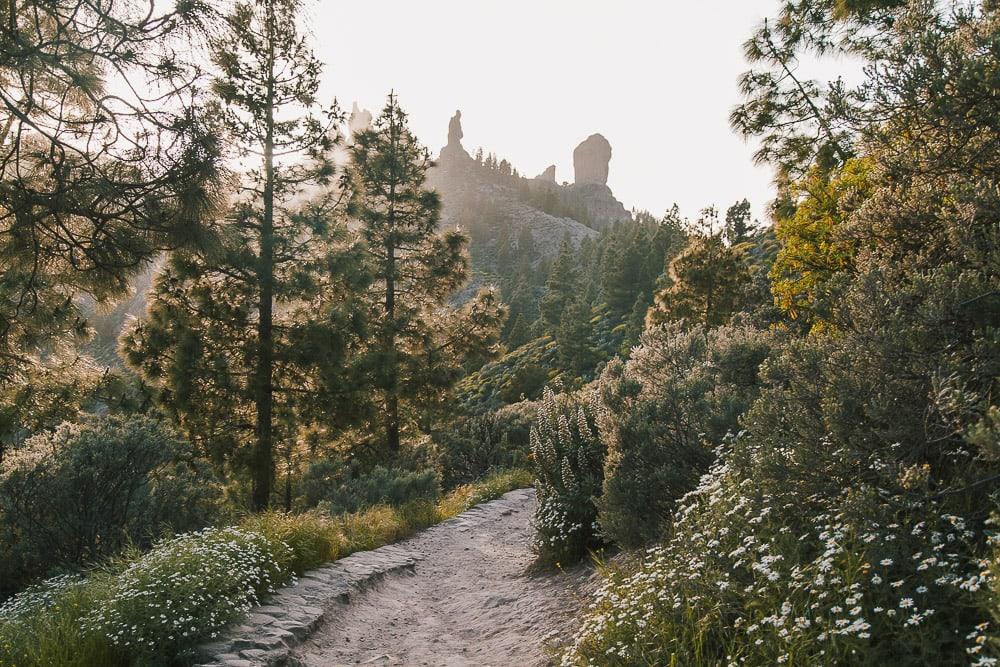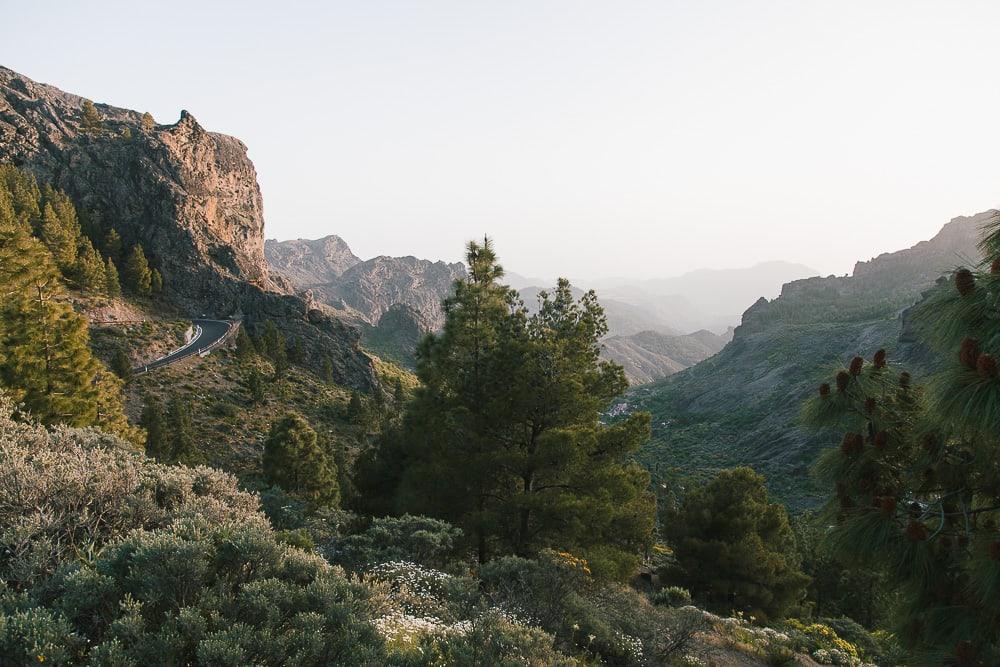 Adventure activities in Gran Canaria
While I love a chill road trip, Gran Canaria also happens to have all sorts of fun adventure activities on offer as well. And who doesn't like a little shot of adrenaline on their island vacation?
Stop in Fataga for a coffee
If you're driving that way, stop in Fataga, a picturesque village that's become a popular day trip on Gran Canaria. Fataga can trace its origins back more than 2000 years and now has about 400 inhabitants. It's really small so I wouldn't spend more than a couple of hours here, but the white buildings and pretty alleyways almost had me thinking that I was on Santorini.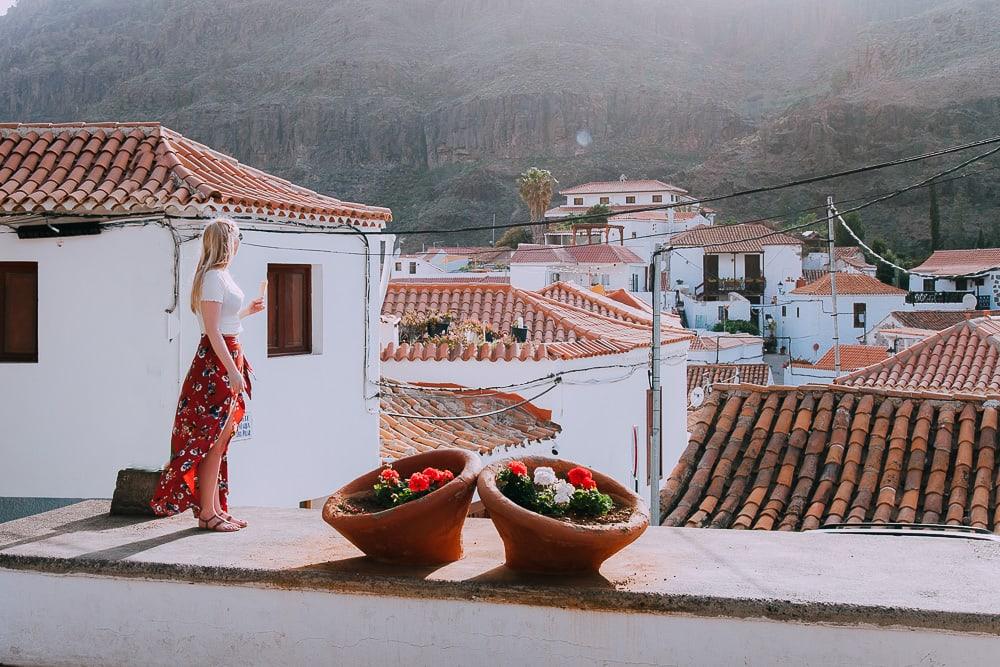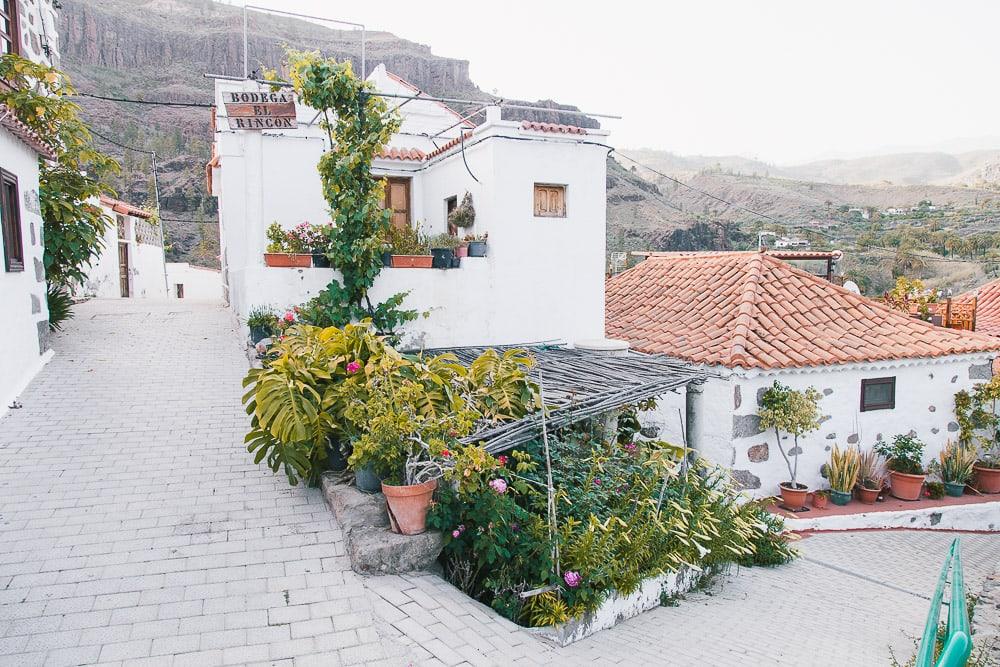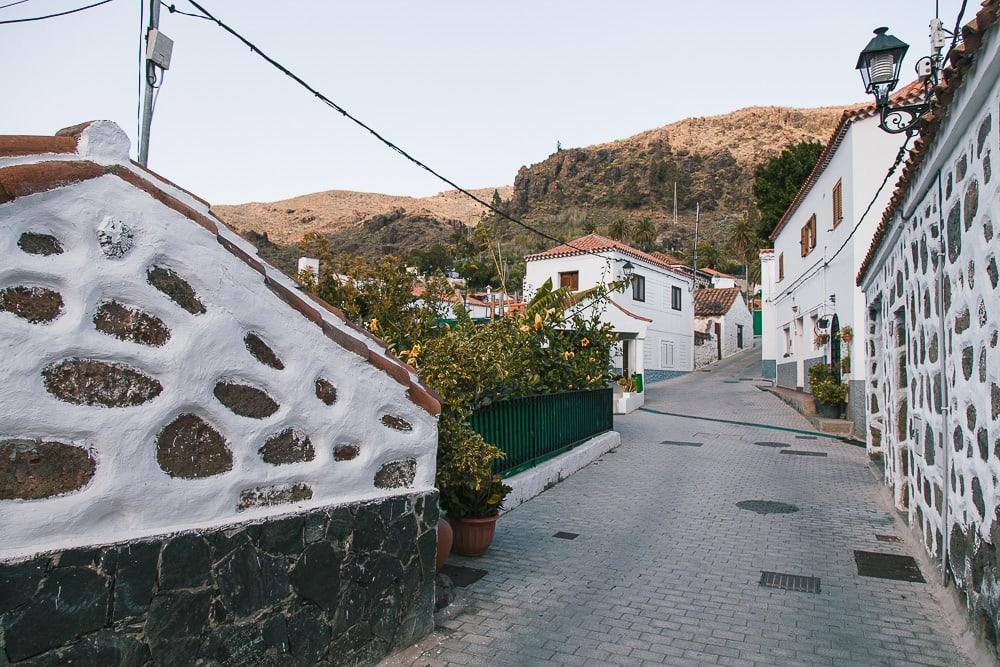 Stop in Firgas for a coffee
Another lovely old town worth a visit is Firgas, with pretty views both in the town center and out over the water. The Cuevas de Barreto are near here, so if you stay there you can buy your bread and milk in Firgas.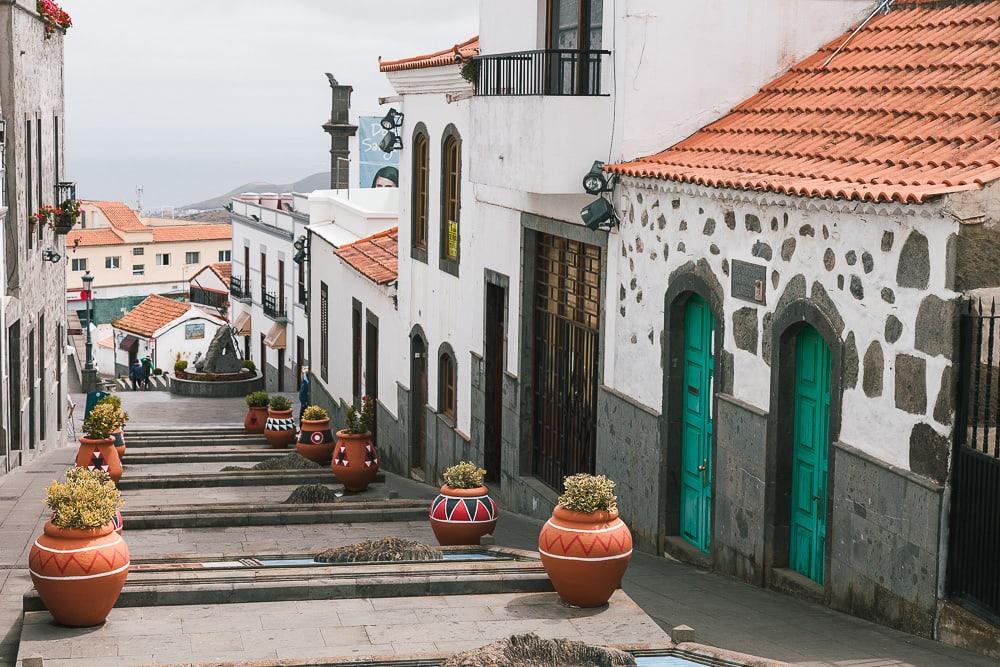 Stop in every other nice town for a coffee
And by coffee I don't really mean coffee, because gross, but instead I usually had an ice cream, Fanta lemon, or anything else that could make an excuse to sit at a little Spanish cafe and people watch.
Go to the (city!) beach
I always used to think of Gran Canaria as a beach resort destination, so I was surprised that my favorite beach I went to on the island was the one in the Las Palmas city center. Though I guess I'm not the only one who loves the 3km-long Playa de las Canteras, as many list it as one of the top urban beaches in the world.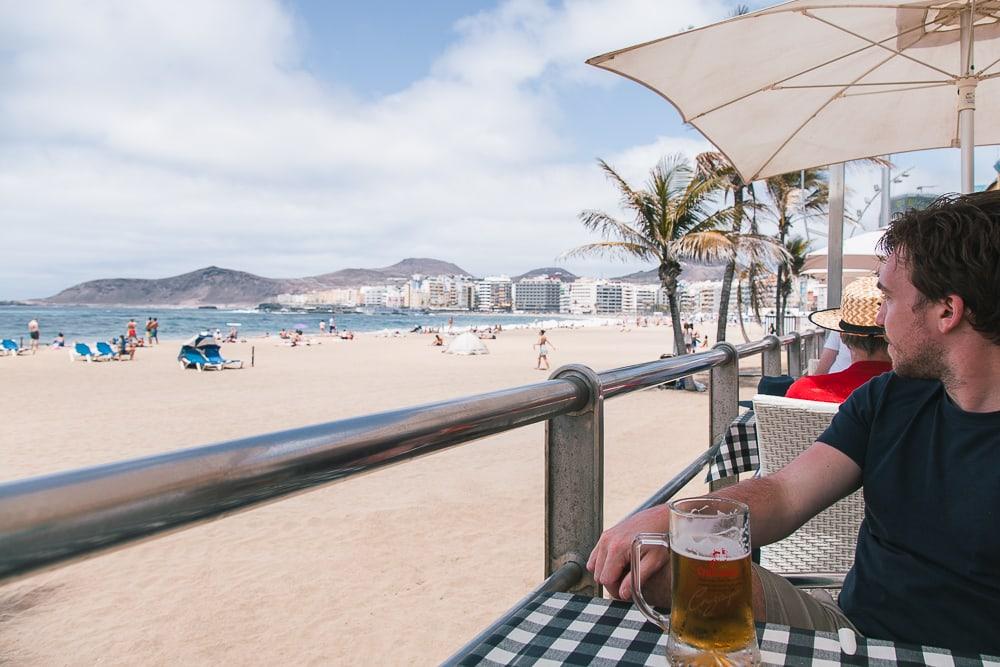 I did also visit some other beaches along the south coast of the island, which has warmer, dryer weather.
Explore the Las Palmas Old Town
Vegueta, the Las Palmas Old Town area, is quite small and easily walkable, so take an afternoon to explore on foot!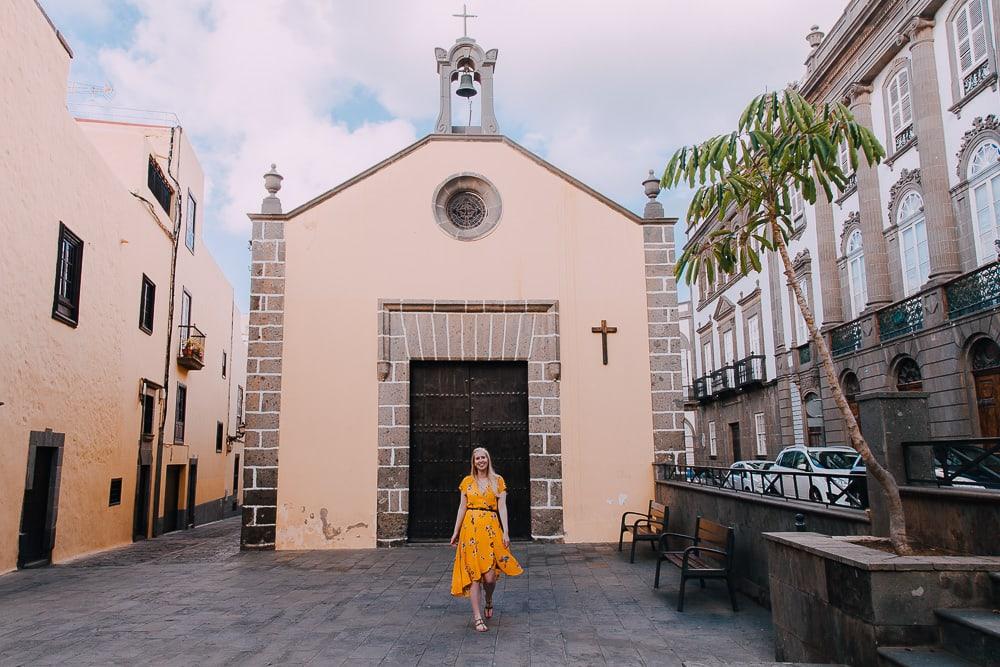 Spend a few nights in Teror
I spent my last three nights in Teror, probably one of the most beautiful towns on Gran Canaria. The great thing about staying in Teror is that while during the day the streets are filled with tourists visiting on day trips, in the evenings the town is totally quiet.
I really loved Teror, and next time I'm on Gran Canaria I think I'll definitely stay here again.
I also happened to stay at the loveliest apartment in Teror, at the Casa Rural Doña Margarita. It was one of those places that totally surprised me, as the photos online really hadn't done it justice. If you're going to spend a few days on Gran Canaria and don't need to be near a beach or swimming pool, definitely, definitely stay here. Check the current rates and availability here
I also had the best meal of my time on Gran Canaria in Teror, at Como Como 15. Seriously it was so good – definitely try to find a way to have a meal here when you're on the island.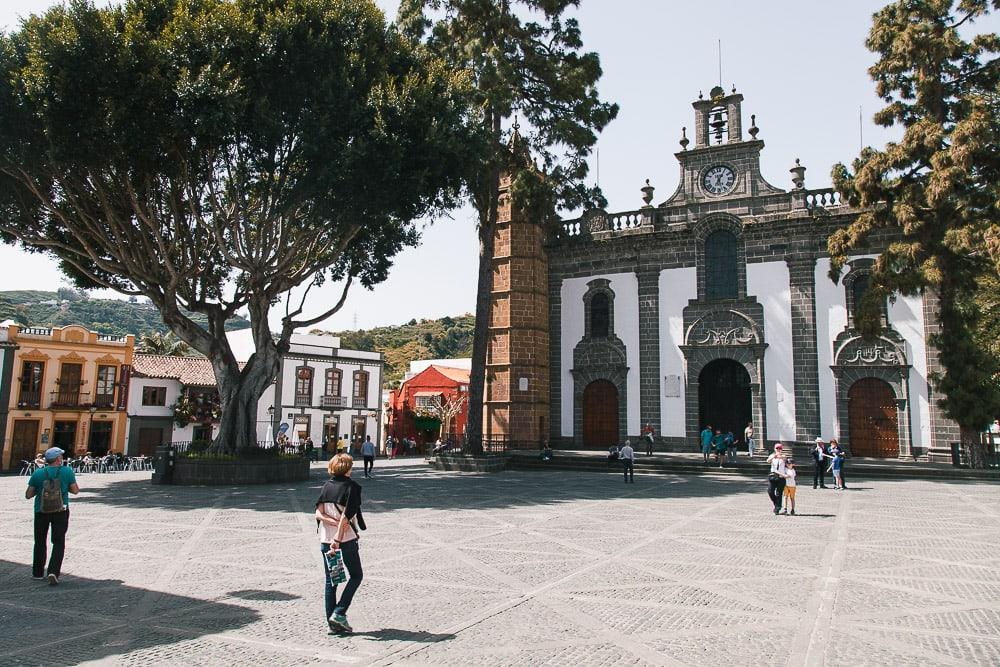 Eat dinner at a local bar
I also spent a lot of time at the local bar in Teror, Bar Nuevo Iris. It was a great place to catch a glimpse of local life in Teror, the bartender was very friendly, and the tapas were delicious.
I imagine you could find a bar like this in most towns on the island, so maybe skip the restaurant one night and have dinner in one of these local gems instead.
Enjoy a beach holiday in San Agustin
As I said, none of the beach resort towns in the south of Gran Canaria appealed much to me. But if I were to return for a beach holiday on the island, I think I would stay in San Agustin.
The vibe here seemed a bit more laidback than the other resort towns I visited, and as it's at the start of the stretch of resort towns along the south coast you'll only be 40 minutes from Las Palmas.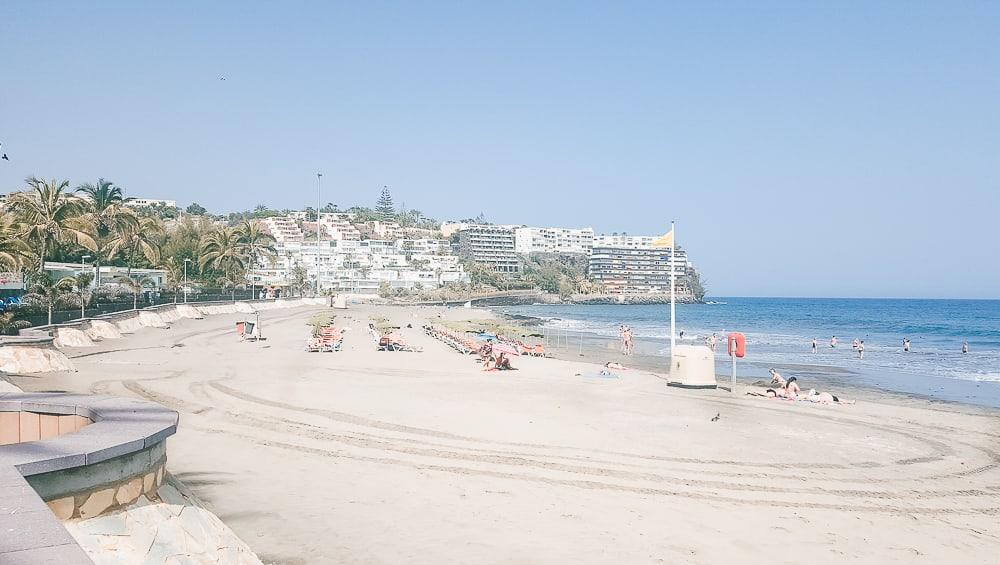 And if you've been to Gran Canaria and have any tips to add, please share in the comments!