Ask and you shall receive! Like three months later, sorry about that.
When I first moved to Trondheim a bunch of people asked to see apartment photos and I promised they would come, though I guess I secretly assumed that no one really wanted to see my home and everyone would eventually forget about it. But apparently some of you didn't forget, so this post is for you! As for everyone else, uh, this is probably super boring, check back on Monday for something a bit more exciting (like the fact that it's SNOWING outside right now!!).
It felt like Dan and I looked at apartments for ages, but actually we only spent three days apartment hunting. As soon as we got to Trondheim (where we were staying with a Couchsurfing host for our first 10 days) we found listings on Finn.no of places to look at. We didn't know anything about Trondheim's neighborhoods, so it was an interesting way to get to know the city – as in, we saw a lot of the suburbs.
The cheapest option was to live in a basement or attic apartment in someone's house, which usually seemed to cost between 7,000 NOK ($800) and 8,000 NOK ($1000), including electricity and internet. Some of the apartments were quite nice, but I couldn't ever seem to stop comparing them to the first apartment we saw in Trondheim, which we had quickly dismissed as too small and too expensive.
At 25 m² for $1,200/mo excluding electricity and internet (nope, no internet here!) it was less practical, but it had huge windows, a beautiful bathroom, and was right in the center of Møllenberg, Trondheim's prettiest neighborhood. I mean, how could we not take it?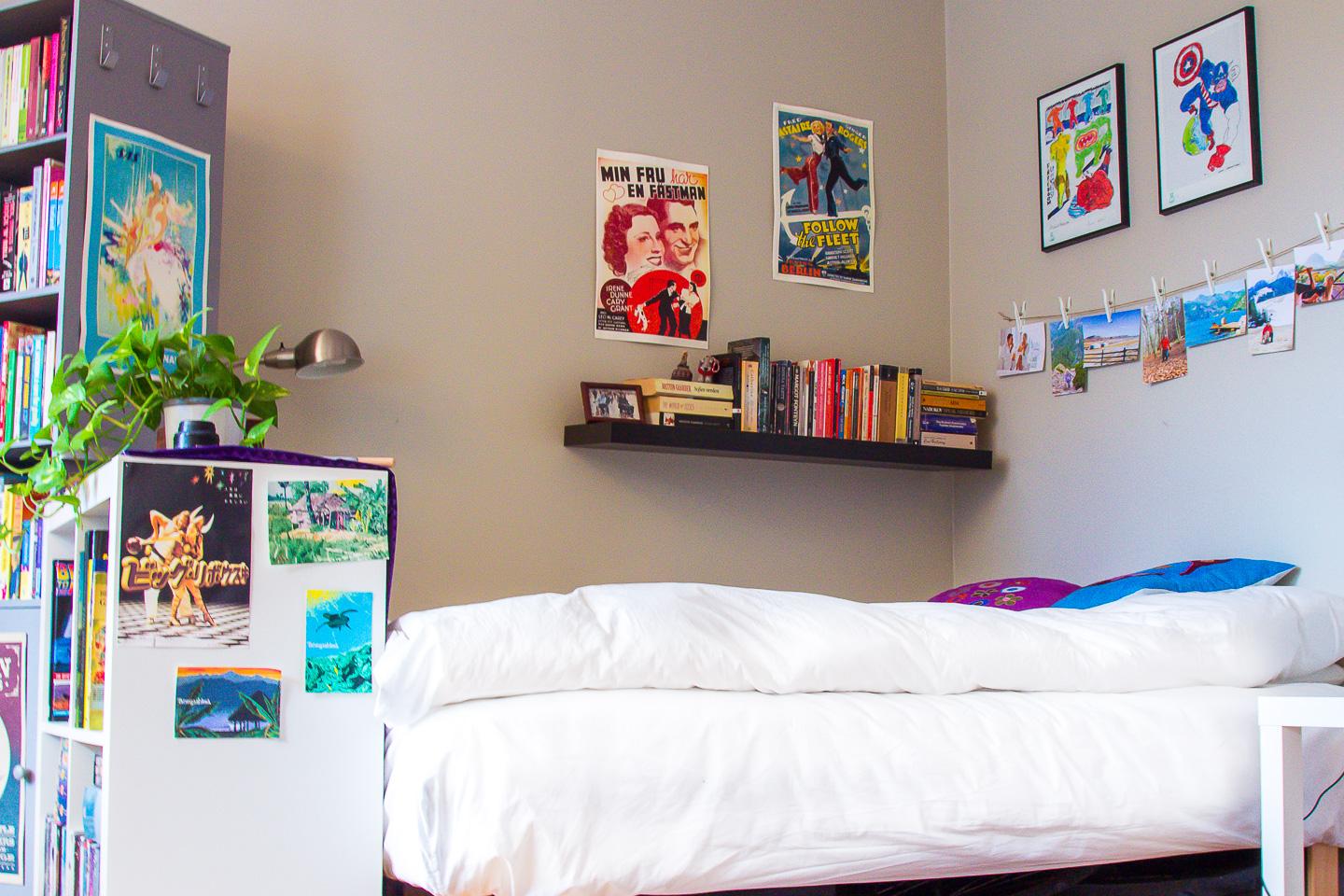 Dan had brought a lot of his things from England and I had a few posters from my house in Japan, but we didn't have any furniture. Now, furnishing an apartment, even if it is teeny tiny, in one of the world's most expensive countries seemed a daunting task, but our Couchsurfing host explained that "the only thing you need to pay for in Norway is food."
What? Okay, it might have been a bit of an exaggeration, but I guess when people are so well off they don't need to sell their stuff, they can just give it away. At least that's what a second look at Finn.no suggested. We found a dining table, couch, and lamp for free, and another lamp, a tv, and a coffee table for like, $50. The rest of our furniture came from the previous tenant who was moving to China and didn't need it anymore.
Wondering where our curtains are? Well, curtains don't actually seem to be a thing here. A lot of people do have them (and we should probably get some), but it's considered really strange to ever close them. Which means that everyone can see into our place, which I'm only okay with because it means that I can also see into everyone else's homes, and I do love spying on people!
And then there's Dan's favorite thing in the apartment (made from his old pillowcase – dorky much?):
No longer carrying my life around in a backpack makes me wish that I had at least sometimes bought some souvenirs on my travels – it would be so cool to have bits and pieces from them scattered around my home. But I do have two rugs I bought while studying in Nepal, and a purple longyi that Dan's Burmese students gave me in Yangon.
An old SAS poster that I, weirdly, found in Japan,
and two pillow cases that I bought in Laos. That's it!
Not pictured: our bathroom (I thought that might be weird to include), which is nearly the size of the rest of our apartment. Sort of a waste of space, except it's so nice having a beautiful, spacious bathroom! I think it's my favorite room in the place, mostly because the floor is heated. Dan may have once even found me napping on those cozy tiles…
While at times it's a pain to live in such a tiny space (like when everything we own starts to smell like curry), for the most part I really love it. We've split it up into different spaces so when I'm on the bed hidden behind a plant and Dan is at the dining table it sort of feels like we're in different rooms (almost), and I think I will always prefer to have as few things as possible. Ugh, stuff, who needs it? Well, besides books. And plants. And artwork. And beautiful furniture. And, if Dan has his way, a cat.
Okay, maybe someday I'll want to live in a bigger place.