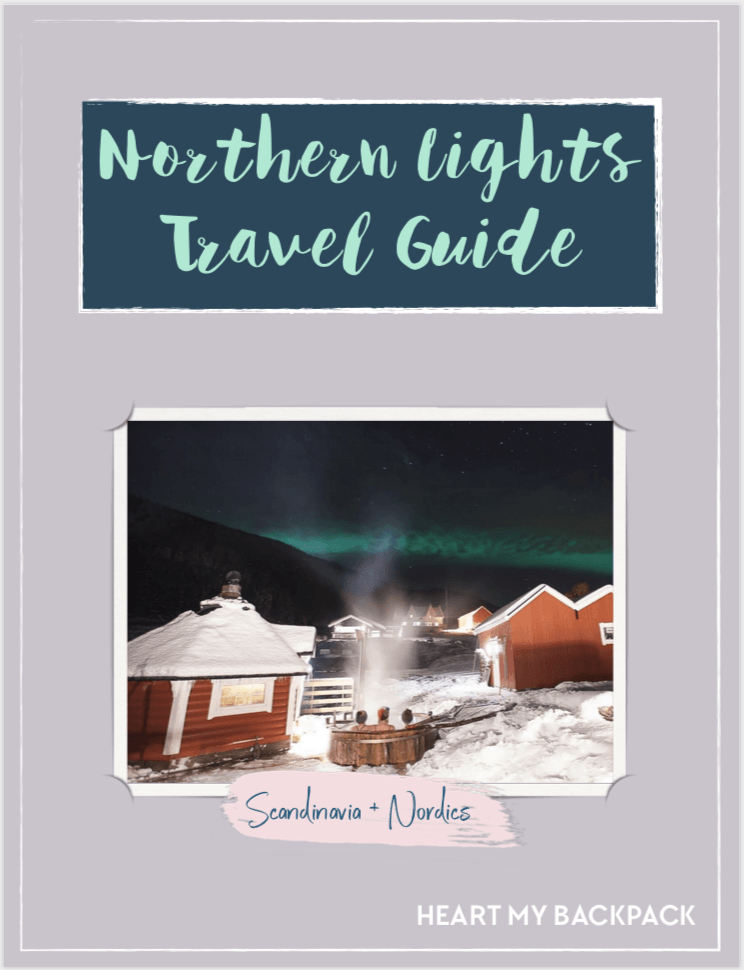 Not going to lie, I just sat down to begin this blog post and tears started streaming down my face. Is there are full moon on or something? Maybe some planet in retrograde?
Actually, the truth is the northern lights have always made me super emotional, and even though I've now seen them many times, they still make me emotional. Like I've never once looked up at the aurora without feeling that there has to be some greater meaning in the universe. It's just – ugh, here come the tears again.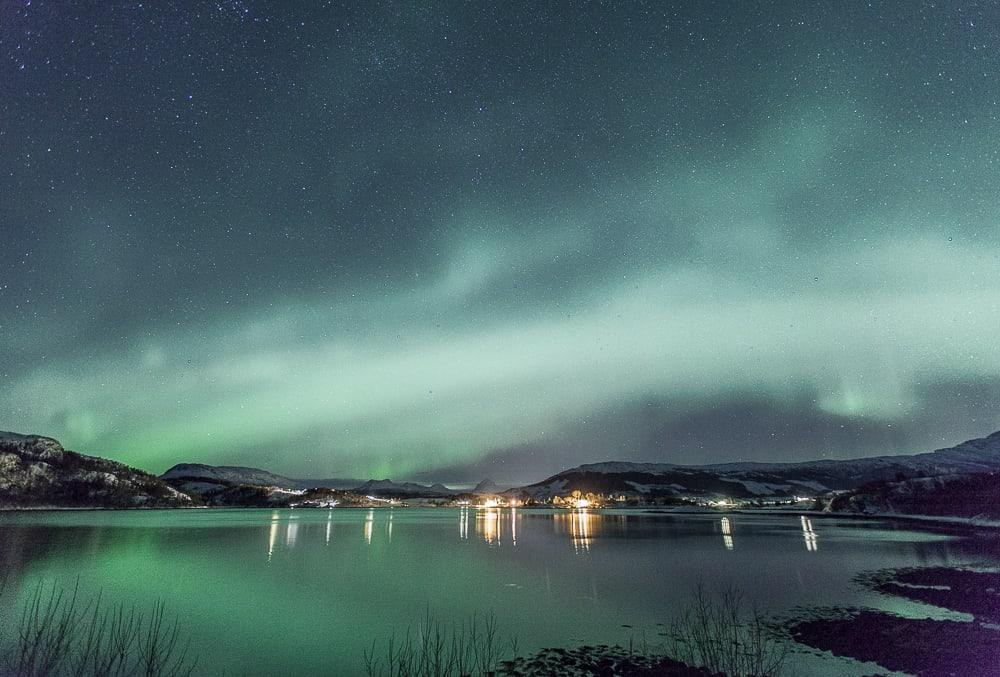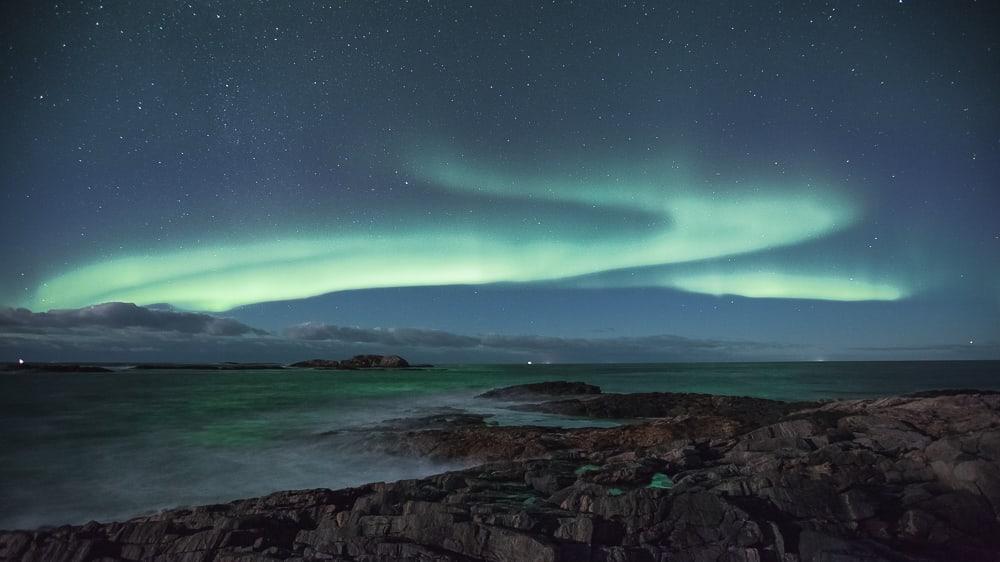 I should maybe also mention that I'm writing this on an airplane. And you know what they say about airplanes and crying – and by "they" I mean that famous article in The Atlantic.
I was thinking about the first time I saw the northern lights after moving to Norway.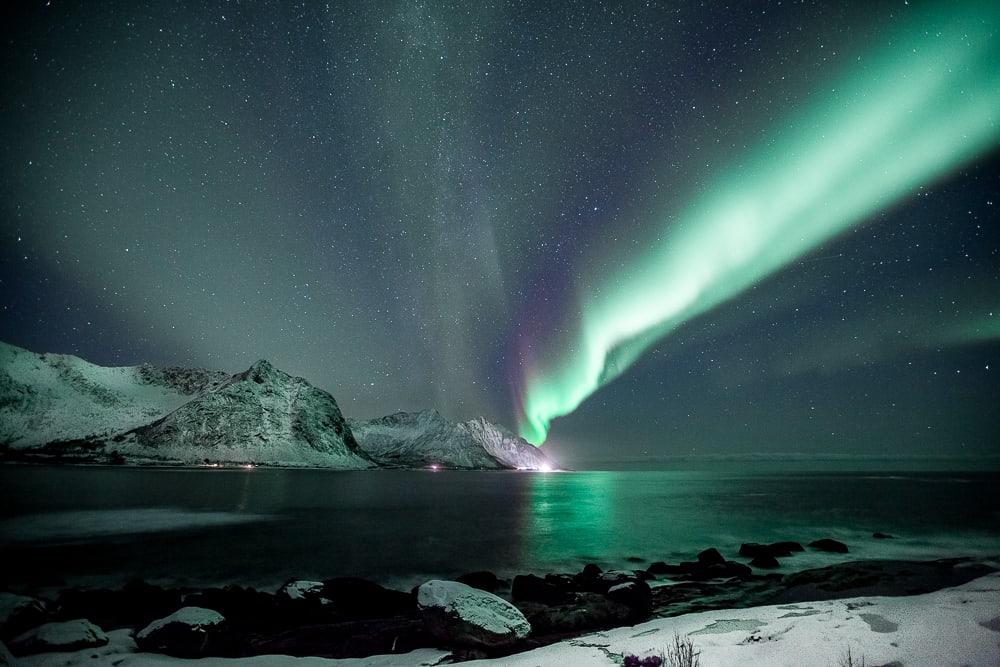 Dan had just come home from his first day of work at his first job in Norway, changing summer tires to winter tires on vehicles. He was exhausted and could barely walk after lugging around tires all day, and then he got a text message from our friend Dalila telling us that the northern lights were out.
There was a park about ten minutes up a hill from our apartment that we thought might be dark enough to see the aurora from, and even though Dan didn't really feel up for the walk after such a tiring day, we dragged ourselves outside, hoping that we'd make it to the park in time for a glimpse of that green glow.
I still remember the feeling of shock as I stepped outside onto our porch and saw green stripes of light swirling above us. I had no idea we'd be able to see the northern lights right from the city center!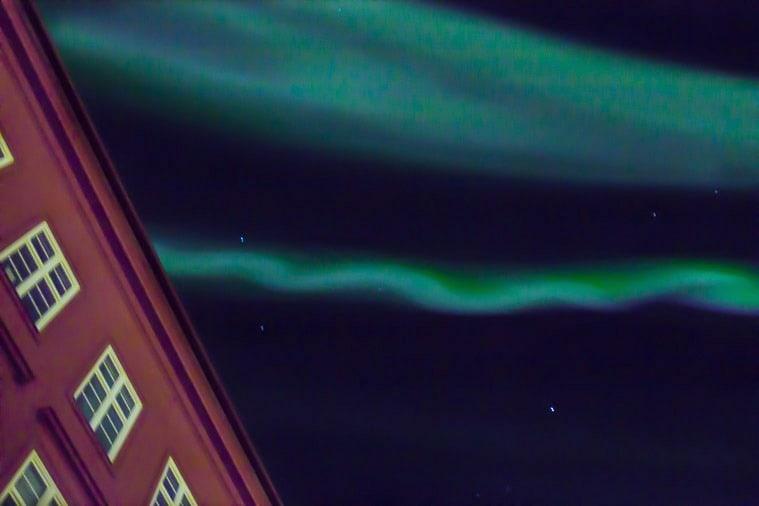 The aurora stayed out for a good fifteen minutes, which is pretty long for a northern lights display. And it made for such a magical evening. It felt like all of Trondheim stopped what they were doing to stare up at the sky, and I remember at one point Dan and me looking each other like yes, we had made the right choice in moving to Norway.
Soon after that night we actually moved farther south, where we rarely saw the northern lights, and it was several years before I moved up north, this time on my own.
And this is going to sound pretty crazy, but I feel like it was almost fate that the first time I had my heart broken, I was moving somewhere where the northern lights would dance above me.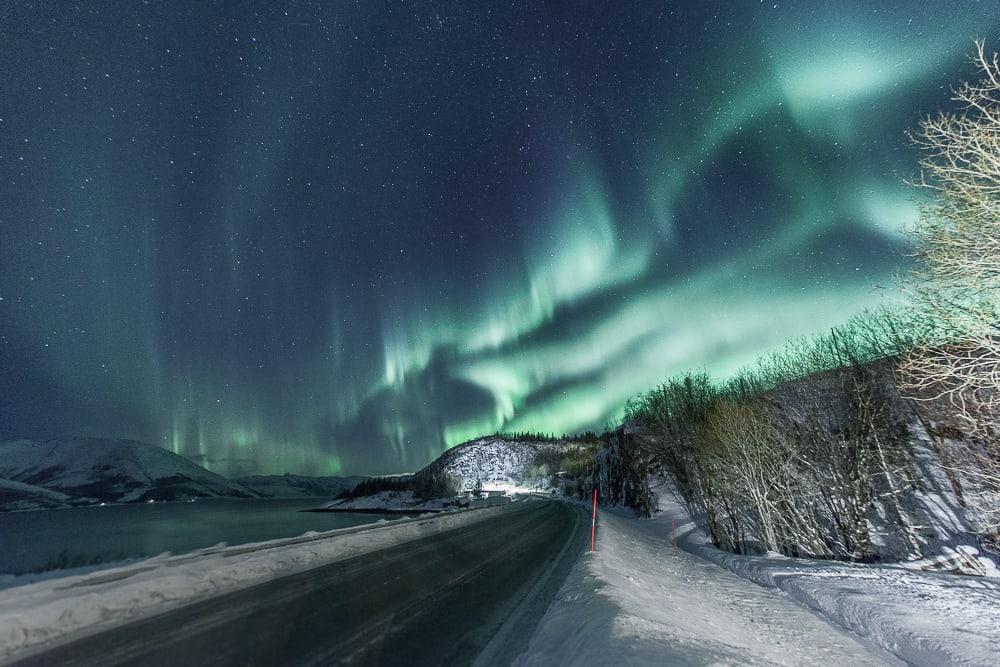 Dan helped me move all my stuff up to Mosjøen, and at one point we drove over a high mountain pass with incredible views and I wondered out loud when I'd again be able to feel excitement about the beauty of nature – or really anything at all.
A couple of hours later we stopped to use a public restroom and on our way back to the car we both looked up and stopped in our tracks. There they were!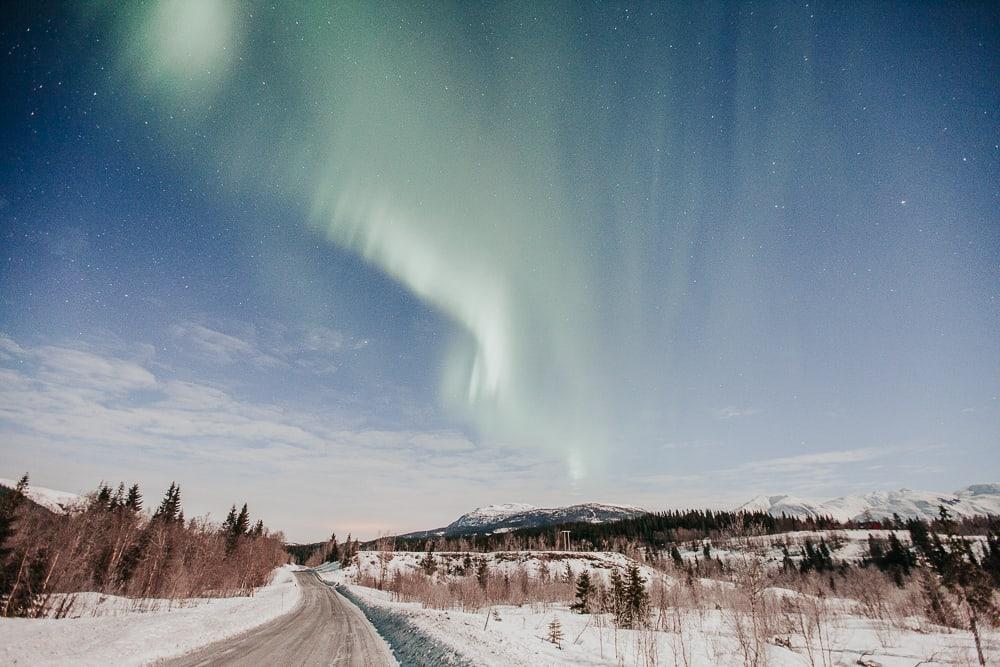 In that moment looking up at the northern lights I felt like someone had scooped up the broken bits of my heart to remind me that, yes, I will eventually feel joy again, and this is what it will be like. They then dropped the bits back on the ground for me to slowly pick up myself, but I guess you can't have everything in life handed to you.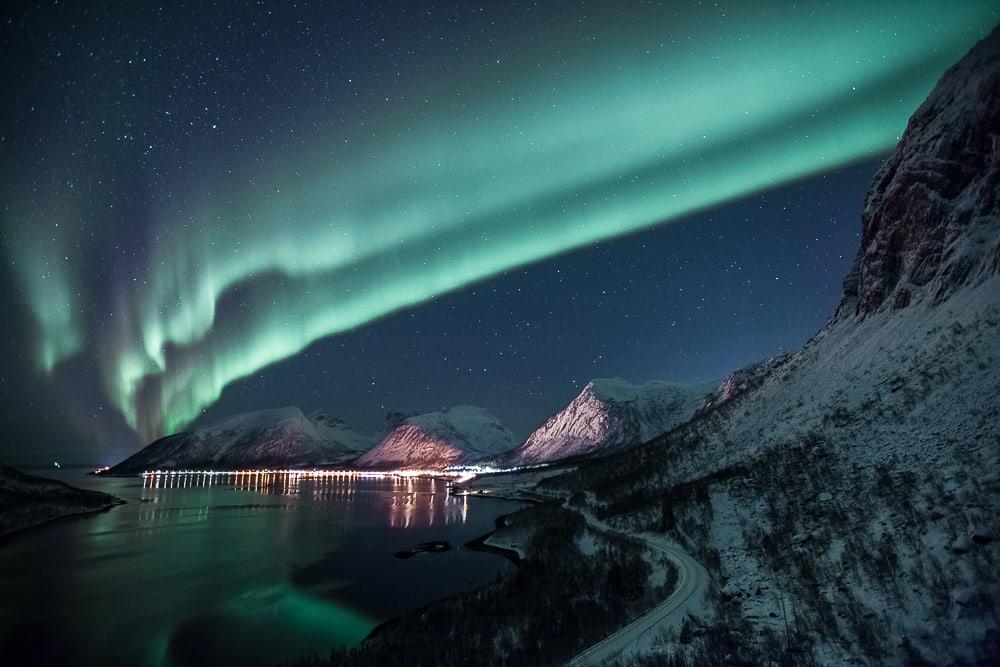 Seeing the northern lights is one of the most incredible experiences I know. It's a shame that only people in the Arctic get to see them, but then again maybe that's our consolation for having to deal with the cold and darkness up here.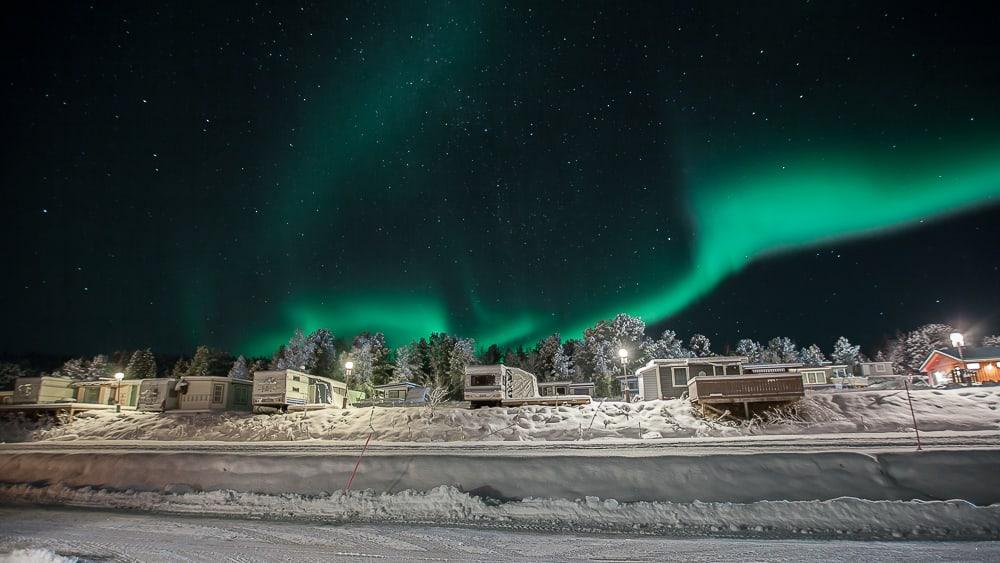 But luckily the Arctic makes for the most amazing travel destination!
I've spent a lot of time traveling around northern Norway, Sweden, and Finland chasing the lights, and in fact now most of the questions I get on this blog are about planning trips to see the aurora.
And I get it, planning a northern lights trip can feel super overwhelming, not only because the Arctic in the winter is, well, the Arctic in the winter, but also because the northern lights are unpredictable and even quite mysterious to people who have never seen them before.
And so I thought it was time to share all my knowledge about planning a northern lights trip.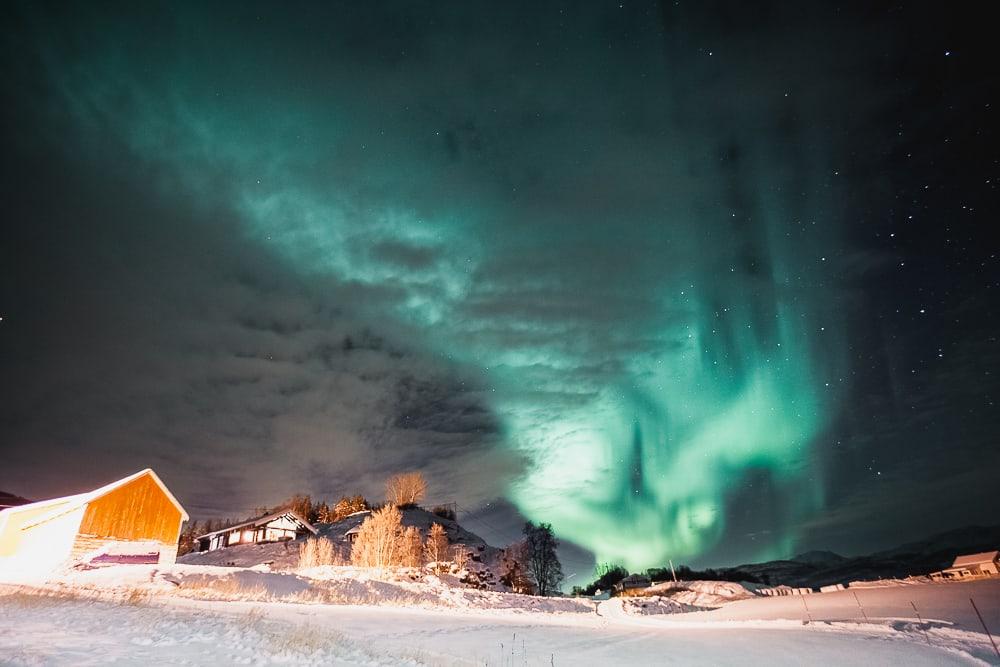 I wanted to pull together all the information I have and really go into depth, including my secret tricks for taking northern lights photos and videos, as well as my favorite aurora forecast apps and how I use them. Forty pages later, I realized that this was going to be way too long for a blog post, so I've made it into an ebook!
This book covers where to see the northern lights, weighing the pros and cons of each country, the best northern lights hotels, the best time to see the northern lights, my top northern lights tour recommendations, as well as a guide for how to chase the aurora independently, how to photograph and film the northern lights, what to pack for your trip, and other activities to try out so that your trip will be unforgettable, regardless of whether or not you see the aurora.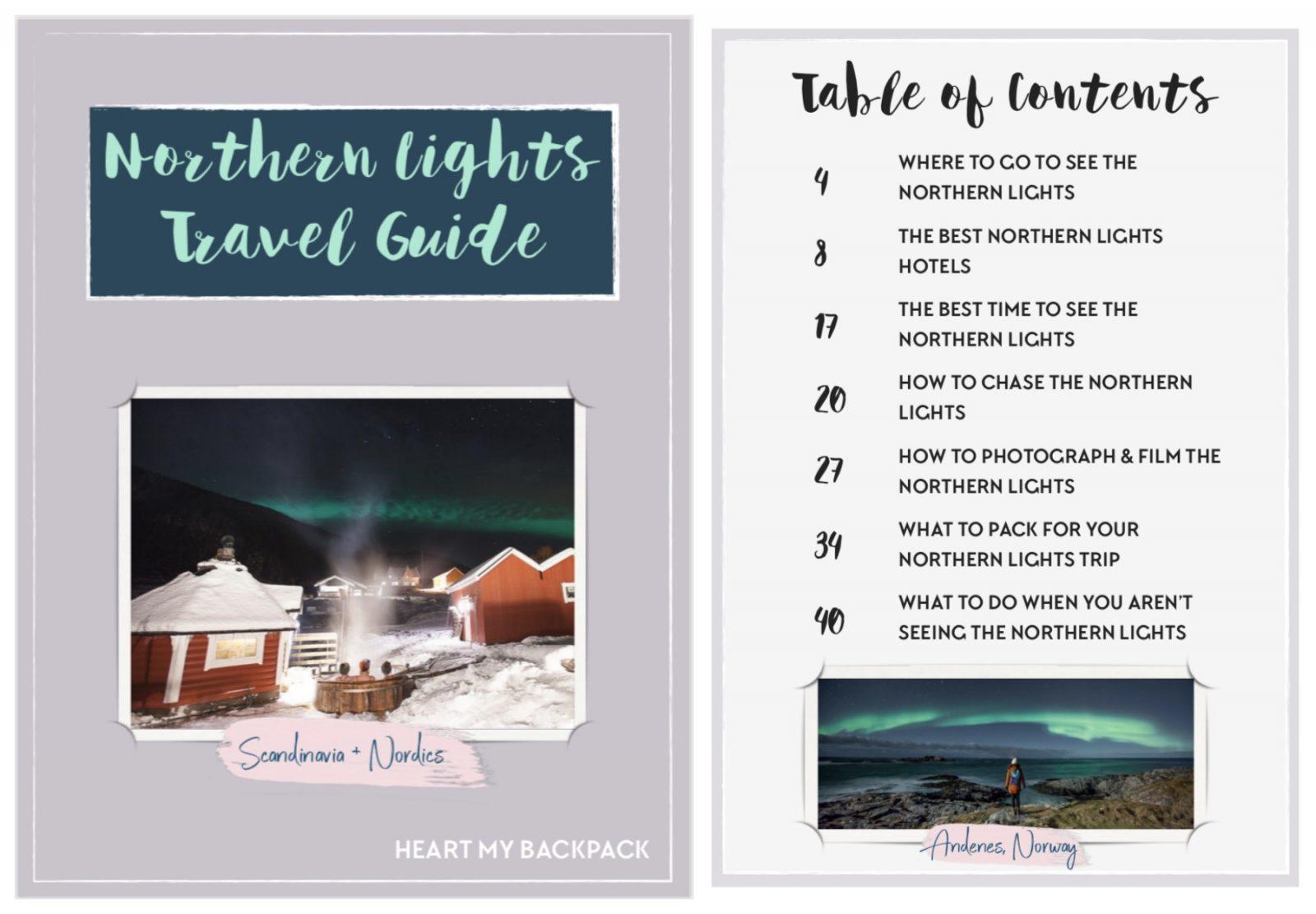 You can purchase the ebook here.
I can't wait for even more northern lights adventures this coming winter!