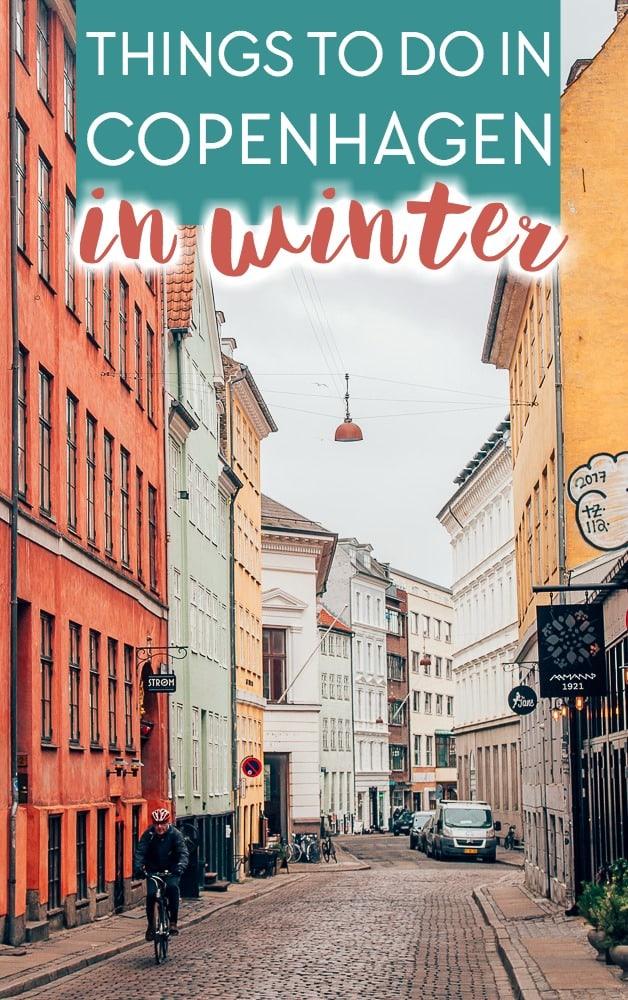 I've visited Copenhagen many times over the years, but only ever in summer. So when my flight back from the Faroe Islands included a stop in Copenhagen, I wasn't sure if I should spend time there or not. Because while I love summer in the city, I wasn't so sure about Copenhagen in winter. I guess in my head it's just such a summery place, so I was nervous about Copenhagen winter!
Okay, so Norwegians are probably the only people in the world who would consider Copenhagen a summer destination, but I swear all the things my family usually did in Copenhagen were totally summery. Or maybe we really appreciated that extra degree or two of warmth down "south"?
In the end I decided to give Copenhagen in February a chance because then I could take the train through Sweden back to Norway instead of getting yet another flight. I've been feeling quite guilty about the number of flights I have planned over the next couple of months, sorry planet.
But guys, it turns out winter in Copenhagen is actually quite magical! I mean, I should have known – this is the land of hygge after all.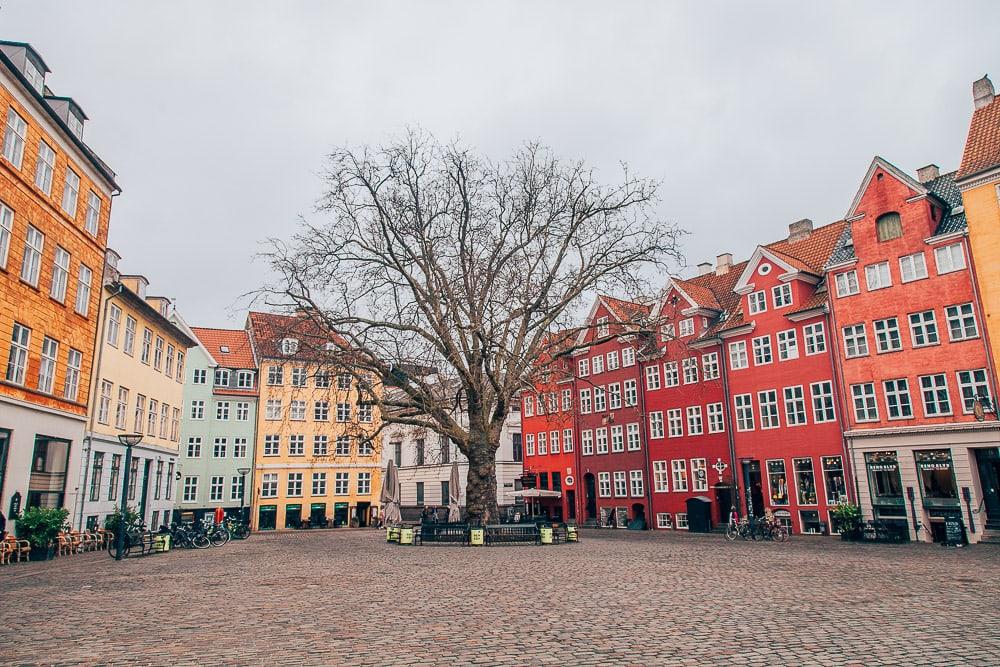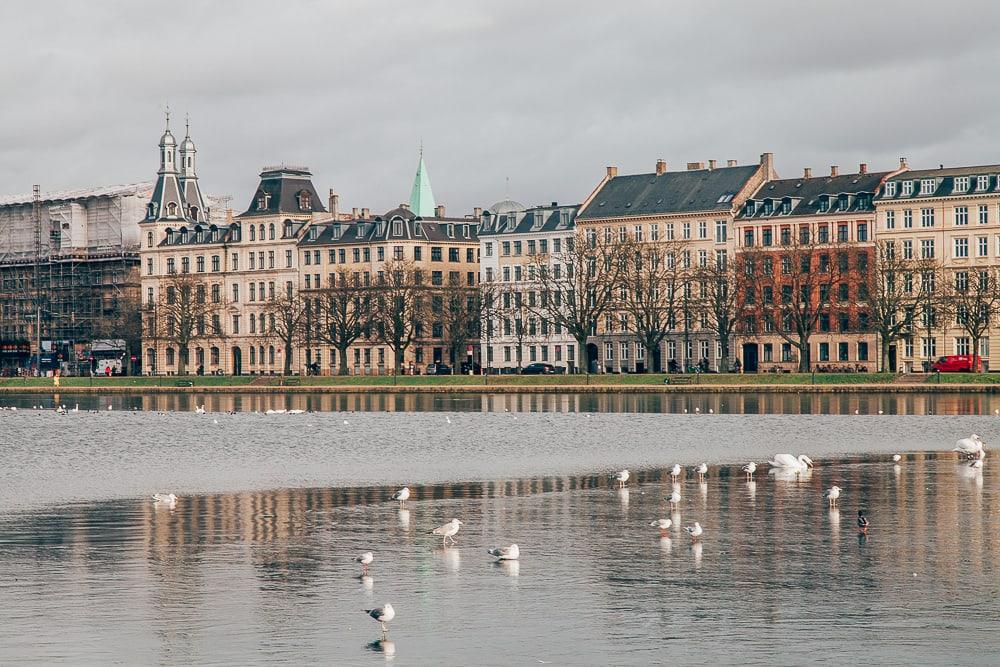 And it turns out loads of Norwegians also love Copenhagen in the colder months, because I heard Norwegian everywhere. Though again, I probably should have known. I mean, when I was telling my (Norwegian) mother about my plans to visit the Faroe Islands she was just like, yes, yes, that sounds lovely, but when I then said I'd be stopping in Copenhagen for a few days she got so excited.
Like, really? Since when is Copenhagen, a city I've already visited many times before, more exciting than the Faroe Islands? I think it must be a Norwegian thing. And if that Norwegian thing is contagious I think I must have caught it, because I really loved my time in Copenhagen.
Things to Do in Copenhagen in Winter
I'm new to this season in Copenhagen, but for me the best Copenhagen winter activities all revolved around one thing: getting cosy. I mean, hygge much?
My plan was pretty much to spend my entire time in Copenhagen hopping from cafe to cafe, with a few shopping breaks in between.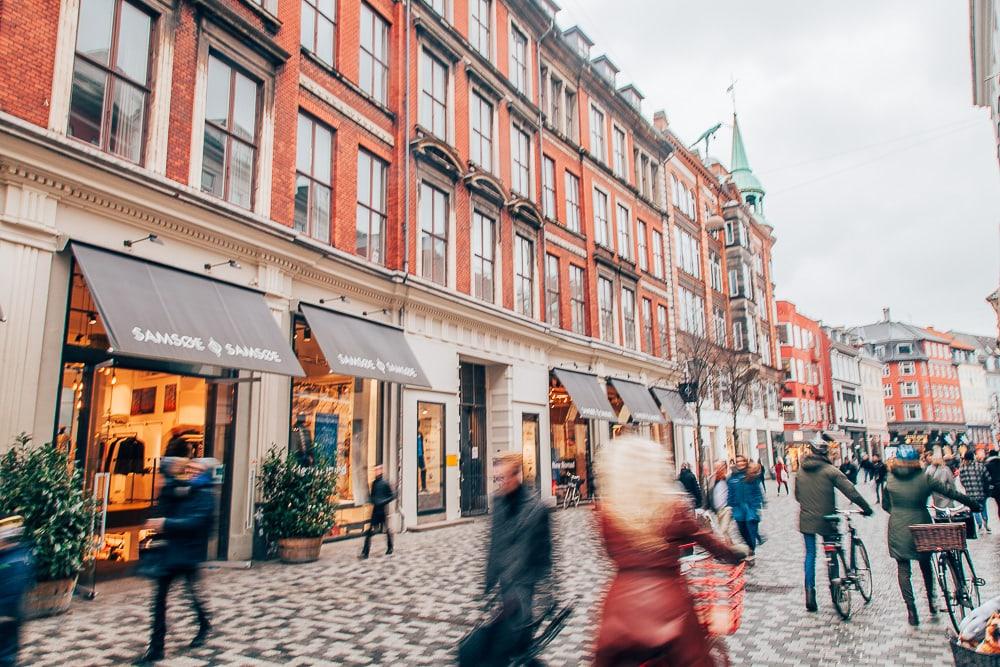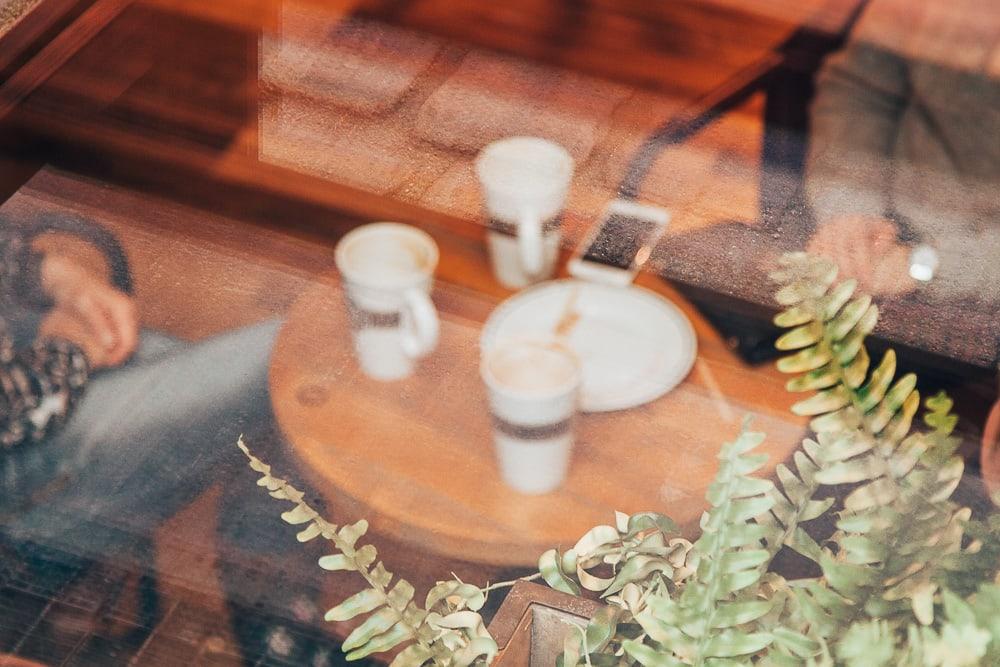 But then I remembered that my friend Lena aka Travel Monkey, whom I met in Finland in January, lives in Copenhagen. We made some last minute lunch plans and then she sweetly showed me some of her favorite Copenhagen haunts so that this blog post wouldn't solely consist of my multiple trips to Sephora and that same coffee shop around the corner from my hotel.
Lena is originally from Ukraine but has been living in Denmark for over five years now and it was interesting to hear from her about the ups and downs of life in Copenhagen.
Eat at California Kitchen
We met for lunch in Nørrebro at California Kitchen, where we both briefly pretended we haven't spent all winter in the cold north deprived of sunlight.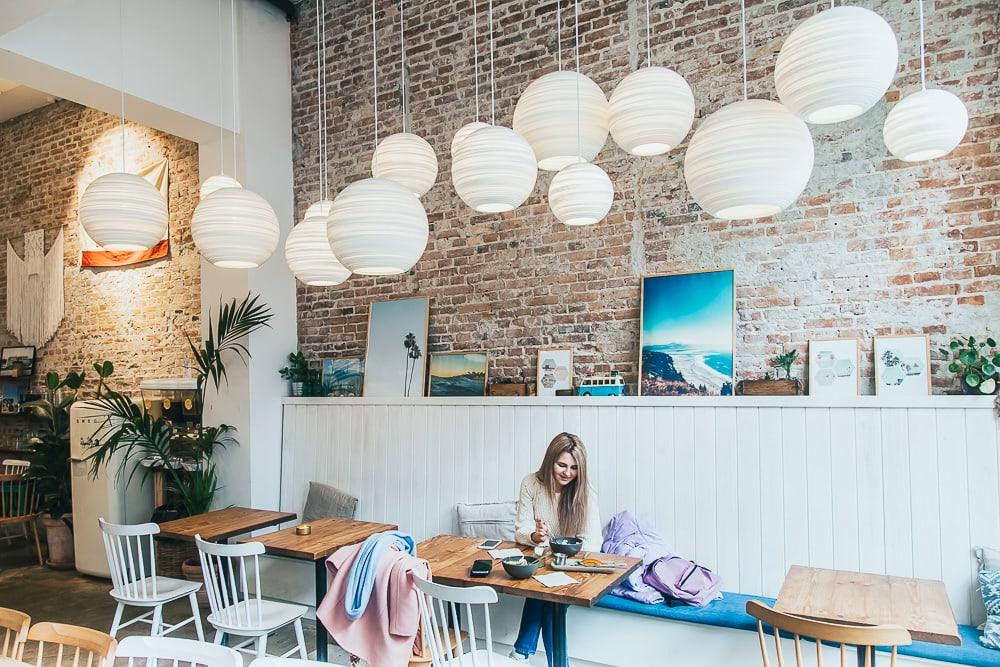 Seriously though, while the experience here is more Californian than Danish, I'd still recommend popping in just to see how the Danes deal with Scandinavian winters (by pretending they're actually in San Francisco). Plus their poke bowl is delicious!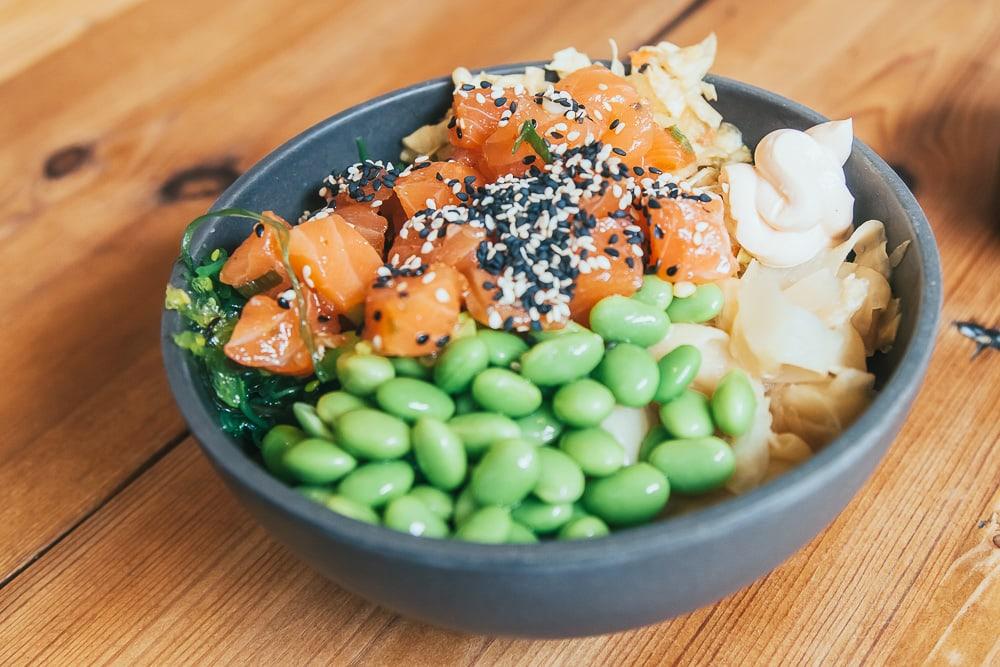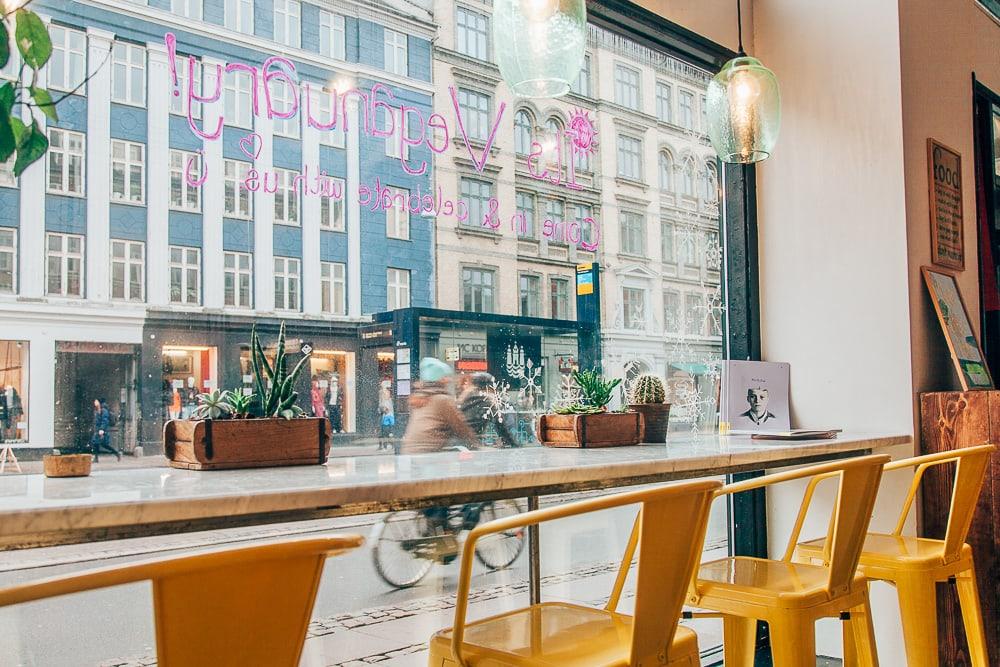 Explore Nørrebro & Jægersborggade
Nørrebro itself is full of trendy cafés, bars, and boutiques, as well as cheap kebab and Asian food places. The most famous street here is Jægersborggade, which has become super hip(ster?) with art galleries, local design and vintage shops, and of course more cafés and restaurants.
Sample the porridge at Grød
In fact my friend Teru whom I had been in the Faroe Islands with also said I had to visit a super trendy restaurant here called Grød, which features a menu consisting solely of porridge dishes. I mean, what's better winter food than porridge?
This is also the perfect place to get those cool Instagram shots of Copenhagen – at least I found myself stopping every few meters to snap another photo.
Torvehallerne food market
After lunch Lena and I headed back across Dronning Louises Bridge to the Torvehallerne food market– two big market halls full of stands with local produce, restaurants, bakeries, bars and coffee shops. So much yum in such a small space! Seriously, if I lived in Copenhagen I would be here all the time – especially during the winter, as it has those lovely outdoor vibes without actually being outside in the freezing cold. Win win!
The Torvehallerne are open from 10 am to 7 pm on weekdays (8 pm on Fridays), 10 am – 6 pm on Saturdays, and 11 am to 5 pm on Sundays.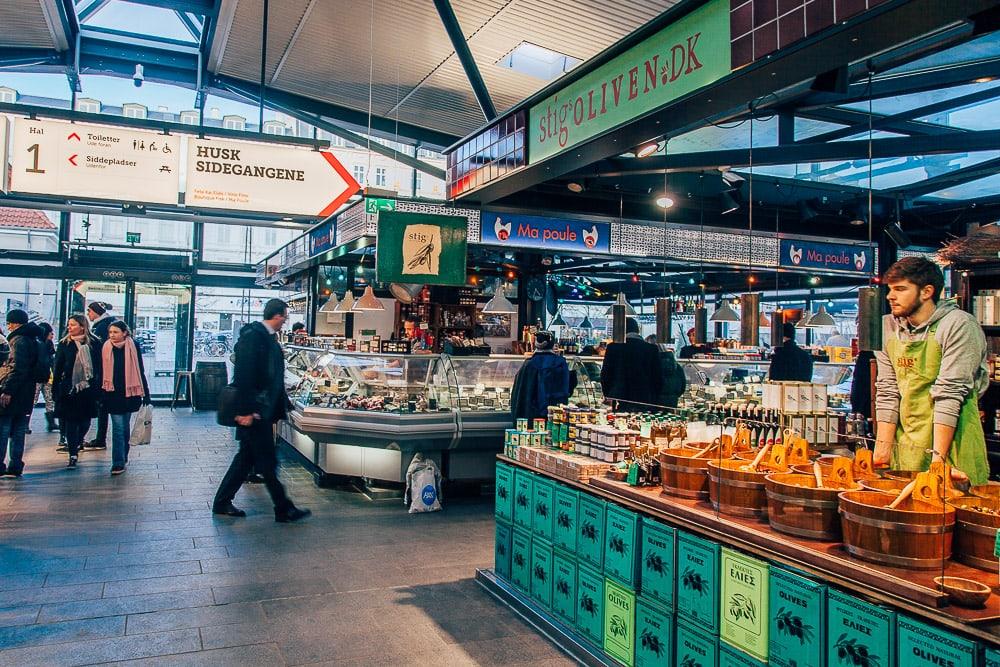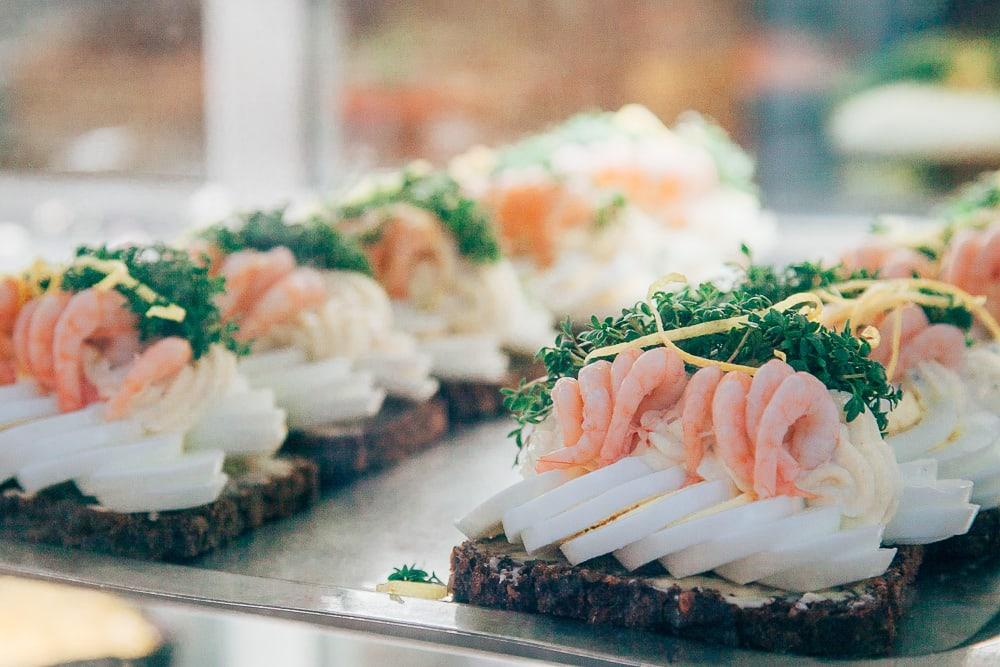 There was also a flower market outside the Torvehallerne which reassured me that Copenhagen will always have some of its summer vibes!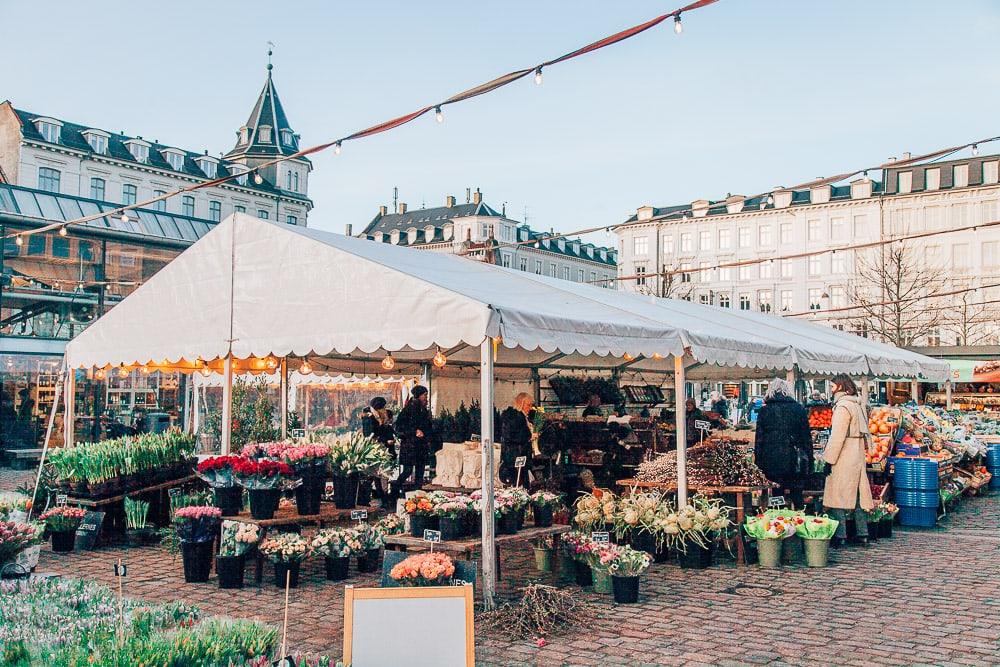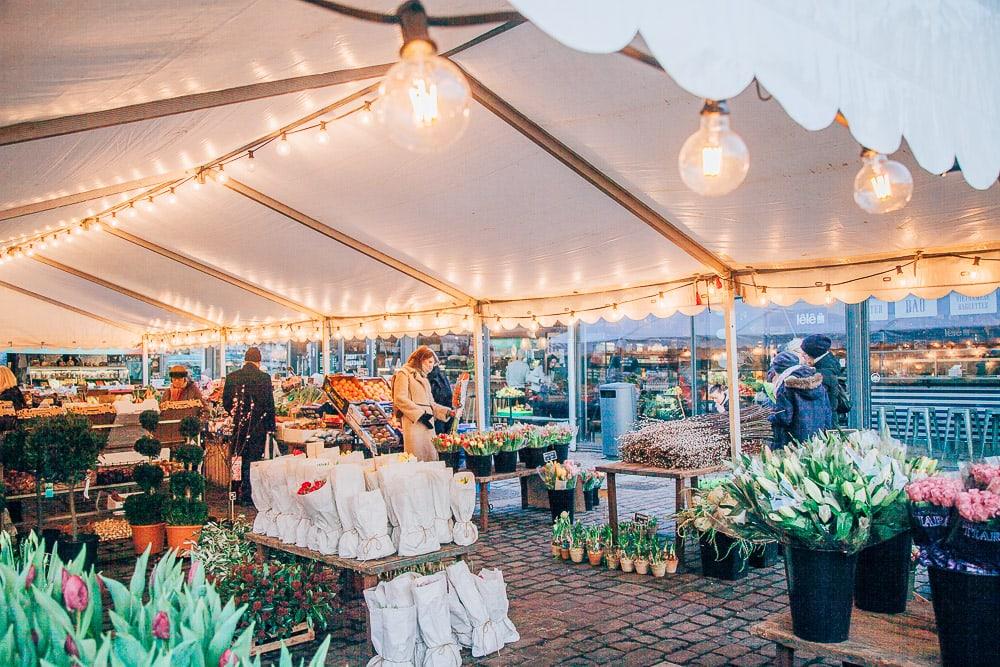 You know how I said my mom got so excited when I said I was going to Copenhagen? She also will excitedly point out any flowers she spots outside in the winter like it's some sort of sorcery. The Norwegian love for Copenhagen is starting to make more sense…
Seriously though, Dan put one of our plants outside for about three minutes the other day and it immediately shriveled up and died. I guess Copenhagen winter really isn't as harsh as Norwegian winter!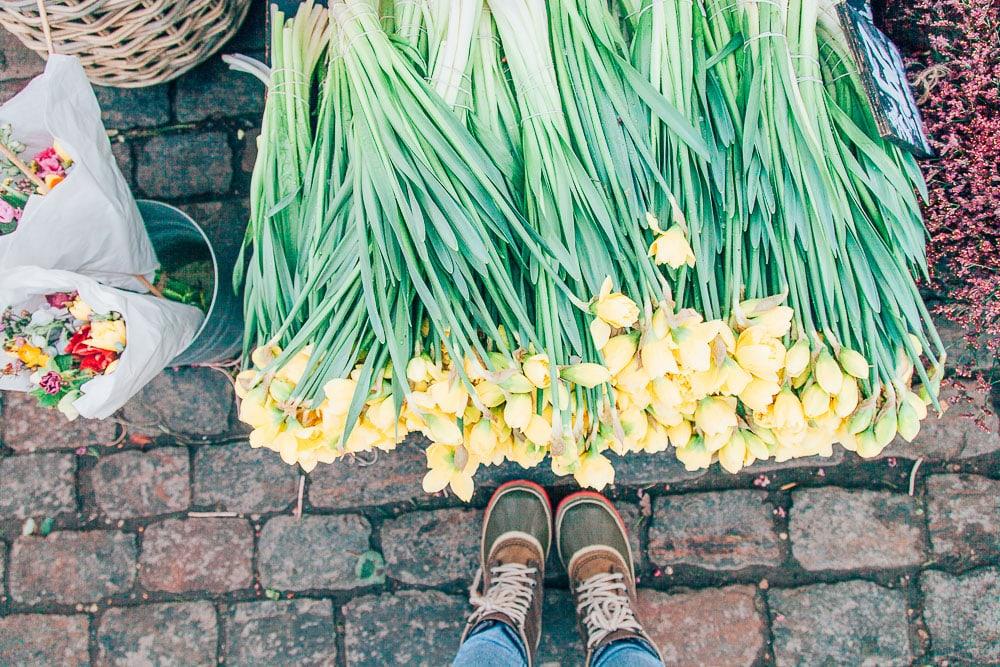 From the Torvehallerne we made our way to Copenhagen's Old Town, with its cobblestone streets and even more shops and cafés.
Café Paludan
And of course we had to stop in Cafe Paludan to peek at all the books lining the walls. Lena said a lot of people try to get sneaky Instagram photos in here and I don't blame them! Seriously though, if you want to instantly make a place cosy, line the walls with books. So simple, yet so effective. This is another place I would totally always hang out if I lived in Copenhagen.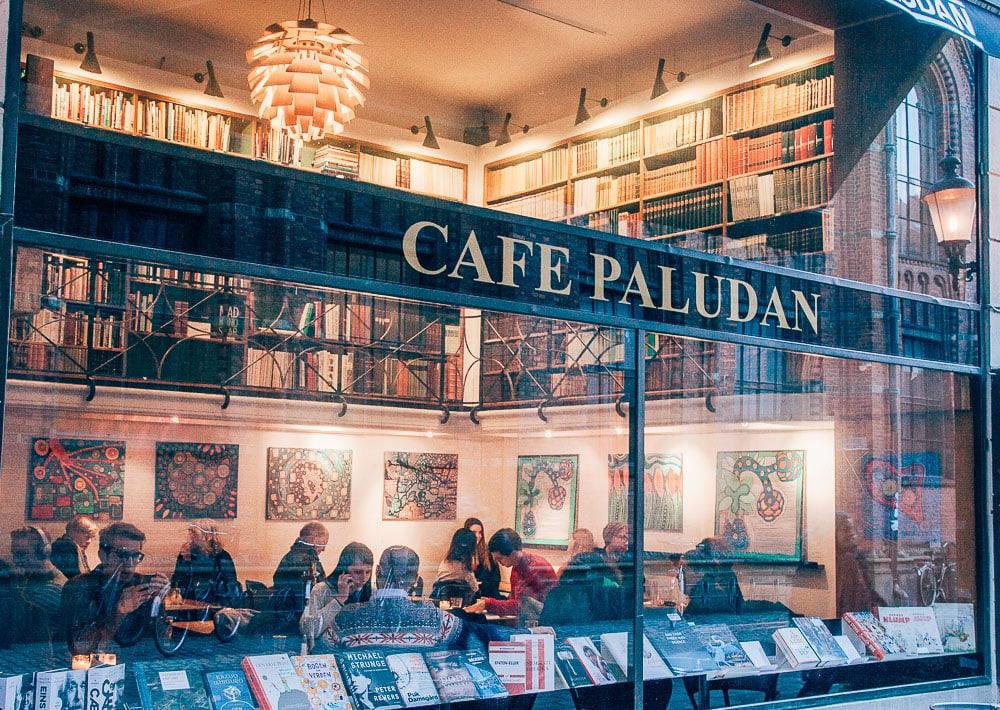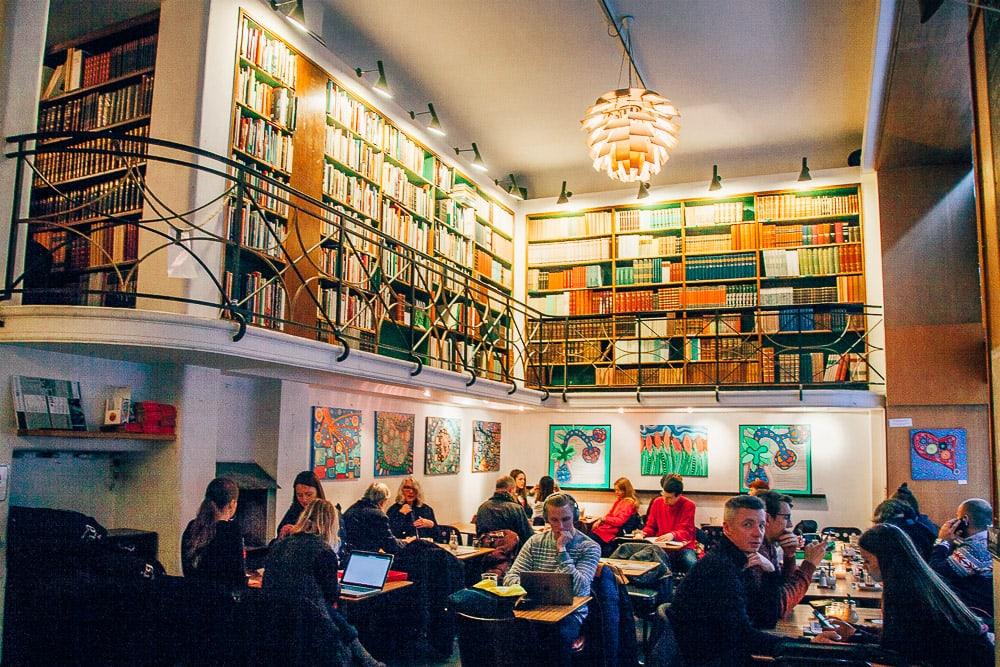 Take a photo at Knabrostæde and Magstræde
Speaking of Instagram, apparently the area around the intersection of Knabrostæde and Magstræde is the place to get your shots, or at least you'll see loads of people posing for photos there! It was already getting dark when I was there so I refrained from getting any Instagram photos, but I can definitely see the appeal.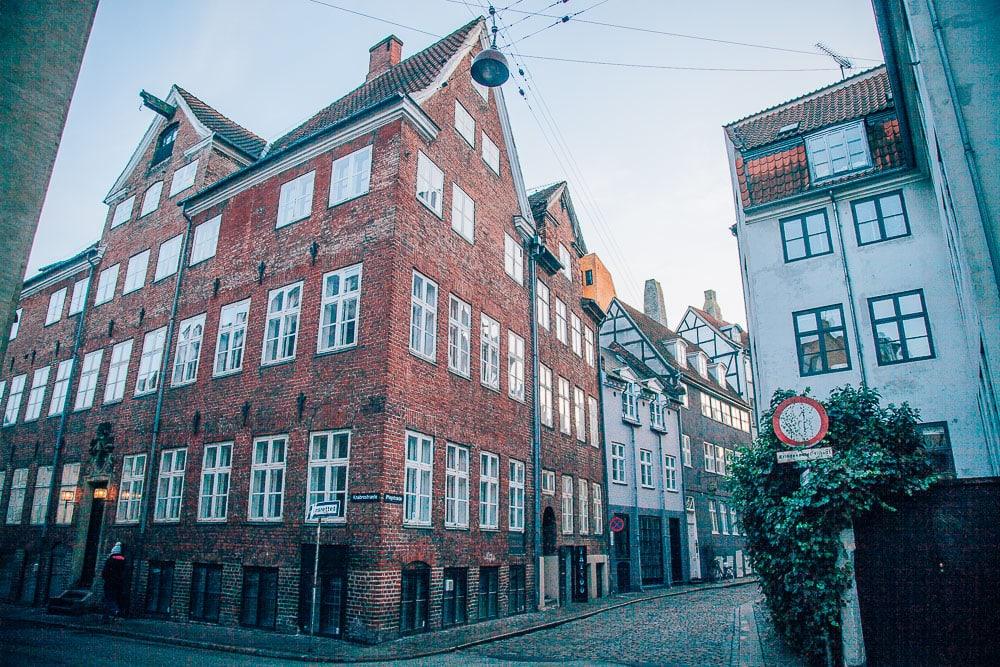 La Glace
And you'll also pretty much always see a line of people outside of La Glace, Copenhagen's oldest pastry shop, though Lena said she's not sure how often she sees locals lining up there so maybe these days it's more of a tourist attraction.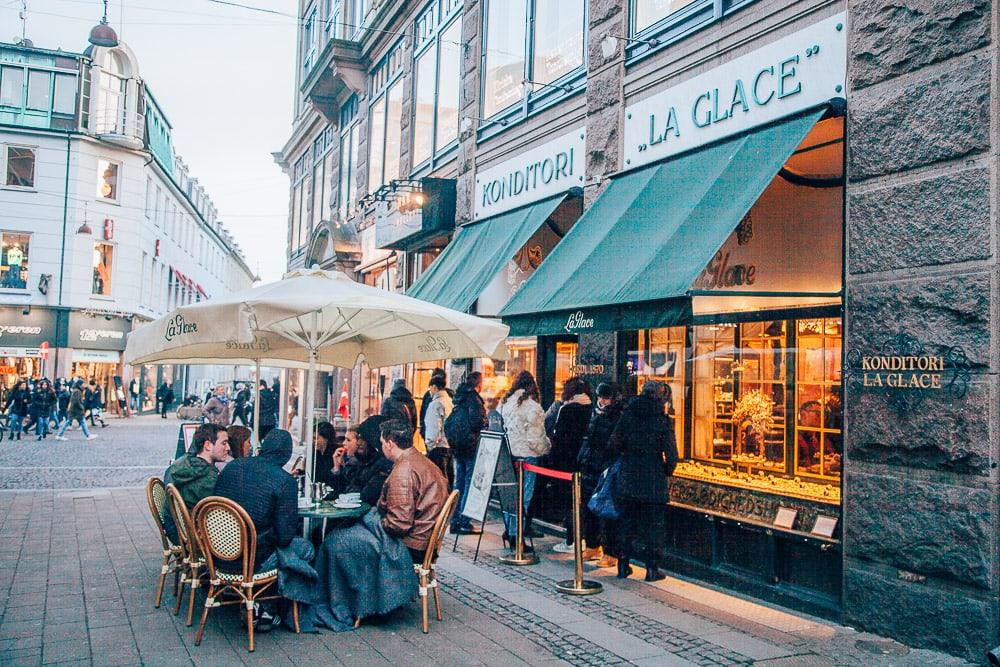 Huset & Bastard Café
But I think my favorite place of all has to be Huset.
Founded in 1970, Huset is Copenhagen's first culture house, hosting live music performances, theater productions, indie film screenings, and other shows. Though my favorite part of Huset is their board game café, Bastard Café. If you're in Copenhagen on a particularly cold winter's day, this is where I'd recommend heading!
For that matter, even if your in Copenhagen on a warm sunny day I would still try to stop in Huset – it's just such a cool space, and definitely worth checking out if you want to get a feel for life in Copenhagen.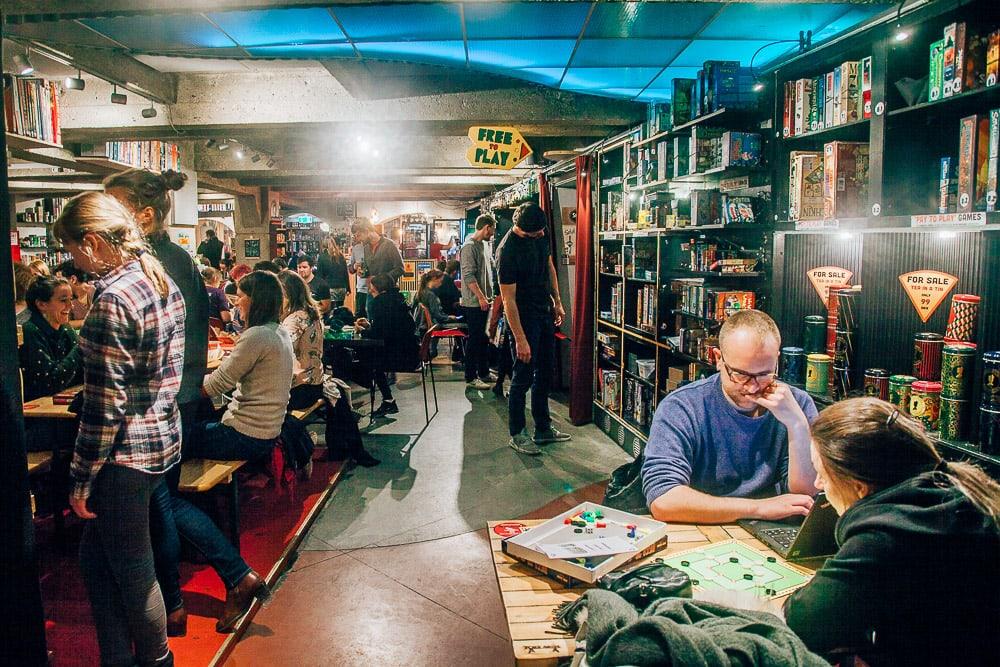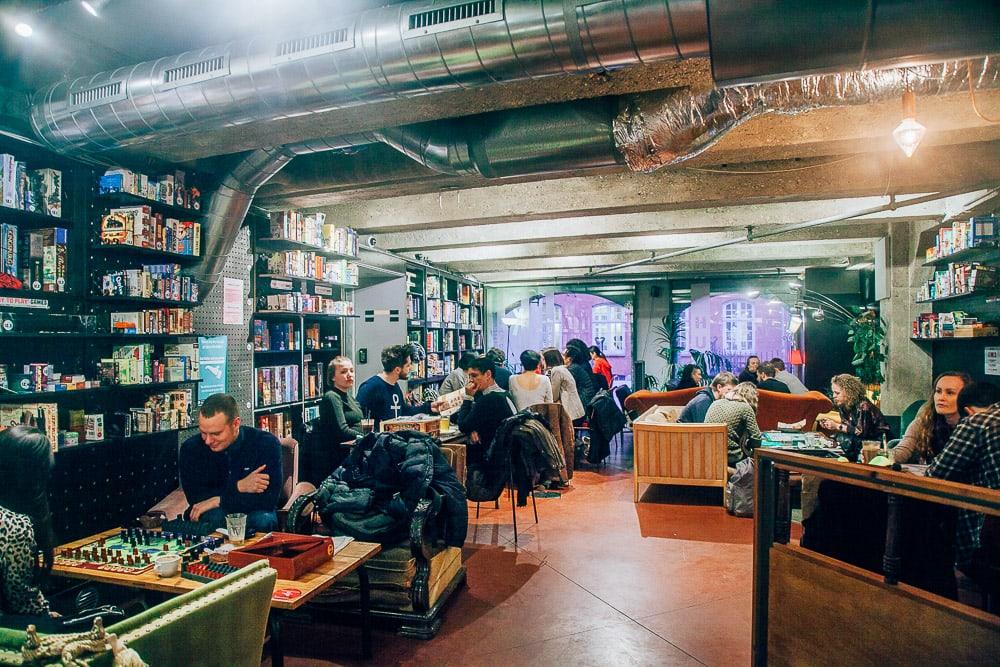 Copenhagen Botanical Garden
Lena also recommended a trip to the Copenhagen Botanical Garden, but I didn't end up having time before my train to Gothenburg the next day.
But I do love visiting botanical gardens in the winter, as the greenhouses always make for a lovely tropical escape from the cold!
Now, you might notice two places missing from my Copenhagen winter itinerary: Nyhavn and Tivoli.
Nyhavn
Nyhavn is the waterfront canal district in Copenhagen that features those famous colorful buildings right along the water. In fact I suspect this might be the only Copenhagen travel blog post ever written that doesn't include photos of Nyhavn! But to me it will always be a more summery place to visit and not my first pick for cold, windy days.
Tivoli Gardens
I imagine the Tivoli Gardens, Copenhagen's amusement park and garden, would be magical in the winter as well, especially around Christmastime when you can enjoy Christmas treats and mugs of spiced wine. But I decided to skip Tivoli this time, since I've visited many times before and it really was a bit windy to be going on park rides.
Packing for Copenhagen Winter
If you're nervous about visiting Scandinavia in winter, rest assured that Copenhagen is the pretty much the mildest place you can visit in the region. That said, it can still get quite cold, so you'll definitely want to pack layers!
Sweaters
You'll want to bring lots of layers, and ideally a couple of sweaters with wool in them. Wool keeps you incredibly warm, and it has the added benefit of repelling odors, so you can get away without washing your sweaters on your trip – always a plus when you're on the road! Personally I always wear a cashmere sweater as a base layer, because it is sooo soft and warm.

Thermals
Long underwear doesn't have to be itchy and uncomfortable. And you'll be surprised what a difference a thin pair of silk leggings will make under your jeans. I love these silk leggings, but you can find a lot of other options on Amazon as well.
And if you're wondering what to wear your thermals under to blend in with locals, jeans are really popular here! Black skinny jeans always are a winner here, but blue jeans have also become really popular here.
Winter boots
I wear these Sorels (Amazon also has them here), which I love because they don't have fur on them so I can wear them in the spring and autumn. They're waterproof as well, which is perfect for Copenhagen, which can get quite wet in the winter.
It might seem like an investment, but you will be so miserable if you don't have proper footwear here. Plus locals will all be wearing snow boots (in fact Sorels are really popular here), so you will look like you're from Copenhagen!
Ice grips
You can probably get away without these if you're just going to be in the city center, but if you're nervous about walking on ice, ice grips can be a real life saver. They're cheap and take up very little luggage space, so personally I always pack them when I'm going anywhere that might be icy.
Snow gear
You'll want to bring a winter coat, scarf, hat, and gloves, but I wouldn't worry too much about what kind. Copenhagen doesn't get as cold as Norway, so you don't need to go out and buy a down jacket and wool accessories. Just use whatever you have and you should be okay, especially if you're wearing layers!

Winter skin care
If you're not used to cold weather then your skin might just go a bit insane when you get to Scandinavia. Like, in the rest of the world I totally have oily skin, but in Norway it's quite dry. So you might want to bring a better moisturizer than you're used to using.
I'm hooked on
this Shiseido cream
, which was actually recommended to me by several different Norwegian girls. It's expensive, but also downright magical – it feels really lightweight but makes my skin SO soft and never dry or flakey.
I also recently started using face oil and OH MY GOODNESS IT IS LIKE MAGIC. I use this one from Clarins and it seriously transformed my skin. I still use the Shiseido cream afterwards, but this would work fine on its own and then you wouldn't have to worry about it freezing when you go outside, because it's oil. You can buy it at Sephora here, or on Amazon here.
Travel insurance
Guys, always, always get travel insurance! And like, not just the free travel insurance from your credit card, because they pretty much never pay.
If you're European you can use your European health card in Denmark, but to be honest I'd still recommend getting travel insurance because you never know what will happen.
I personally use World Nomads because that's what I used as a backpacker and I've had to file claims twice with them now and they paid me promptly, no additional questions asked. They also helped get me to a hospital in Beijing when I was too overwhelmed/dying to find one on my own, so I am forever grateful to those guys.
Where to Stay in Copenhagen (perfect for Copenhagen winter)
Luxury Copenhagen accommodation
I stayed at The Square, which to be honest I really only chose because it was so close to Copenhagen's central train station. But when I arrived I was totally amazed by how lovely it was!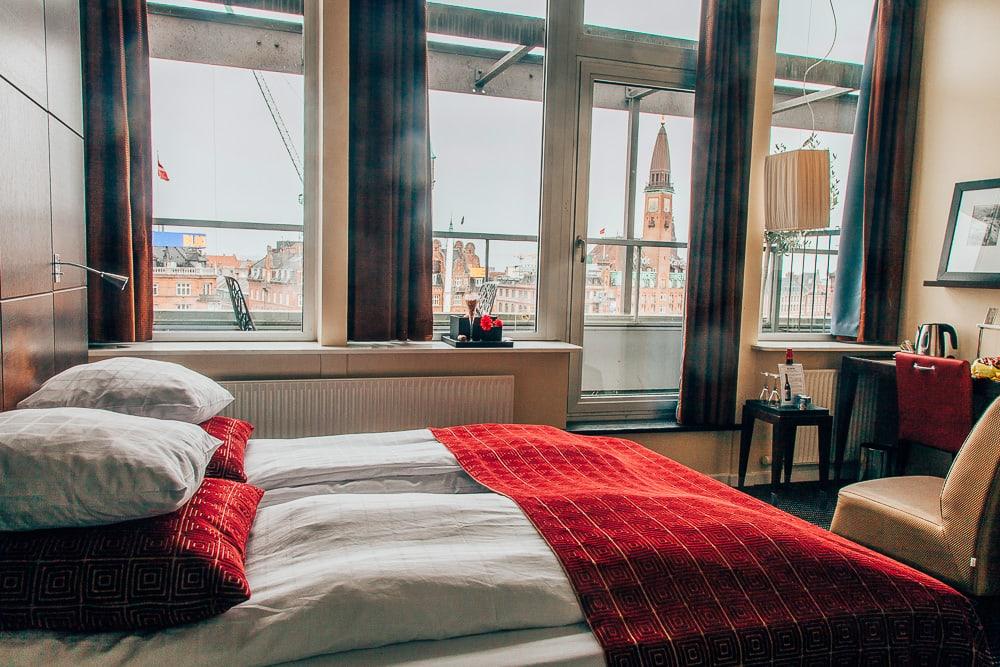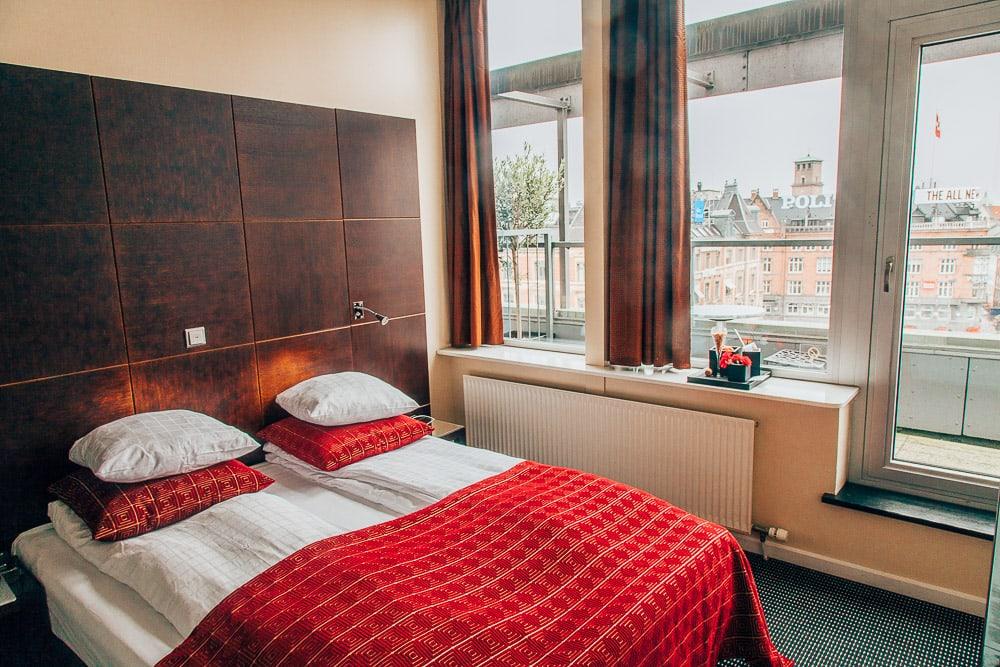 I loved the design – I find so many big hotels end up looking the same, but The Square really stood out to me – and the rooms were so nice. Mine had an amazing view of the city hall square.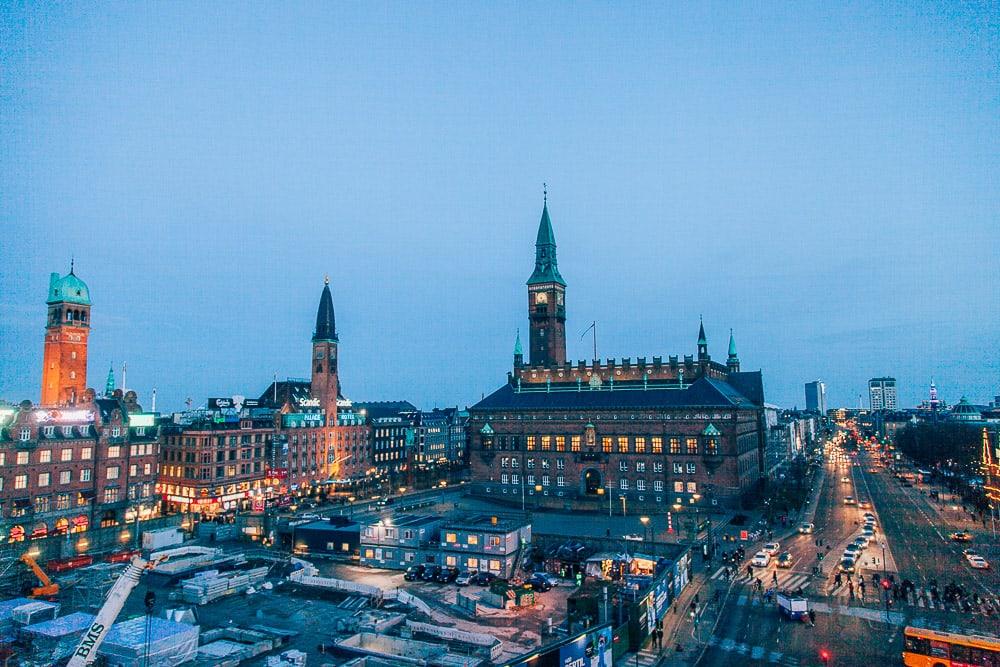 the square in front of the city hall is under construction at the moment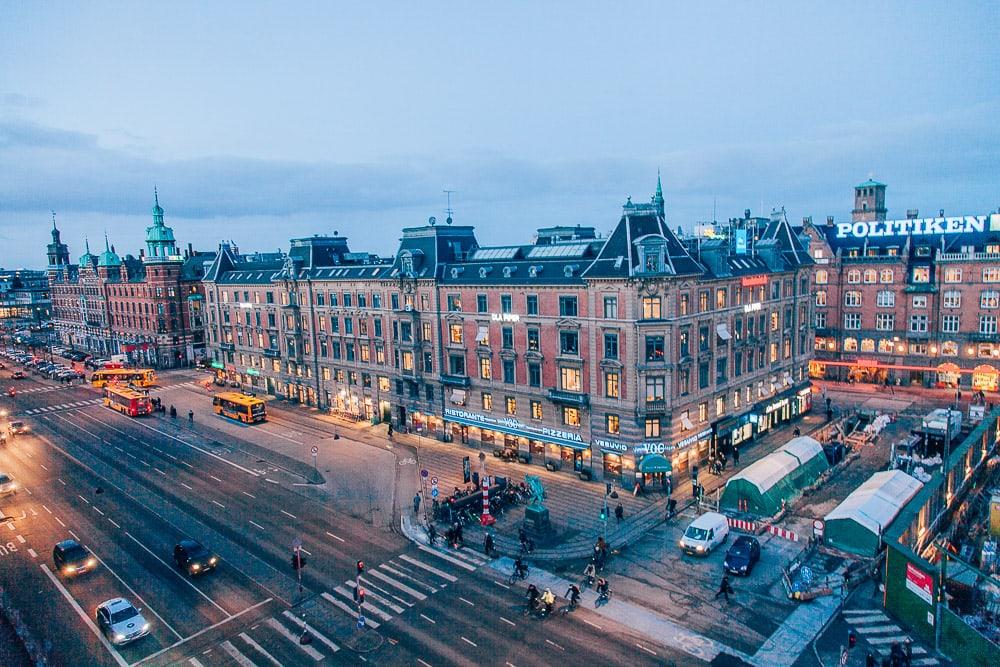 I had no idea when I booked it, but funnily enough Lena actually used to work at The Square! And she confirmed that their breakfast room has one of the best views in the city.
I also really appreciated how close The Square is not only to the train station, but also to the Old Town and shopping areas. Check here for current prices and availability at The Square.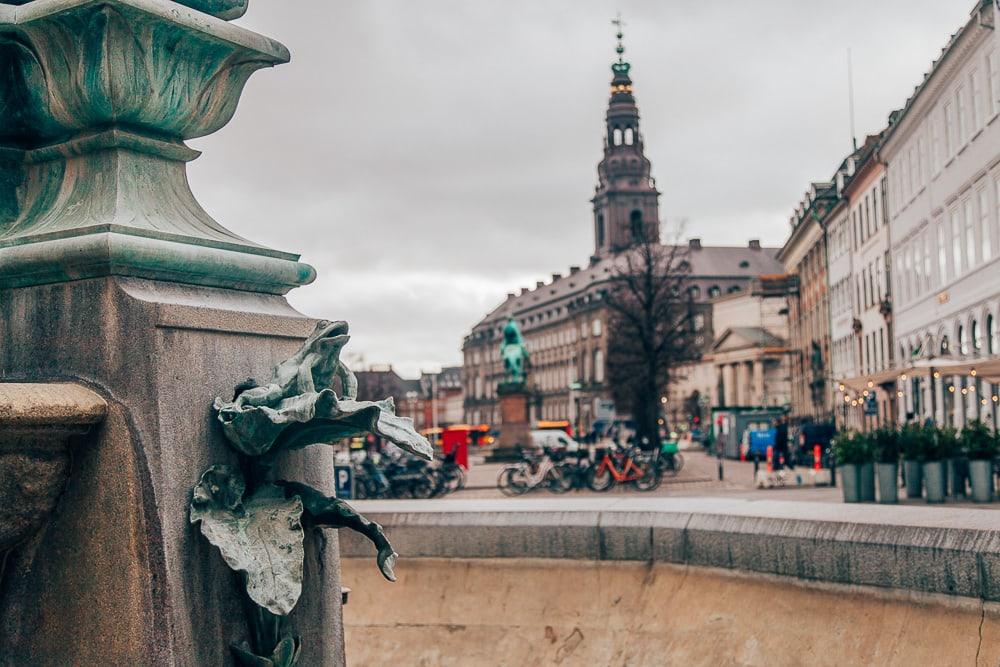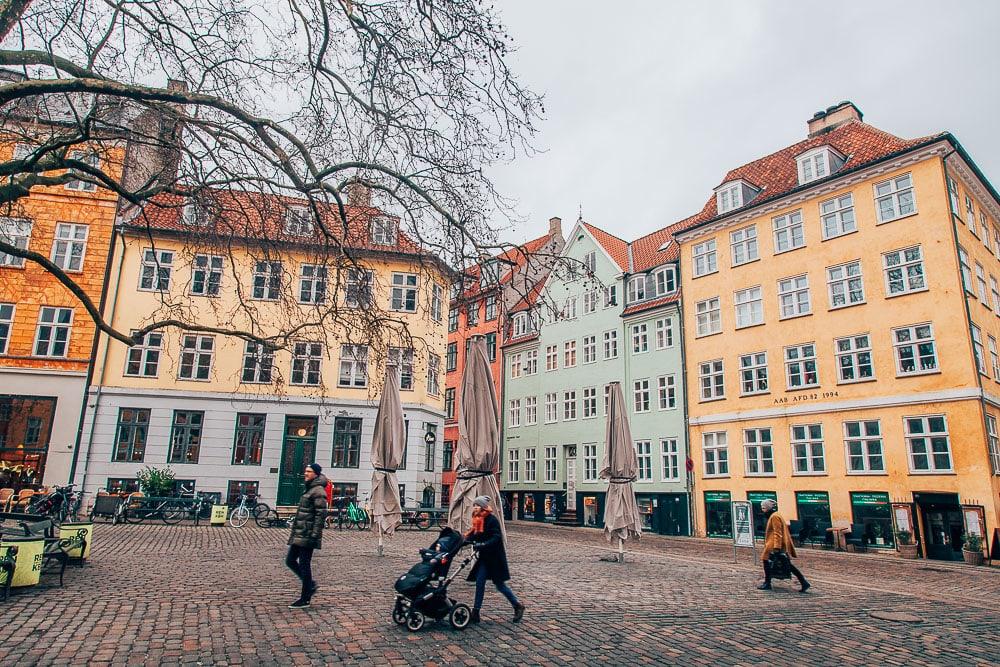 And if you're wondering about my trip to the Faroe Islands, I'm still going through all of my photos and video footage, but I have already posted my first vlog from the trip: