Yup, this one is for your Norway bucket list. The funny thing is, it wasn't on mine. In fact the only reason I went there was because I had been offered a free place to stay and I do love a bargain. Plus I had a sneaking suspicion that after a few nights of camping my hips would be screaming for a soft bed.
So when I told my assistant manager about my planned weeklong road trip adventure along the coast and he asked if I wanted to stay in his coastal home I was all yes please! And then later I asked him where this house actually was, because that was probably important too.
His house was in Åna-Sira, a village I had never heard of but which was conveniently between Kristiansand and Stavanger, both places Dan and I had planned on passing through. So when we got to Kristiansand I put the address into Google maps and didn't think much more about it until we drove through Mandal, where things started getting really, really pretty.
And no, I didn't take a photo of Mandal, who do you think I am?
Oh wait, I totally did, and you're right, that's exactly who I am.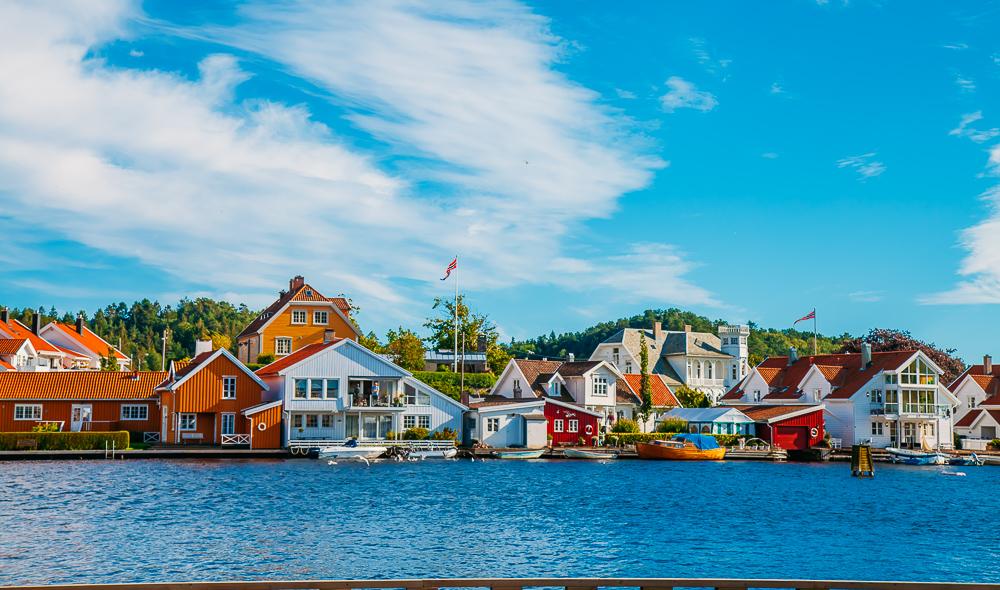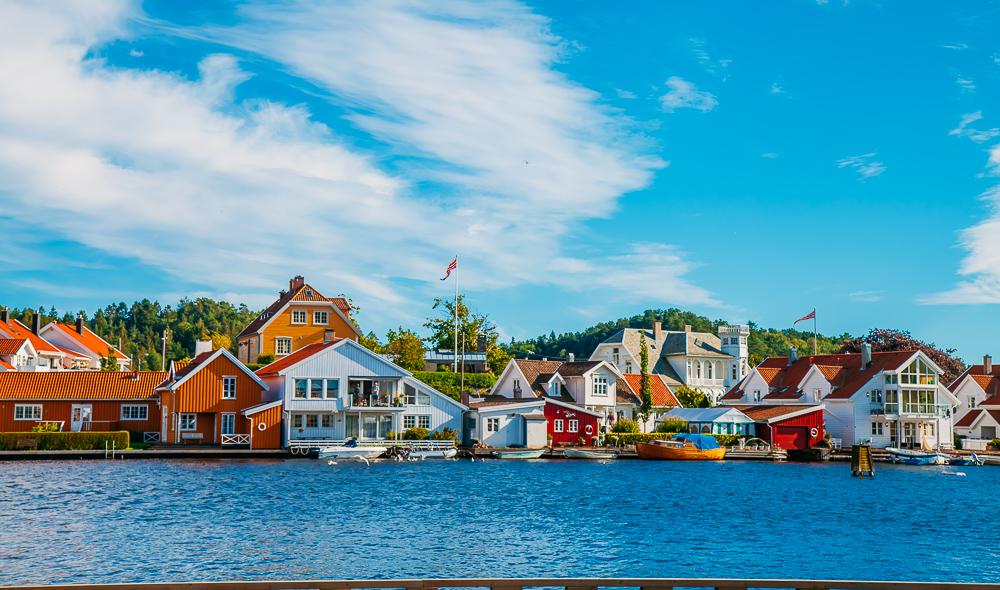 Mandal was Dan's favorite place on the southern coast and I don't know if that's because we had some really good ice cream in its cute cobbled street center or because it was pretty much the only place on our trip that was actually a bit warm or maybe because it's just really beautiful. Like, maybe we should move there?
And then we drove up to Flekkefjord which is also gorgeous and I sort of want to move there too and then I actually forgot to take any photos, which later made the blogger in me really mad at the rest of me. But you should Google it, because Flekkefjord is really lovely and everyone should go there.
From Flekkefjord we drove on a little winding road up into some very rocky mountains, and then as we passed over the top and started a hairpin-filled descent down we spotted a teeny tiny toy village at the bottom of the valley. Except they were actually real houses, and they became prettier and prettier as we made our way down.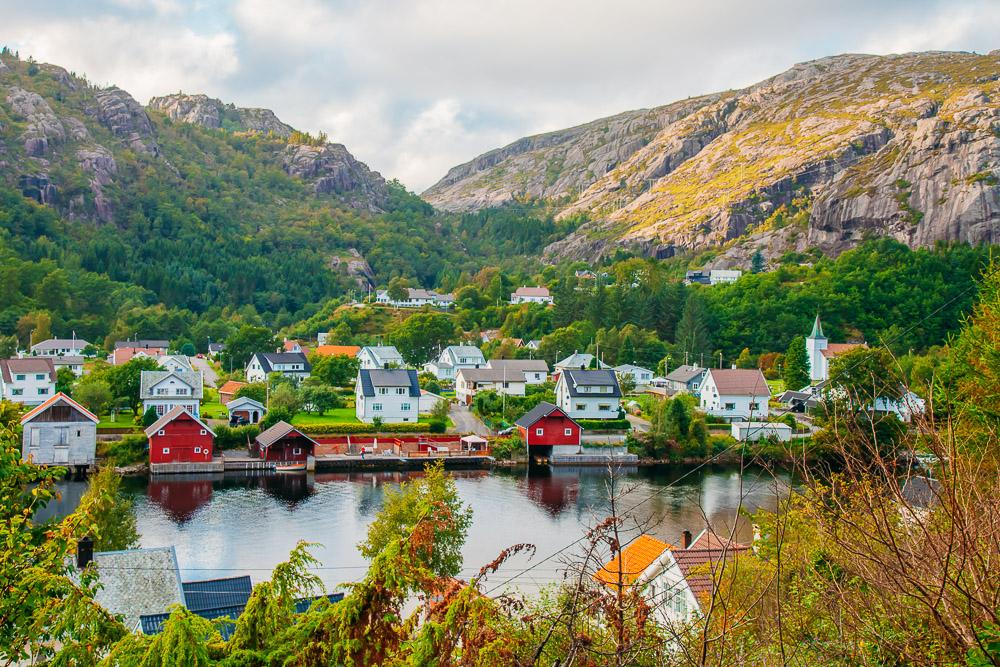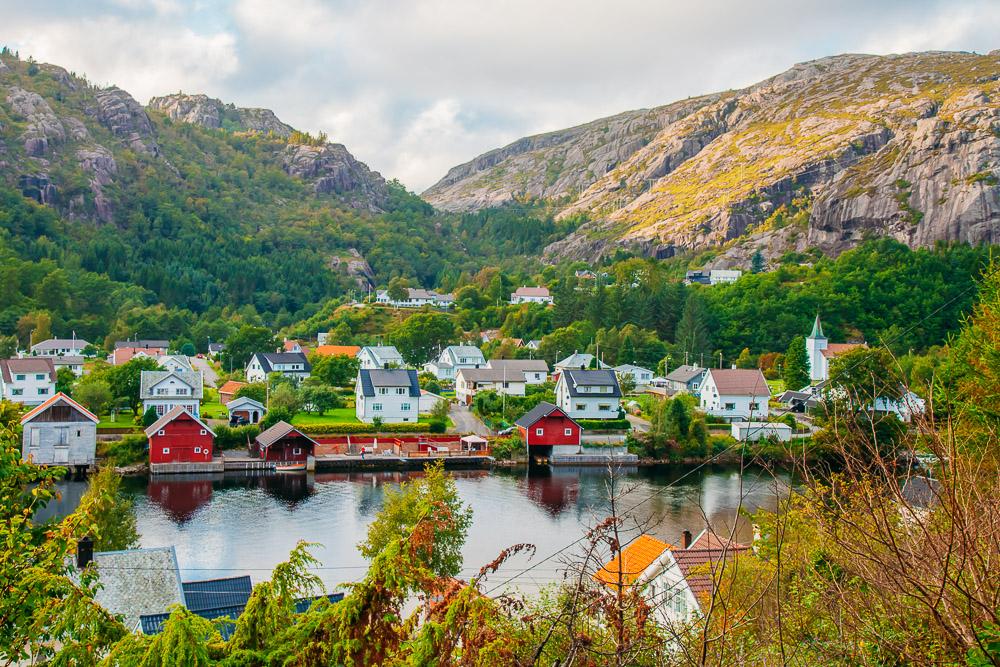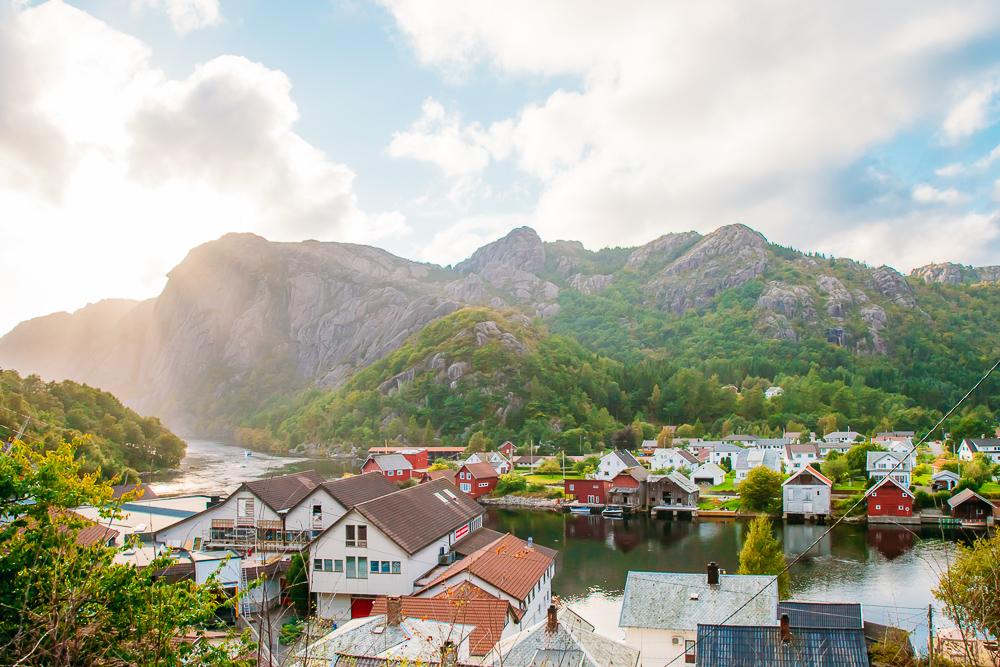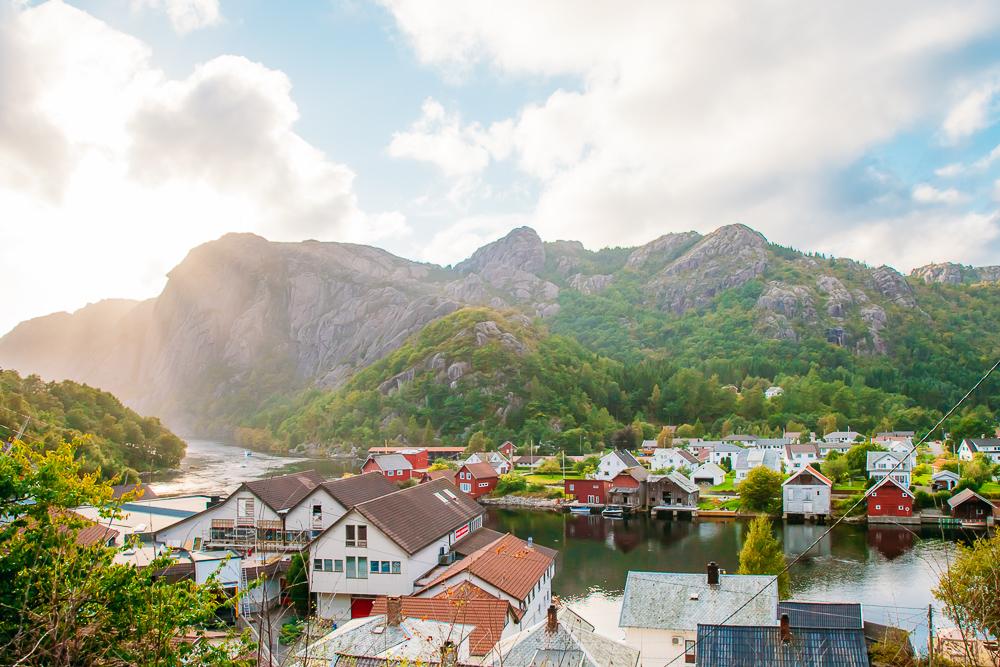 And so we frantically texted our manager asking if we couldn't just, pretty please, stay another night here. Which I don't think surprised him one bit because he's been to Åna-Sira too, so he told us to take a trip out in the calm and climb Brufjell the next day.
A little research told us that Brufjell is famous for its Ice Age potholes that look out over the sea. Cool, no? Except that none of the articles we found about Brufjell told us where it actually is, besides "near Flekkefjord."
So we drove around through all the nearby mountains and felt very sad about our lack of map reading skills (I mean, I'm sure Brufjell is on a map somewhere) until I realized that, lol, we weren't meant to take a trip out in the calm but instead The Calm, or Roligheten in Norwegian, which is the name of an area of Åna-Sira. Whoops.
So for anyone wanting to climb Brufjell (which really should be everyone) take road 44 out of Flekkefjord towards Åna-Sira and just before you get to the village turn left at the sign for "Roligheten." There'll be a sign for parking on your left and then you can walk about a kilometer through the village until you see the start of the hiking trails.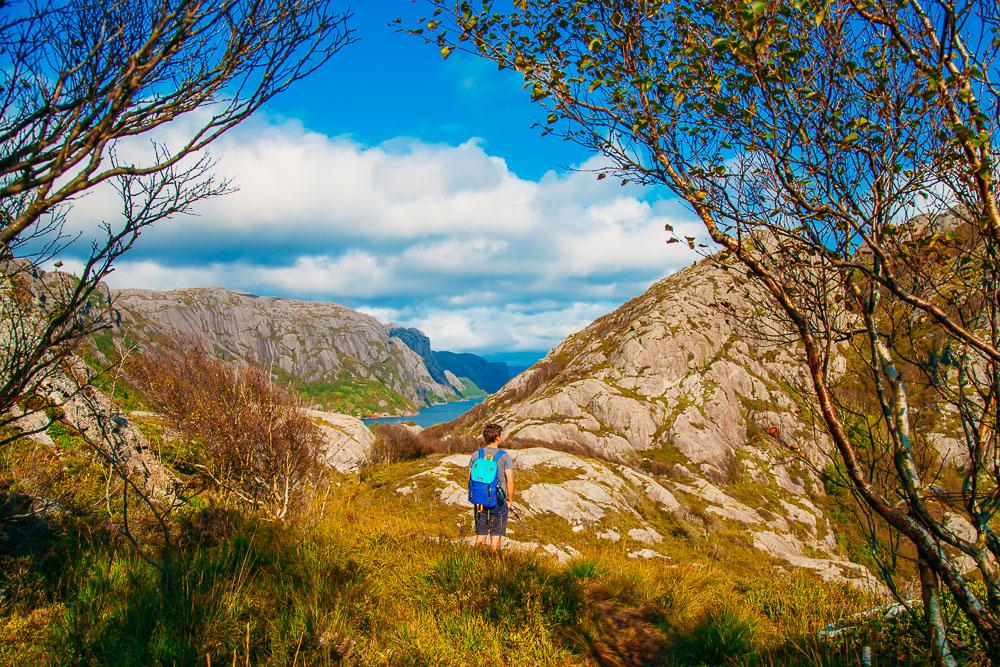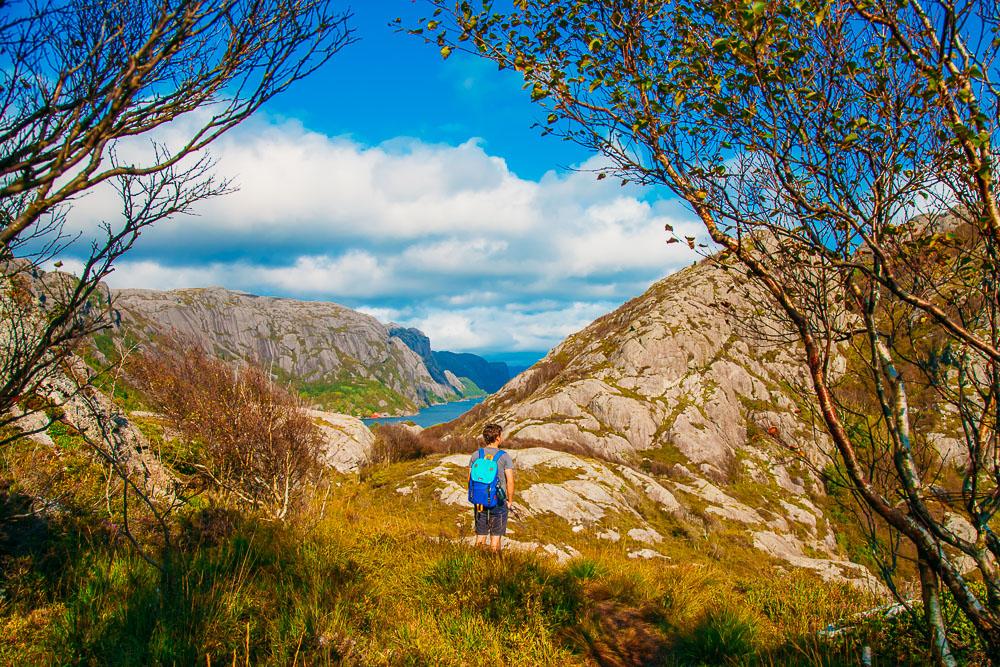 Now, the hike up Brufjell is lovely, but I think the best part was the views out over the village. Um, how pretty is Roligheten?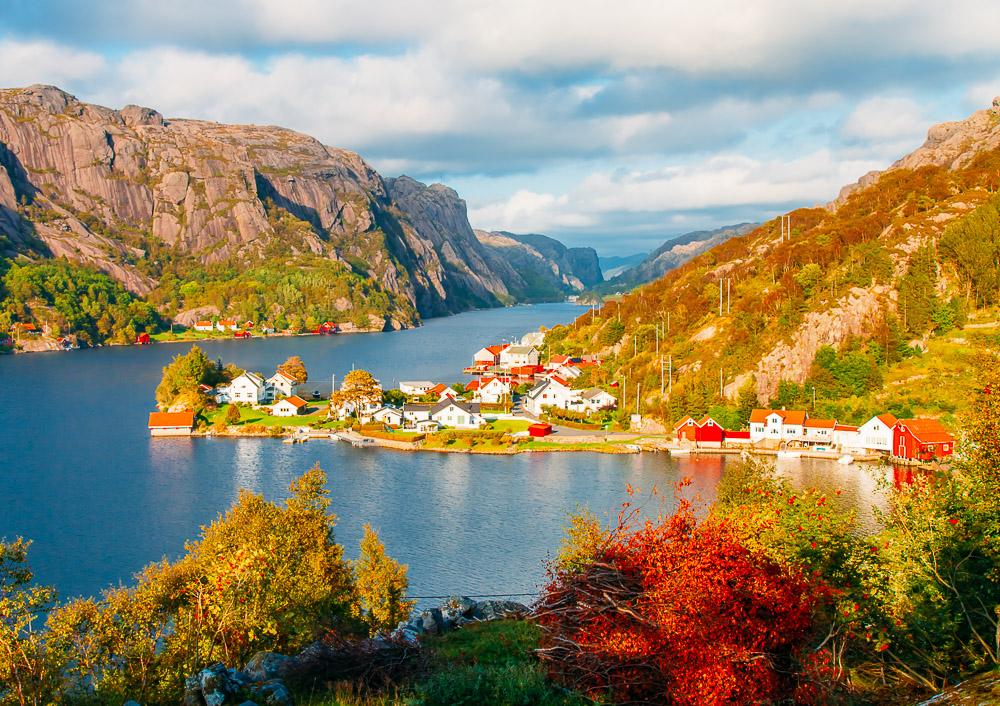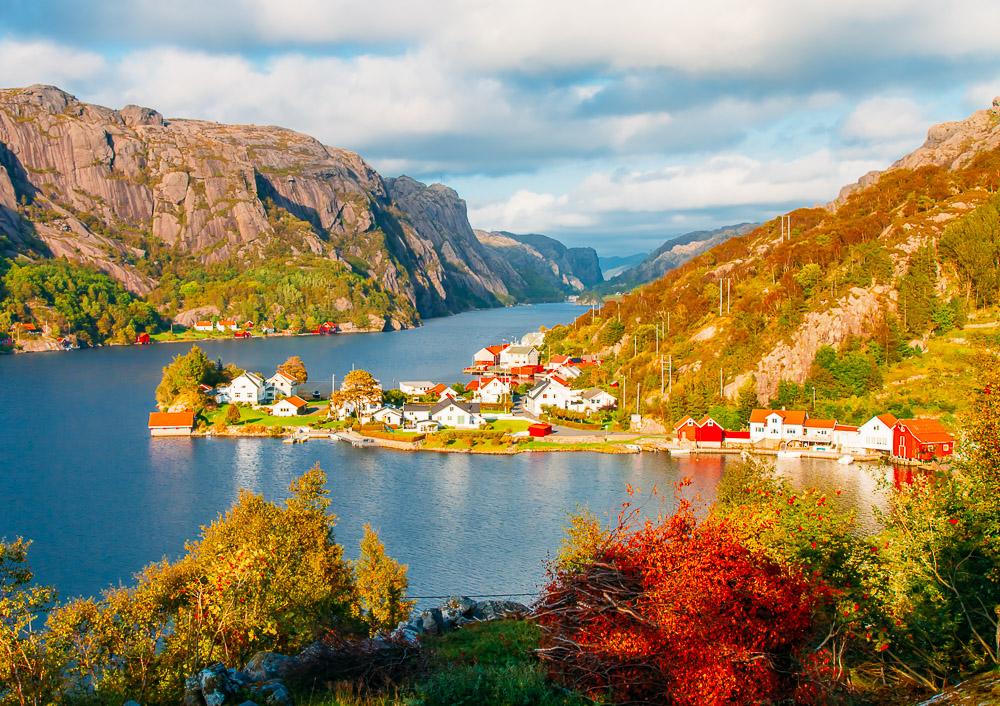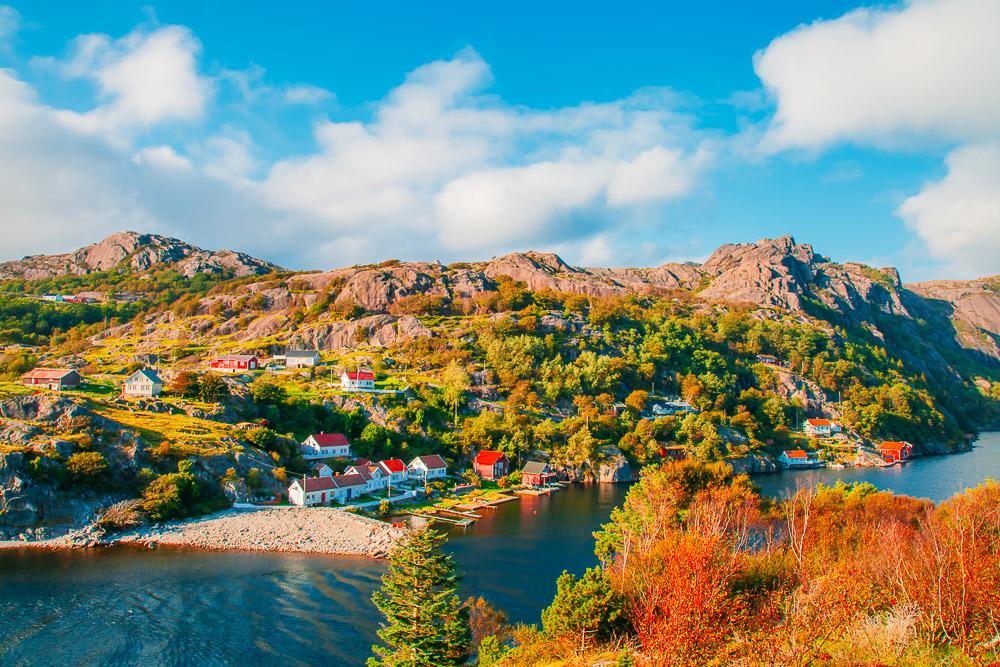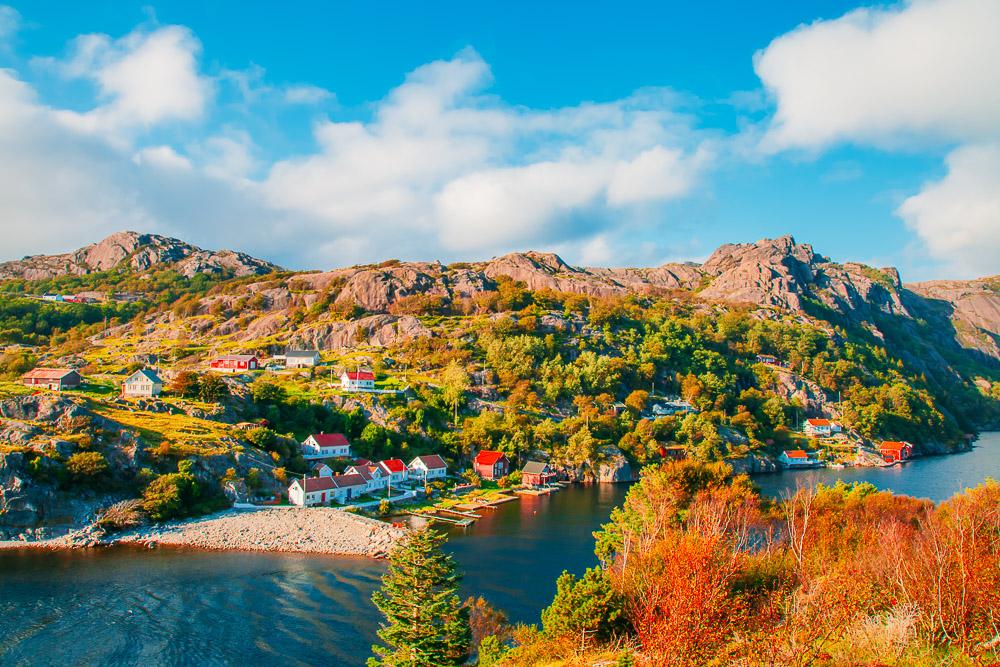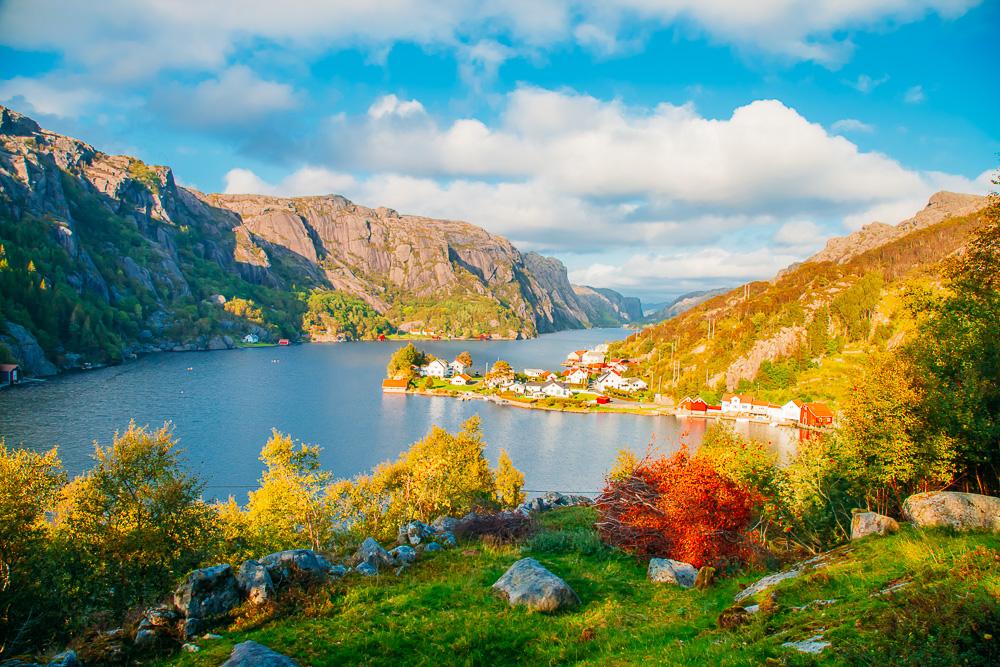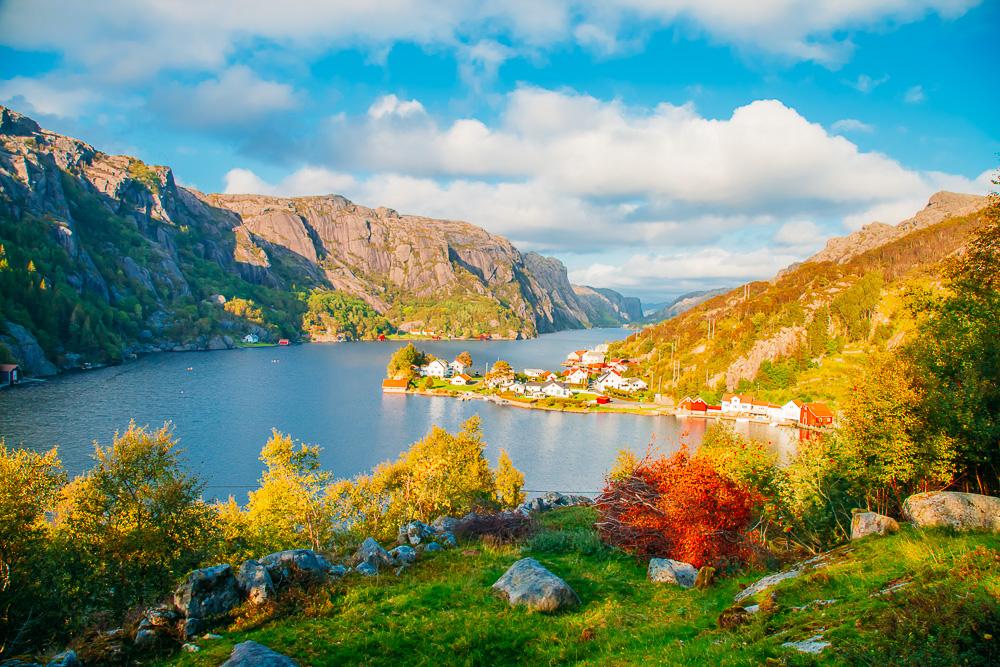 On the way up to Brufjell you can also turn right up to a lighthouse, and from there you can walk down to Sandvig Beach. The water was really cold, but I still wished I had brought my swimsuit for a little post-hike dip in the sea!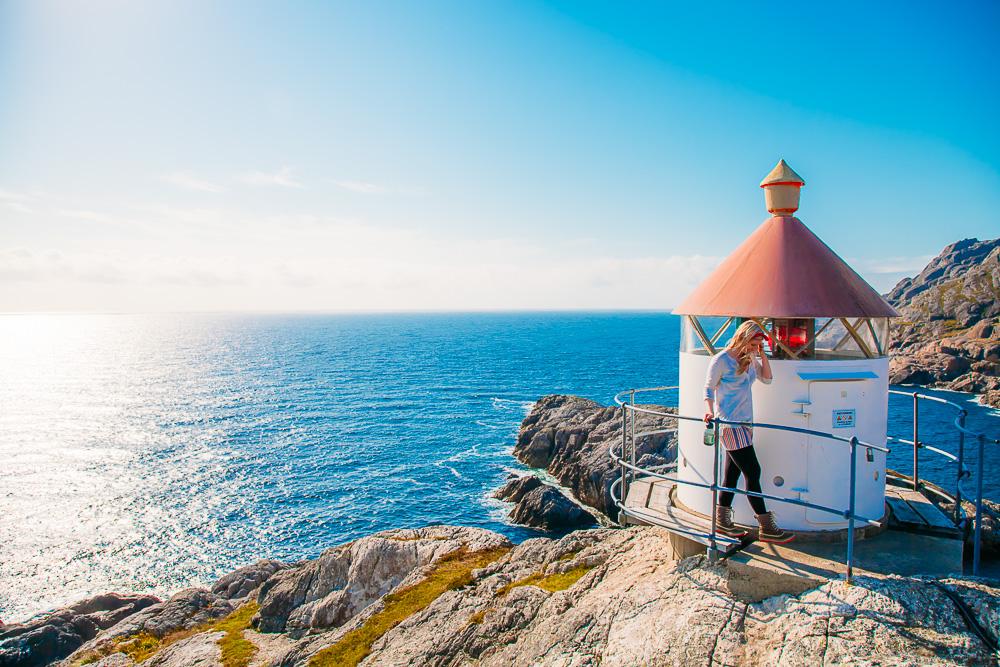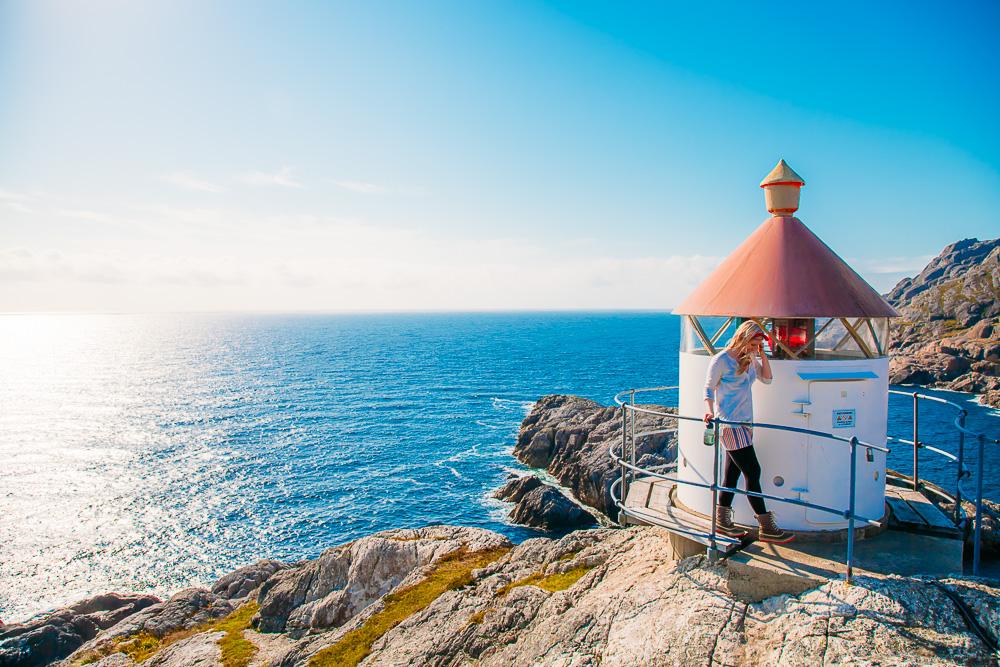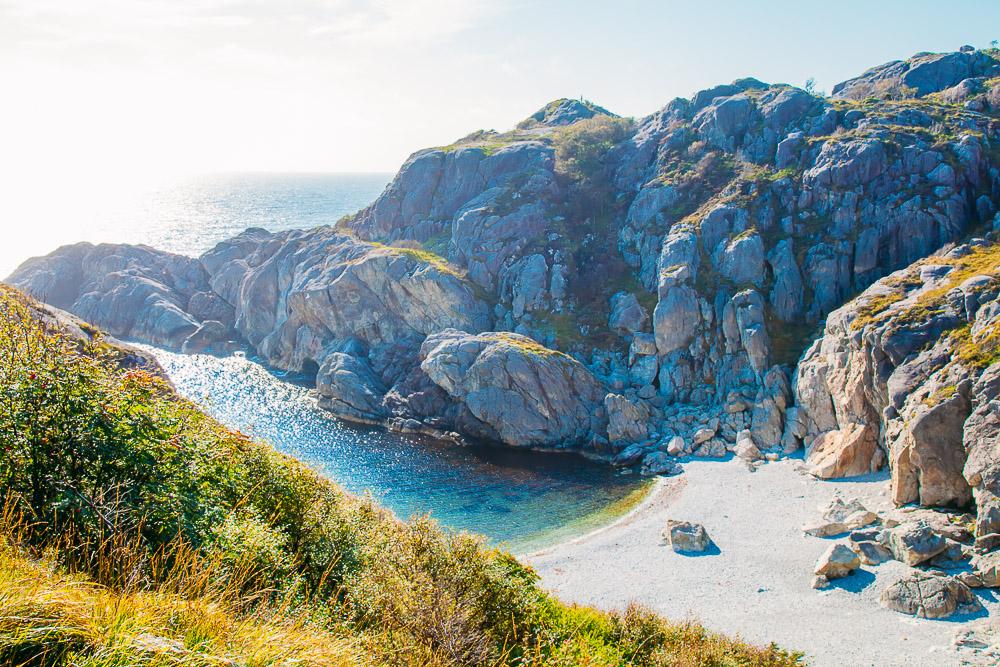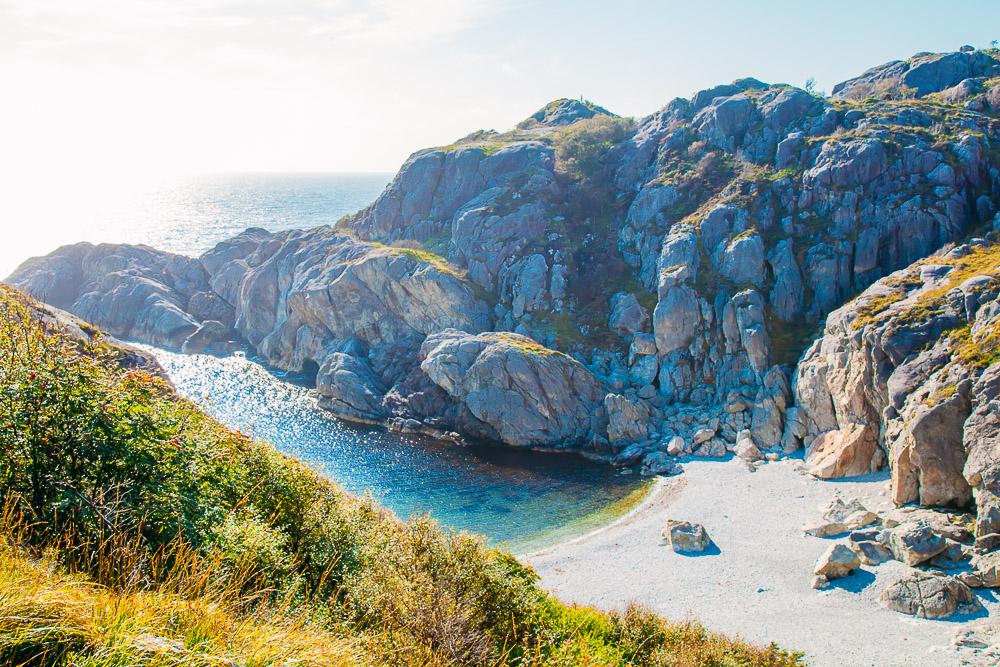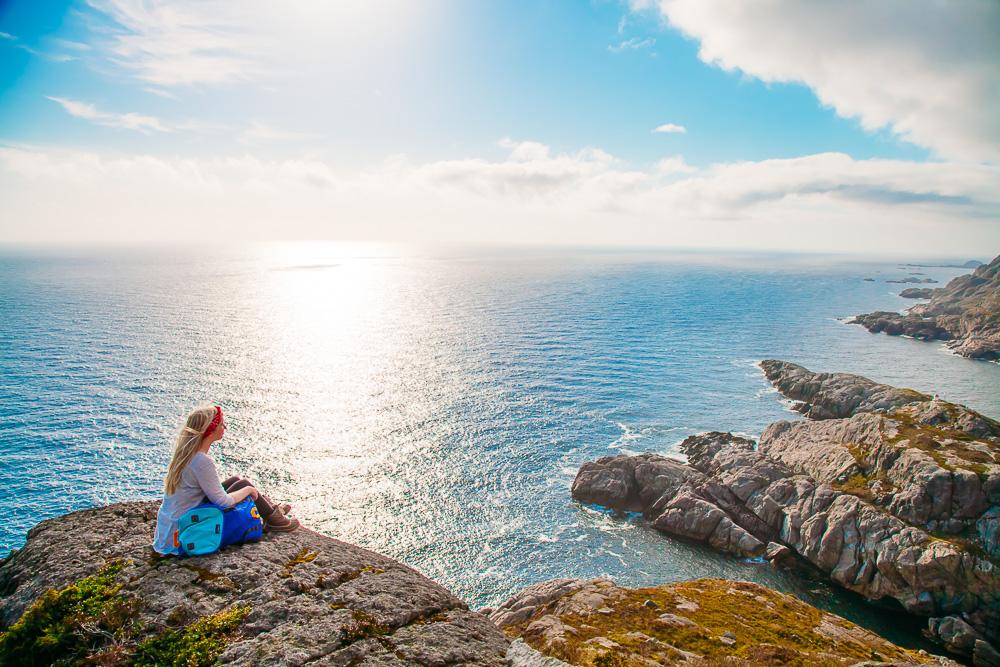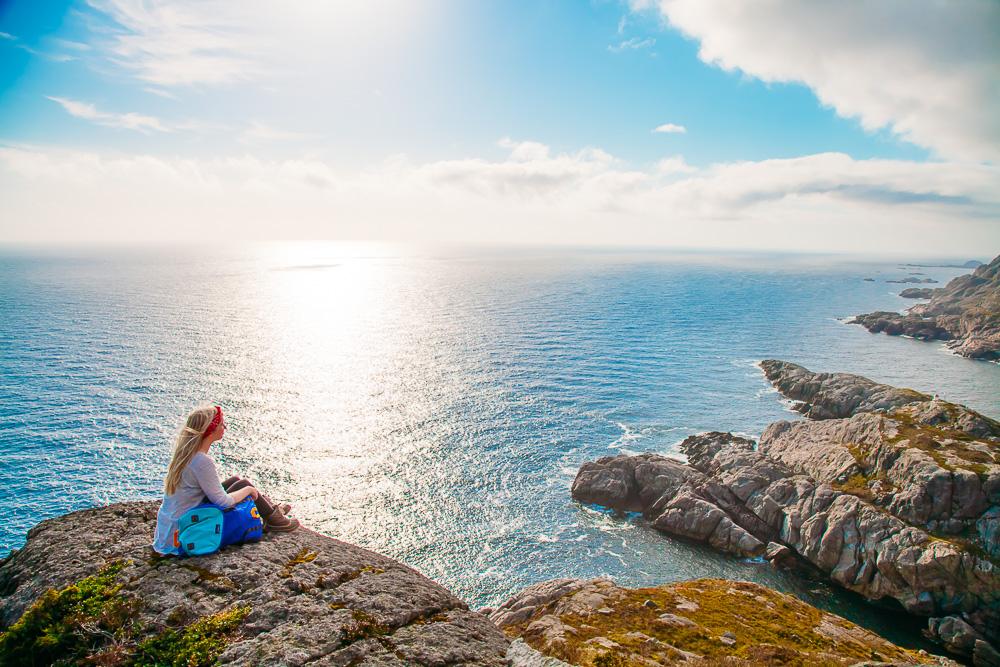 Lessons learned on this trip:
Mandal is beautiful.
Flekkefjord is beautiful.
Roligheten is magical.
And even in Norway, sometimes you should bring a swimsuit with you on hikes. Who knew?
Where to stay near Åna-Sira
I didn't see any guesthouses or hotels in Åna-Sira, but there is a really lovely hotel not too far away in Sogndalstrand, which is also definitely worth a visit. I would stay at the Sogndalstrand Kulturhotell and then do a day trip up to Åna-Sira. Check current rates for Sogndalstrand Kulturhotell here
PIN IT!