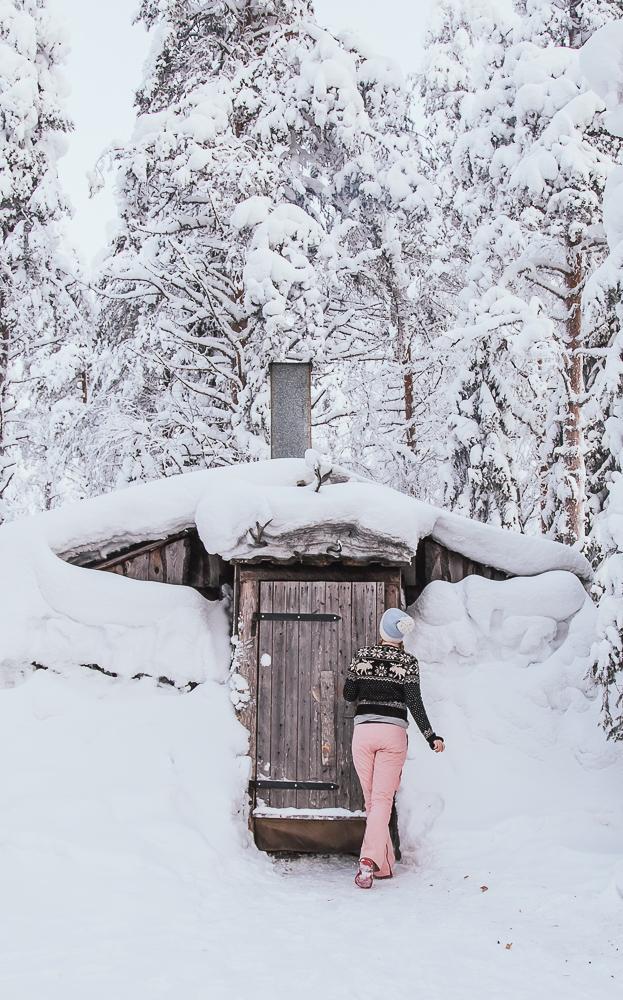 Hold onto your seats, I'm about to make a big statement: I think winter in Finnish Lapland might be prettier than winter in Norway.
Or maybe it's just a Lapland winter thing? So maybe Northern Norway is equally beautiful. Or even more so? What I do know is I used to think I lived in the prettiest winter wonderland in the world, but after visiting Ruka-Kuusamo I'm not so sure.
I mean, those trees!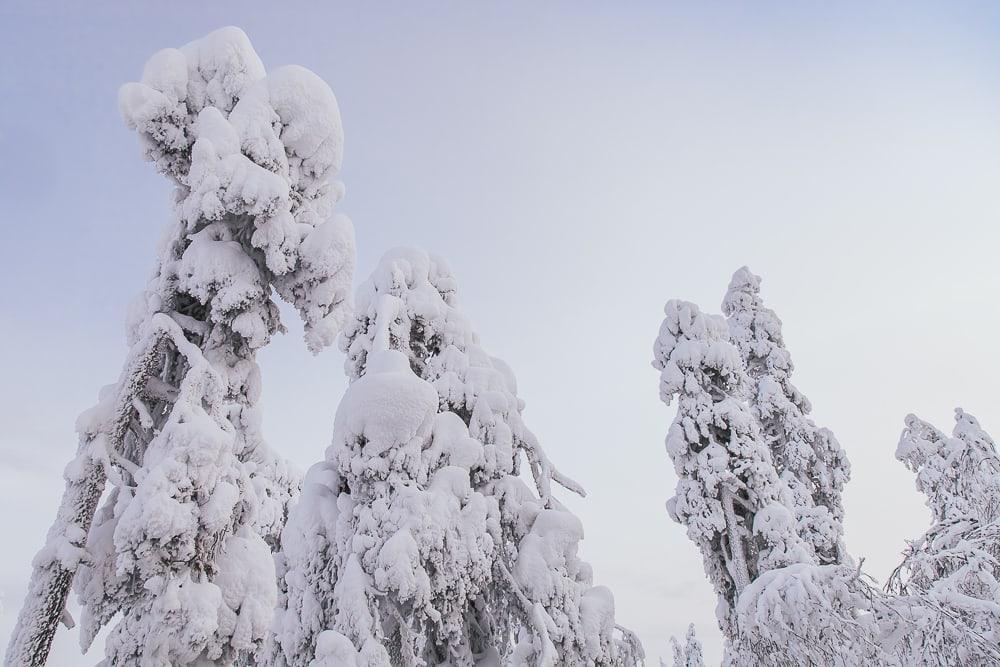 Are trees as good as mountains? I always say that I could never leave Norway for Finland because I'd miss the mountains too much, but these trees could be a game changer.
Let's just say maybe it's time for Norway to sneakily delete Finland's number off my phone and forbid me from seeing her again, because I'm feeling awfully tempted to pack my things and enroll in a Finnish language course. Then again Norway probably knows that if I can barely manage Norwegian there's no way I'll be able to move to Finland and learn Finnish.
I started off my time in Kuusamo at Isokenkäisten Klubi, the coziest little guesthouse nestled right in the middle of those snow-covered trees that I was about to become so obsessed with, and just two kilometers from the Russian border.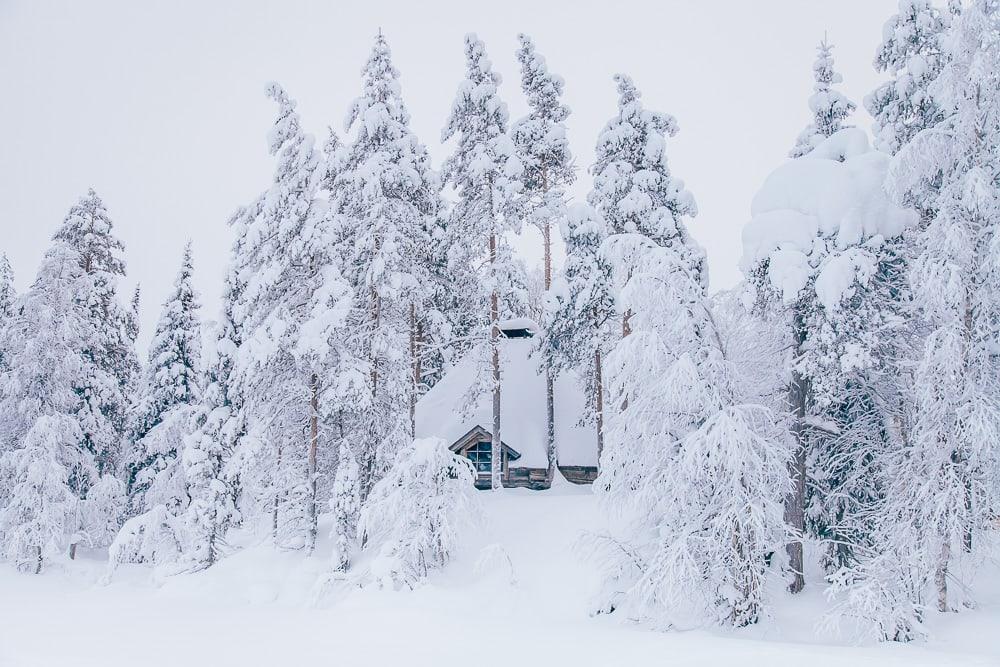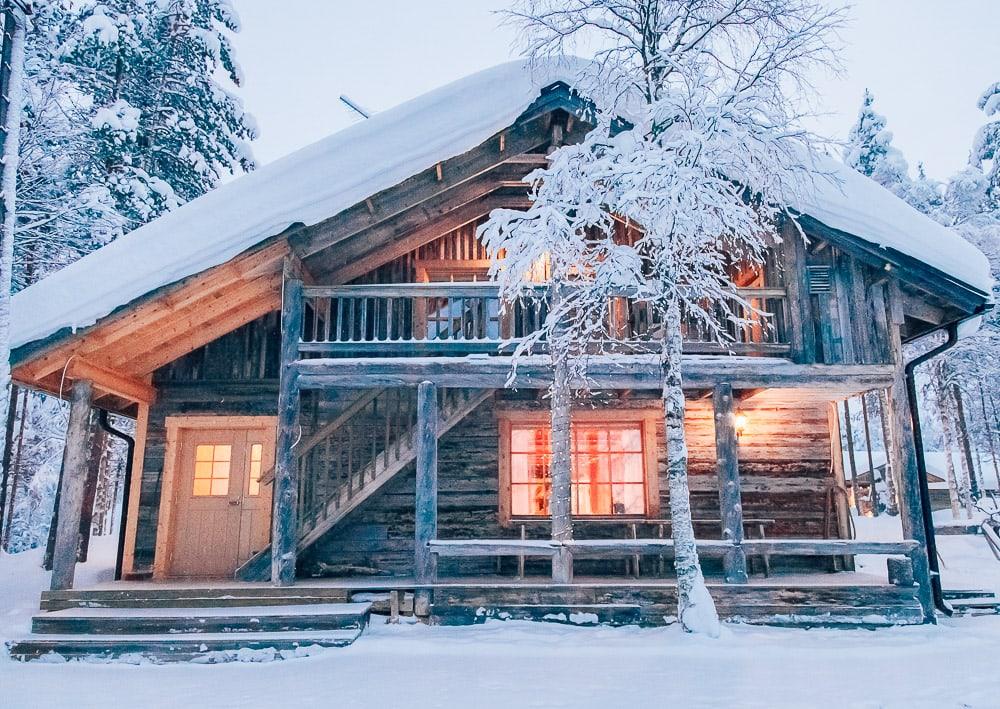 Isokenkäisten Klubi is run by two sisters, and was built by their parents. Their father has now passed away, but the love he put into building the place was so evident that I left feeling like I had gotten to know him, if just a tiny bit. Which is to say, if bland chain hotels are your thing, don't stay here.
But if you want a cosy getaway where you can eat traditional Finnish food (some of it grown on site!), experience Finnish sauna, and even organize some outdoor adventure activities, then Isokenkäisten Klubi could not be more perfect.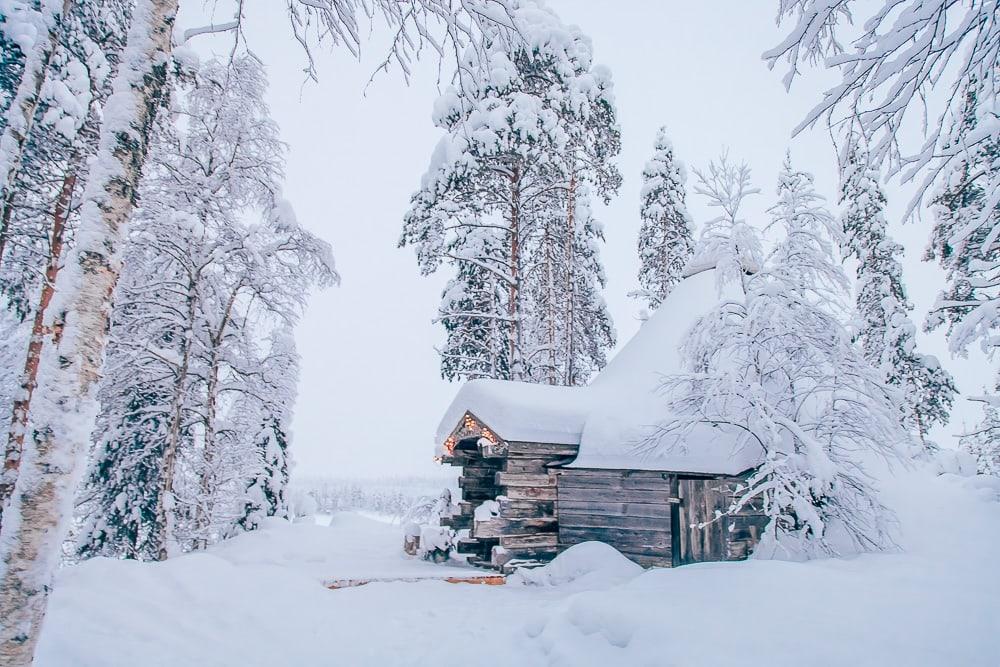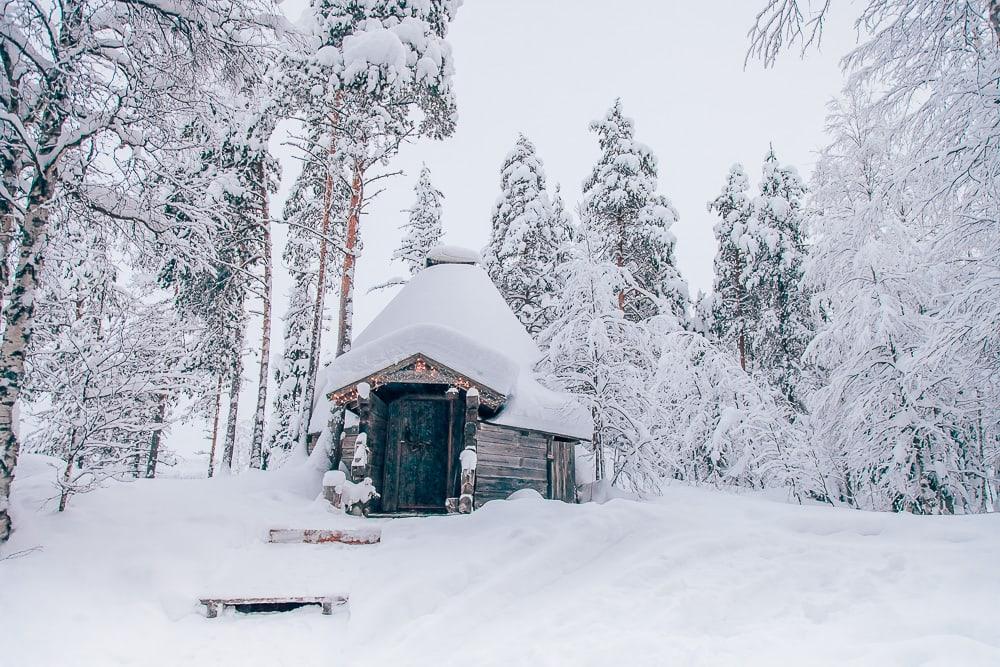 I then headed to Ruka to stay at the Ski-Inn Apartments, right on the ski resort. I shared an apartment with three blogger friends, Lottie, Van, and Megan (you might now Van and Megan from the Nordics travel group we run together on Facebook!).
This was actually my first time skiing this year, and while I've sort of gotten tired of skiing in Norway (I know, I know, I'll go ahead and turn in my Norwegian passport now…), Ruka made me fall in love with it all over again!
I loved that the mountain has so many blue/beginner runs (they are hard to come by in Norway!) and the views from the top were just insane.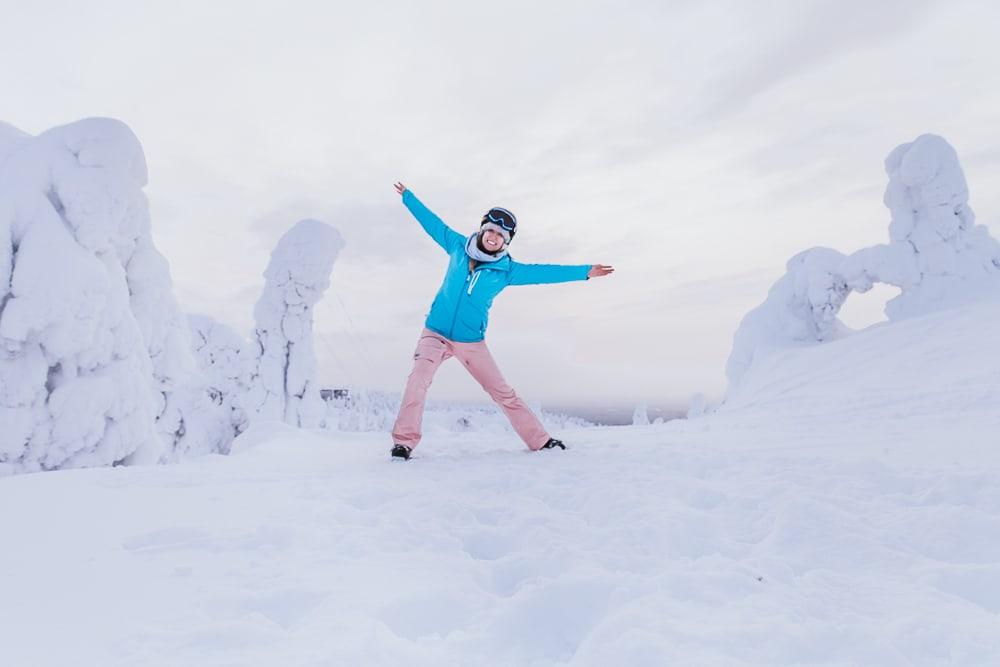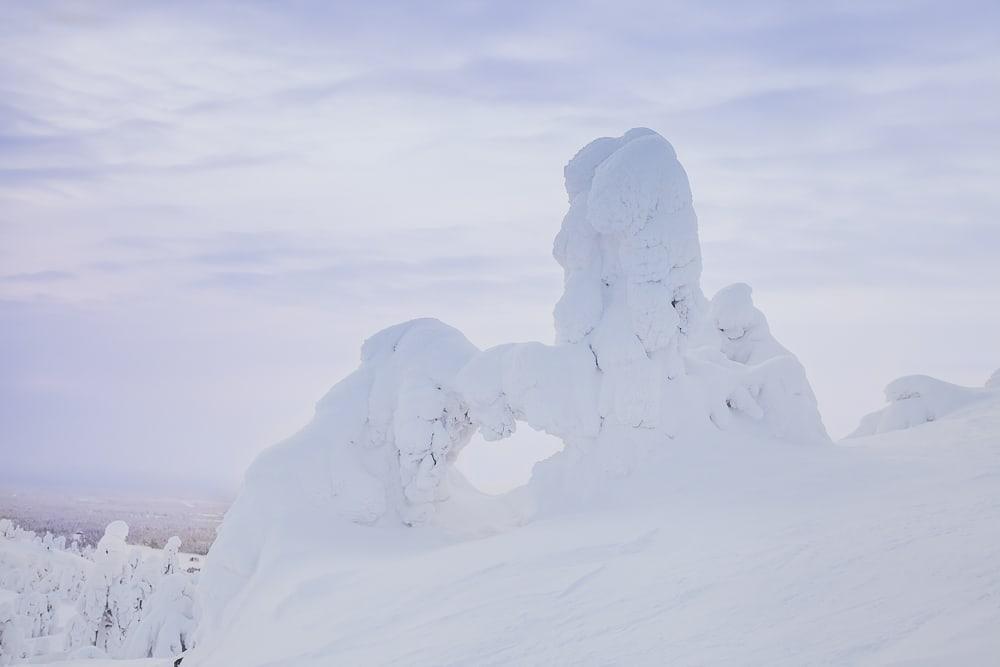 Like, I came to Ruka skeptical that Finland even had hills steep enough to ski down, and I left proclaiming it the most beautiful place I've ever skied.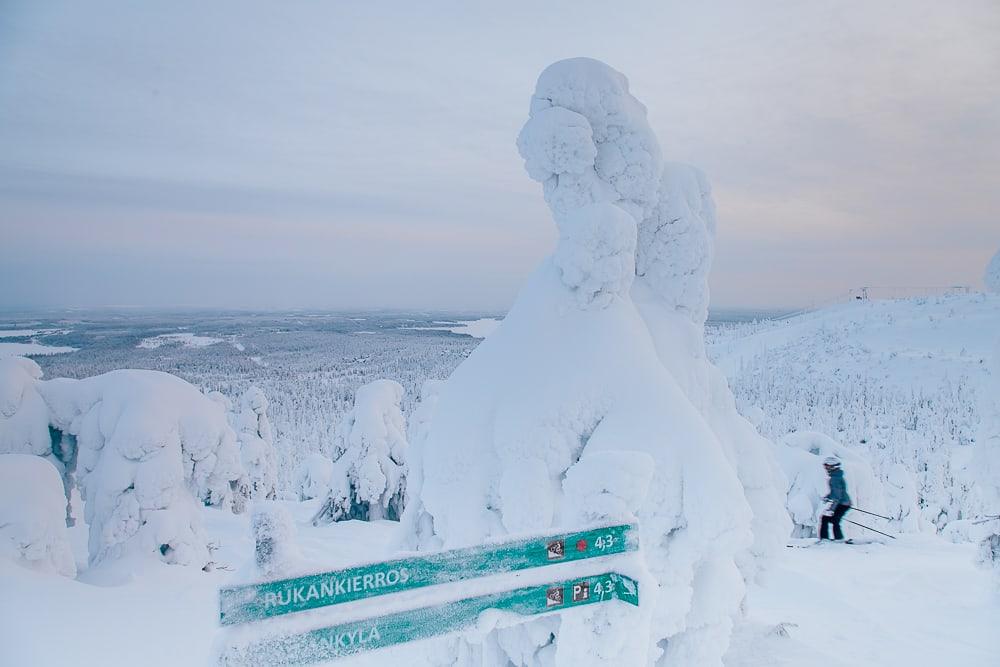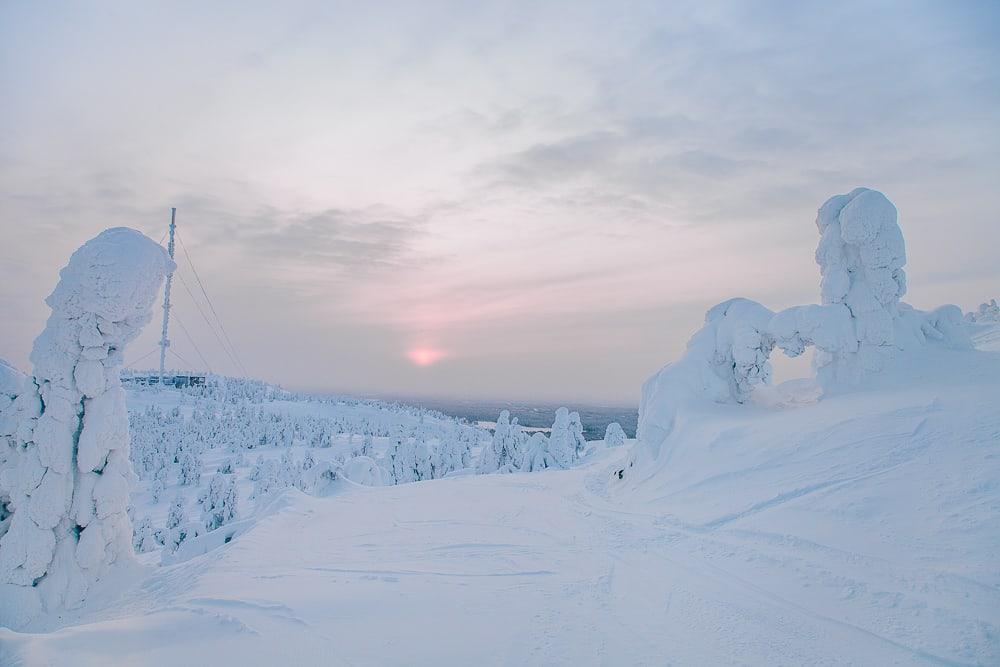 I wish I had managed to take photos from the chairlift because the views were so incredible, but I was too busy holding on for my life – no matter how many times I've safely made it up a chairlift, I still feel like I'm constantly fighting the urge to throw myself off the chair into the snow below.
Does that happen to anyone else? No?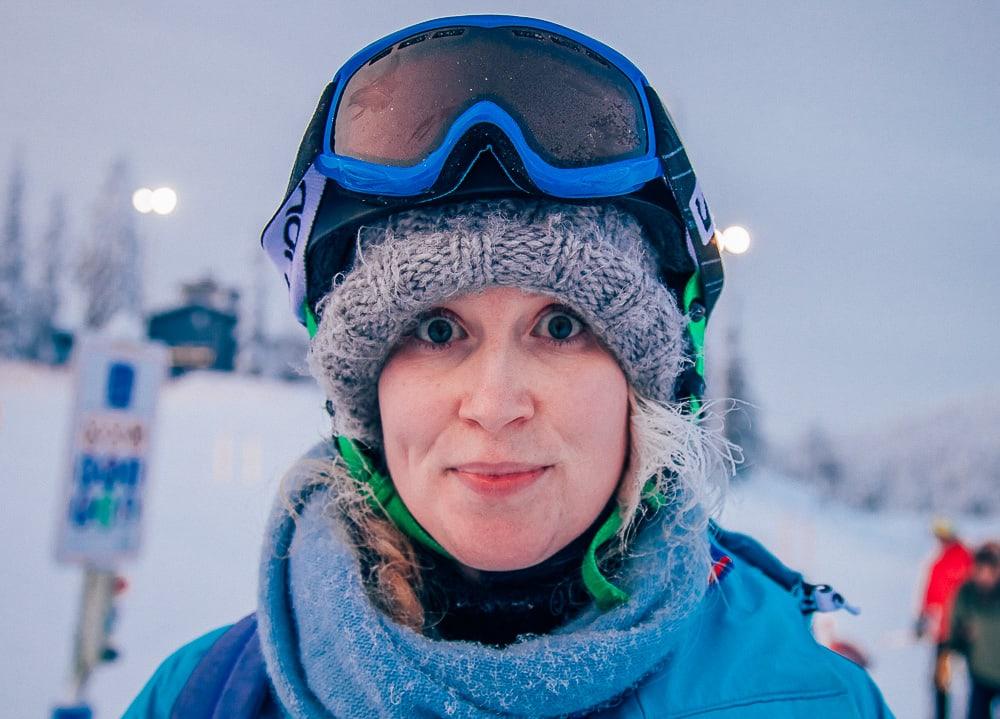 Luckily Ruka Ski Resort also has activities that don't involve soaring through the sky. Like tubing!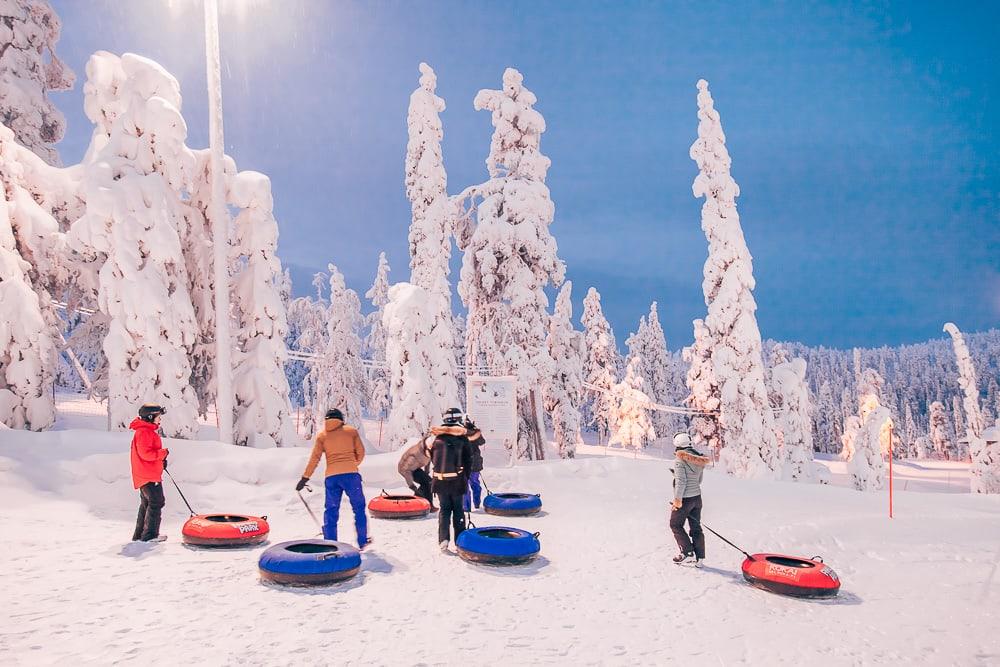 And ice climbing! That's me at the top there: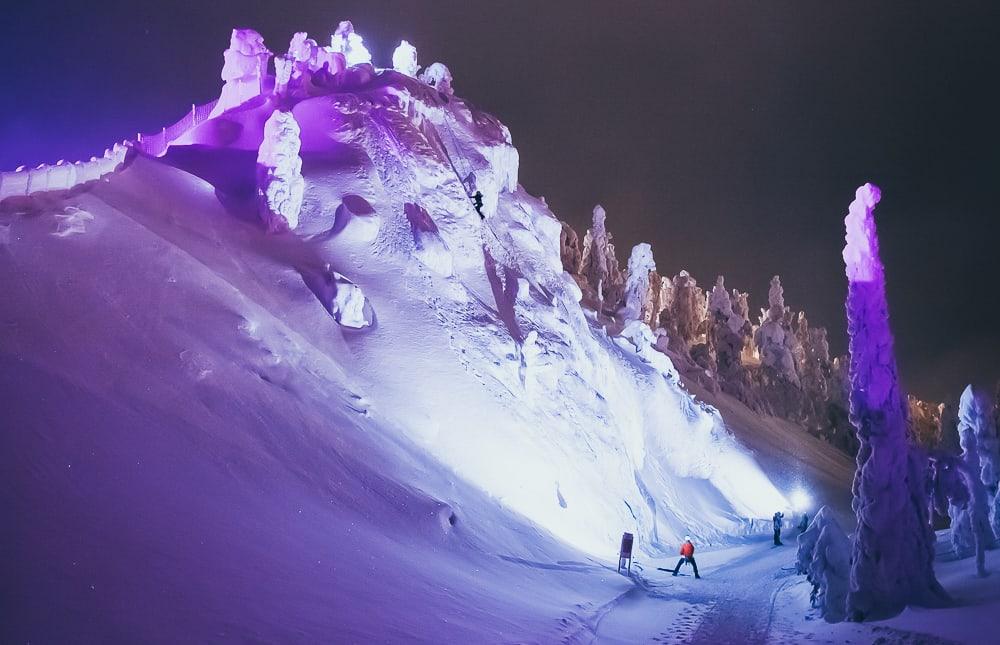 Lol if only (it's actually Fabienne). But even if I just made it a few meters up before going all wobbly and begging to come down, it was still really fun to climb such a spectacular looking wall!
The next day we headed to a magical place called Santa's Cottage, where we all got to learn how to be Finnish for a day! At least I think that was the point of the excursion, as the program is called "Day As a Finn" – you can book it here.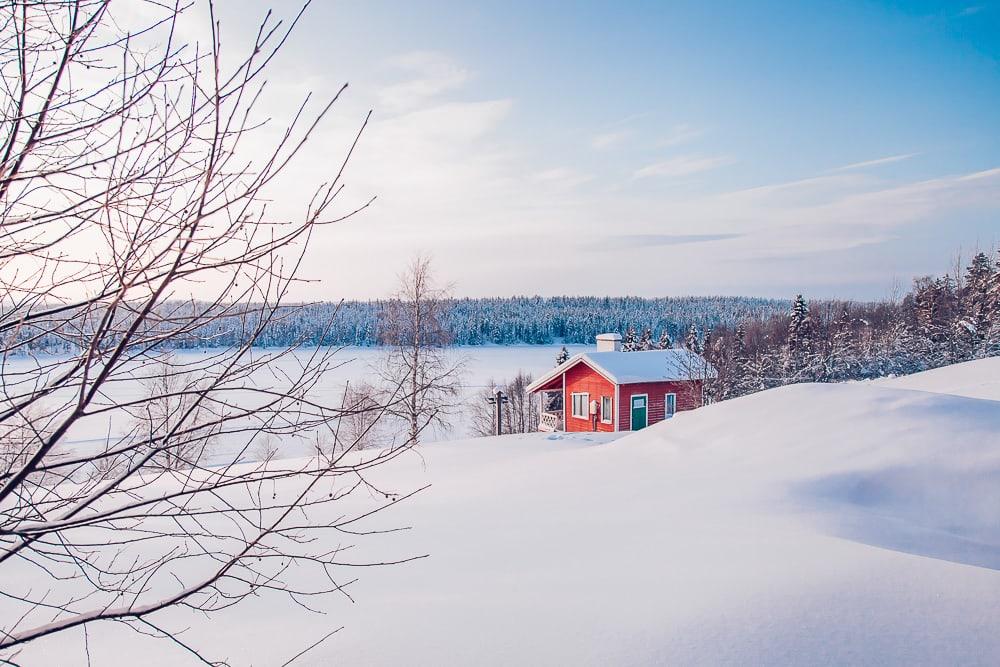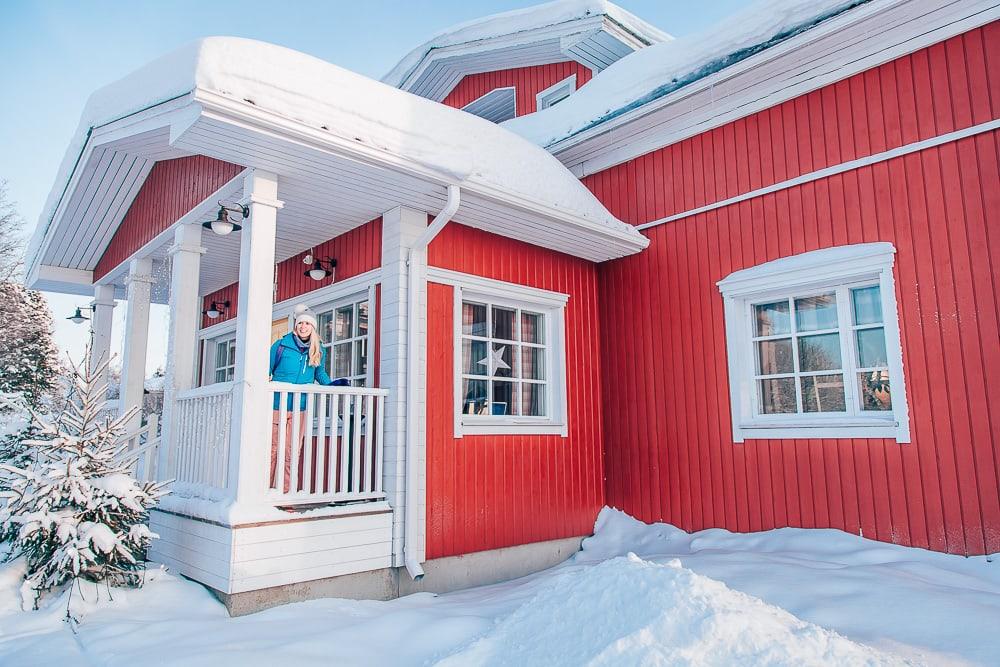 So how do you become Finnish for a day?
Step 1: Make some buns with cinnamon and cardamom.
Step 2: Eat a lunch of reindeer casserole.
Step 3: Play outside in the snow.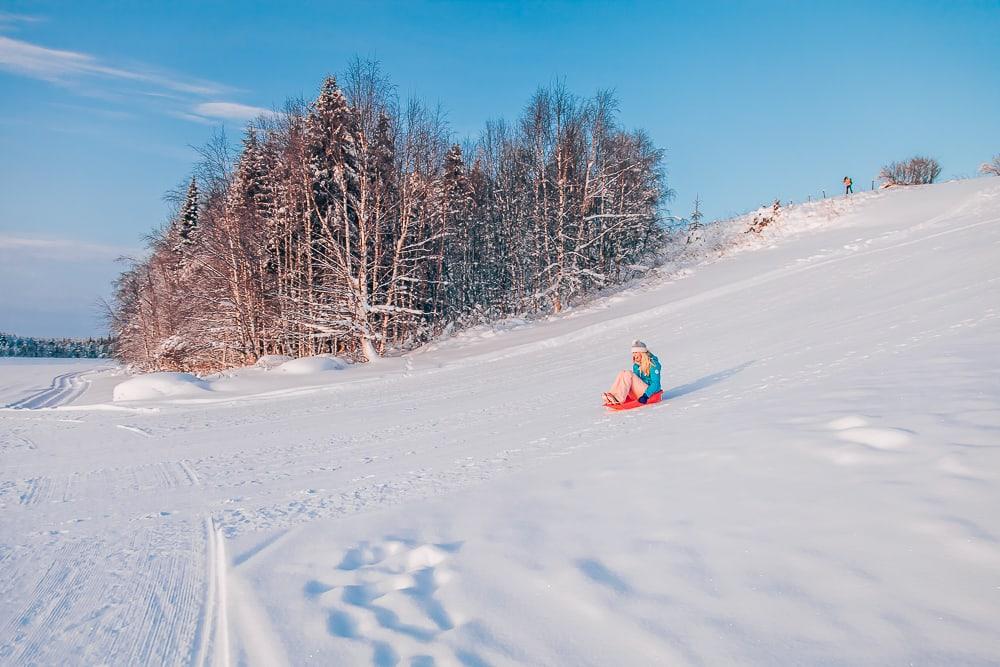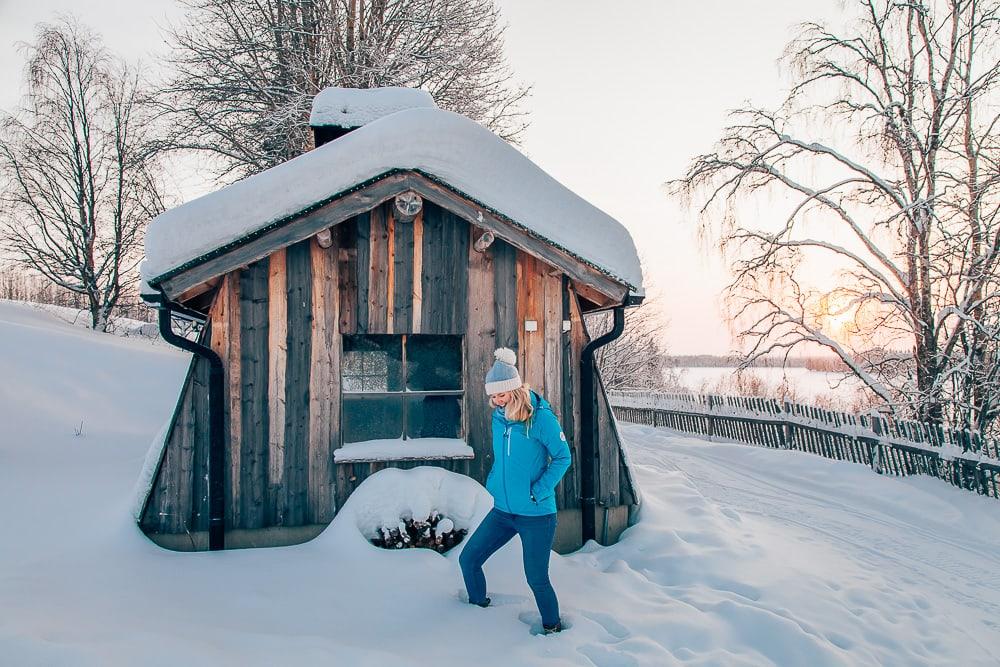 Step 4: Eat the buns you baked earlier.
Step 5: Go to the sauna and hit your friends on the back with juniper branches.
Step 6: Run out of the sauna and throw yourself in the snow.
Step 7: Repeat steps 5 & 6.
Step 8: Relax in a jacuzzi.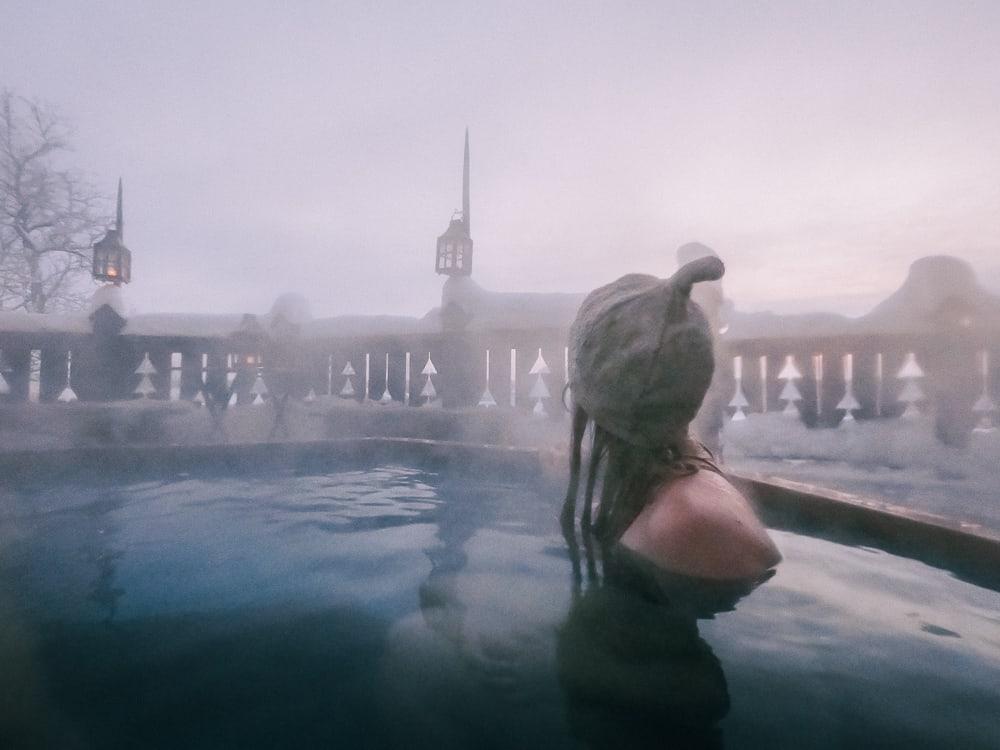 And that's it!
There was only one thing missing to complete my time in Finnish lapland: reindeer.
So before catching our flight back to Helsinki, we all headed to Polosaari Reindeer and Fishing Farm to get our dose of reindeer hilarity. I mean, you know how I feel about reindeer.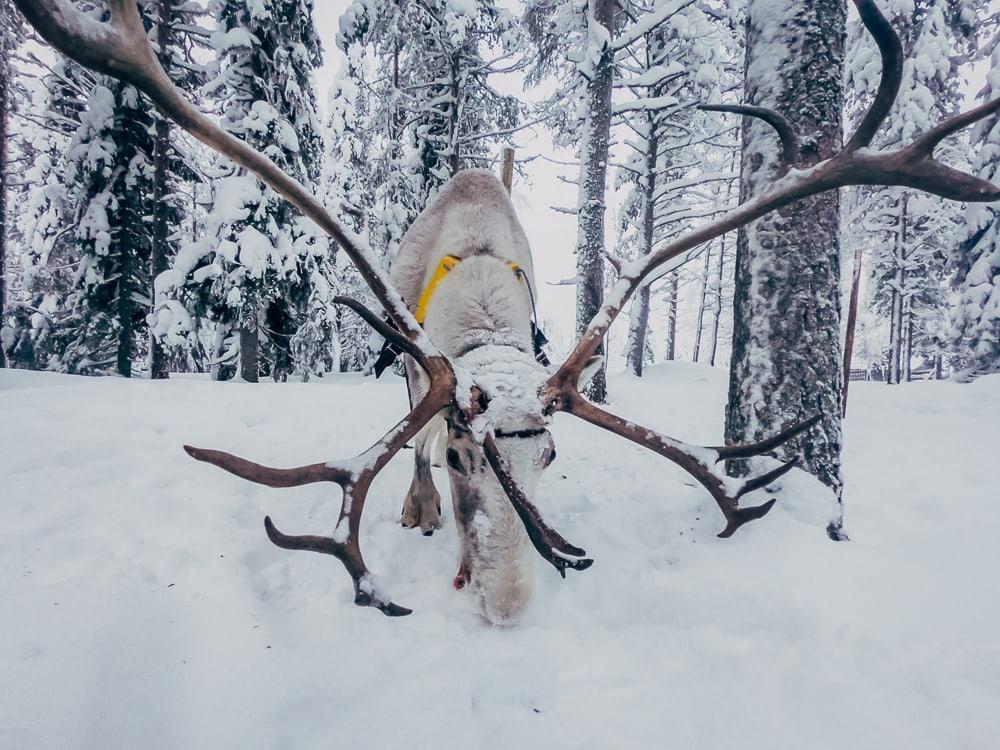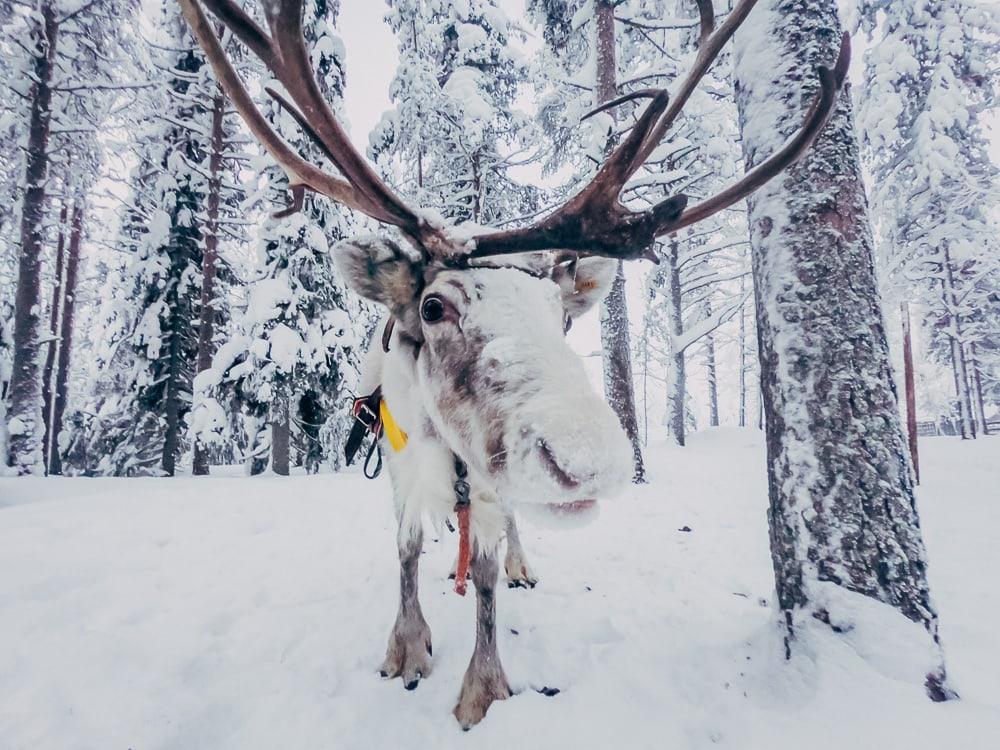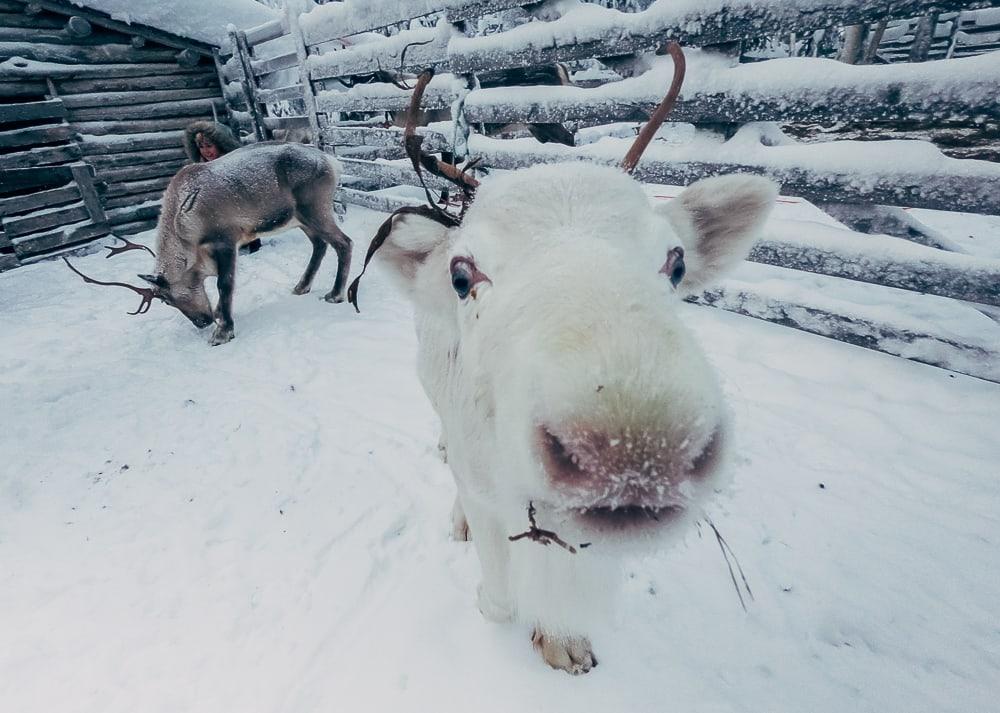 Here we learned more about reindeer herding while having a cosy lunch by the fire (I'm not going to say what we were eating).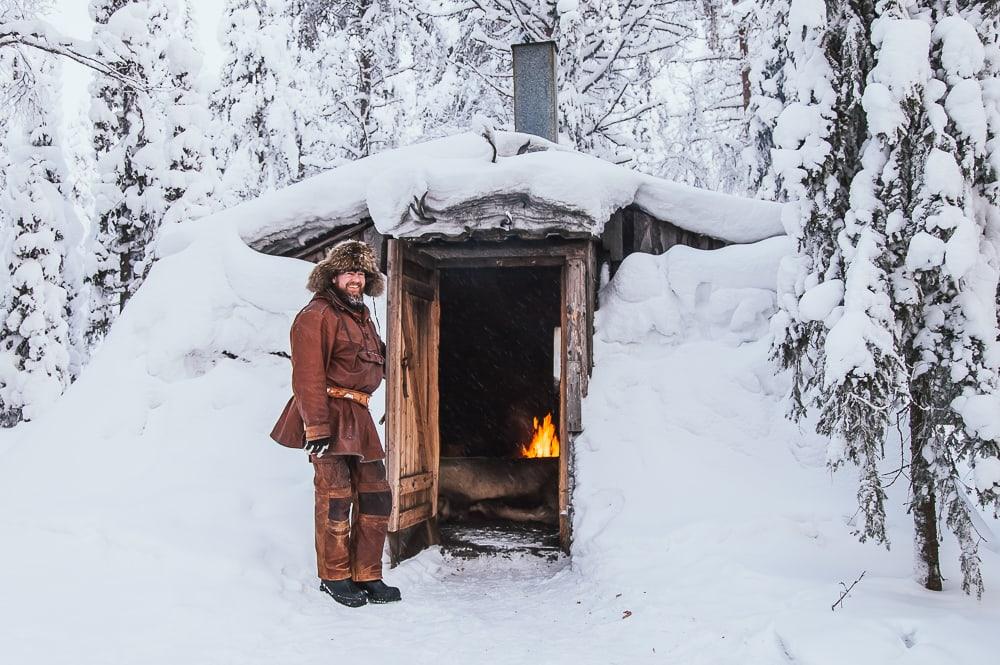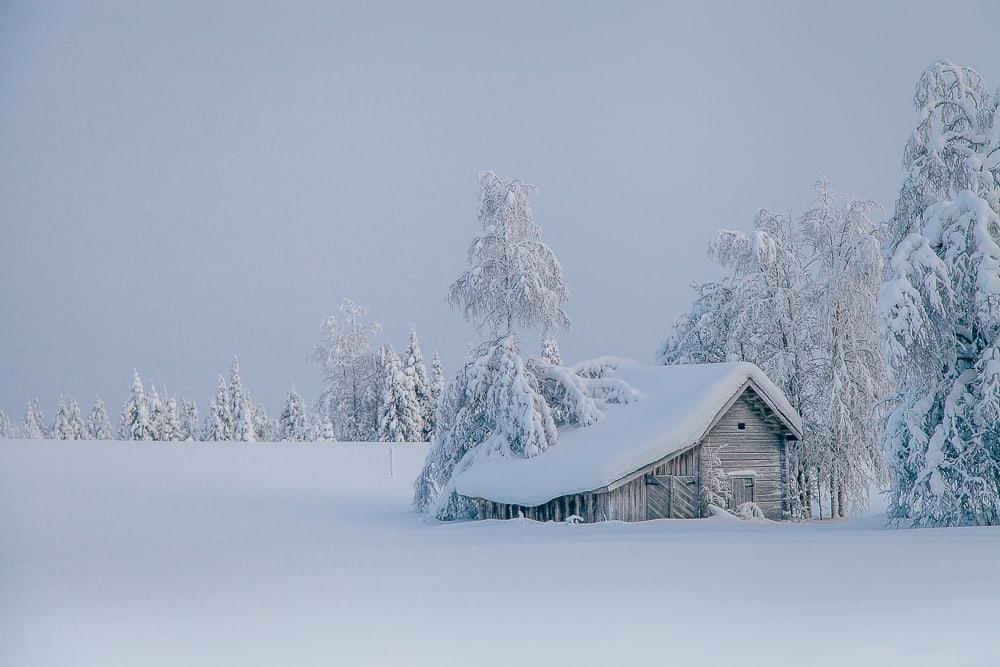 I visited Ruka-Kuusamo in collaboration with Ruka-Kuusamo tourism as part of NBE Finland.