How to travel from Beijing, China to Ulaanbaatar, Mongolia independently.
I don't know if any of you guys read or will remember this, but a year and a half ago I almost went to Mongolia. And I mean almost. But the night before my friends and I were going to buy our train tickets from Beijing we talked to a French couple who convinced us to travel to Kyrgyzstan first.
We had planned to hit the Stans after Mongolia, but the couple spoke so highly of Central Asia (and less highly of Mongolia, which they felt was too touristy and expensive) that we changed our plans. And then once we got to Central Asia we fell so deeply in love that we forgot about Mongolia altogether.
Well, until now.
The exciting part? Alicia and Bryce decided to come to Mongolia too!
After stocking up on warm clothes (Alicia and Bryce had only packed with balmy Southeast Asia in mind – apparently they hadn't expected to take a detour to Mongolia? Poor planning.) we bought our tickets to Jining Nan and Erlian.
There is a direct train from Beijing to Ulaanbaatar that runs twice a week and only takes about 30 hours, but tickets cost $200. The direct train is of course the easiest way to travel from Beijing to Ulaanbaatar, but being the budget backpackers we are, we decided to take cheapest (and most fun!) route.
We instead took a 7-hour train to Jining Nan, where we spent a night, a 6-hour train to Erlian, where we spent another night, a 2-hour bus across the border, and then an overnight train from Zamyn Uud to Ulaanbaatar. The whole journey from Beijing to Ulaanbaatar, including two nights at hotels, ended up costing us each $54.
So we each saved $146, plus it was so much more fun than being on a train the entire time.
You can see our full itinerary of trains and buses from Beijing to Ulaanbaatar, including prices, at the bottom of this post.
Well, sort of. It was an experience at least!
The (Budget) Train Journey from Beijing to Ulaanbaatar
The scenery for the first few hours outside of Beijing was really beautiful, with dramatic mountains and canyons around every bend. But as we approached Inner Mongolia things started to get pretty bleak, with frozen deserts and towns consisting solely of power plants and apartment blocks for the power plant workers.
We only spent the night in Jining Nan, so we didn't experience much of the city besides dinner at a restaurant and a night at a very grubby hotel, but it certainly seemed a bizarre place. In fact, a night in Jining Nan was sort of worth it just to experience middle of nowhere China.
And then we arrived in Erlian, which was an even stranger city. We stayed at Au Lian Hotel, which was really luxurious (and cheap!) and wandered through the frozen city to find some food. Again, it was strange to see such an impressive city set up in the middle of nowhere.
In fact, it was amazing to see how crowded China is even in Inner Mongolia (China is trying hard to lure people there) and then to cross over into a virtually empty Mongolia. The border crossing from Erlian into Mongolia was definitely one of those border crossings where I really felt like I was entering a new land.
The night train from Zamyn Uud (or Ude) to Ulaanbaatar was the highlight of the journey for me, with its coal oven, old fashioned carpets and curtains, and a private sleeping compartment for the four of us! It felt just like what I imagine train travel through Russia used to be. Oh wait, that's probably because we were on an old Russian train.
And then we were in Ulaanbaatar! Really that sentence doesn't deserve the exclamation point I gave it, because Ulaanbaatar is horrible. Like, seriously dismal. Before going I had heard it described as the bleakest city in the world, and while I had been ready to defiantly love it, sorry Ulaanbaatar, but no.
Well, we did eat some good food there. And there's a bit of interesting street art going on in the city. But apart from that it was just cold, gray, and oh so polluted. When we went outside at night I could barely breathe from all the smoke in the air – I suddenly understood why some places ban burning coal.
Okay, confession: I was really sick during my stay in Ulaanbaatar, so it's likely that my feelings for the city were totally tainted by feverish chills and that cough that I still haven't quite managed to shake. Ugh, getting sick while traveling is the worst.
So maybe Ulaanbaatar isn't that bad after all? Then again, Dan summed up his feelings about the dreary Mongolian capital with "every time I go outside this city manages to piss me off," and he didn't have so much as a runny nose. And I mean, it can't be that he was just grumpy from having me constantly coughing in his face, right? Right?
Luckily we were soon heading to the countryside, where things would get a lot better. Gers! Mountains! Furry cows! Cheese!
The Cheapest Way to Travel from Beijing, China to Ulaanbaatar, Mongolia – by Train and Bus
The train from Beijing to Jining Nan took 7 hours and cost 58 CNY for a hard seat. We booked both the train from Beijing to Jining Nan and Jining Nan to Erlian at the main bus station in Beijing a couple of days before we wanted to leave.
In Jining Nan we stayed at a hotel across from the train station where we split a 4-person room for 35 CNY each (the room was pretty awful, with cigarette burns and cigarettes all over the carpet, but it served its purpose).
The train from Jining Nan to Erlian took 6 hours and cost 35 CNY for standing tickets – hard seats were sold out when we booked, but the train emptied after about an hour and a half so we didn't have to stand for long.
In Erlian we stayed at Au Lian Hotel, where we split a lovely 4-person room for 54 CNY each. The hotel is a 10-minute walk from the train station, but we didn't know this and took a taxi, simply telling the driver "Au Lian."
We took a bus from Erlian across the border to Zamyn Ude, which cost 50 CNY per person and took about two hours.
We booked our beds on the train to Ulaanbaatar as soon as we arrived in Zamyn Uud (the train left a couple of hours later). A bed in a 4-person compartment cost 34000 MNT.
In Ulaanbaatar we stayed at Sunpath Mongolia, which was AMAZING – the staff were so kind and introduced us to the local culture. It was a highlight of our time in Ulaanbaatar, for sure. Check current prices for Sunpath Mongolia
I also highly recommend getting a visa for China through iVisa, which takes out all the hassle (I had some problems getting a visa independently on my first trip to China!).
What's the bleakest city you've been to?
PIN IT!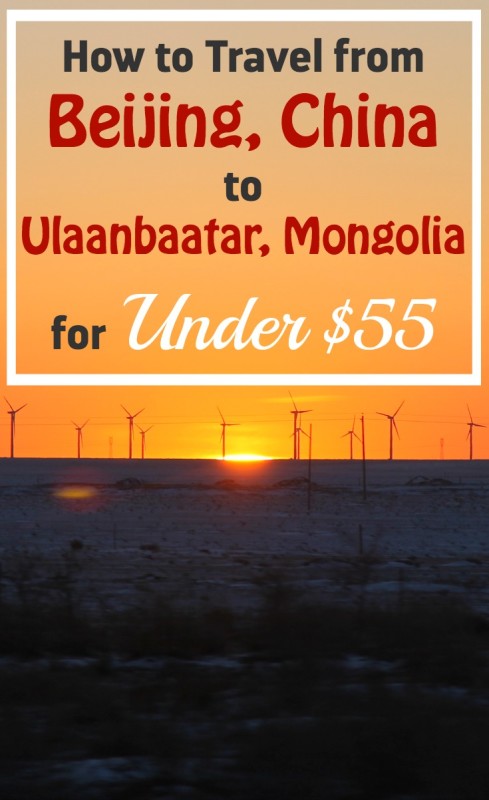 p.s. Please, please do not forget to get travel insurance for this trip!
After being hospitalized in Beijing (on a previous trip there) I swear by travel insurance. I use World Nomads, which has the best reviews, and they helped me find a hospital when I needed PLUS when I filed a claim with them all I had to do was send my receipts and I had a check in the mail from them within a couple of weeks. So easy!
You can get a quote here: