Updated June 2020
"So how fit are you?"
Natalie and I had just met outside the cafeteria at Gatwick airport, a few hours before our flight to Rwanda, and this was about the third sentence she said to me – right after "hello" and "my name is Natalie."
"Um…"
"Have you been training for this hike? Last night my coworkers asked me how long I've been training for it. Does walking my dog count?"
I laughed and told her that of course we'd make it up Mount Nyiragongo – we could always take ten hours to get up the volcano instead of the usual five, right?
But the truth was, I hadn't actually realized climbing Mt Nyiragongo was a big deal until a few hours before meeting Natalie, when I started reading blog posts about the hike as a way to kill time during my 12-hour layover.
We were catching a flight to Rwanda for our 2 week Rwanda, Uganda and DRC trip with Rock My Adventure, and our hike up Nyiragongo was meant to be one of the highlights. But now I was scared.
While upon reading about the Nyiragongo hike I did head straight to the restroom to do some squats with my backpack on, I was a little bit nervous that wasn't going to quite cut it. Okay fine, I was more than a little nervous – I was terrified. I hadn't been this freaked out after reading stuff online since that time my left pinky finger went numb for a day.
Now, not to totally spoil the ending here, but I did make it up that volcano. We all did.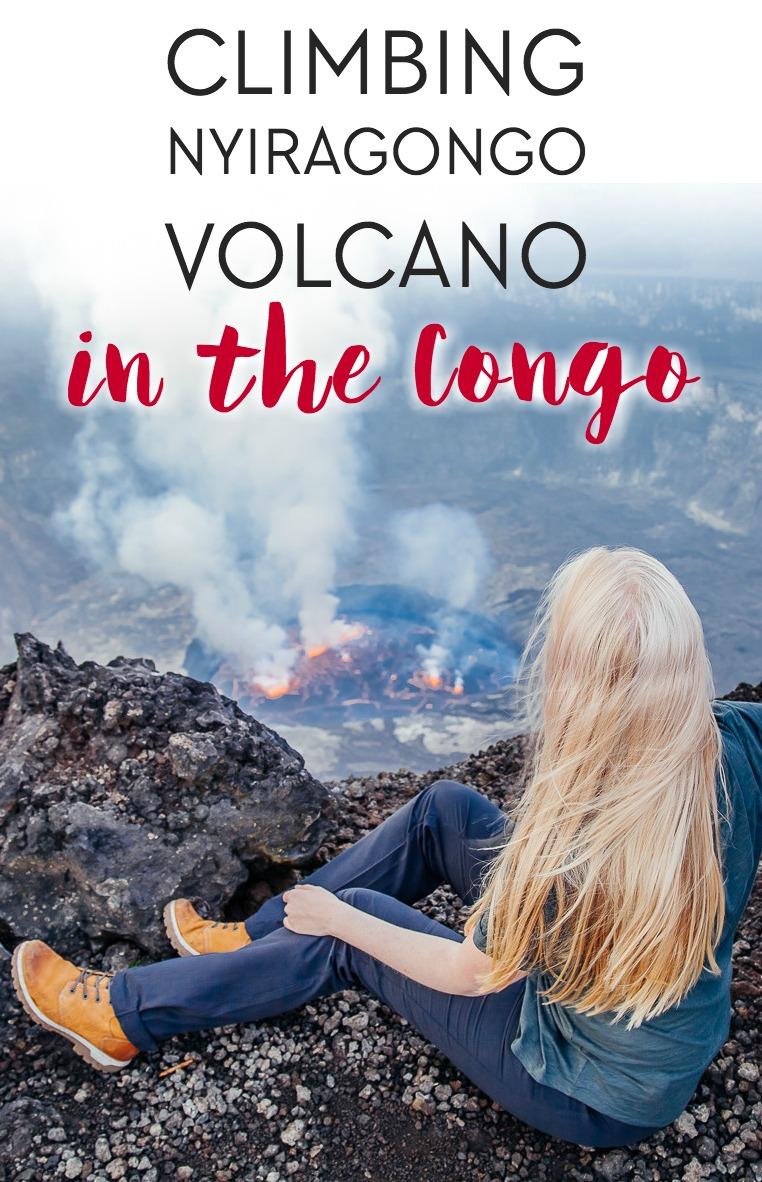 Yeah it was the most physically challenging thing I've done probably ever, and yes it took several days before I could walk properly again, but it was doable – even for this girl who considers stretching every few days "exercise" and who's been known to get lightheaded after ascending a flight of stairs or two.
And it was AMAZING. Someone had told Natalie that the top of Mt Nyiragongo is about 6,000 times more beautiful than any photo you'll find of it, and they really weren't exaggerating. Nyiragongo was 100% worth all the sweat and tears, and I'd climb it again in a heartbeat.
Though honestly? I feel like the hike would have actually been a lot easier if I hadn't known what was in store for me.
So for anyone considering hiking up Mount Nyiragongo, this is your cue to STOP READING NOW. Seriously, just don't read anything about the hike and you should be fine.
In fact the same goes for reading news about the Congo.
You probably already know that the DRC is on pretty much every "don't you dare travel there" list, but the truth is, you won't even be allowed into the area if there's any likelihood that tourists will be in danger.
Mt Nyiragongo lies in Virunga National Park, and you will be getting your visa to the DRC directly through them. But if the situation there ever becomes dangerous they close down the entire park, as anything happening to any tourists there would be really, really bad for business.
And don't forget that the Congo is huge – about 2/3 the size of Western Europe – and international media isn't going to show much interest in the peaceful areas of the country.
Come to think of it, you might also want to discourage your family from reading up on the Congo while you're there, unless you want them thinking that that American journalist who was kidnapped there was you.
I hope it at least served as a lesson to my dad to finally accept that a blogger is not the same as a journalist.
(And don't worry, this happened over 200 km from Nyiragongo, and in the end it turned out that she hadn't even been kidnapped, but was instead hiding in the jungle after a rebel raid.)
Why Nyiragongo?
Nyiragongo is an active volcano – it's erupted something like 35 times since 1882 – with the largest and most accessible lava lake on Earth.
I was going to look up more fun facts about Nyiragongo, but really, need I say more?
The Climb
The hike up Mt Nyiragongo starts at 1,984 meters (6,510 feet) and finishes at 3,470 meters (11,385 feet) so it's about 8 kilometers of walking straight up. Okay, maybe not straight up, but it's very steep!
The hike is split into five legs, so you get four rest stops of about 20 minutes each – unless you are at the back of the pack like me and only ever make it to the rest stop for the last five minutes.
Now here's the bit that I wish I hadn't read about before doing this hike: everyone says that the first leg is easy, each leg then gets progressively harder, and the last leg is 500 meters of pure pain.
So when I turned up to the first rest stop with a bright red face feeling like I was about to collapse, I saw a lot of very concerned looks amongst the ten other hikers + porters.
Because the thing about the Nyiragongo volcano trek is that the group has to stay together at all times, as you are walking with an armed guard at the front and rear of the group. This means that the entire group has to keep the pace of the slowest hiker – which apparently was going to be me.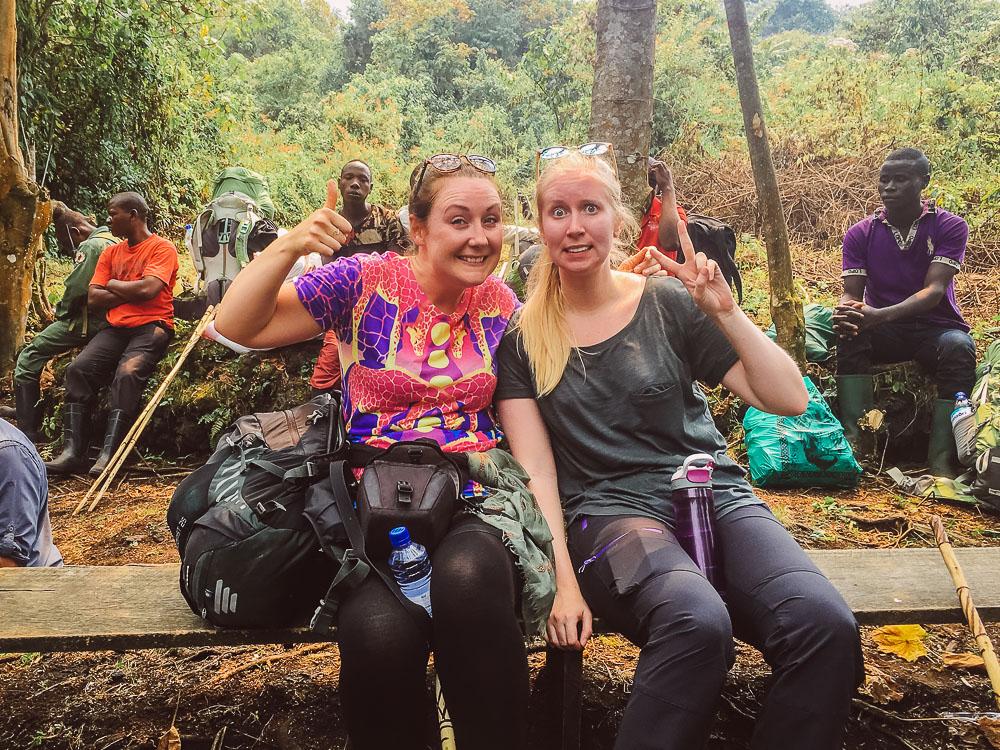 In fact after struggling so much with the "easy part," I was fairly convinced I would not be making it up this mountain.
And that's why I wish I hadn't read anything about this hike and how difficult the different sections were meant to be, because the toughest part for me was the dread over how much more difficult it was about to get.
Except that it never got harder!
So I think I was the only person in our group that felt this way, but I found the first part of the hike the hardest, whereas the final 500 meter climb that I had spent the entire journey fearing felt like the easiest part, by far.
I struggled so much with the start of the hike because it was really, really hot, and I live in a place where 15 degrees is considered sunbathing weather. But as the climb got steeper, we also made our way out of the heat, which definitely helped ease the burn in my legs.
Plus, due to the 2002 eruption which sent a flood of lava all the way down to Goma, the last four legs of the hike took us up a steep path of volcanic rubble, which meant that we had to walk at a slower, more careful pace – just the way I like it!
I mean, I still spent most of the hike trying to remember the French for "weak," "faint," and "go home," but thankfully I was too intimidated by the armed guard behind me to actually say the words out loud.
And while yeah, the final 500 meters looked impossibly steep, they also offered a view of the cabins at the top of the mountain, which was just the motivation I needed to keep going.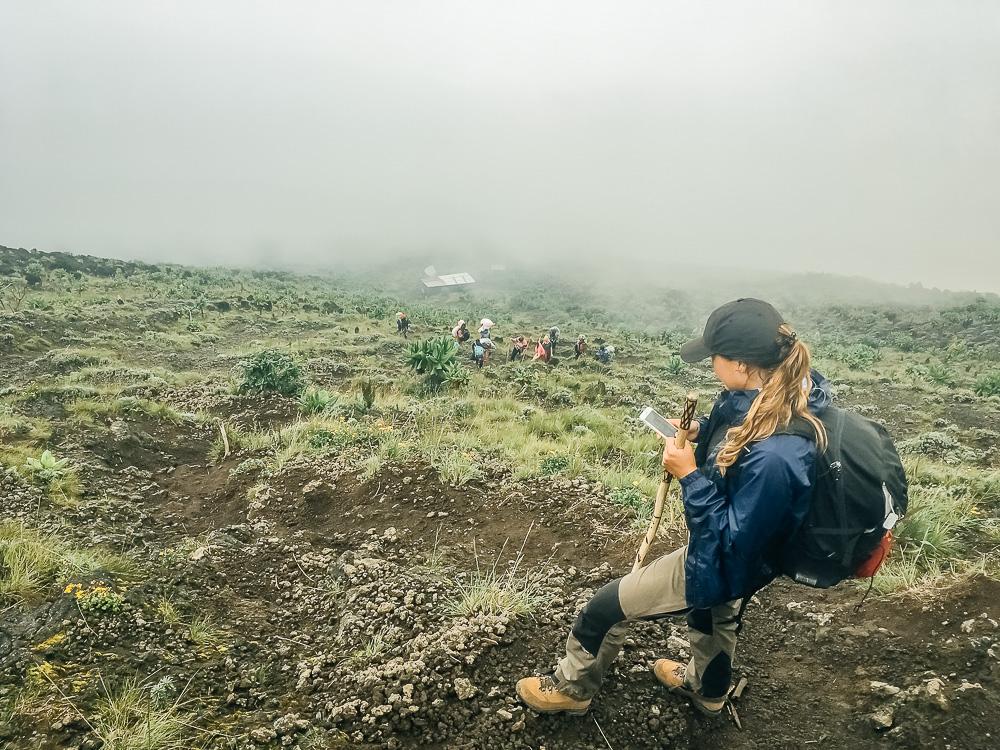 Guys, I'm embarrassed to say that the Swede in our group made it up the mountain before me!
And guess who took that picture of her? Natalie! I don't know what sort of walks she takes her dog on, but I felt downright betrayed when she easily strode to the front of the group.
But hey, we all got up there in the end, and as we reached the top the guards praised us for being such a fast group, getting to the top in just under 5 hours.
Like, what? 
If I had known we were making such good time I would have let myself take a few more breathers, but I guess at least it's good news for anyone who might be nervous about doing the hike – yes, I found it torturous, but if I had taken a couple more hours to get up there (which would have been totally doable, as we arrived at the top with several hours of daylight to spare) I think the hike wouldn't have felt too bad at all.
And oh did getting to the top feel good! I mean, not actually, because hello altitude sickness, but the view at the top more than made up for the pain.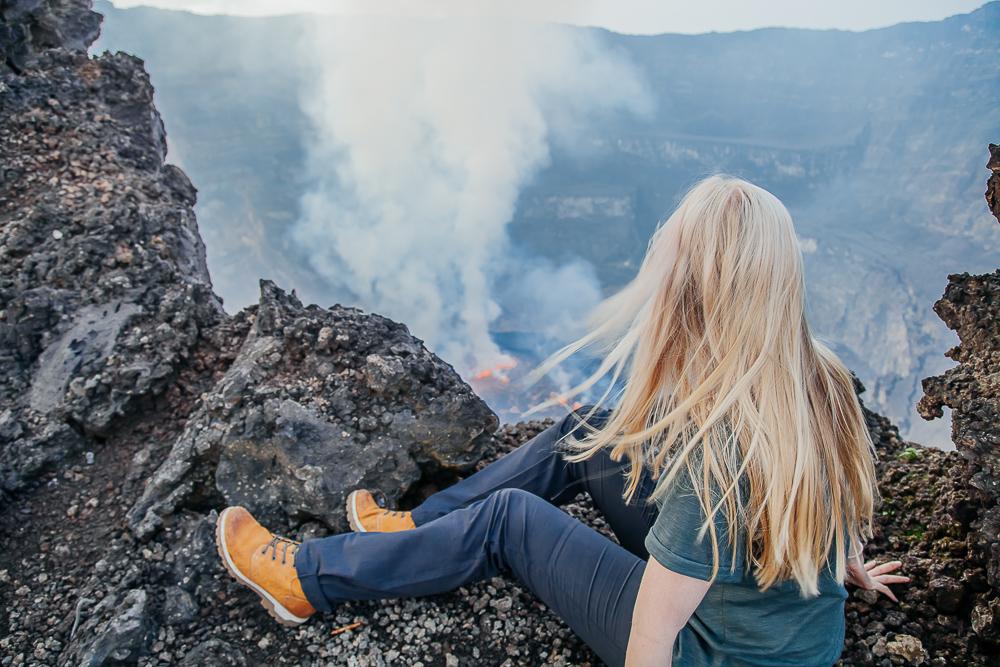 The World's Largest Lava Lake
The top of Nyiragongo is one of those places that just cannot be captured in a photo. Like, I almost didn't want to include photos of the lava lake in this post because I don't think they come close to showing what it's really like up there.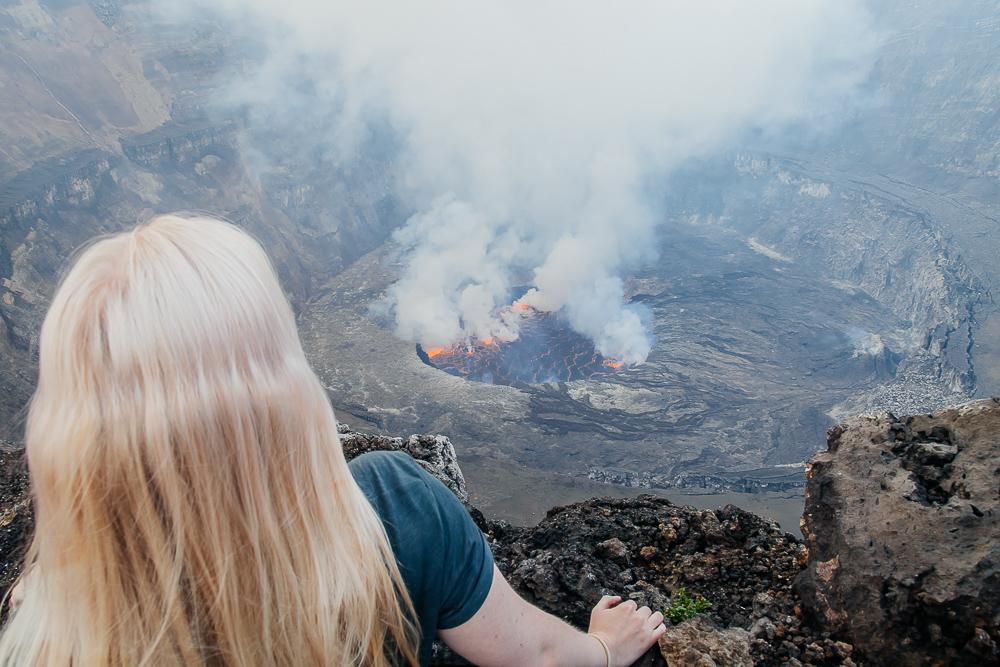 The crater is enormous – it would be spectacular enough on its own without the lava lake bubbling in its center – and I'm struggling to find a way to describe the feeling of the bitter cold at the top of the mountain + the intense heat from the lava + the nausea from the altitude. So many sensations!
And then nighttime fell and the whole sky glowed red.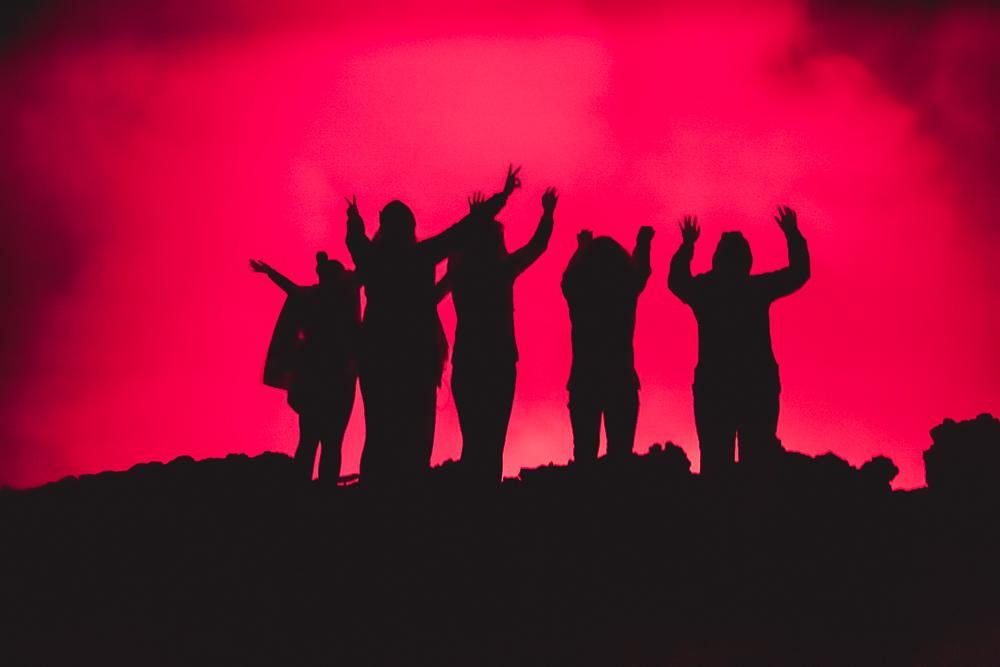 We were lucky that the volcano stayed clear the entire time we were up there, as sometimes it's covered in such thick mist that people can't actually see the lava lake. Though apparently when that's the case someone keeps watch during the night and lets people know if the mist clears, so if there's any chance to see the lava lake you'll know.
But no one had to keep watch the night we were up there, as the skies were totally clear.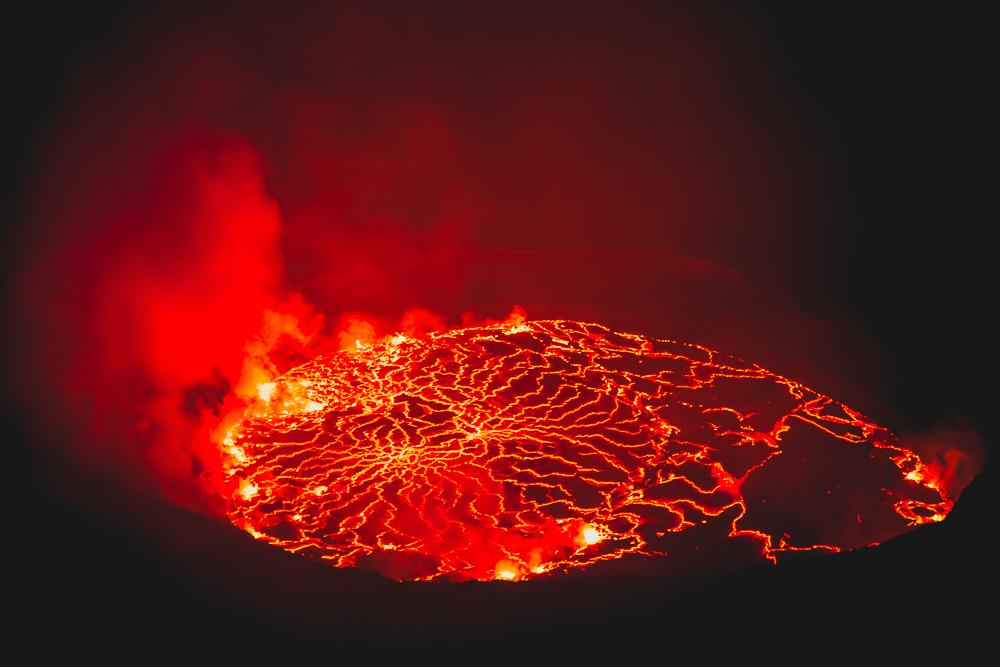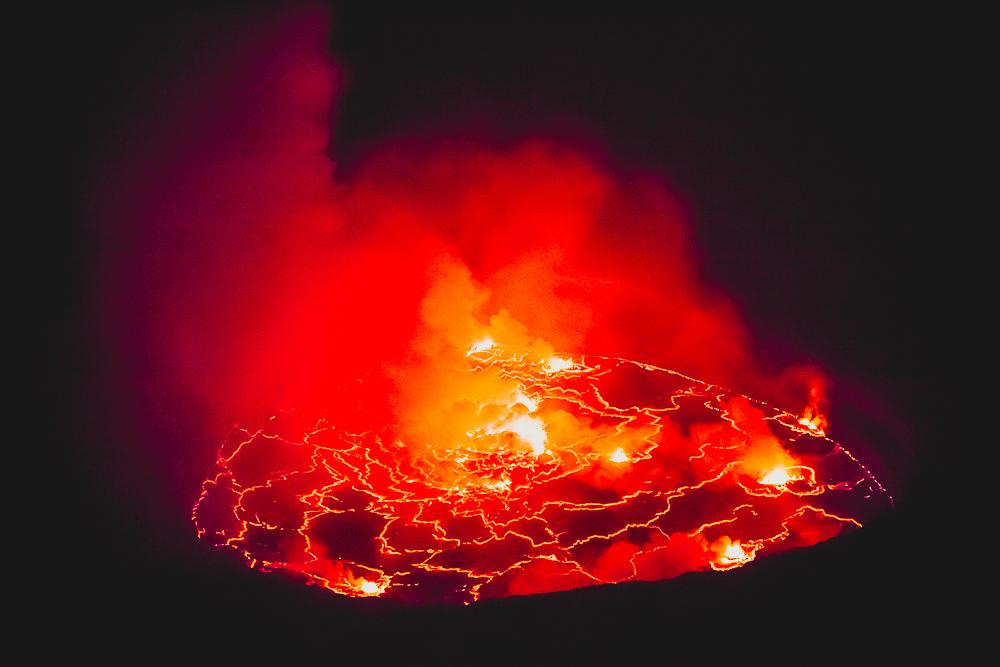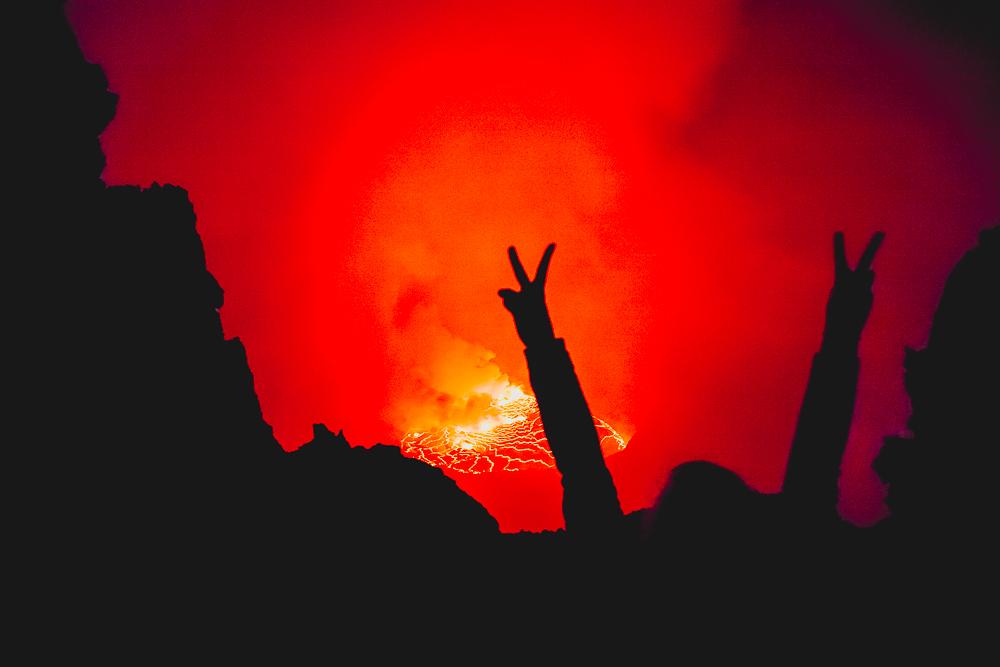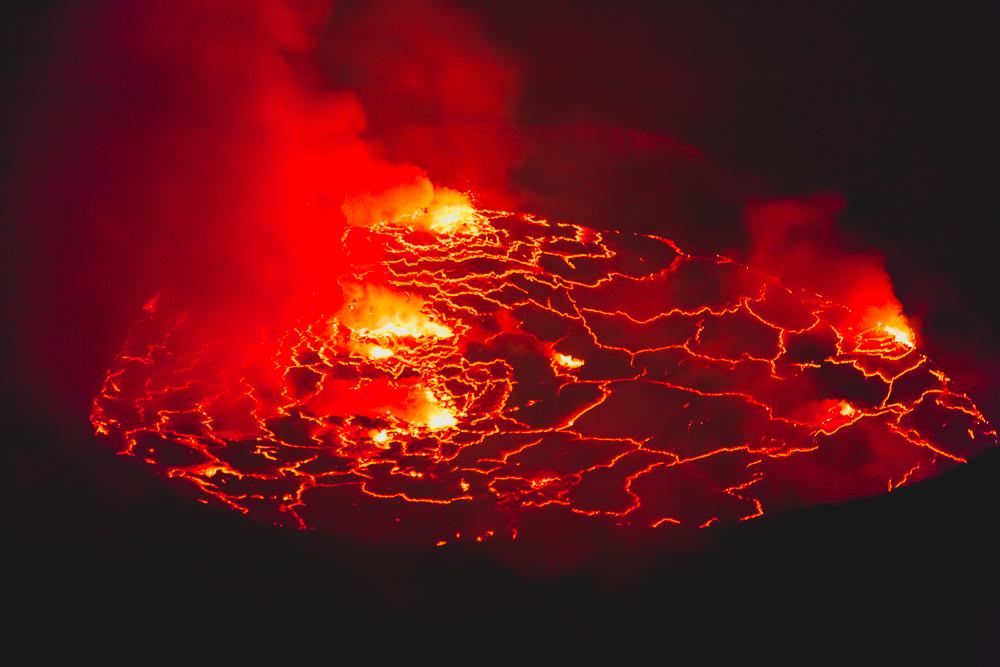 We spent the night in little cabins at the top of the mountain, though the best/worst part was the toilet (isn't it always?). The path down to the toilet was precarious, but the view out from it into the starry night sky (there was no door) almost made me not mind having to get up so many times during the night.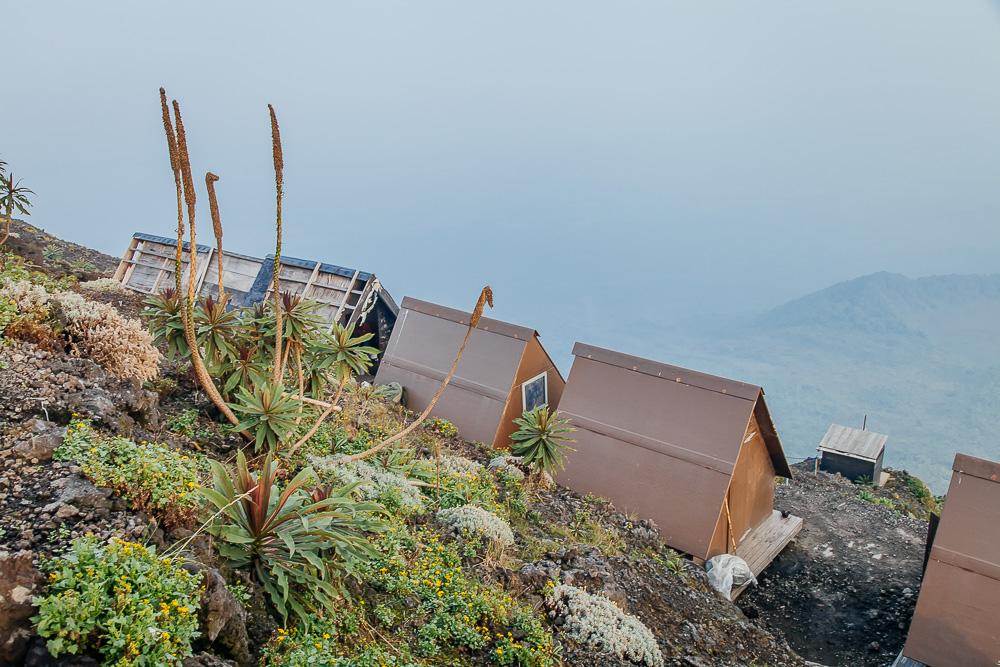 the toilet is the little gray hut at the bottom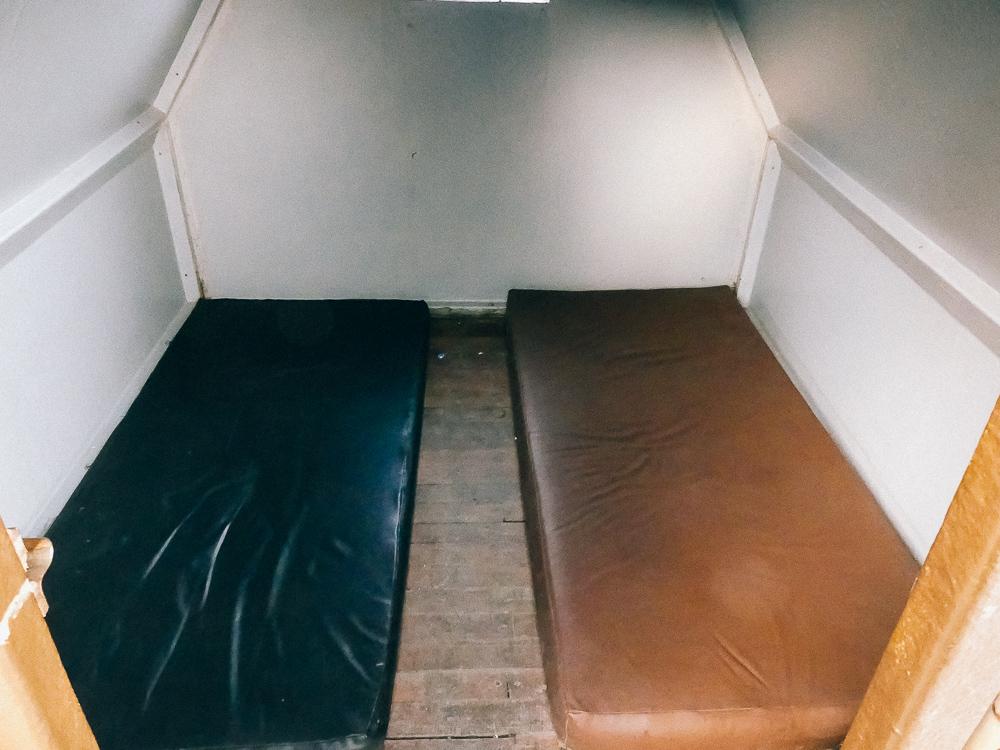 inside the cabins
The descent the next day was probably actually a lot harder than the hike up, as the volcanic rock was so slippery and my legs didn't want to work properly after having been pushed so hard the day before. But it's all a bit of a blur really – I mostly just remember my continued awe over our actually having hiked up such a steep mountain the day before.
Practical Information for How to Hike Mount Nyiragongo
Booking your Nyiragongo volcano trek and getting a visa to the DRC through Virunga National Park
I visited Nyiragongo as part of my two-week Rock My Adventure tour, so Helen arranged all of this for us. However, you don't need to join a tour in order to visit Nyiragongo. Two couples also joined our group on the hike up the mountain, and they had arranged the trek independently.
You can find all the necessary information for organizing a trip to Nyiragongo on the Visit Virunga website. They will arrange your DRC visa for you as long as you have already booked the Nyiragongo volcano trek, gorilla trekking, or a stay at Mikeno Lodge. So once you've made your booking you can then apply for the visa through their site.
The volcano hike costs $300, which includes accommodation at the top of the mountain but excludes optional add-ons like porters, gear, transport from the border to the park, and meals, and the DRC visa costs $105. But don't forget to bring extra money for tips!
We opted to hire a few porters for our group, so while we carried our daypacks they brought up our sleeping bags (which we rented from Virunga), water, and food. We also bought food in Rwanda and then hired a cook to prepare it for us on top of the volcano. I didn't have much of an appetite because of the altitude, but it was still very cosy to sit around the fire in the meal cabin.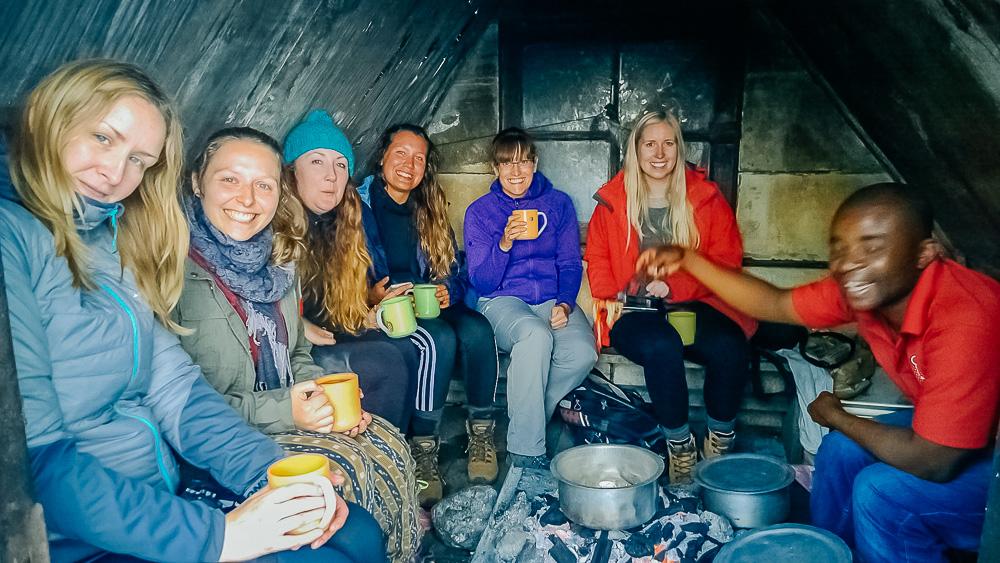 Virunga also happens to be the cheapest place to go gorilla trekking, costing $400 instead of the $600 it will cost you in Uganda and $1500 in Rwanda, so if you're coming to the Congo for Nyiragongo you might consider staying on to see the gorillas here as well.
Getting to Virunga National Park
Most people fly into Kigali in Rwanda and then head to the border town of Gisenyi, about four hours from Kigali, though I believe you can also fly directly into Goma.
A private car from Kigali to Gisenyi costs around $100, while the bus is $15. My flights from London to Kigali, and Entebbe (Uganda) back to Kigali and then to London cost $469 total, booked three months in advance.
The border crossing is easy enough – just make sure that you have your yellow fever certificate and cross in through the Grand Barrière border.
On my way back into Rwanda I simply paid for a new visa at the border, though you can also apply in advance for a visa online (depending on your nationality).
What to pack for the Nyiragongo volcano hike
You can rent gear from Virunga, including warm clothing and a sleeping bag, but if you choose to bring your own gear then make sure you have plenty of really warm clothing for the top! I had many wool layers but was still chilly in my cabin at night.
Some of our group did the hike in sneakers, but I was personally very glad that I had brought my hiking boots, as the trek down the mountain on the slippery volcanic rocks was quite tricky and there were a lot of falls! I would also definitely pay $5 for a walking stick (they sell them at the start of the trek) as it proved so helpful on the way down the mountain.
I wore water resistant hiking pants and a t-shirt on the hike up and then at the top I changed out of my sweaty clothes into two layers of leggings, a thermal top, and two wool sweaters. I ended up sleeping in my raincoat for extra warmth, and I really wish I had brought a hat and scarf to keep me warm at night as well!
Then in the morning I changed back into my hiking clothes from the day before.
A headlamp would also be super helpful for climbing down to the toilet at night – I just used my phone but nearly dropped it down the mountain!
Accommodation near Mount Nyiragongo: Gisenyi, Goma and Virunga
As the volcano trek doesn't start until around 10 am (we actually got there later than that) and the border opens at 8 am, you can either spend the night before your trek in Goma or Virunga National Park in the Congo, or on the Rwandan side of the border in Gisenyi.
We stayed at INZU Lodge in Gisenyi, which had gorgeous views out over the lake and was probably one of my favorite places I stayed on this trip. We shared tents with twin beds in them, and the hot showers felt like quite the luxury! I only wish that I had stayed an extra day here to relax and enjoy the views – it would have made for a lovely resting place after climbing the volcano.
Check current rates and availability for INZU Lodge here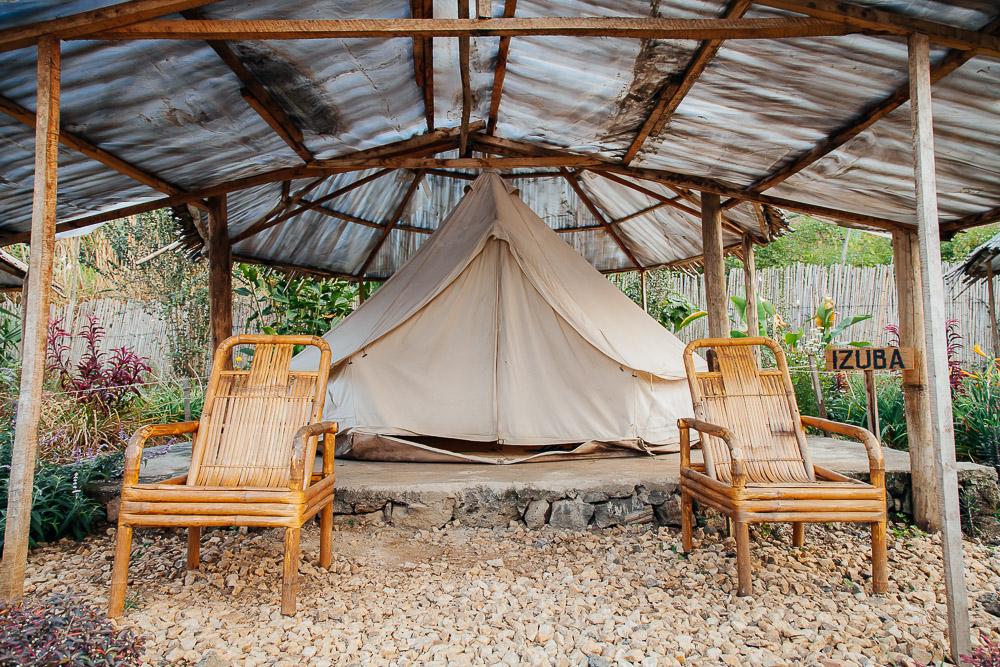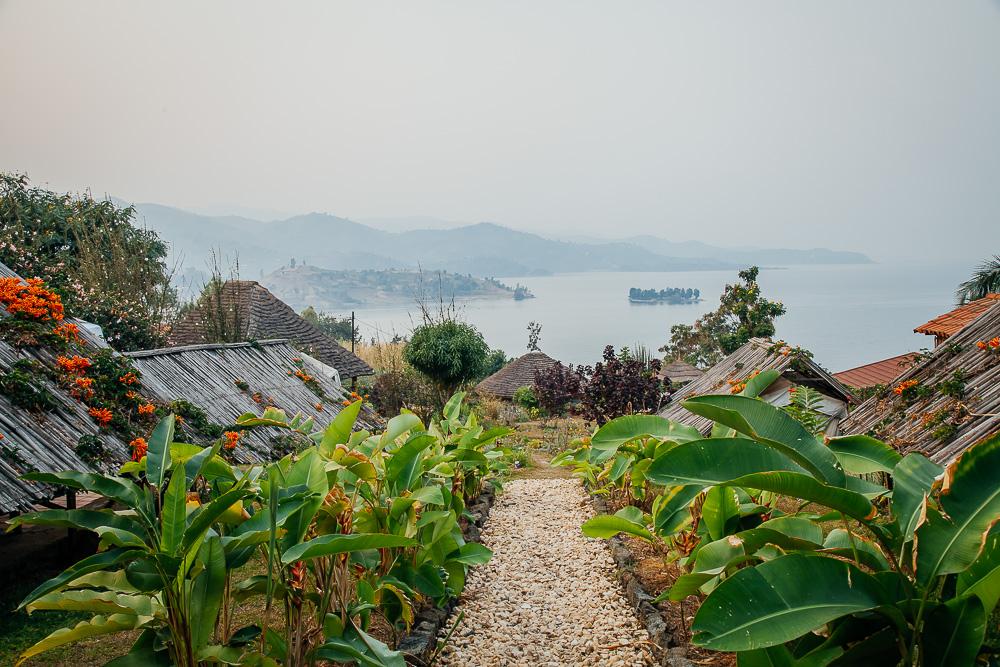 I also really loved Goma and wish I could have spent more time in the city, so while it might be a bit more expensive than Gisenyi, I would definitely look into spending a night there if you can.
Goma is such a vibrant city and immediately felt so different from Rwanda. Driving into Goma actually sort of reminded me of what crossing the border from Thailand into Burma used to be like. And spending some time there made me really, really want to see more of the Congo. One day!
You can find several hotel options for Goma here.
Or if you want to stay right in Virunga National Park you can stay at Mikeno Lodge. One of the couples on our hike had stayed there the previous night and really loved it, and it would be an especially convenient base if you plan on doing gorilla trekking, which starts really early in the morning.