Never has a place shot so quickly to the top of my bucket list as when Rachel of Vagabond Baker told me about Shetland. I want to gush about all the super cool things to do in Shetland, but I'm going to let Rachel do the honors because, well, she's actually been there, not just spent hours Google imaging puffins (yup, hours).
The Country
Scotland
The Place
Shetland
Why You Need to Visit Shetland
Shetland is an archipelago of islands in the very north of Scotland, so north in fact that most of Shetland is above 60º North putting it in line with Oslo in Norway and Helsinki in Finland!
They are the most northerly islands in the British Isles and it is this geographical location that makes Shetland so fascinating.
When you arrive into Shetland you soon feel like you are in a different country, Shetland feels more Scandinavian than it does Scottish – it was colonised by the Vikings and it was part of Norway up until 1400s. It even had its own Norn language.
Today you see lots of colourful Scandinavian-style wooden houses, the Shetland flag is a Nordic cross and the friendly locals talk in a Shetland dialect with a magical accent. In January there is the annual Up Helly Aa: a fiery celebration of Shetland's norse heritage where a replica viking longship is set alight after a rousing torchlit procession.
The islands are beautiful, there are pristine beaches and turquoise waters, spectacular geology, wild treeless vistas and you are rarely far from a sea view.
Shetland is an outdoors kind of place, there are marked footpaths everywhere and the islands are bursting with wildlife.
If you want to get up close to comical puffins, Shetland is the place to go!
There are otters around the coastline, you can spot them around the little inter-island ferry terminals. In spring and summer the cliffs become vast, noisy seabird cities: you won't believe your eyes!
Cute and dinky Shetland Ponies roam free on some of the islands, it's common to see them grazing on the roadside.
Places to Visit in Shetland
Unst! Unst is Shetland's – and Britain's– most northerly inhabited island. In the south there is Sandwick beach, the clear turquoise water laps over pristine white sand in a beautiful bay. Here you can stand in the ruined walls of a thousand year old Norse farmstead – the white sand slowly burying the ancient home – as you gaze across the beach to the sea.
Travelling up through the centre of the island brings you to Baltasound where you can't fail to miss Unst Bus Shelter. This quirky bus shelter has seasonally changing themes, it even has a visitor book!
The north western peninsula Hermaness is a National Nature Reserve, you follow a boardwalk across the boggy moorland to the wild exposed sea cliffs where millions of seabirds nest on the vertical rock. It is astounding to see, and also to hear and smell! Cute puffins nest in little burrows on the grassy clifftops and take very little notice of you photographing them.
Walking out to the north of the reserve takes you to Muckle Flugga, which has to be the best name for a lighthouse in the world don't you think! Muckle Flugga stands handsomely on the last but one rocky islet of the British Isles, this is as far north as you can get in the UK!
How to Get to Shetland, and Around the Islands
The best way to explore the islands is by car, most visitors fly to Shetland then hire a car. There is a good two lane highway up the length of the Mainland (Shetland's biggest island) then all the other roads are blacktopped single lane roads. The roads are quiet, it's great driving!
There are public buses on the five main islands: Mainland, Unst, Fetlar, Yell and Bressay, although the timetables may not be as frequent as you are used to.
Inter-island ferries link the islands and they are lots of fun, plus they are pretty frequent.
You can either fly to Shetland from Aberdeen, Glasgow, Edinburgh or Bergen (Norway) or you can take the overnight ferry (12 hours) from Aberdeen and take your own car. We took our truck camper over on it.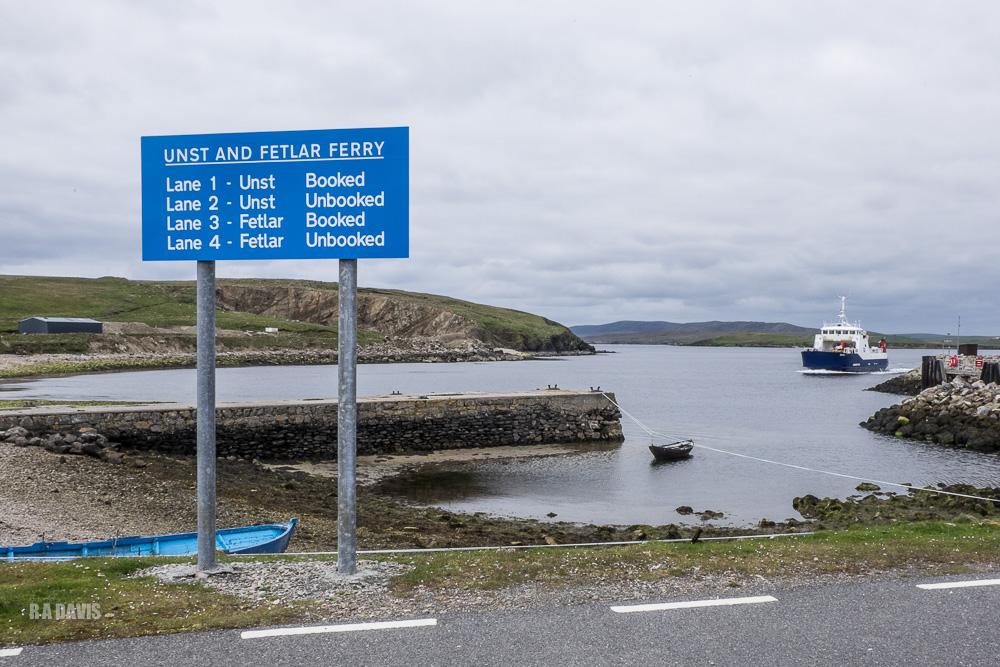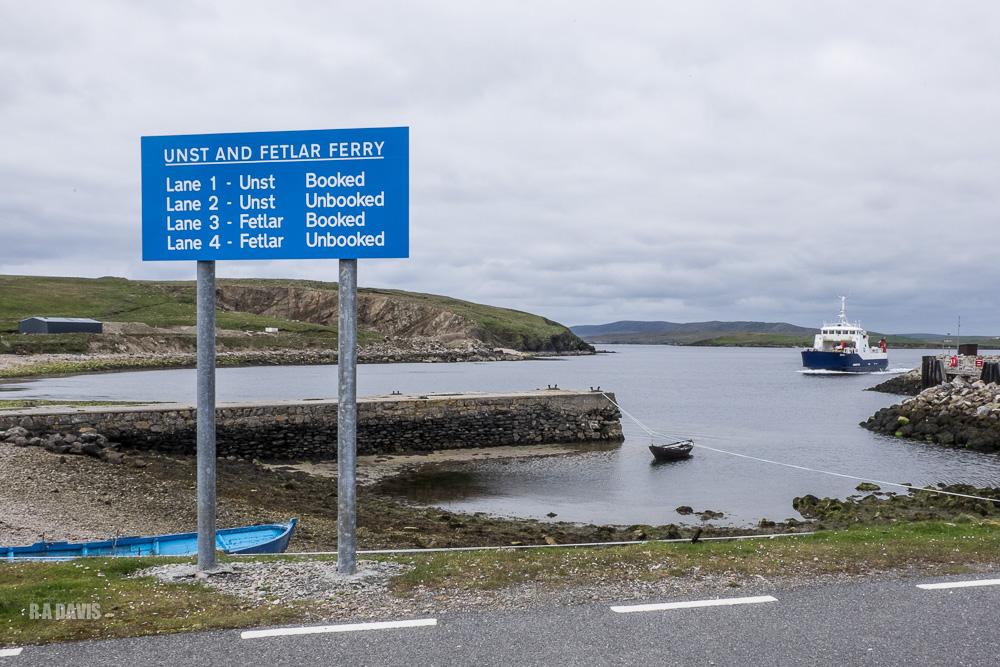 Where to Stay in Shetland
We spent 4 weeks in Shetland, travelling about in our truck camper and I can't recommend this enough! There are small inexpensive campsites on most of the islands and some of the community halls also have motorhome campsite facilites (ie electric hook up, showers etc). We only spent a few nights on campsites, opting to 'wild'camp in our van: there are abundant quiet places to pull up for the night.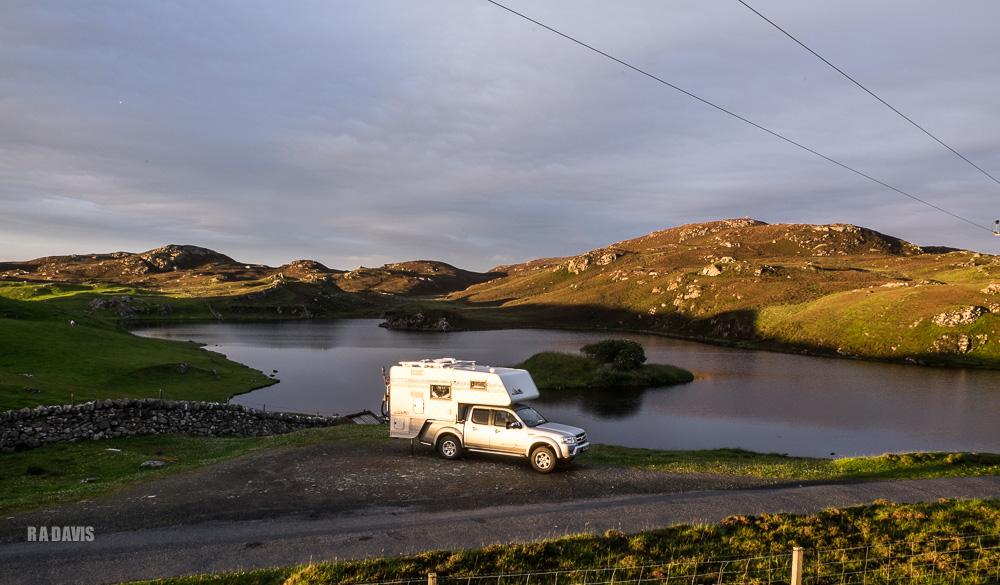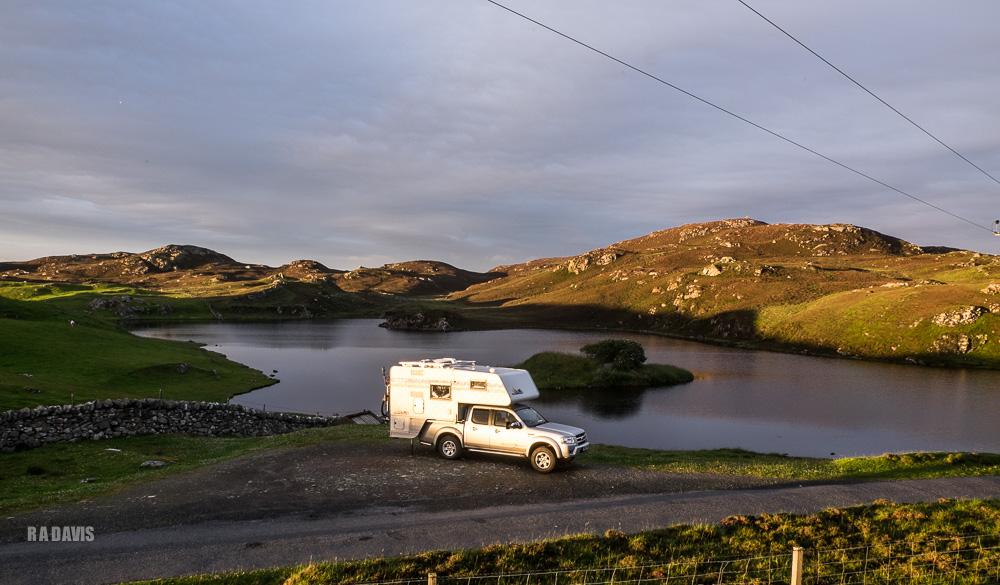 You can also stay cheaply in the Shetland Camping Böds, these often historical properties are dotted around the islands and provide basic, communal self-catering accommodation. They vary in facilities, some don't have electricity while others have hot showers, all have cooking facilities but you will need to bring your own bedding. They cost around £10 a night and they are a great Shetland experience.
Of course there are B&Bs plus a few more substantial hotels. Shetland is definitely a place where you could vary up your accommodation from island to island! Check here for accommodation options and prices in Shetland
Bear in mind that even in summer it can be chilly and breezy, especially if you are spending a lot of time outdoors. I would recommend packing warm clothes: lots of layers. I had to buy gloves there in June! Also take good boots as a lot of the landscape is boggy.
What to Eat While in Shetland
Cake, and tables full of it! On Sundays throughout the summer community halls are bursting with Sunday Teas, a Shetland institution. These fund-raising teas are a great place to mingle with the locals while stuffing yourself with their home-baked cakes, pies, biscuits and sandwiches!
At Skibhoul Bakery in Baltasound, Unst, you can buy Oceanic Oatcakes, made with seawater!
If you'd like to read more of why Shetland is amazing : http://vagabondbaker.com/2015/08/10/12-ways-shetland-will-amaze-you/
About the Author:
Rachel lives nomadically in a truck camper and has been living on the road for over four years, working as a house sitter and a photographer in the UK.
She has backpacked around the world a few times including overlanding through the Middle East, taking trains around India and road tripping Australia in a rusty old car called Chad.
Taking the Trans-Mongolian rail route across Russia to China has been one of the top highlights of her travels, seeing the world through a train window and being rocked to sleep on the tracks is something that fires Rachel's wanderlust more than anything.
She loves baking – collecting recipes on her travels to bake and blog – and she is learning Finnish for no other reason than she has fallen in love with it, plus she likes a challenge!
Rachel blogs at Vagabond Baker about her nomadic life, travels and baking.
Is Shetland on your bucket list yet? 
PIN IT!
Have a special place off the beaten path you'd like to share? From far off countries I can't pronounce to hidden streets in Paris, I would love to hear about your secret finds. Email me at heartmybackpack@gmail.com with the destination and I'll send you some questions to answer about it!