I guess it's a little early to tell if Islay really is the friendliest of the Scottish Isles, as this is the first isle I've been on. But it's certainly setting the bar high! I can't walk down the street or drive up the road without locals smiling and waving.
Wait a second, do I need to rewind?
Once upon a time (or you know, like a year ago) it was totally normal for me to be blogging from a different city or country each week. But this year? Not so much. Like, this is the first time I've left Norway in over seven months. Is it weird that I feel sort of proud of myself for managing to stay put for so long?
But I fell off the wagon as soon as Catriona mentioned something about island hopping around the Scottish Hebrides. We'll be visiting Tiree, Oban, Skye, Lewis, and Harris, but our first stop was Islay!
And I fear we've done the opposite of saving the best for last, as I can't imagine Scotland getting any lovelier than Islay.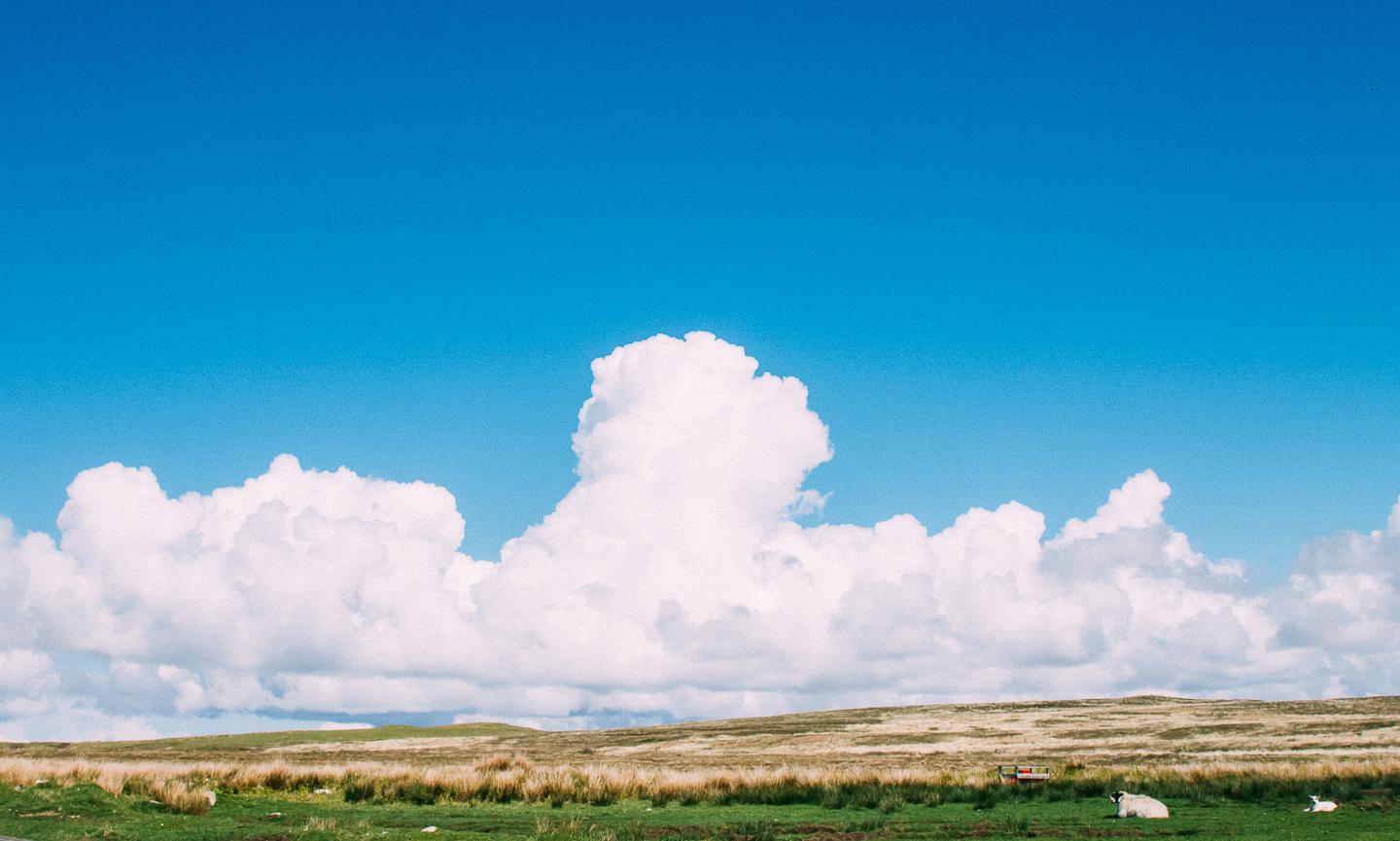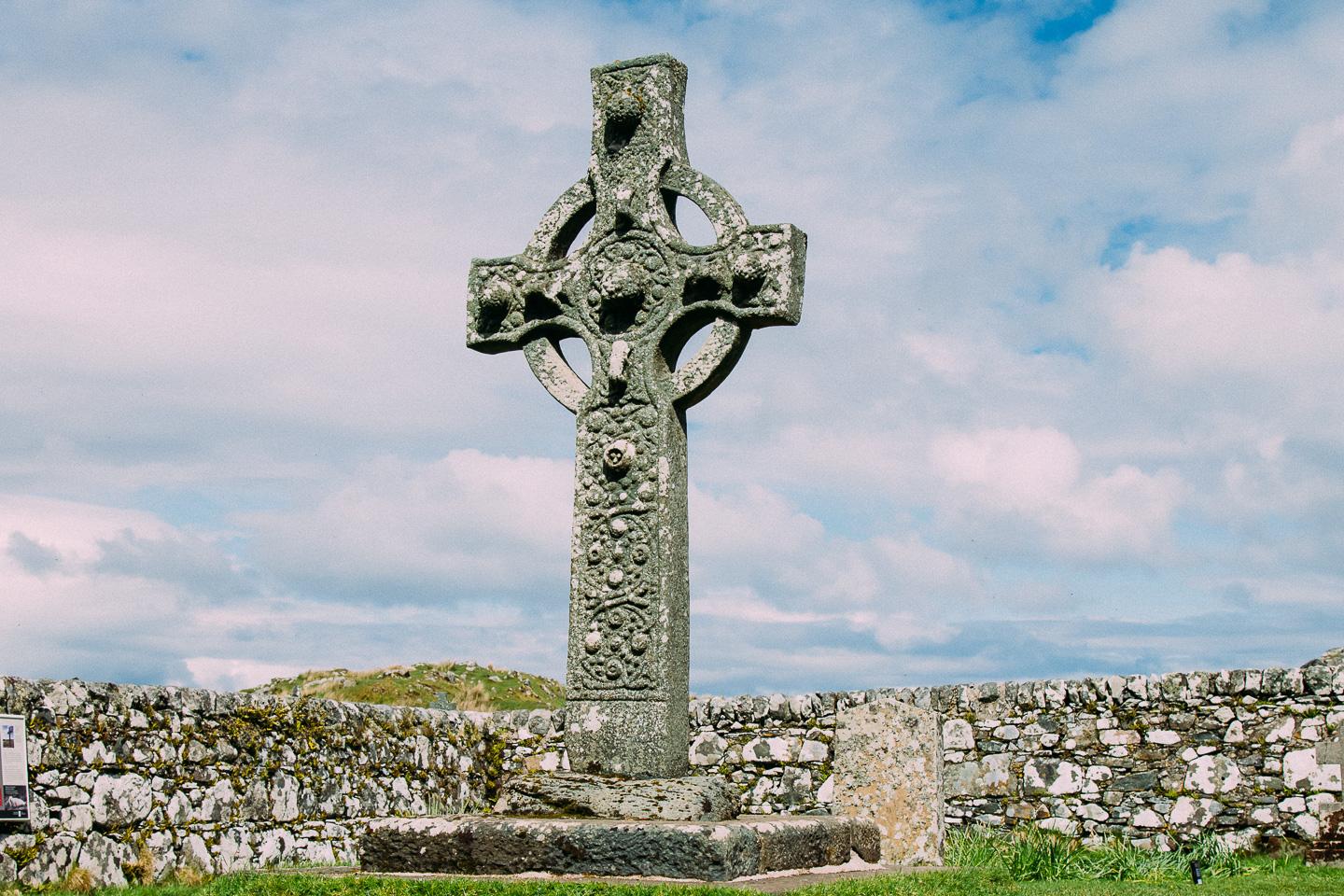 the Kidalton Cross
We only had two and a half days on Islay, which at nearly 620 square kilometers is Scotland's fifth largest island, so we rented a car to help us cover the most ground possible. And yes, I totally made another road trip video. And no, my videography skills haven't improved one bit.
After a joyful reunion at Stansted, a quick flight to Glasgow, a bus to Kennacraig, and a 2 hour ferry ride, Catriona and I were on Islay. Just like that!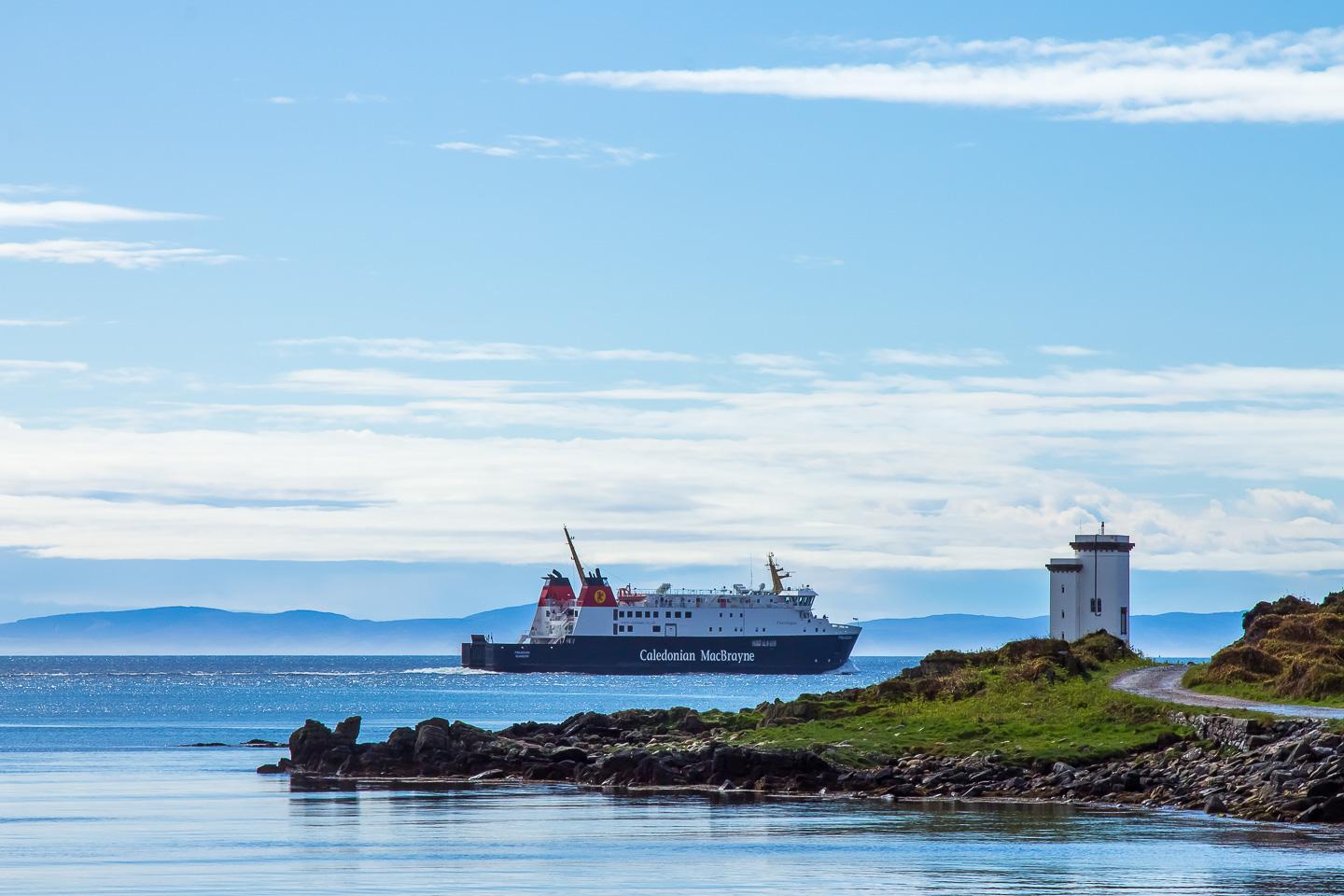 Finlaggan
Our first stop on the island took us back to where it all started. Okay, maybe that's a bit of an exaggeration, but to this American girl the 13th century sure feels like ancient history.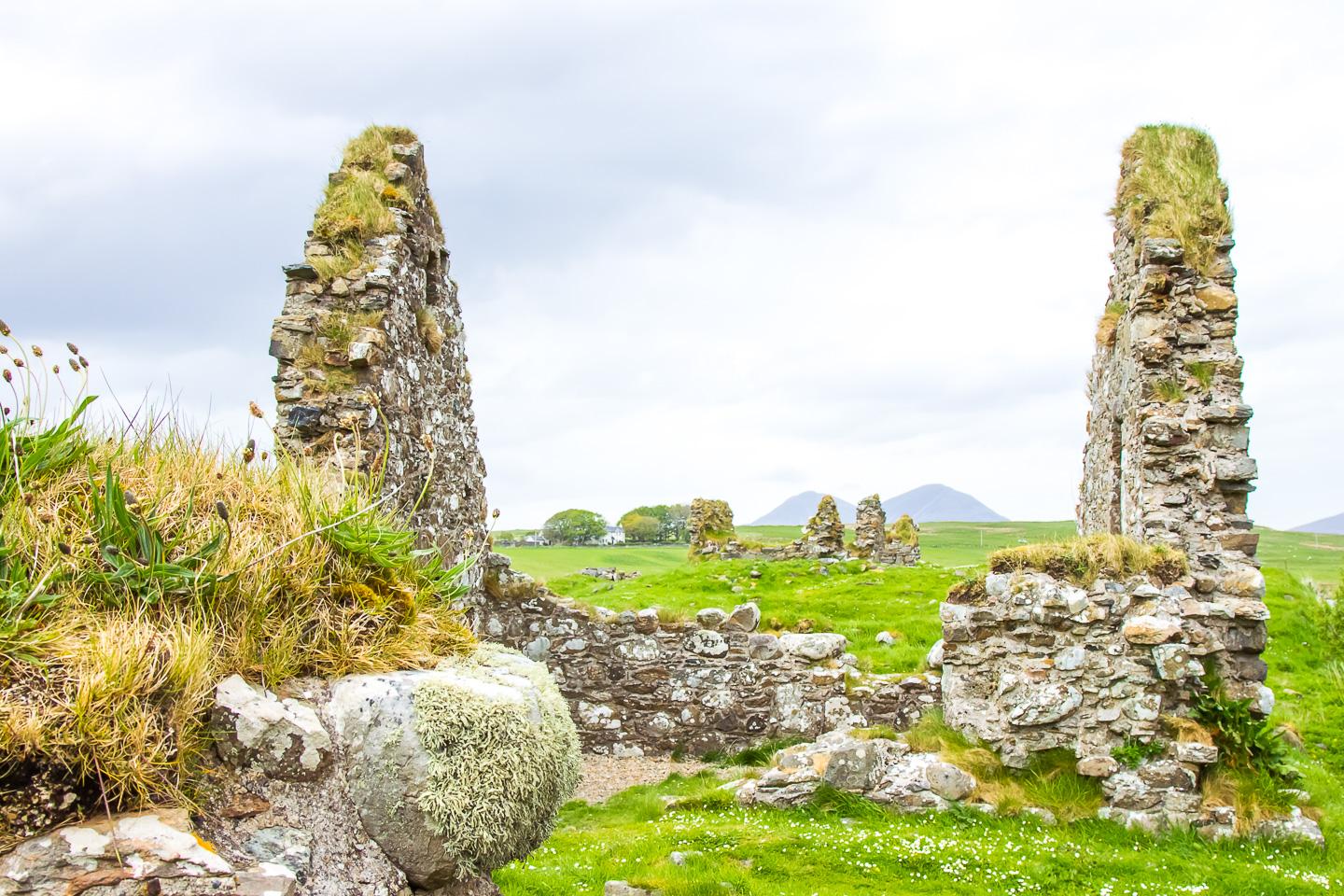 Finlaggan was once home to the seat of the Lordship of the Isles that ruled over many of the islands in western Scotland.
We walked through the remains of the chapel, great hall, and council house, though to be honest Finlaggan wasn't as exciting visually as it was for my imagination. It was amazing to think about everything that had happened on that plot of land, and those thoughts were somehow made even more vivid by the gentle Scottish drizzle.
Scotland, I think I kind of like you.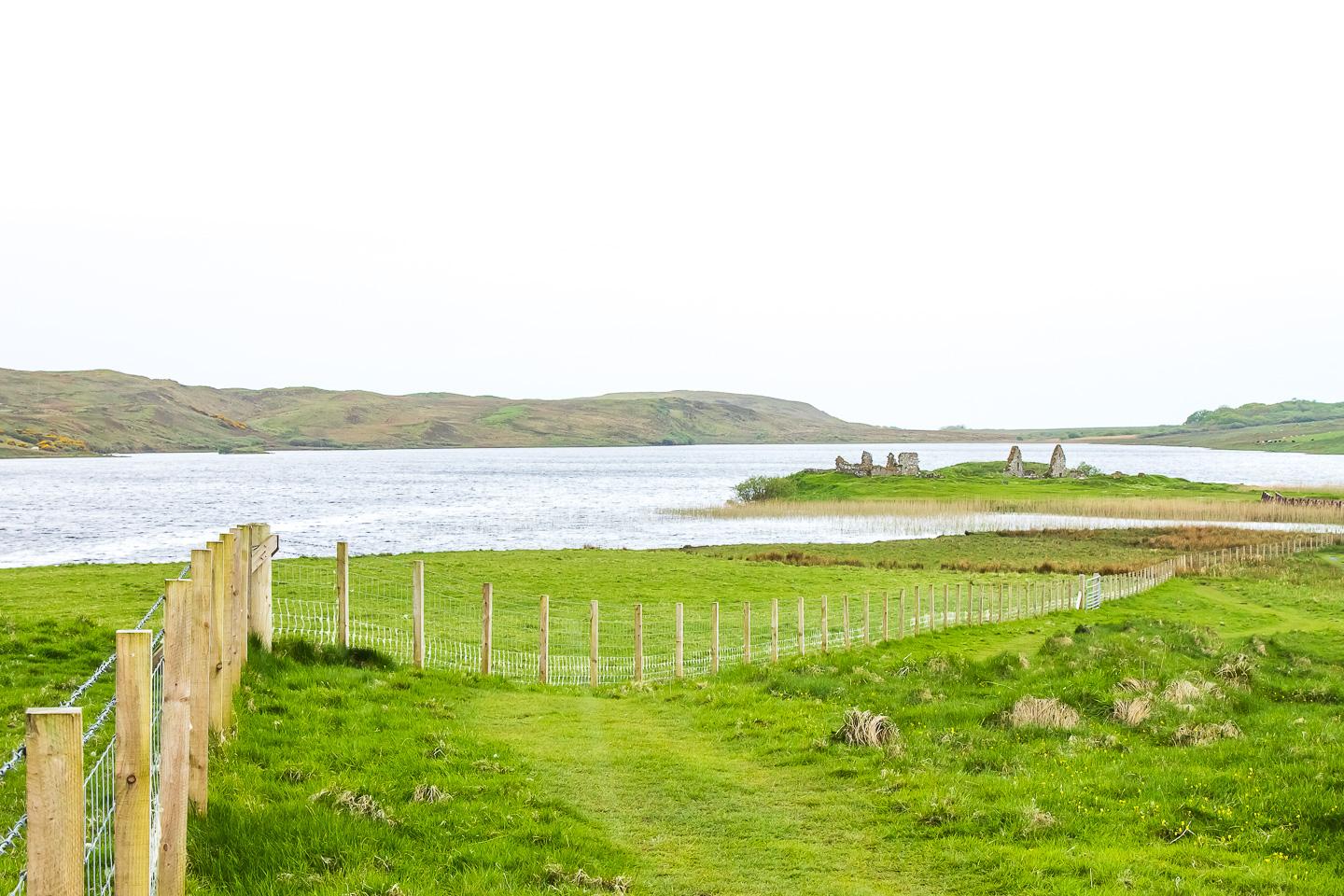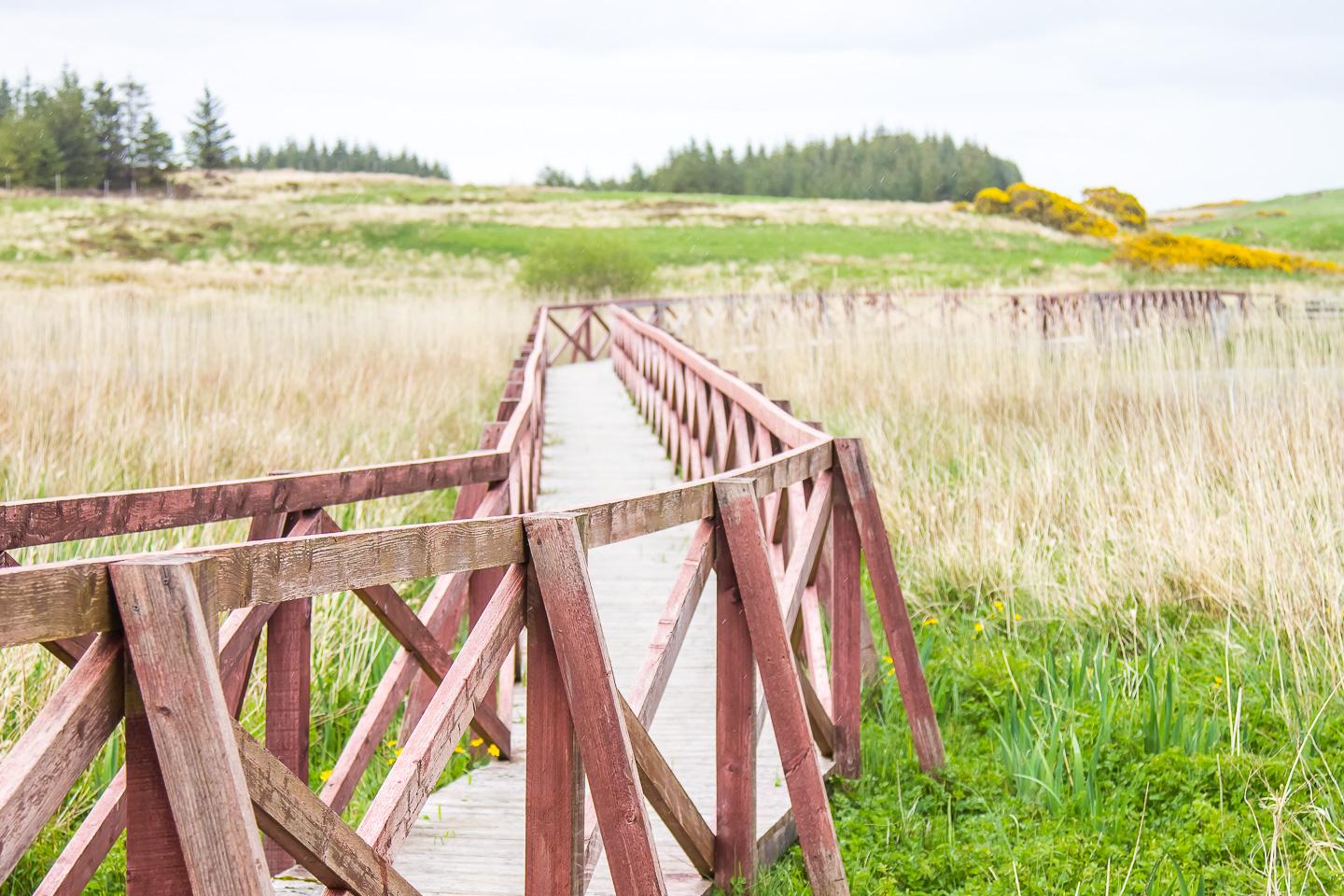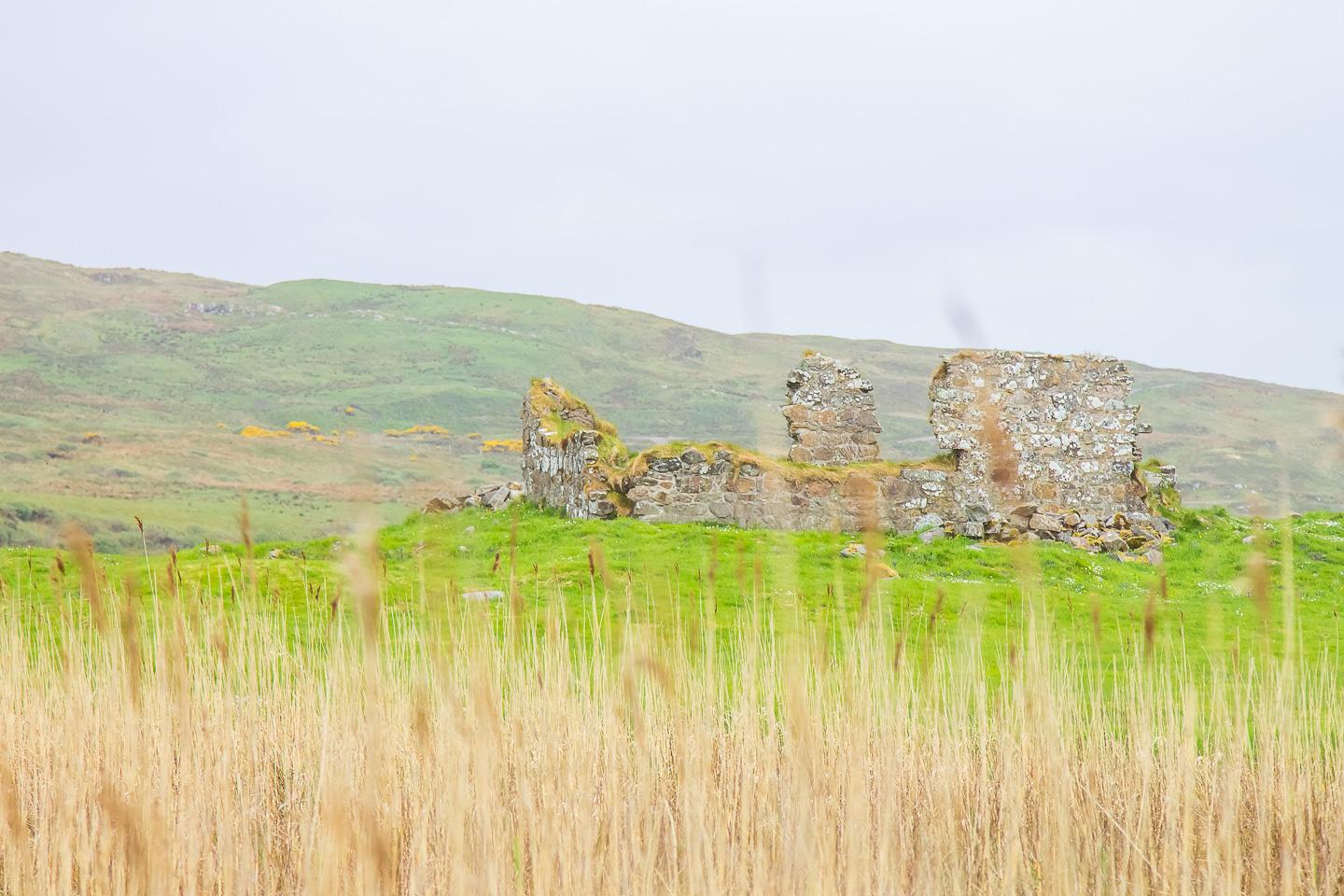 Finlaggan was pretty magical 
Bowmore
Next we headed to Bowmore, which though just a small village serves as the capital of the island. It's also home to one of Scotland's oldest distilleries, founded in 1779.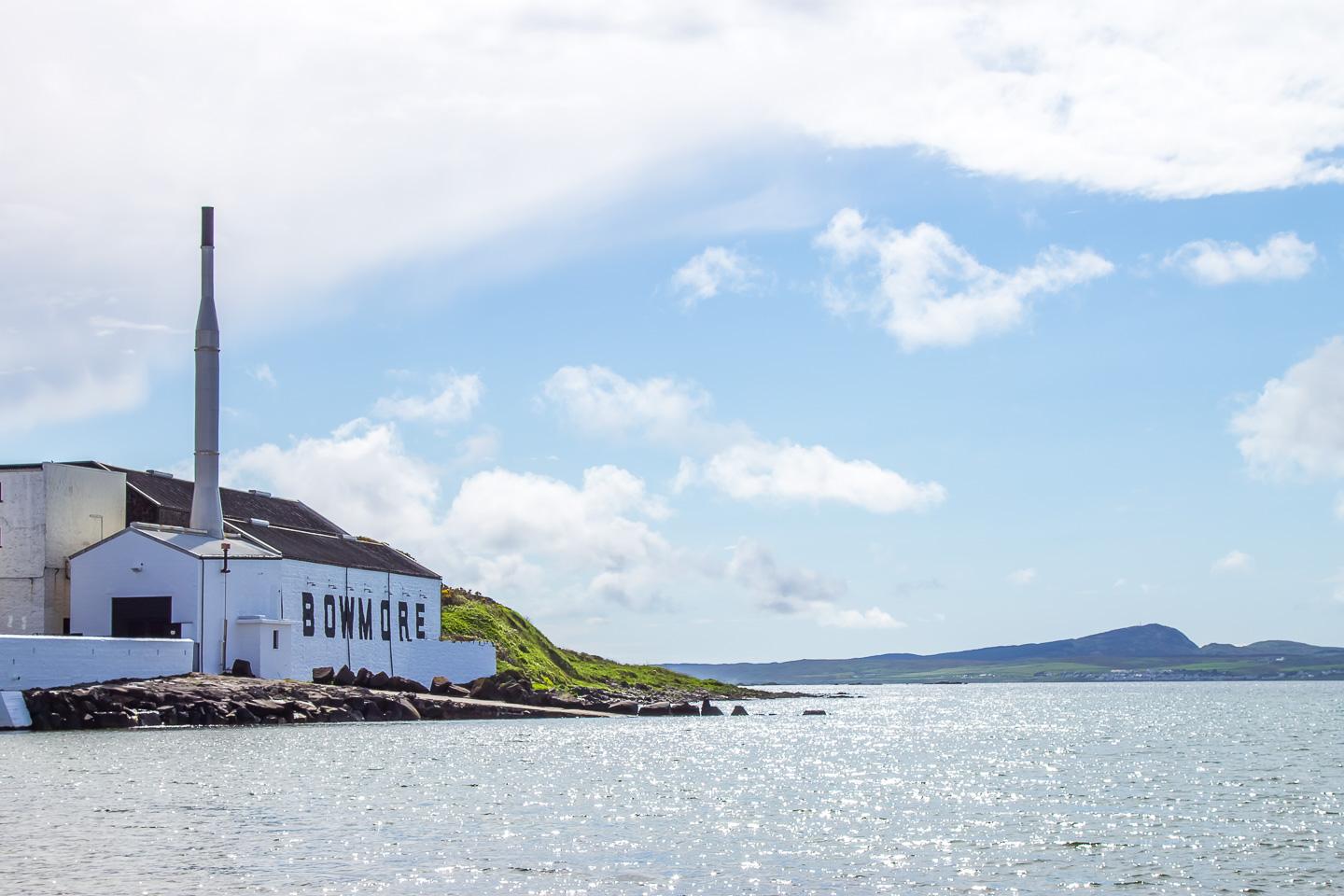 My favorite part is the church at the top of the main street – it's just so pretty sitting up there!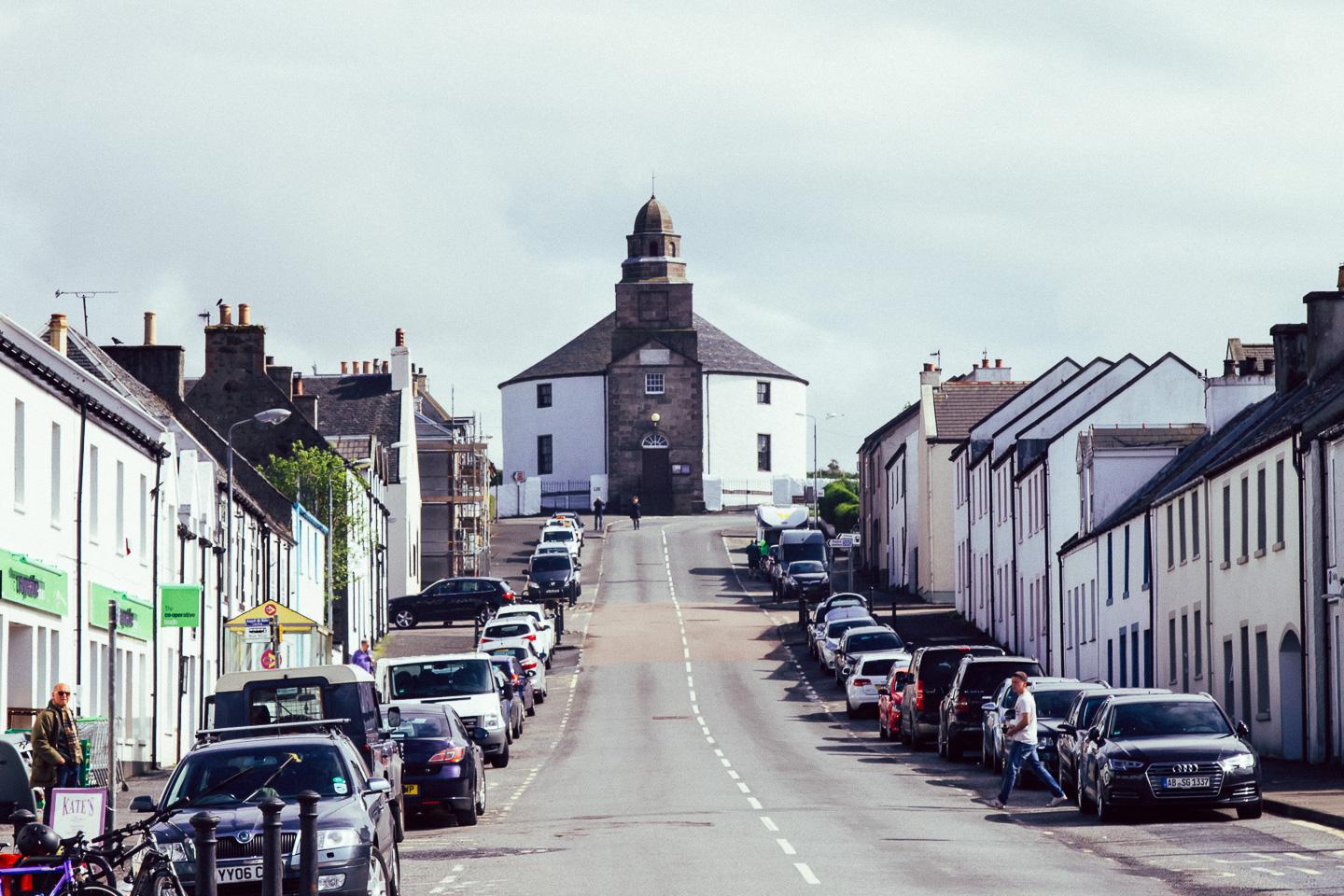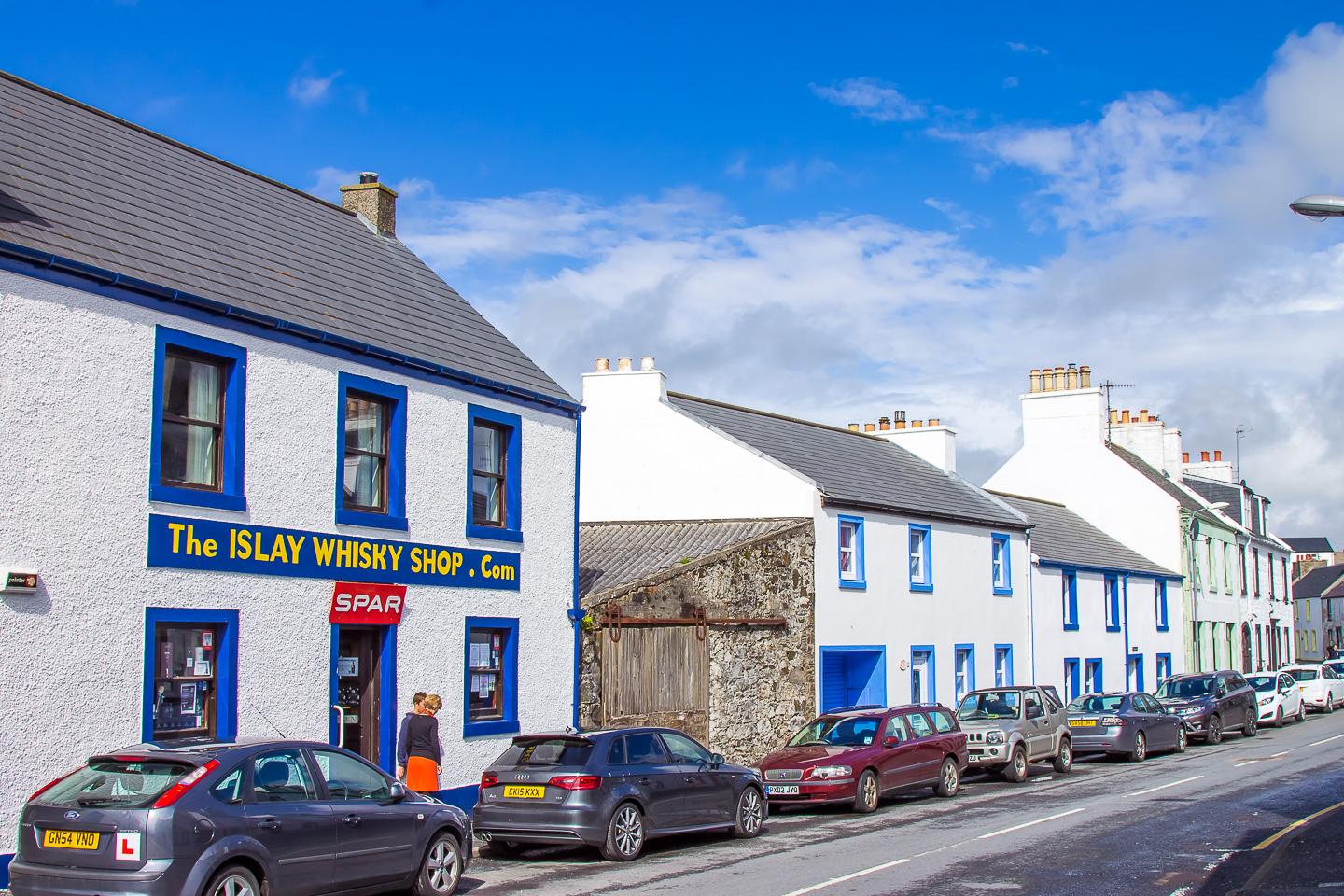 a cooler SPAR than my SPAR
Port Ellen
Port Ellen was Catriona's favorite village on the island, I suspect because of all her family roots there.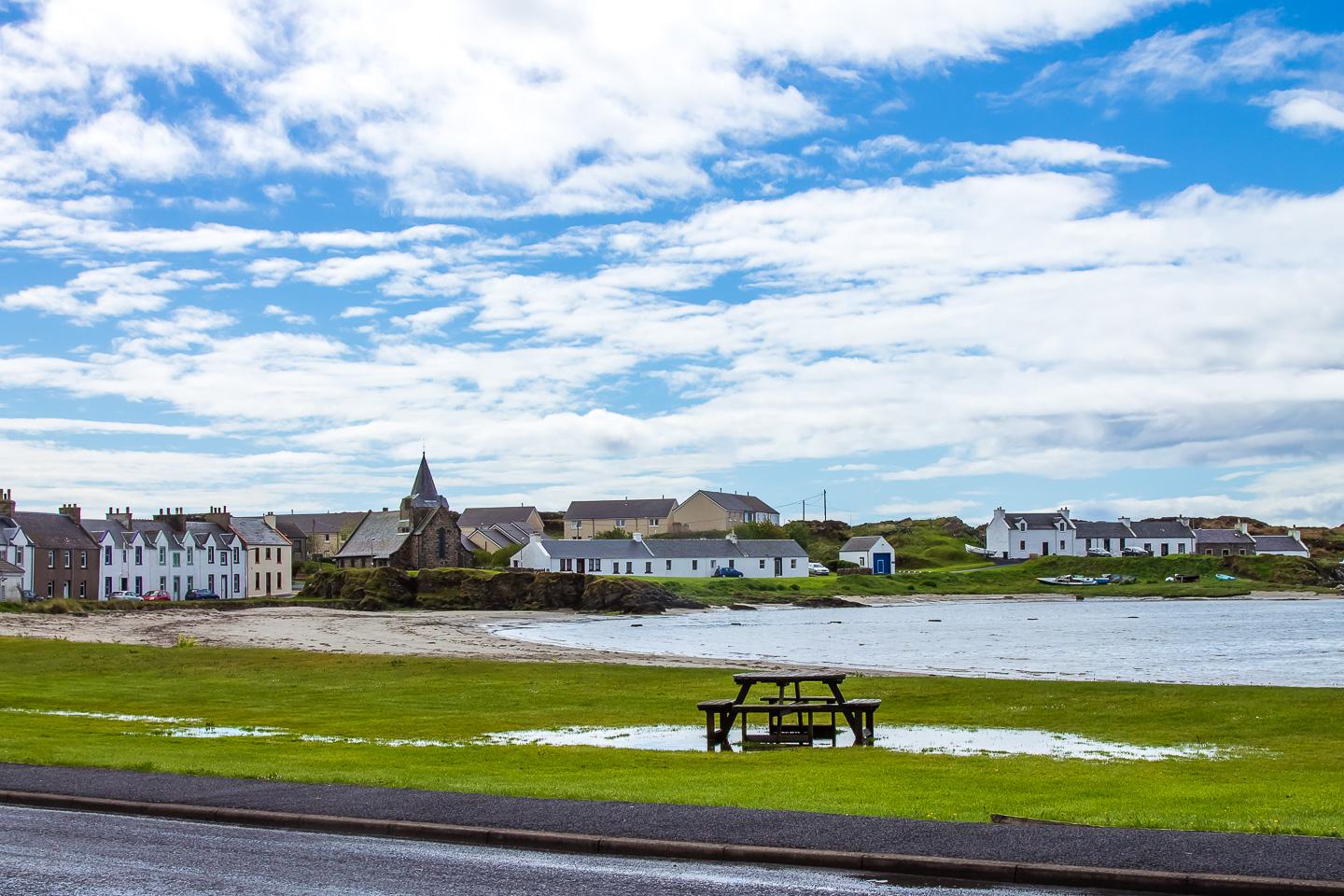 You see, this isn't any ordinary trip. While Catriona grew up in Inverness, she just so happens to have family roots spread across the islands. Her grandmother grew up on Islay, and we were shown around by her second cousins Sam and David.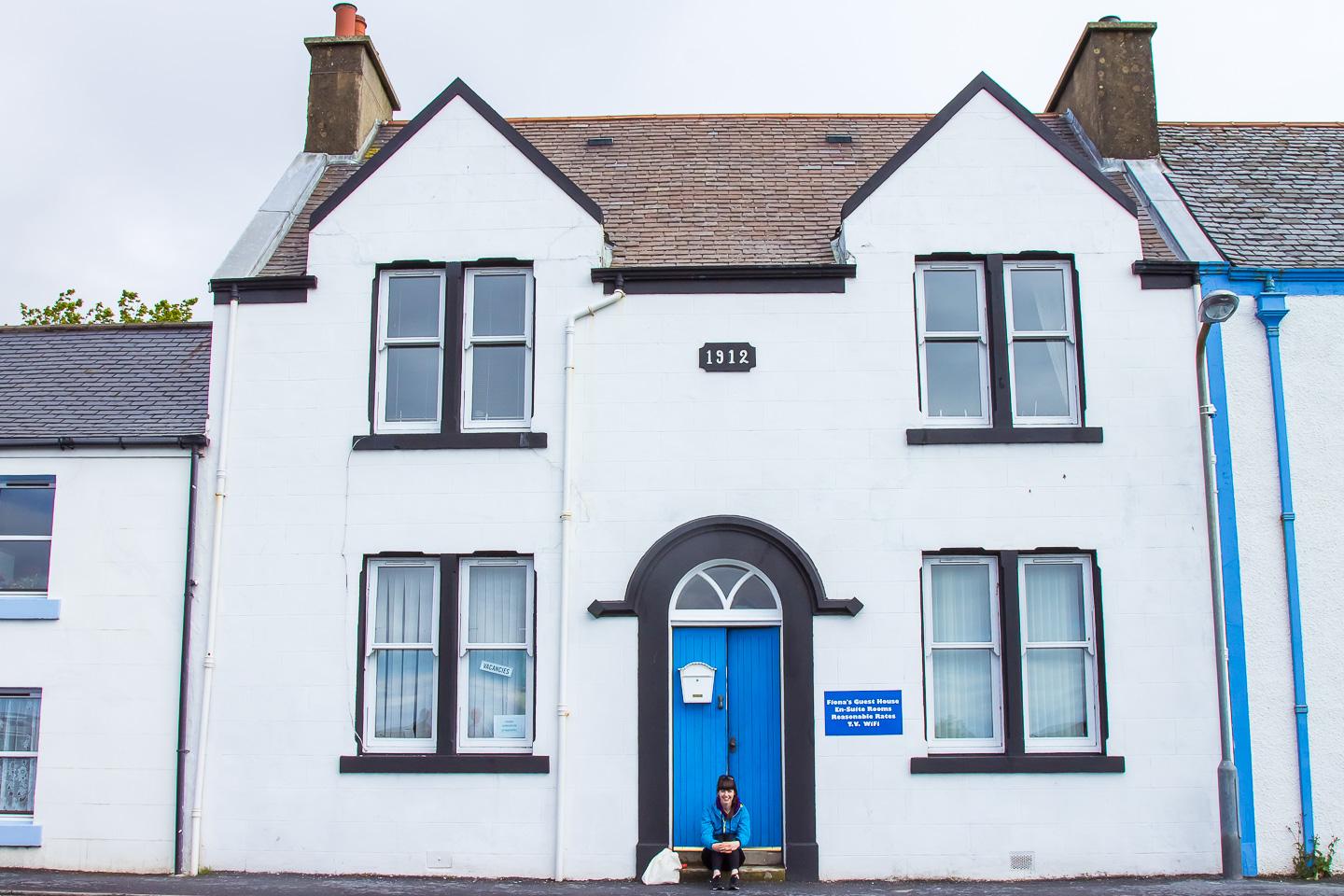 Catriona sitting in front of the guest house where her grandparents rented a room when they were first married
And I'm just… along for the ride? Really I'm as confused as all the people we speak with about why I've been allowed on this family heritage journey, but I'm just going to be grateful I have been, because there's no better way to get to know an island than being shown around by family! Even if it's not mine.
And yes, I am jealous of Catriona's Islay roots. Though I keep trying to imagine a way that maybe, just maybe, a Viking relative somehow got together with an Ileach and I'm totally an islander too.
Along with all the stories about Islay life Sam and David shared with us, my favorite part of our time in Port Ellen was the ceilidh dance we went to on our final night there. Not having a place to dance is probably my top complaint about life in Rauland, so I'm pretty thrilled about all the ceilidh dances on our Scotland itinerary this coming week.
This ceilidh was particulary wild and not without a few spills and injuries, which might have something to do with the fact that the Islay whisky festival is on right now.
Oh right, did I forget to mention something? While I couldn't get enough of its rolling hills and adorable seaside villages, this week on Islay is actually about something quite different: the whisky.
Islay Festival of Music and Malt
Apparently Islay is the center of whisky tourism in Scotland, with 9 active distilleries on the island. And apparently the Islay Festival of Music and Malt (which locals told us is sadly becoming much more about whisky and very little about music) is a really big deal. Who knew? We certainly didn't.
We only found out about the festival when we were having a bizarrely tough time finding accommodation on the island. Apparently people book for the whisky festival months in advance, whoops. But Catriona managed to speak with a guest house owner who knew a woman who sometimes opens her house to guests during the whisky festival, and we happily snagged a room at Sheena and Gilbert's lovely home near Port Ellen, phew.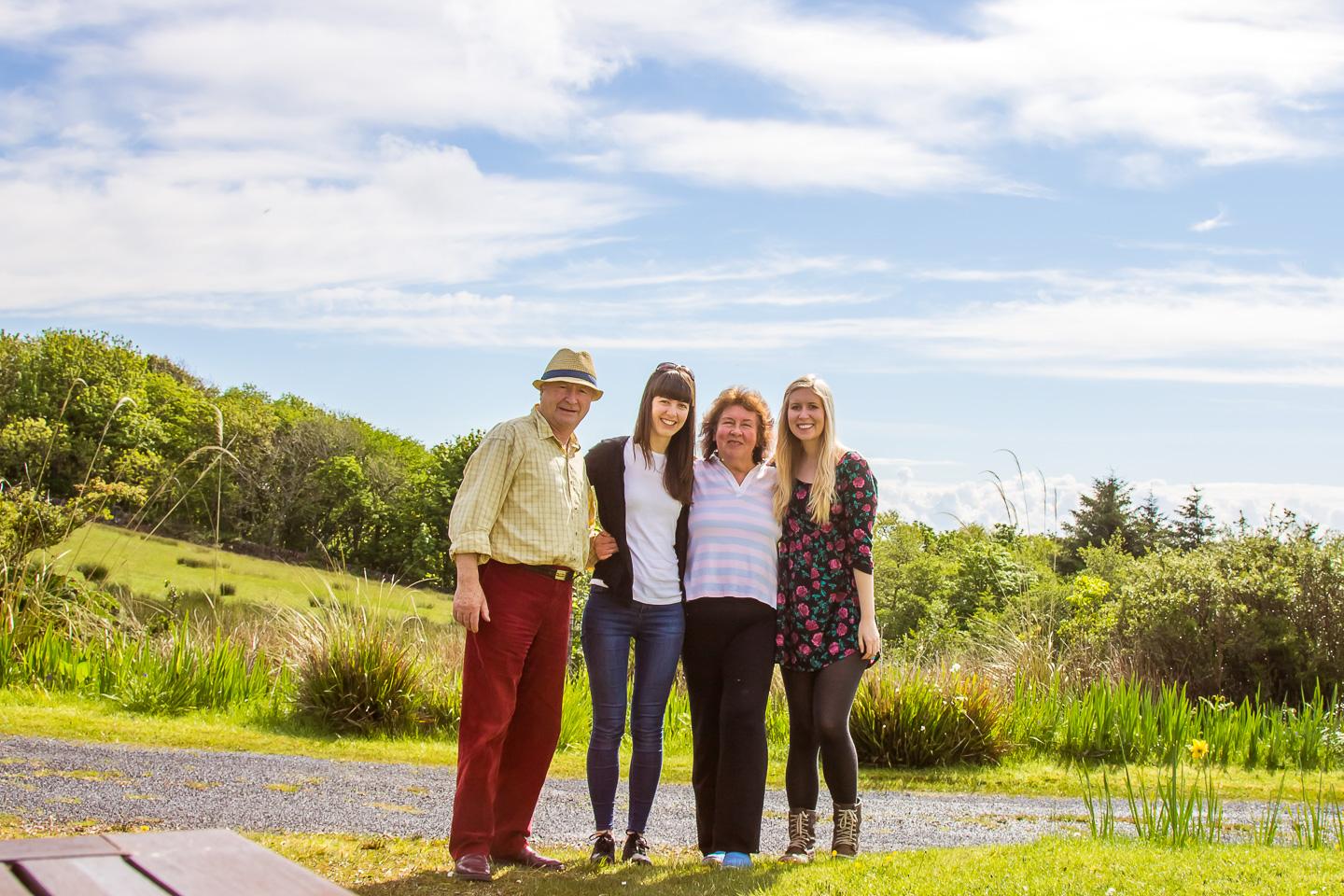 And staying with them was basically like staying with grandparents – the best.
I actually forgot the whisky festival was taking place until we drove past the Lagavulin distillery on its opening day and saw the line of people stretching a mile down the road. The whisky connoisseurs and whisky collectors of the world all seem to have made their way to Islay.
And then there was Catriona and me.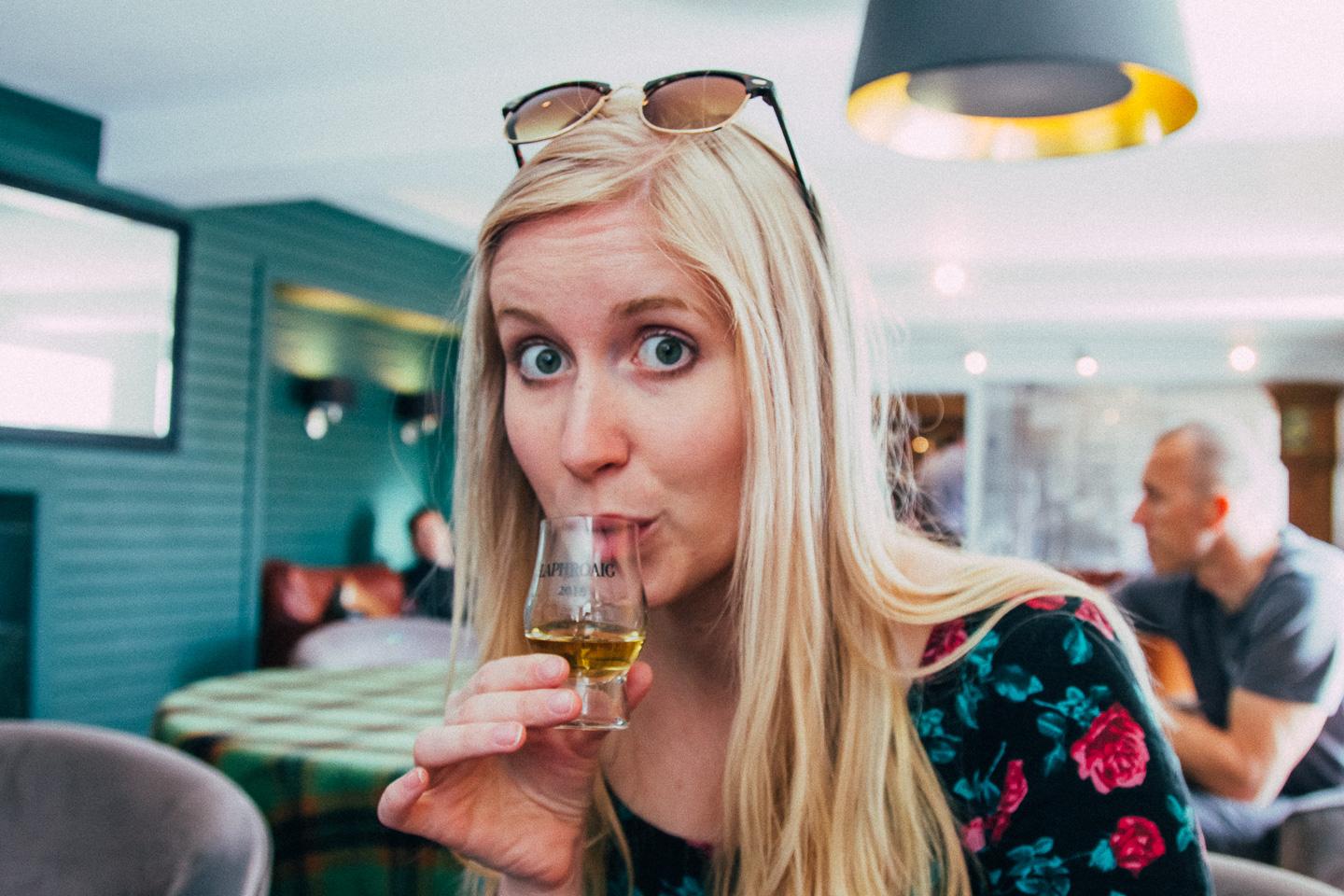 Ardbeg
Our first stop on Islay's whisky scene was Ardbeg distillery, where Sam treated us to lunch at the (super delicious!) Old Kiln Café. I can't tell you much about the scotch (I think I heard it's the smokiest of the Islay whiskies?) but Ardbeg does make for a beautiful photo backdrop! The whisky festival was centered around another distillery when we visited Ardbeg, so it was wonderfully quiet.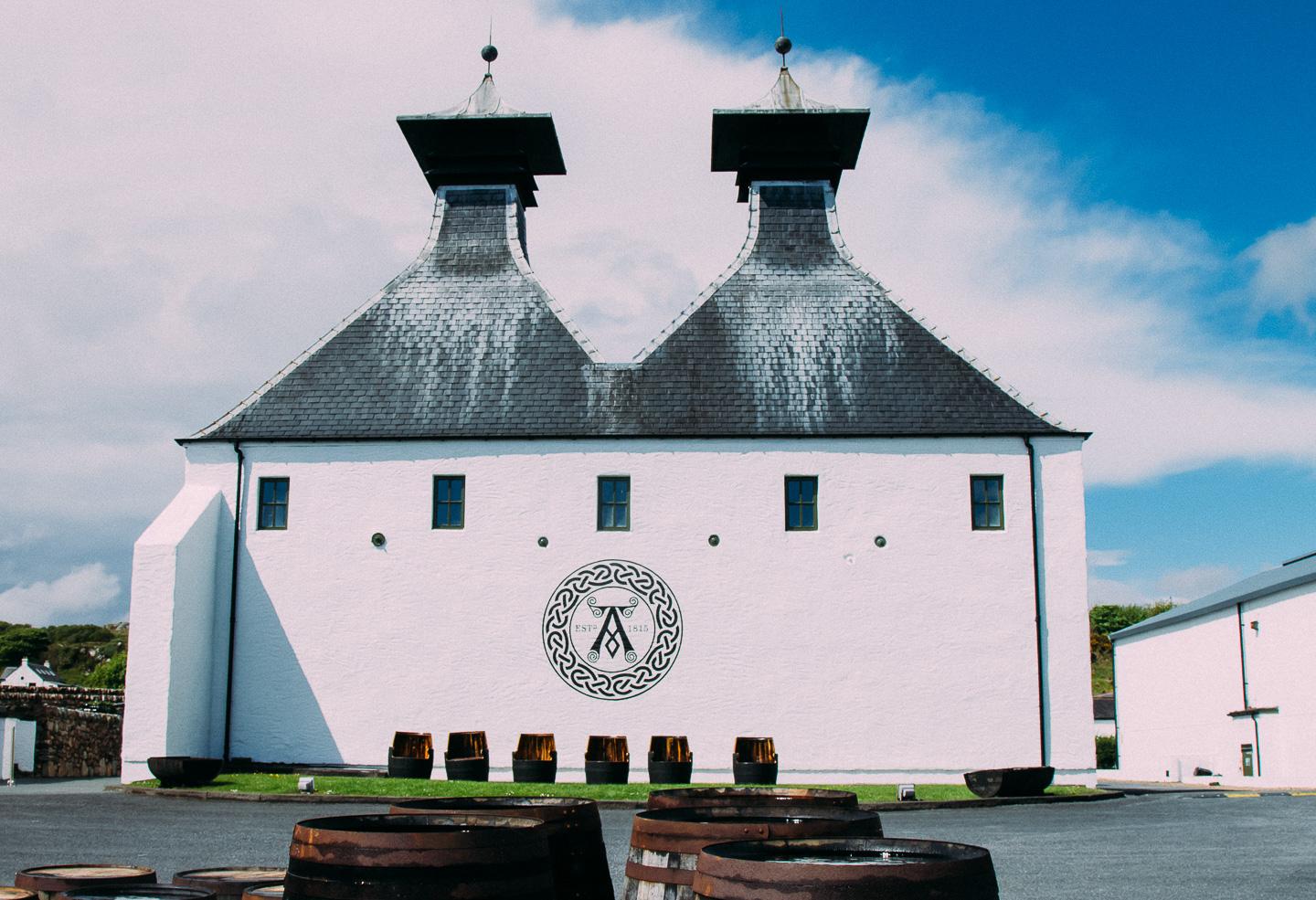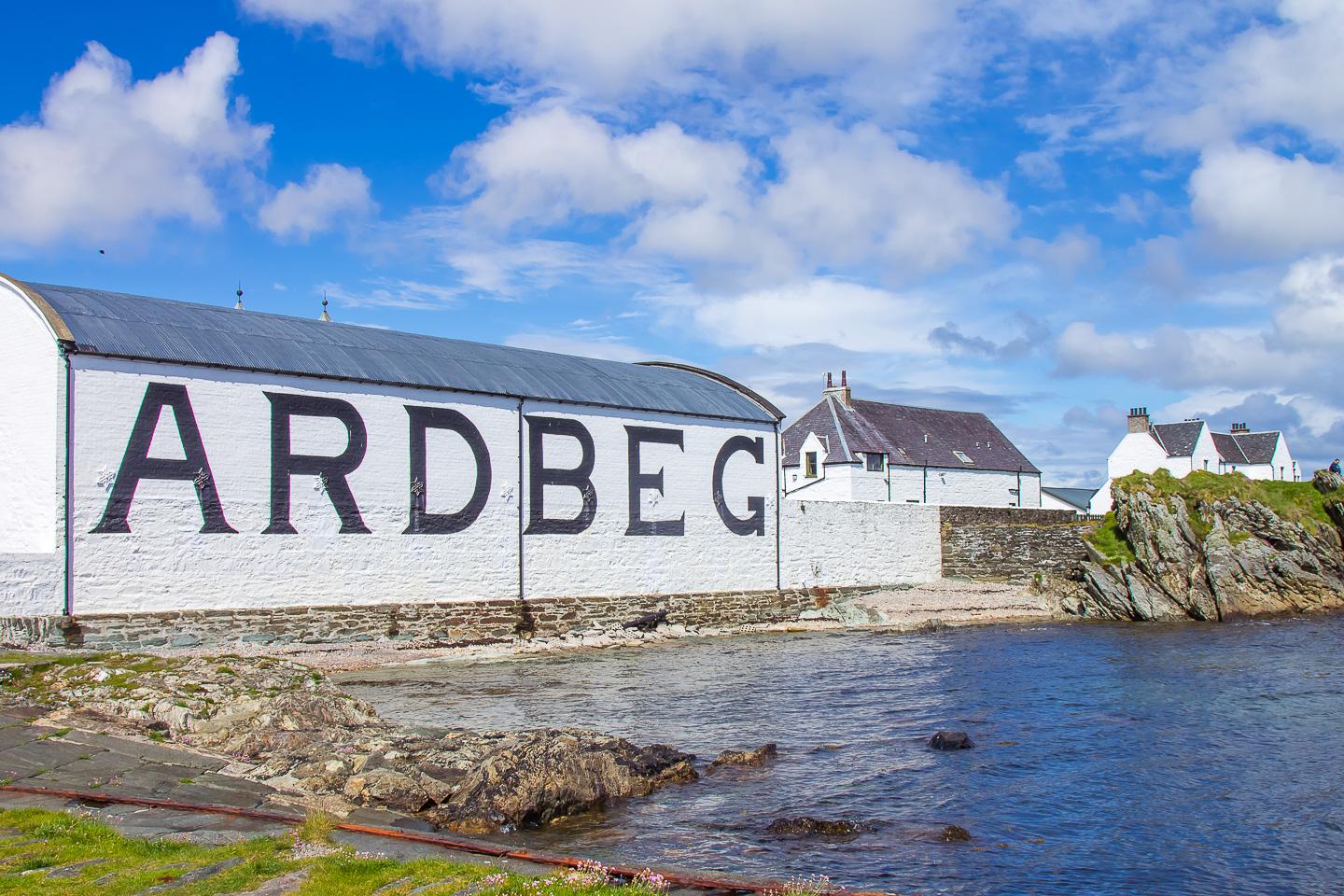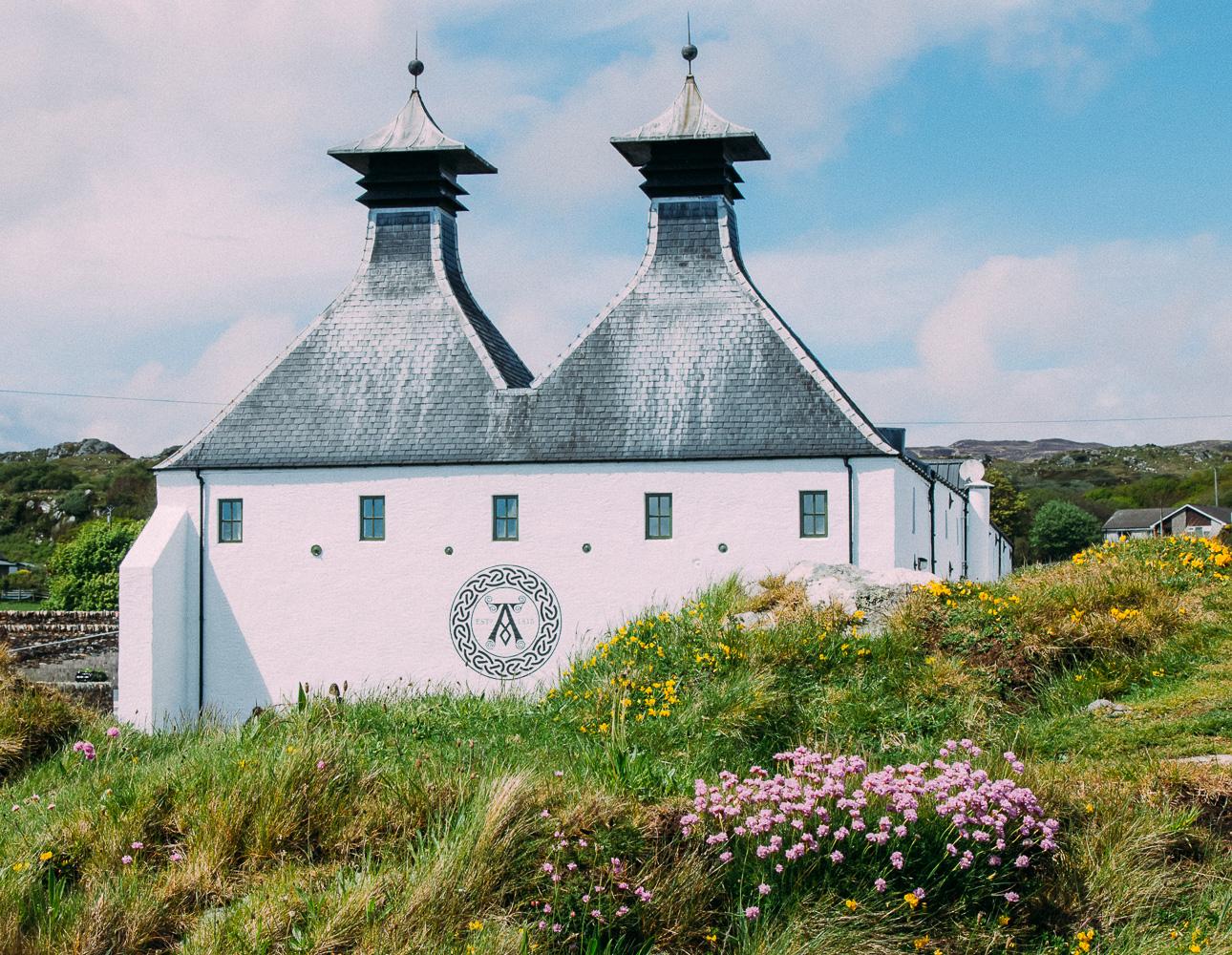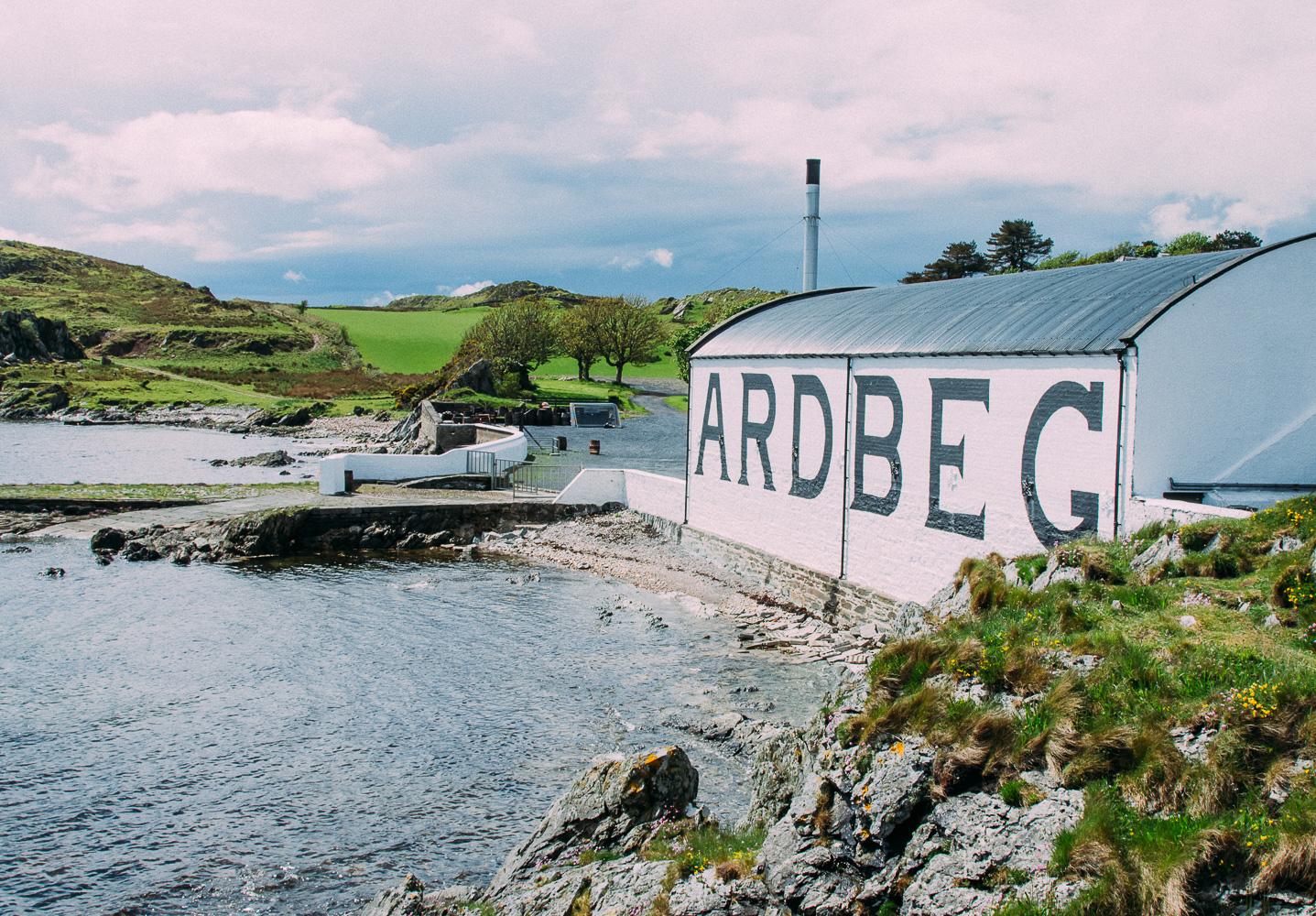 Laphroaig
We did manage to go on a distillery tour at Laphroaig, which is the one Islay whisky that even I had heard of – I think I first tried it while living in Japan.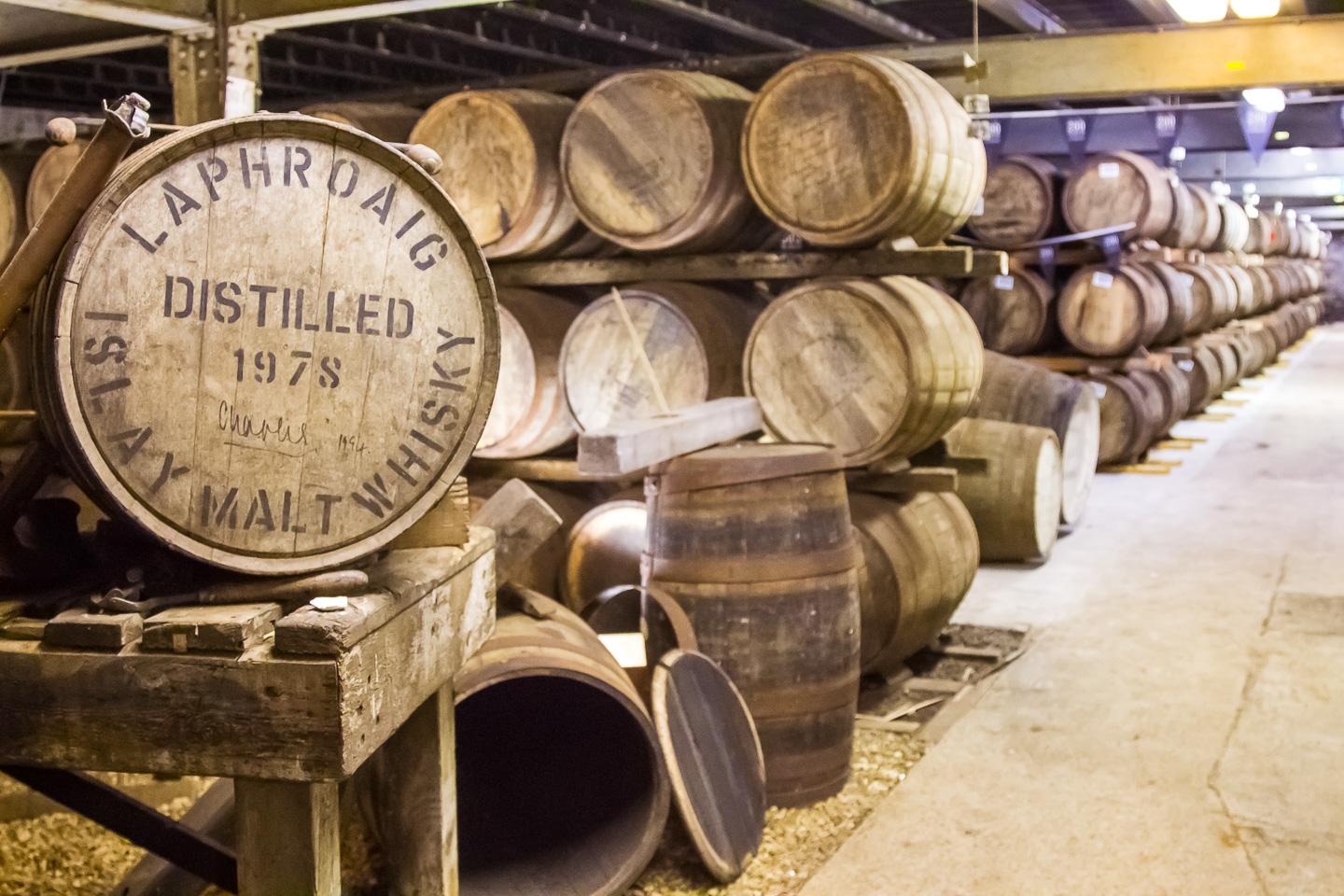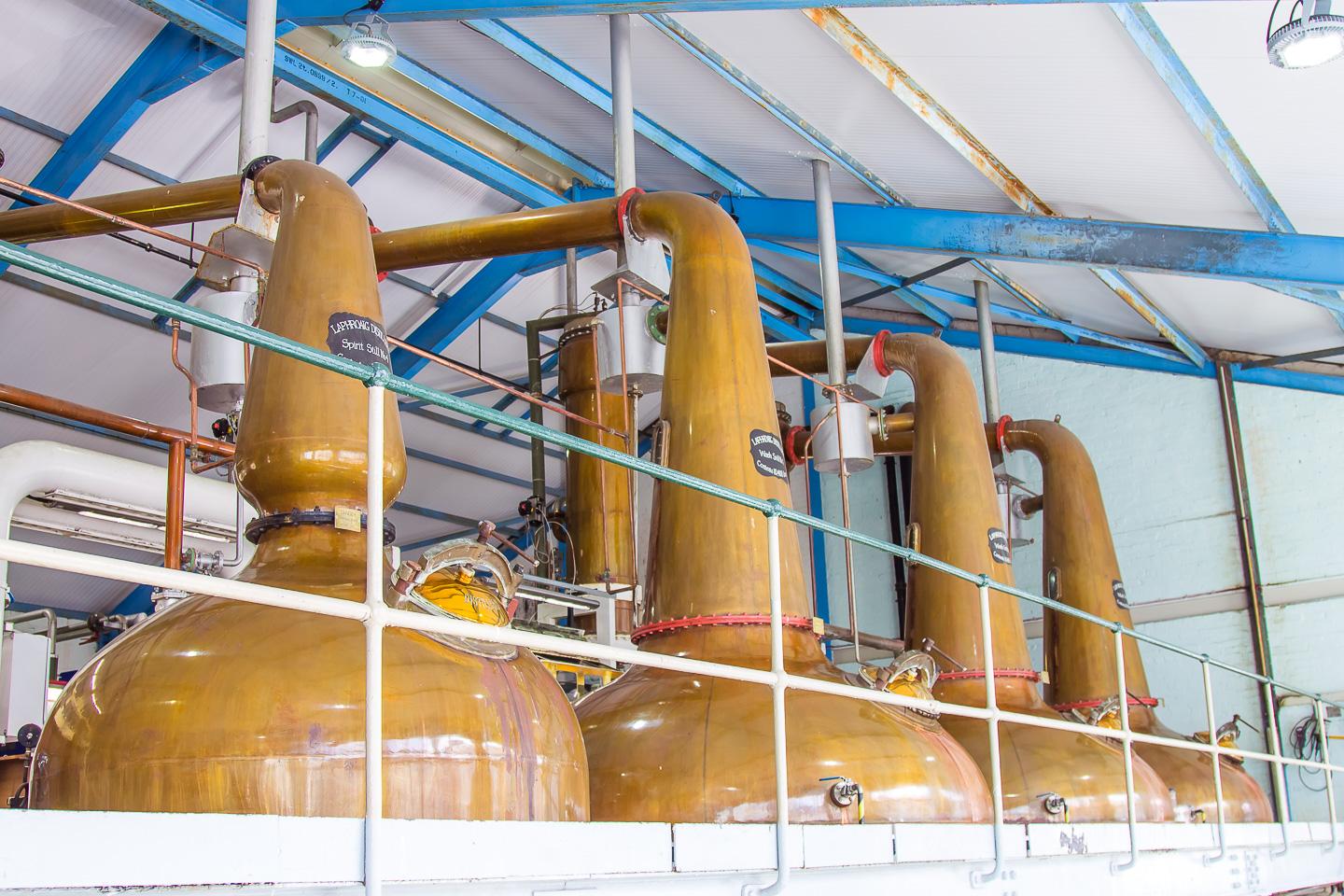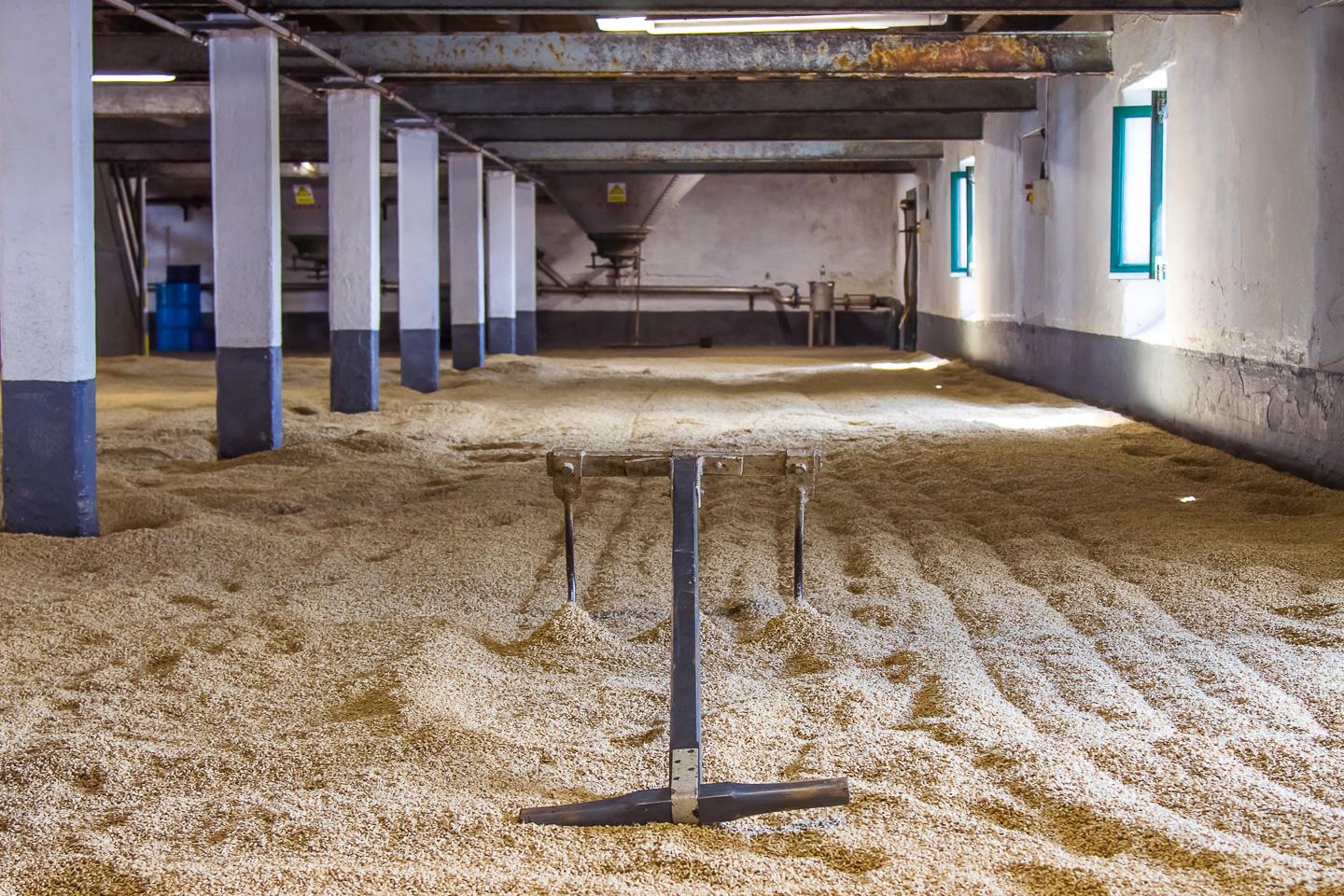 We learned lots about the peat on the island, the smoking process, and… other stuff, and then we pulled on our wellies and headed to a nearby field to claim our spots as Friends of Laphroaig!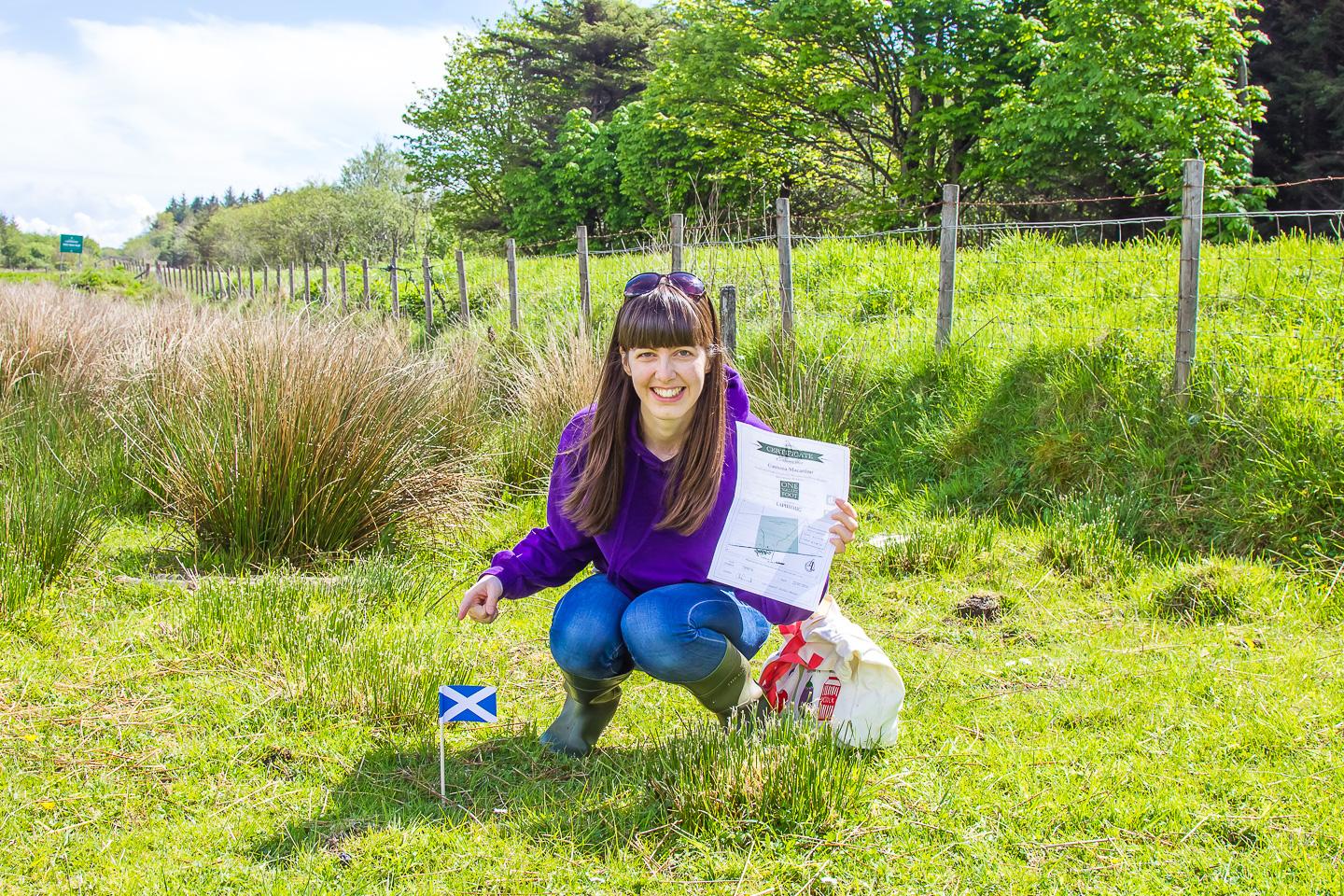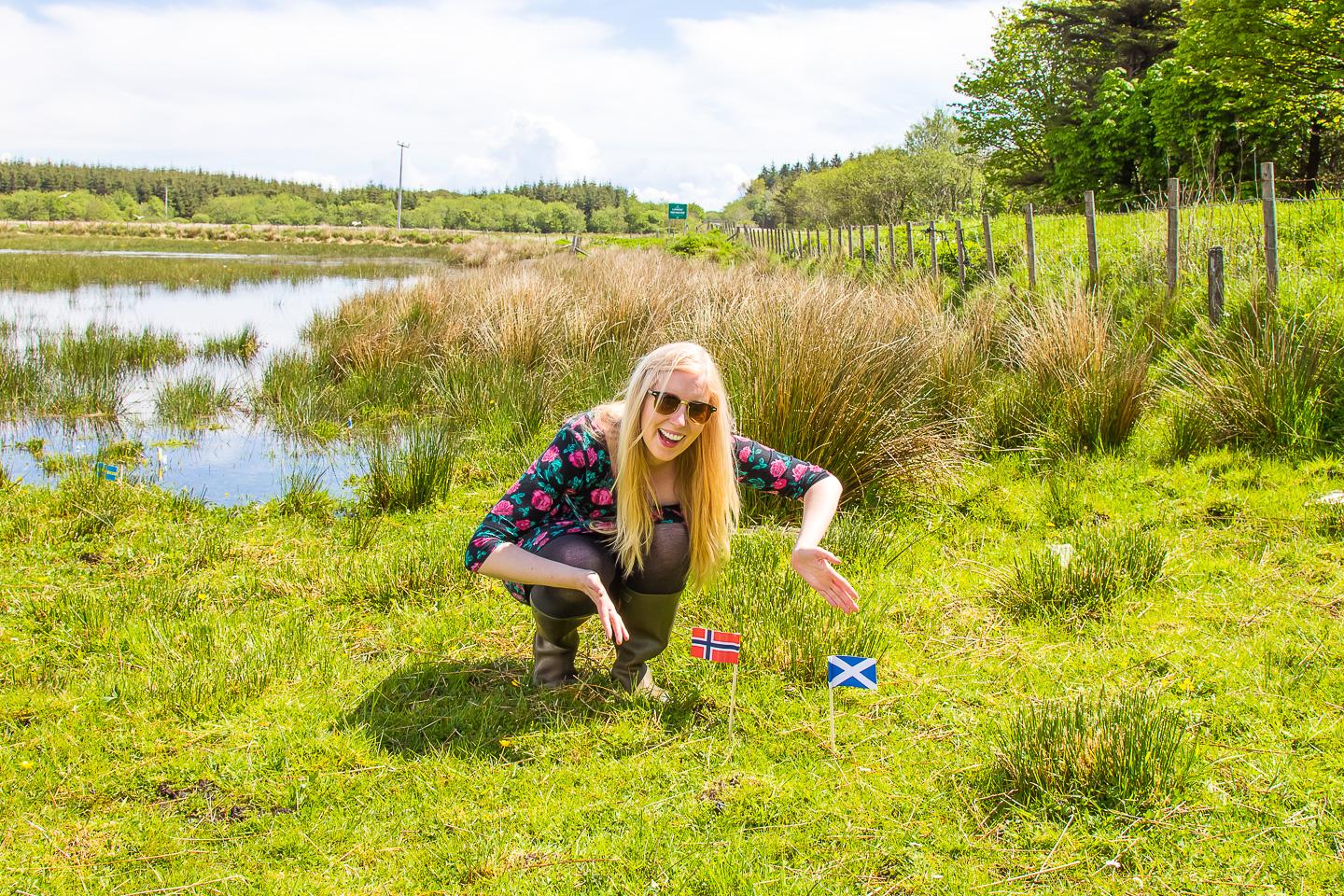 Okay, so I'm not entirely sure what the point of Friends of Laphroaig is, and I think most people just sign up because it means you get a free dram each time you visit the distillery. Catriona and I were the only ones on our tour who were more excited about planting our flags than the free whisky – in fact I think we were the only ones who bothered with the flags.
But if you are into whisky, the distillery tour is a bargain, as the 6 pound ticket comes with a free dram and tasting glass, and then you can try as many of the whiskies as you like – something that I know the group of Italian men on our tour greatly appreciated.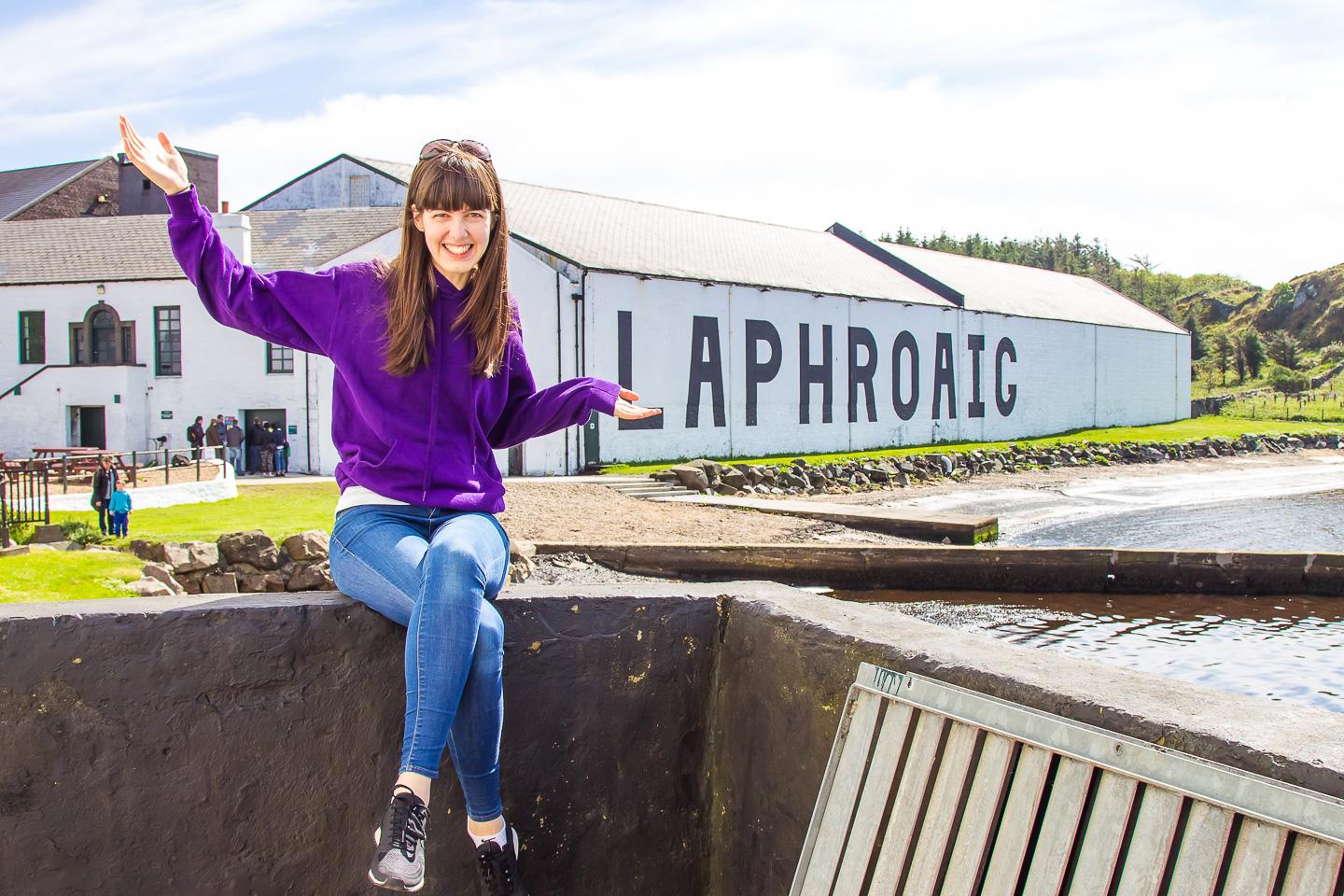 I love how all the distilleries have their names on the coastal side, though I learned that this is less about Instagram shots and more about all of their deliveries coming by boat in the days before Islay had many roads.
Bruichladdich
On our final day on Islay we decided to join in the whisky festival for Bruichladdich's opening day festivities. Apparently these Islay whisky festival openings are the place to be if you're a whisky collector, as they offer special limited edition bottles only available at the festival (hence the long lines).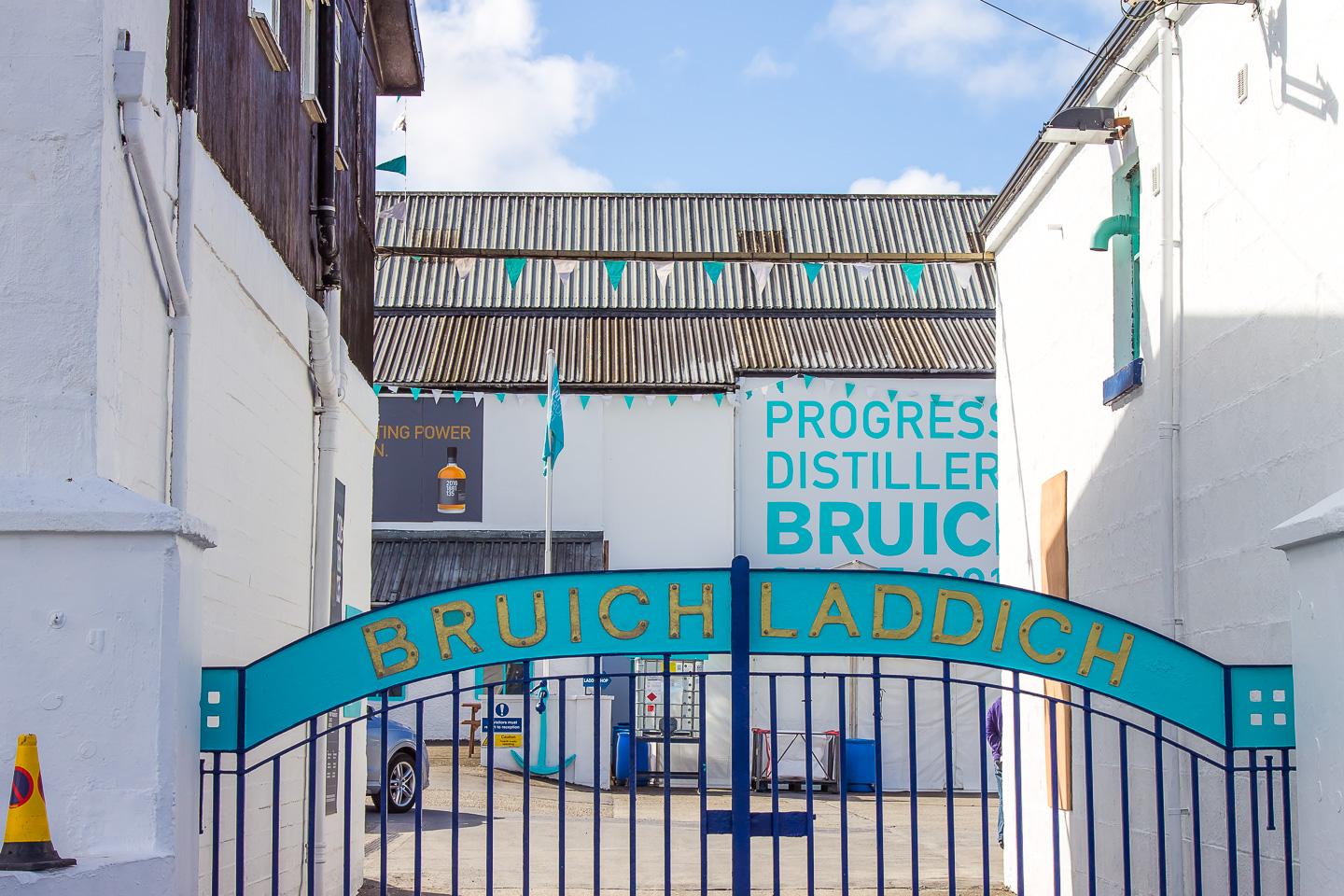 Bruichladdich is one of the younger distilleries on the island, founded in 1881, and seems to be marketed as the "hipster" whisky. At least that's what we could gather from the teal laddie bottles and mission to create "the world's most thought-provoking whisky."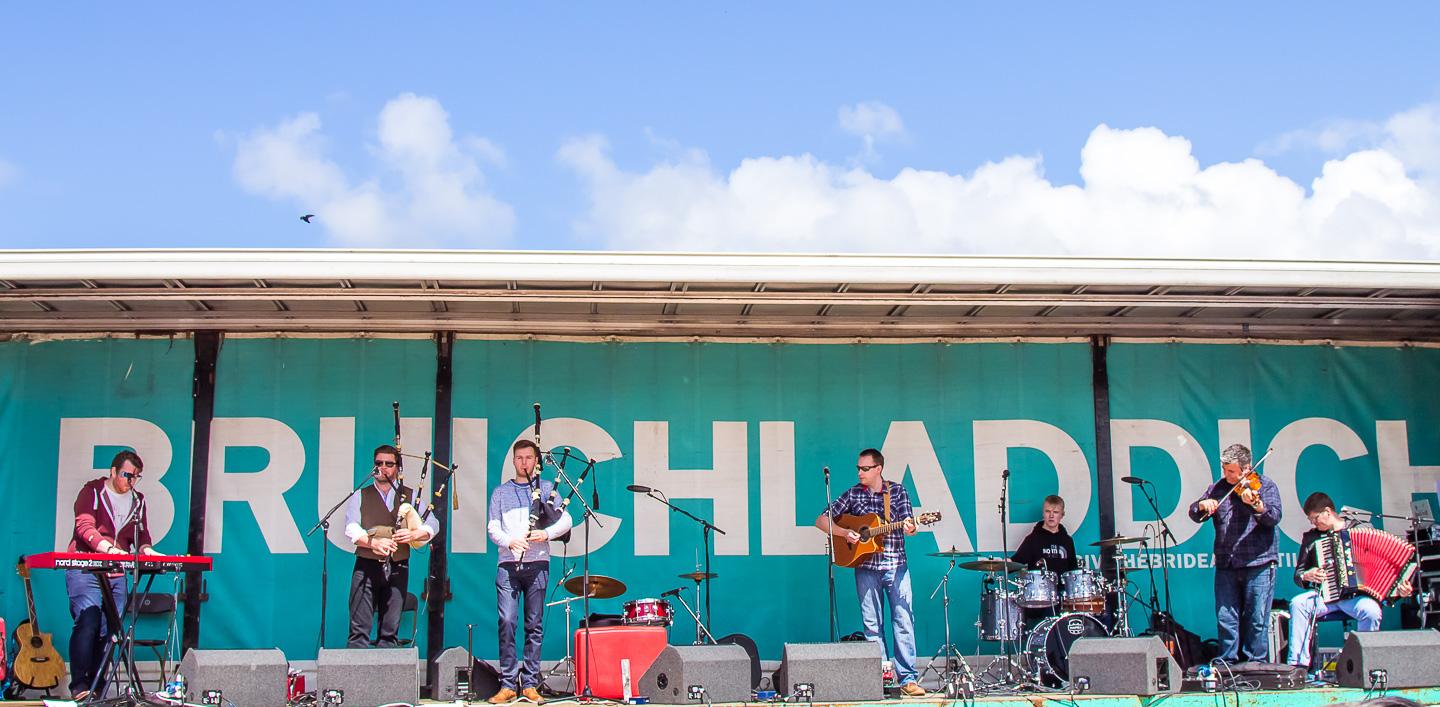 After grabbing lunch at one of the many food trucks set up on the distillery grounds and dancing along to all the bands we decided that visiting Islay during the whisky festival wasn't the worst twist of fate.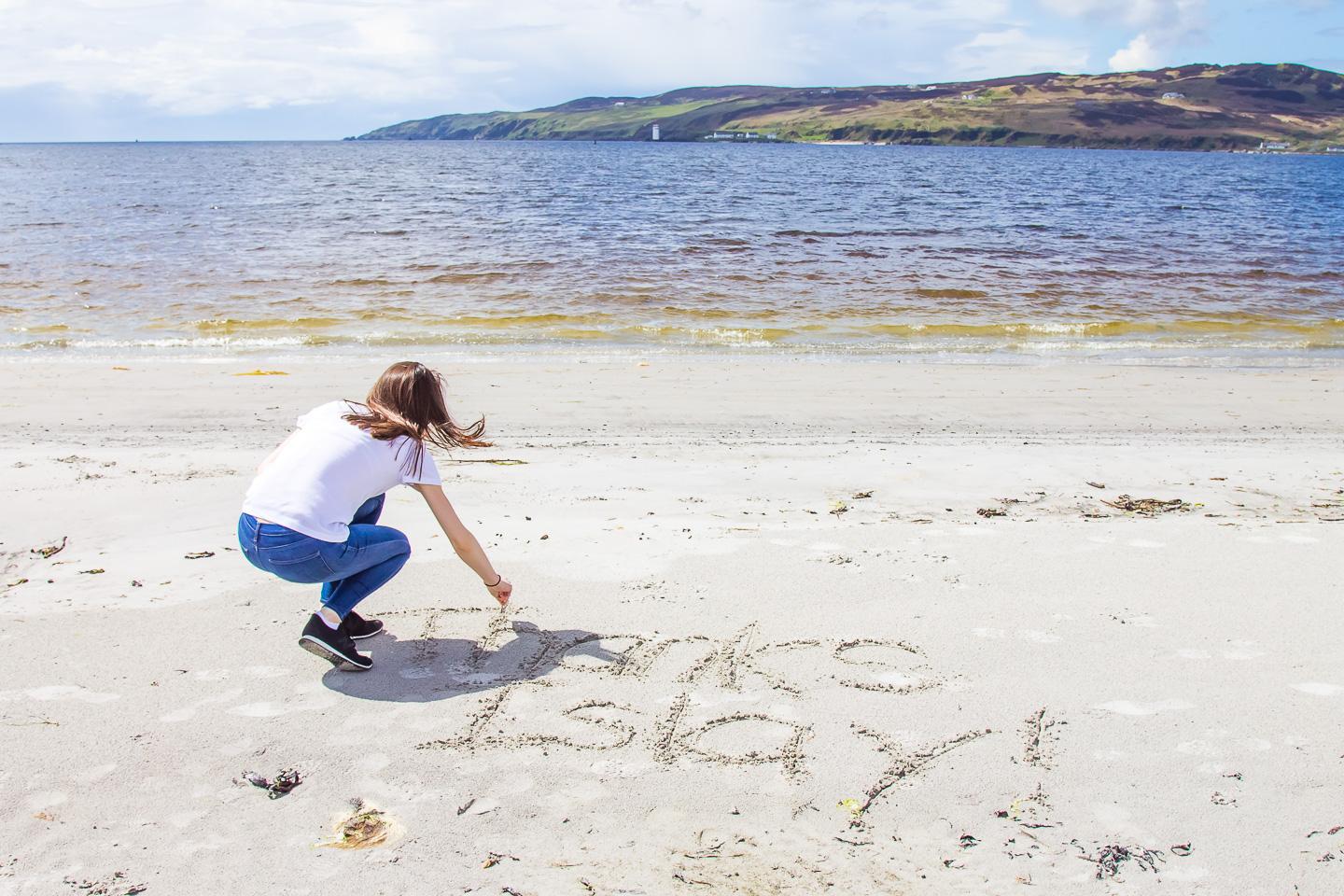 Islay on Video
And if that was all too much for you to read – or not enough and you want more – here's the trip on video!
Next up: Tiree!
The bus from Glasgow to Kennacraig cost £17.60 booked through Citylink and took 3 hours.
We took the CalMac ferry from Kennacraig to Port Eskaig on Islay for £6.50, and bought our tickets at the ferry terminal (though if you take a car you should book in advance). The ferry took two hours.
We hired a car through Islay car hire for £84 for 48 hours.
You can find more information about Islay accommodation here. 
What to pack for island hopping through Scotland
Scottish weather is unpredictable! I packed a lot of cold weather clothing for this trip, because Scotland, but then it ended up being sunny and incredibly hot for most of the trip. So you'll want to bring a good variety of clothing, so that you're prepared for whatever Scottish weather might throw at you.
Probably most important, though, is rain gear – you don't want the weather to stop you from exploring the islands. I swear by these rain pants. Here are a few of my other top packing essentials for island hopping in Scotland:
PIN IT!