Just about exactly one year ago, I wrote a post titled I Choose Travel. At the time, I was enrolled in a master's program at Aarhus University in Denmark, which was due to start in a couple of weeks. But I had just realized that I had chosen to study for all of the wrong reasons, so I withdrew and decided to spend the next year, well, essentially seeing where it lead me.
Now, this past year hasn't taken me on quite as extreme adventures as the previous year, which found me hitchhiking along the Tajikistan-Afghanistan border, backpacking solo through Iran, and, every parent's favorite, sneaking into Europe's marijuana growing capital in Albania. But that's not to say I didn't have my fair share of adventures this time around.
It took me on an adventure through 27 countries with my favorite partner in crime. That's 27 countries I wouldn't have visited had I instead chosen to study. As for that partner, I think my exact words to Dan last August when discussing the prospect of my moving to Denmark were "Our paths might cross again!" – a flippancy that now makes me cringe to think about.
It's amazing how much can change in a year, and how huge an impact a single choice can have on your life. It's daunting enough to make me never want to make any decisions ever again. Except that's exactly what I've done.
I've chosen Norway.
Okay, that's not exactly news at this point. But what I haven't really explained yet is why I decided moving to Norway was right for me.
The dream for so many travel loving folks – especially the kind with travel blogs – is to find a way to become location independent, and I think I sort of figured out how to do that last year. But I also figured out that that's not actually my dream at all. In fact, I think a huge drive behind my travels has actually always been to find a place to stop. I guess I'm picky, because choosing a place to call home took me a really long time.
But I was tired of being an eternal outsider, of my friend groups consisting of other fickle nomads who were always up and leaving, and of being tied to inexpensive countries where I always had a bit of nagging guilt that I was using the place for its cheap food and accommodation.
Dan was feeling the same, so we decided to move back to Europe. I think originally one of the reasons I had justified not studying in Denmark was that it would make more sense to study in Norway, where as a Norwegian citizen I would get funding from the government to study. But after I remembered that actually I always hated school and studying we still kept the idea of going to Norway.
Practically it made sense, because I already have Norwegian citizenship and speak some Norwegian, and as an EU citizen Dan can live here as long as he gets a job in 6 months, plus Norwegian is one of the easiest languages in the world for English speakers to learn. Seriously, it's practically grammar-free. (The only challenge is getting Norwegians to stop just speaking to you in English.)
But practical reasons aside…
I love how few people there are here – Norway is enormous but only has 5 million people. I love that the national news stations will cover barely newsworthy stories like how local cows changed their feed, and that news of a car crash will prompt long discussions in local media about vehicle safety. It's such a change from the news in the U.S., which always seems to leave me curled up in fetal position wondering how on earth we're all going to survive.
And I love how beautiful Norway is. The sad fact about travel is that it's made me much harder to impress, and I do love to be impressed, so I really don't have any other choice but to move to one of the most beautiful countries in the world.
But even more than its beauty, I love Norwegians' appreciation for their country's beauty. It's a country of nature lovers. People do complain that Norwegians are are cold and reserved but, um, that's what people say about me! My people!
I also love that Norwegian politics don't make me want to pull my hair out.
I love that my addiction to tinned fish won't be considered weird here.
I love that people are allowed to camp wherever they want in Norway, as long as it's 150 meters from the nearest house or cabin.
Even though the thought of meeting one terrifies me, I love there are trolls here.
I love fjords.
I love cross-country skiing.
I love that sometimes I'll be able to see the Northern Lights!
And I've come to terms with the fact that my hair will probably be considered dark blonde here.
Yes, it's going to be cold and dark for a huge chunk of the year here, but that's why Norwegians travel! Norwegians are huge travelers and I'm excited to join in on that, especially as after the super high prices here everywhere else in the world is going to seem like such a bargain. Plus, I've moved to a city with an airport!
Dan and I chose Trondheim sort of randomly. I wanted to see more of northern Norway without actually living in the Arctic, and I also liked that Trondheim is on the coast but still gets lots of snow in the winter. With 200,000 inhabitants Trondheim is Norway's third largest city, which seems like a good size. Plus it's a university city, which I hope means that there are a lot of fun things to do in Trondheim, and maybe even some diversity! And it supposedly has a big music scene, so I'm crossing my fingers that Dan can find a Scandinavian funk band to join. Do those exist?
But most importantly, Trondheim is super pretty. As in, I left my apartment for ten minutes to quickly take some pictures to show you guys, and this is what I saw: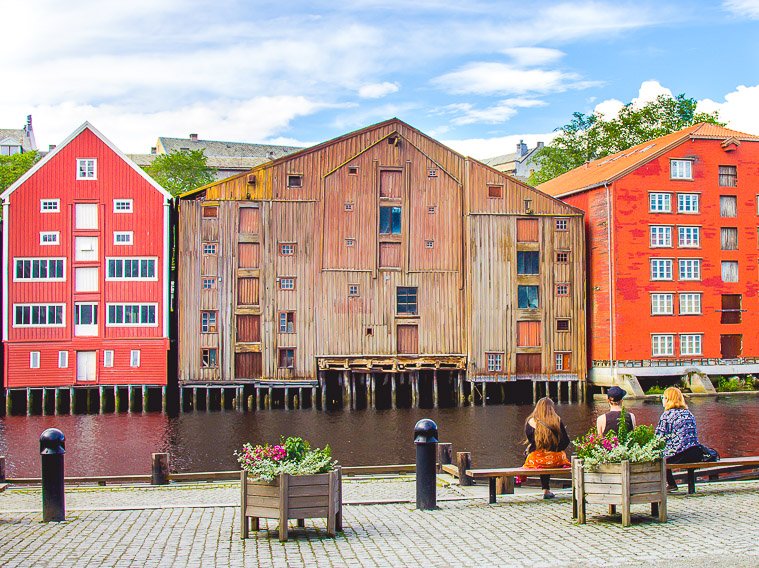 Now, I know there are many things about Norway and Norwegian culture that will drive me absolutely mad, but I'm moving here with an open heart, because it would just be so cool to live somewhere I truly loved. The United States was never that place for me, Thailand and Japan didn't quite do it for me either, but maybe this time? I guess first I'll have to find a job.
PIN IT!