Updated April 2022
I don't always love planning a trip. I pretend I'm such a free spirit that I just can't be tied down to schedules, but the truth is I find it hard to make a proper schedule in advance – especially for countries I've never been to before. I need to feel out a place first, see what the transport situation is, and how exhausted or bored or love-struck a place makes me.
But since Danielle and I only had two weeks in Morocco, we wanted to come up with the perfect two week Morocco itinerary.
I usually plan the first few nights of accommodation of a two-week trip, and then I figure out the rest after I arrive. Sometimes this works in my favor, while other times I end up missing out on really cool things that I could have experienced if I had been more organized.
And that is why I am SO proud of how perfect my two-week Morocco itinerary turned out to be.
Over the course of the trip, Danielle and I kept remarking over how perfectly everything was falling into place. We fit way more into our two weeks in Morocco than I had expected to, I ended up loving all of our accommodation choices, and I think we saw Moroccan cities and villages in exactly the right order.
I'd love to take credit for it, but honestly, it was mostly just luck. And I feel so lucky about it that I want everyone to do the exact same trip! Or at least look over this two week Morocco itinerary and see if it could work for you, because I really, really loved it. Like I might just need to go back and do it all over again, exactly the same. Would that be weird?
Now, we technically only had 12 days in Morocco, but I decided to extend this itinerary to 14 days because two extra days would have been quite nice. On the other hand, I think you could also make this work for a 10-day itinerary if you're pressed for time.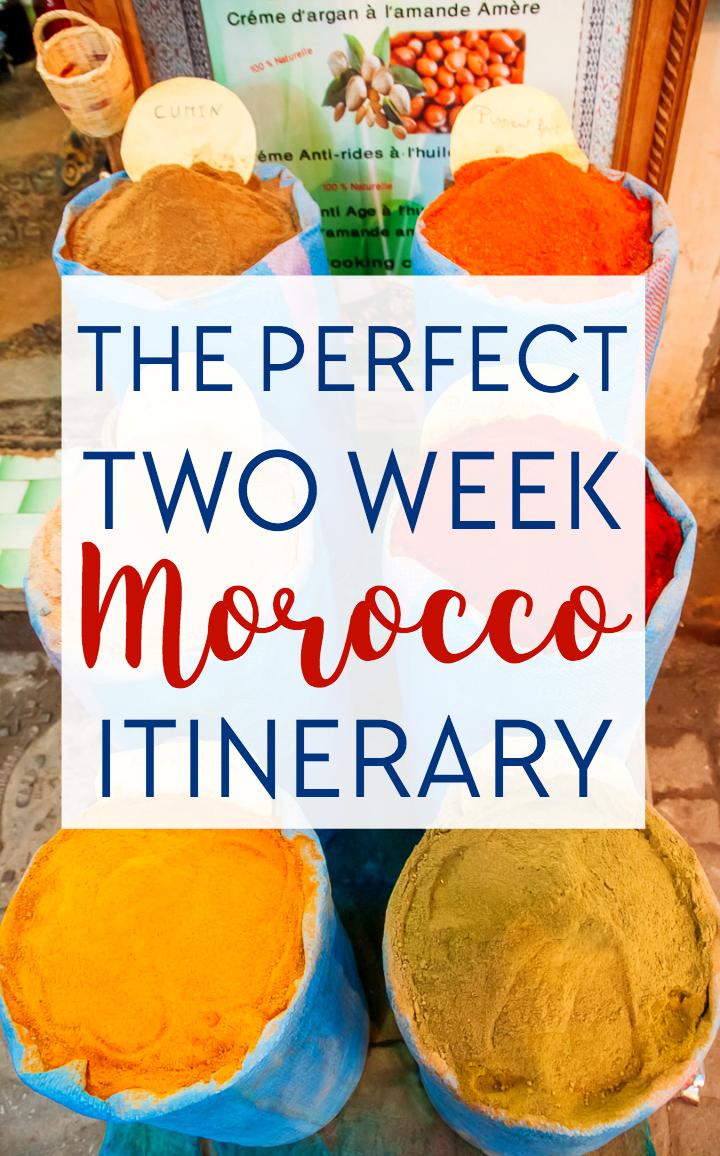 Getting to Morocco
The great thing about Morocco is that lots of budget airlines fly here from Europe, so you don't need to fly in and out of the same airport.
Danielle and I both flew with Tap Portugal. Danielle booked a roundtrip flight from New York to Lisbon, and then a super cheap flight from Lisbon to Casablanca, and then returning out of Marrakech back to Lisbon. And I booked flights for about $80 from Norway with a layover in Paris.
Of course we could have booked roundtrip tickets, but it would have meant less flexibility. If you're looking for a way to find the cheapest roundtrip/one-way routes, Kiwi.com is the perfect flight hacking tool for this, because they search all the budget airlines as well. Just remember if you book on Kiwi, book your luggage in advance as well as it's way cheaper. You can read all my tips for booking cheap flights here.
Anyway, that's all to say, if you can, try to book a flight into Casablanca and then leaving from Marrakech, as you'll save so much time (and money!) that way.
Packing for Morocco
I've written more about traveling as a woman in Morocco and what to wear in Morocco here. You do have to be a bit careful with what you wear in Morocco, but don't worry, I've found lots of nice options for you.
Insurance
And please, please, don't forget travel insurance! I always book with World Nomads because on the two occassions that I needed to file claims with them they made the process so simple, no questions asked. I've tried other cheaper alternatives in the past and have been screwed over, so now I know to just always go with World Nomads. You can get a quote for your trip here.
Day 1 – Casablanca
Danielle and I both flew into Casablanca. Considering our first destination in Morocco was Chefchaouen, and there are several international airports in Morocco that are much closer to Chefchaouen, this might not have been the smartest choice, except that I'm so happy we didn't skip Casablanca. In fact, I think it made for the perfect first stop in Morocco.
We arrived in Casablanca too late to catch the 1 pm bus to Chefchaouen so we booked a stay with a local family in the medina. I can't find that specific listing now, but there are a lot of lovely options in Casablanca, like cozy flat.
If you'd rather stay in a hotel in Casablanca, we later met two girls who had stayed at the Atlas Almohades and really loved it. Check here for current prices and availability
Casablanca isn't much of a tourist destination in Morocco, which meant that locals didn't pay us much attention – something I was very relieved about after having read so many horror stories about female travel in Morocco (SPOILER: I wasn't really harassed at all during my two weeks in Morocco).
I had heard that Casablanca is underwhelming and that it's mostly just famous because of the movie, but honestly I'm so glad I went. It definitely felt like the least touristy city I visited in Morocco, which I really loved. Like I think Casablanca gave me the best feel for what Morocco is like for locals.
After arriving Danielle and I headed out into the medina in search of food, and we quickly found a stand selling snail soup, which we thought would make the perfect first meal in Morocco!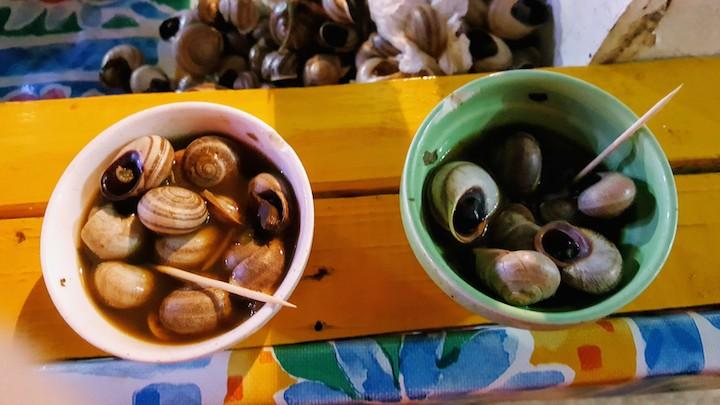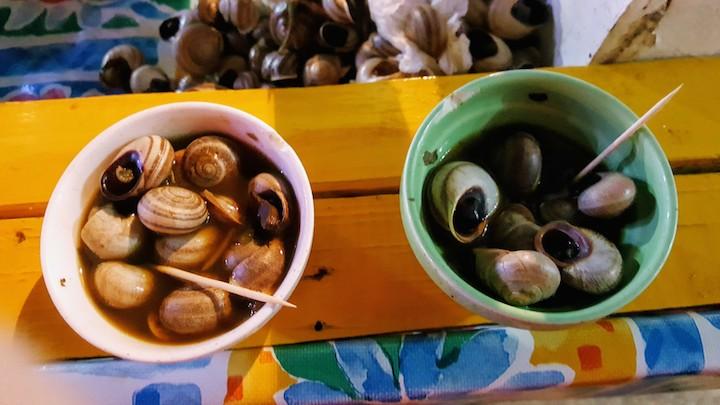 And the snail soup man was so kind to us that we asked him where we could find tagine (the obvious choice for our second meal in Morocco), and he showed us down a little alley where we ate what probably was my favorite tagine in Morocco (and at $1.50 also the cheapest).
If you have a bit longer or would like a more guided experience to Casablanca, check out this 4-hour sightseeing tour or this private half-day tour.
Day 2 – Casablanca to Chefchaouen
We spent the next morning wandering the medina a bit more, and then we caught the 1:30 pm bus to Chefchaouen!
Our bus got into Chefchaouen at 8 pm, basically giving us enough time to find our guest house.
We stayed at Dar Besmellah in Chefchaouen, which is run by the nicest family. The dad actually works in Oslo, so the son spoke some Norwegian! So random. And the daughter showed us some nice local spots. Check current rates and availability here
If Dar Besmellah is booked up, try Dar Elrio or Riad Cherifa, both have high reviews and while they're a bit more luxurious, they're still quite affordable.
Another option is to look for Vrbos in Chefchaouen, like this studio with gorgeous terrace views or this stunning four-story home. This is a great way to get to know the locals better, instead of just staying in a tourist hotel or riad.
Day 3 – Chefchaouen
It rained all day in Chefchaouen, so I didn't get to do as much on this day as I would have liked. Instead, Danielle and I spent the morning in a small restaurant having a big breakfast and drinking a lot of mint tea. And then we asked our guest house what we could do while it was so cold and rainy and they sent us to the hammam for a good scrubbing.
For dinner, we headed to Chez Hicham, mostly because we could eat upstairs in front of the fireplace, though it also ended up being one of my favorite meals in Morocco.
Click here to read more about our two days in Chefchaouen, including the best things to do – and what to eat!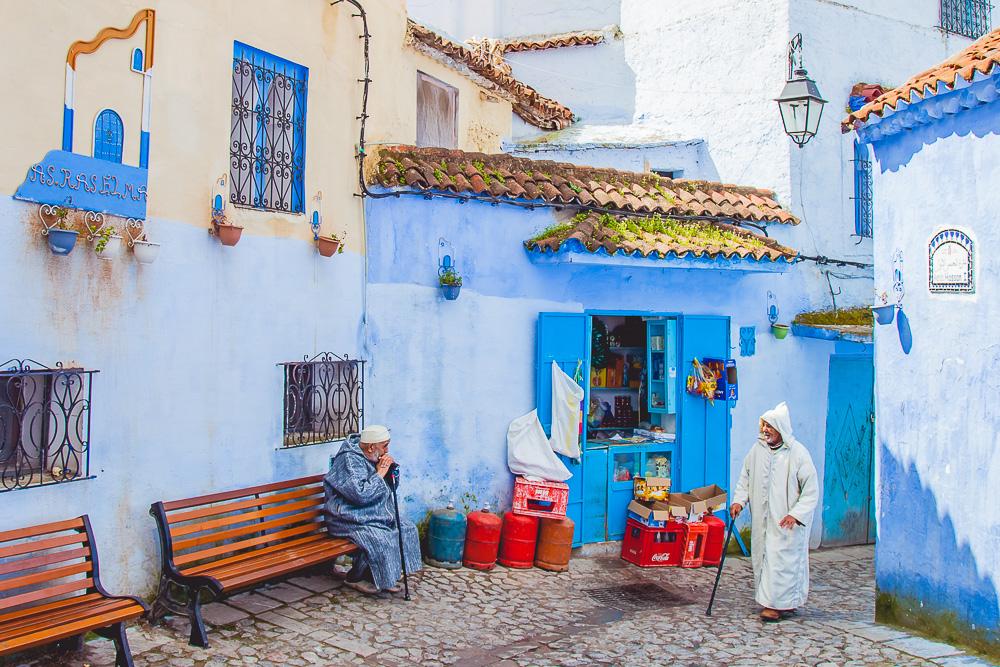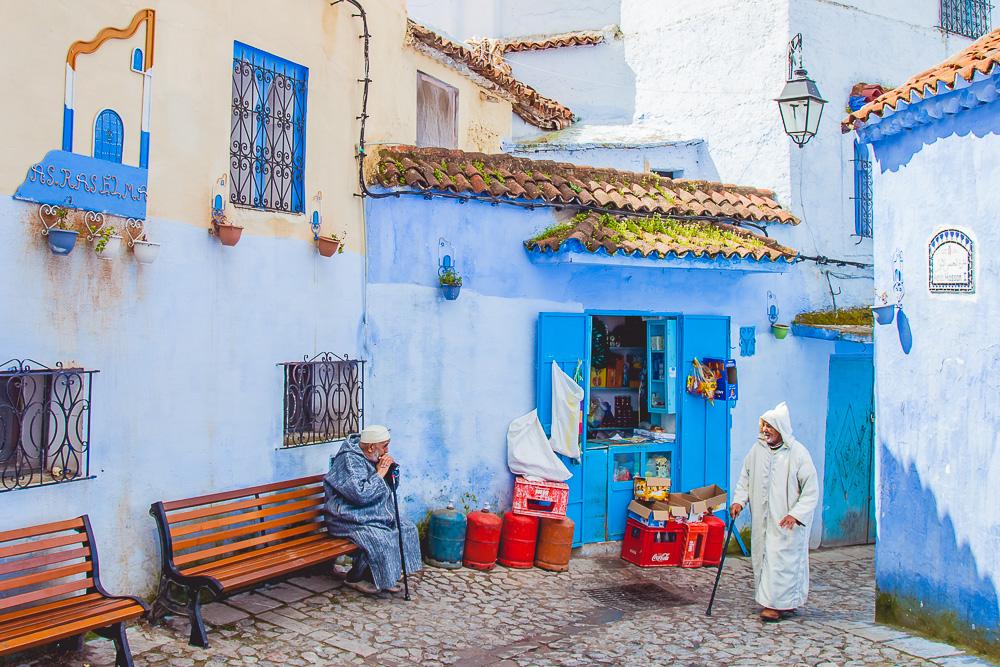 Day 4 – Chefchaouen to Fes (Ain Cheggag)
As the day before had been so rainy, we got the late afternoon bus to Fes and spent the day exploring Chefchaouen in the sunshine.
We left with the CTM bus at 15:15, which arrived in Fes at 19:30. Then we got a shared taxi to the village of Ain Cheggag, where we stayed with a friend. If you're staying in Fes and would rather book your transfer ahead time, try out this company.
To be honest if I were to do this trip again I would book a private tranfer, because I got so carsick on the bus. The road from Chefchaouen is really windy and being in a bus always makes it so much worse. At least the bus was comfortable though, and I didn't actually end up getting sick, so it definitely could have been worse!
Days 5- 6 Ain Cheggag
So, this is the part of my itinerary that would be hard to replicate, but it was also probably my favorite part of my two weeks in Morocco.
Danielle and I spent three days staying with Danielle's friend who lives in Ain Cheggag, a village outside of Fes. She's just finishing up three years working with the Peace Corps in Ain Cheggag, so staying with her was a great way to learn more about Morocco. We met her friends and ate meals with some of the local families she was closest to.
And we let them dress us up like Moroccan women.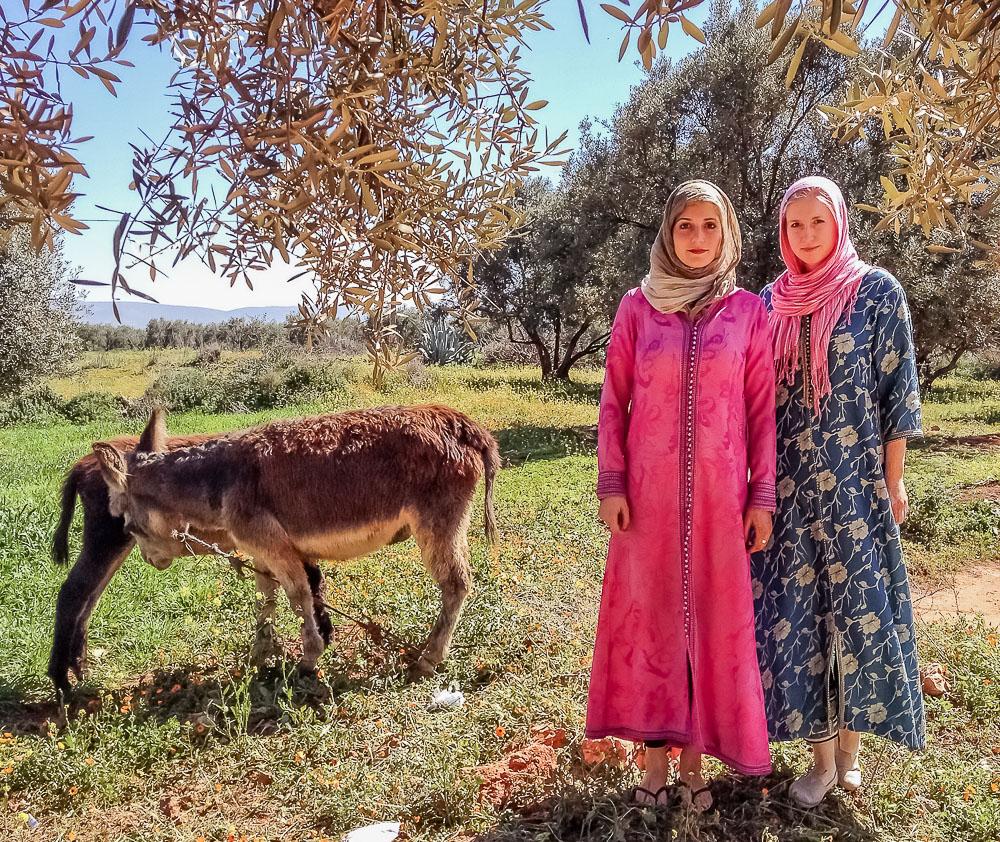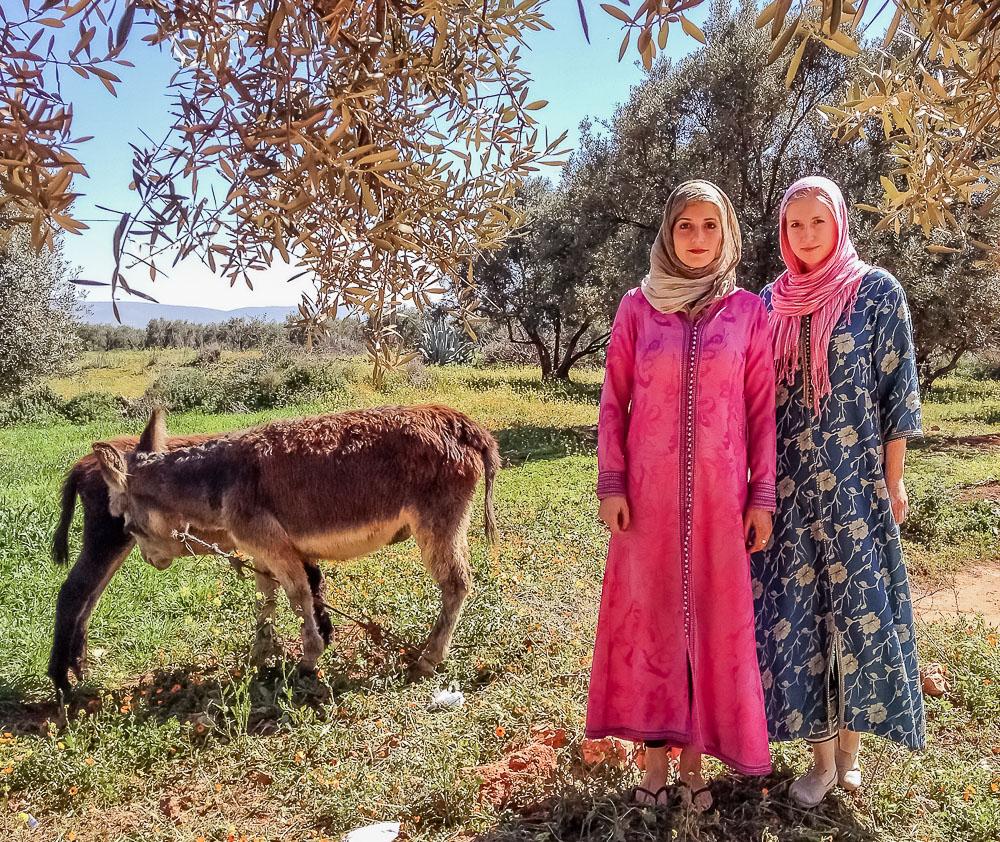 We didn't actually spend the night of Day 6 here, but instead caught the 8:30 pm Supratours night bus from Fes to Merzouga.
I think staying in a village added so much to my experience in Morocco, so if possible I would try to look for people on Couchsurfing or Vrbo who live outside of the cities to stay with. The only tour I found that could give you a taste of Moroccan life out of a big city is this farm life tour in the Atlas Mountains.
Otherwise, you could just spend these two nights in Fes, OR just spend one night and one day in Fes, and use the extra day to visit either somewhere in the Atlas mountains while on your way to Marrakech.
Day 7 – Sahara Desert (Merzouga)
We arrived early in the morning to Merzouga and then caught up on some sleep at our guest house, L'Auberge Petit Prince, who also organized our desert camping tour. Then at 4 pm, we headed out on our camels into the Sahara Desert!
Check here for current prices for L'Auberge Petit Prince
If L'Auberge Petit Prince is booked up, then check out some of the Airbnb options in Merzouga. There's everything from more luxurious places like Hotel Kanz Erremal to glamping in traditional Berber tents to budget-friendly places, like Merzouga Hostel.
We spent the night in the desert – click here to read more about our experience of camping in the Sahara Desert. If your accommodation can't help you with booking a desert tour, check some of these tours.
And if you're wondering if the desert tour is worth it, oh my goodness yes it is! We seriously had the best time in our tent, and the camel ride was so much fun. So, so worth it.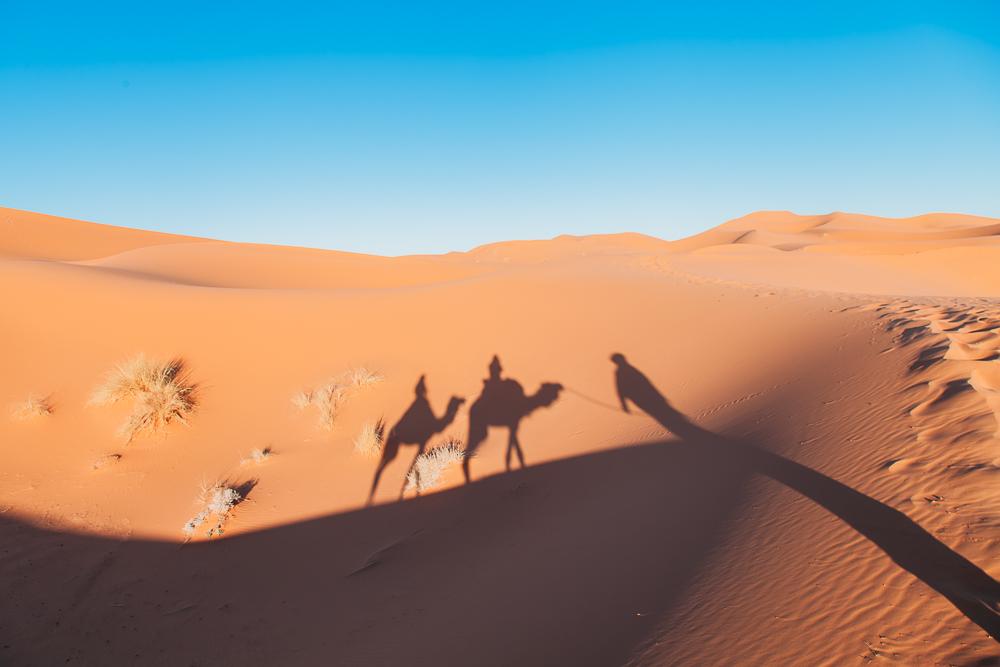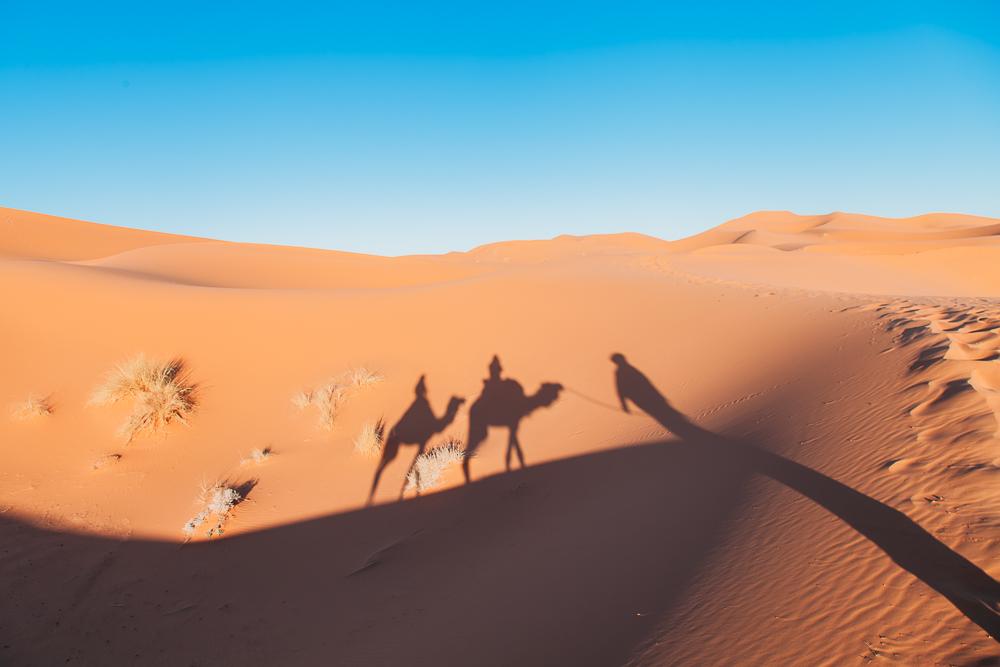 Day 8 – Merzouga to Essaouira
This was by far our longest travel day, which started on camelback, then a twelve-hour bus, and then a shared taxi up to Essaouira.
We left our desert camp at 5:30 am so that we would have time to eat breakfast at our guesthouse in Merzouga and then catch the 8 am bus to Marrakech, which arrived at 8:30 pm.
The bus to Marrakech is really, really long. But the journey is also incredibly beautiful, so I'm really glad that we didn't opt for the night bus instead.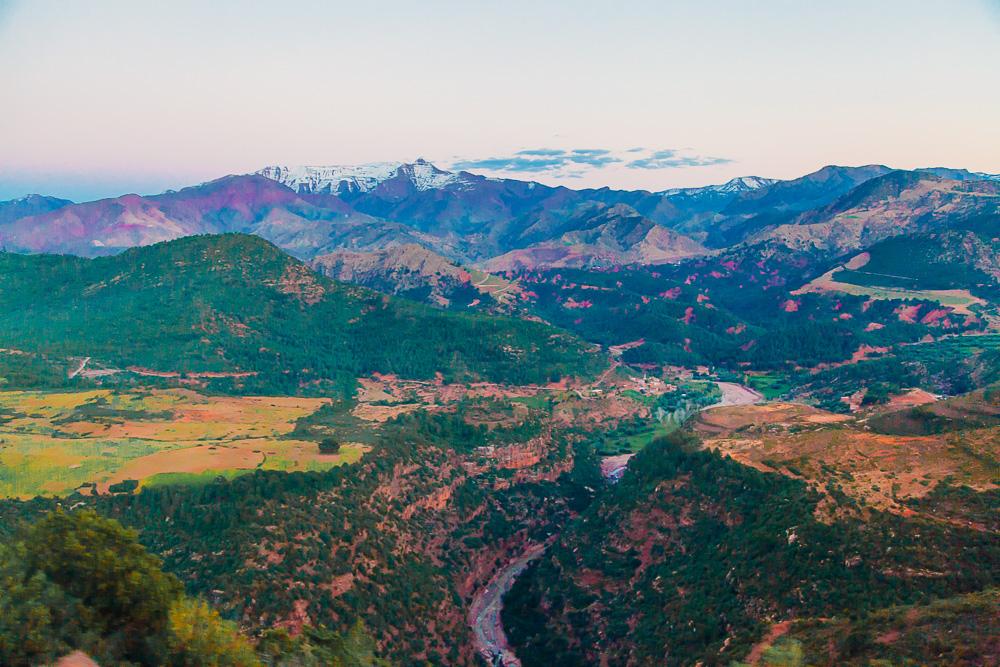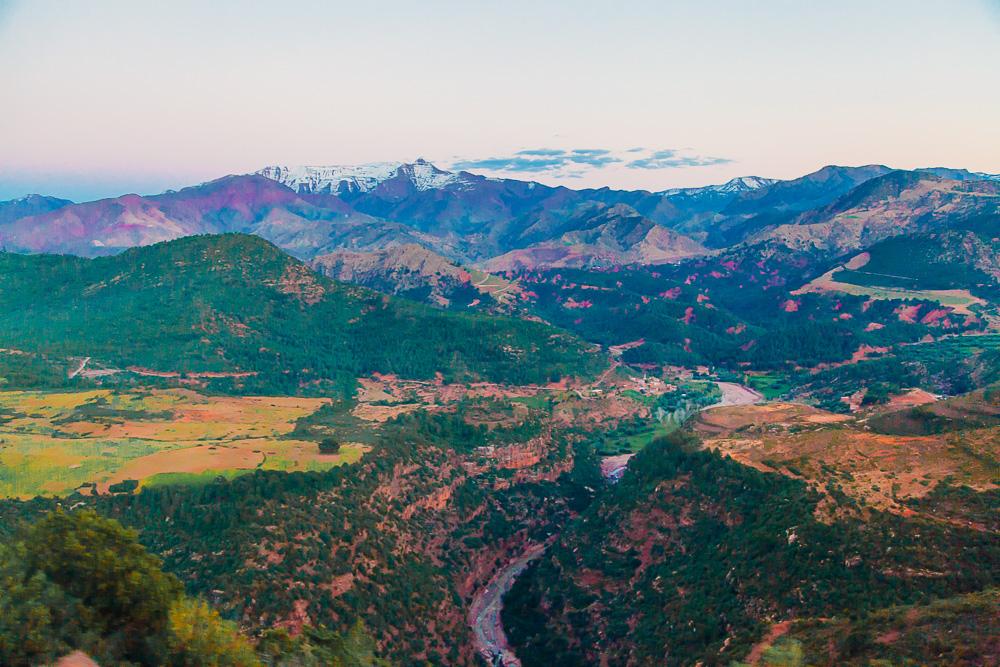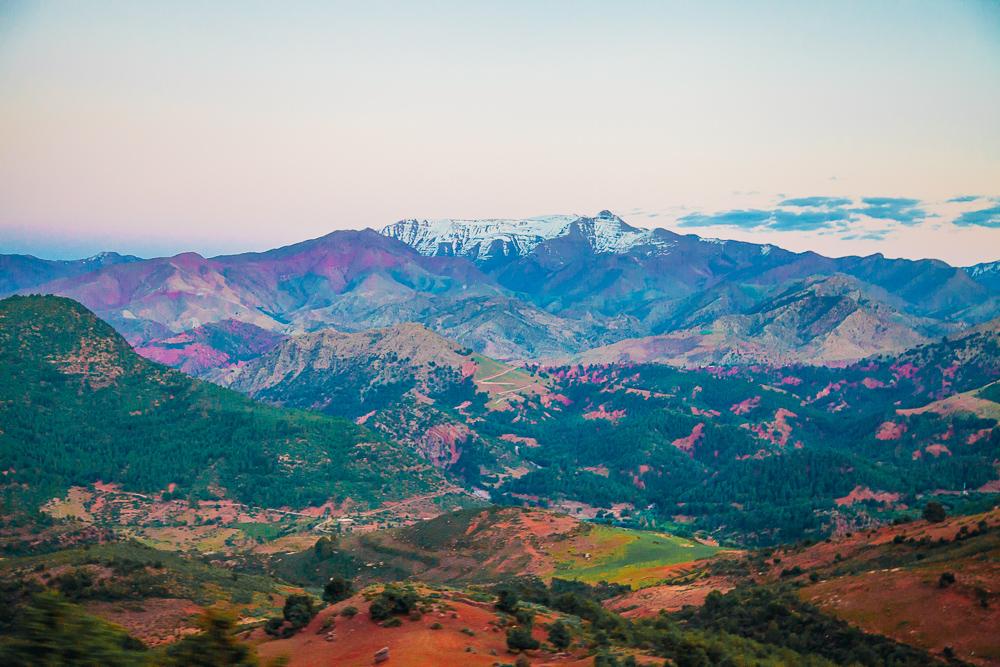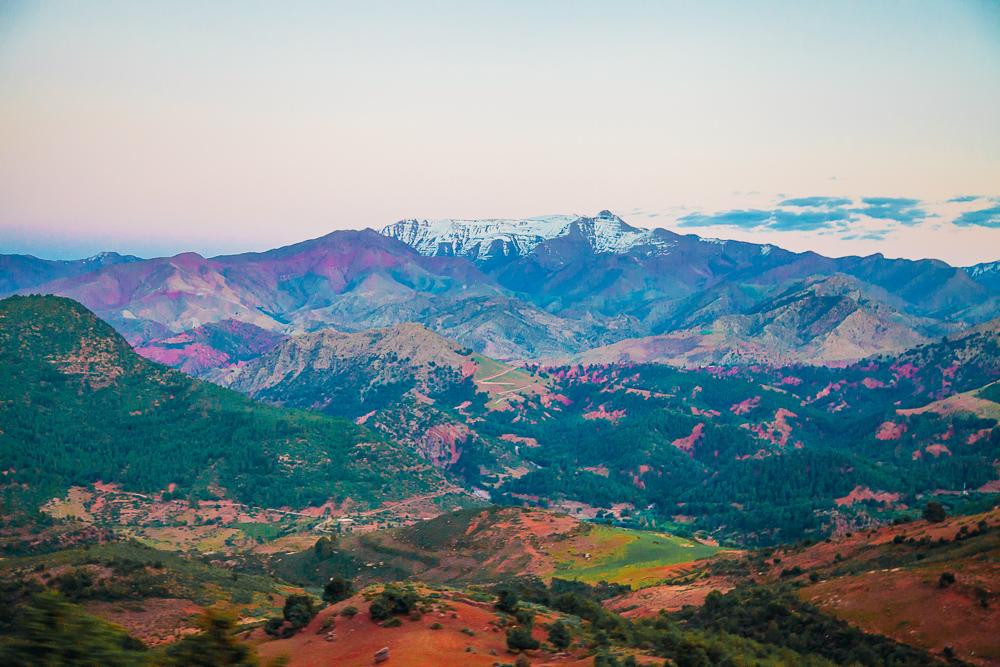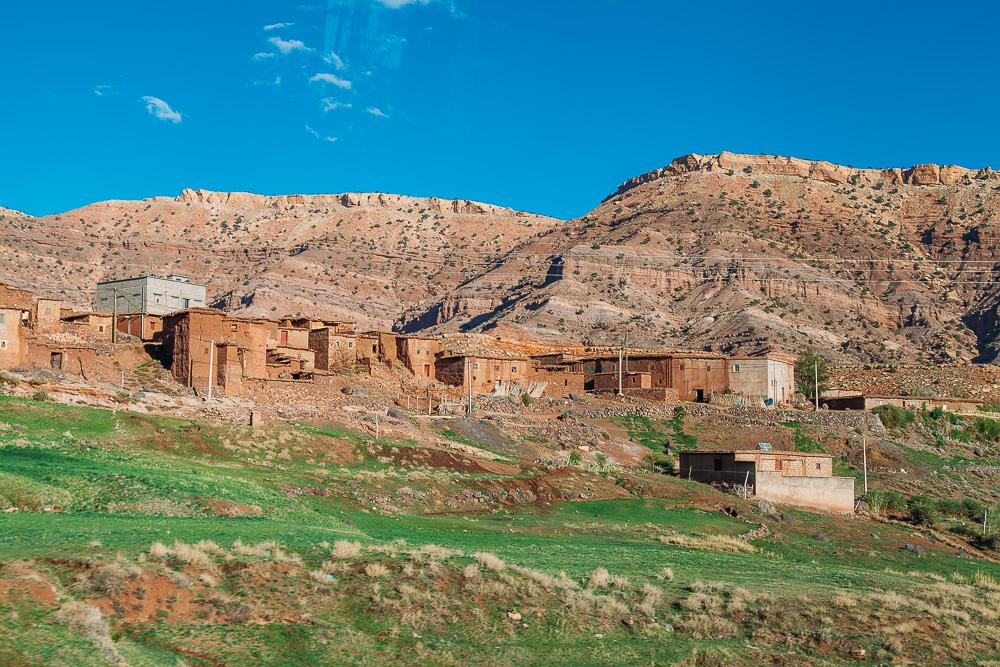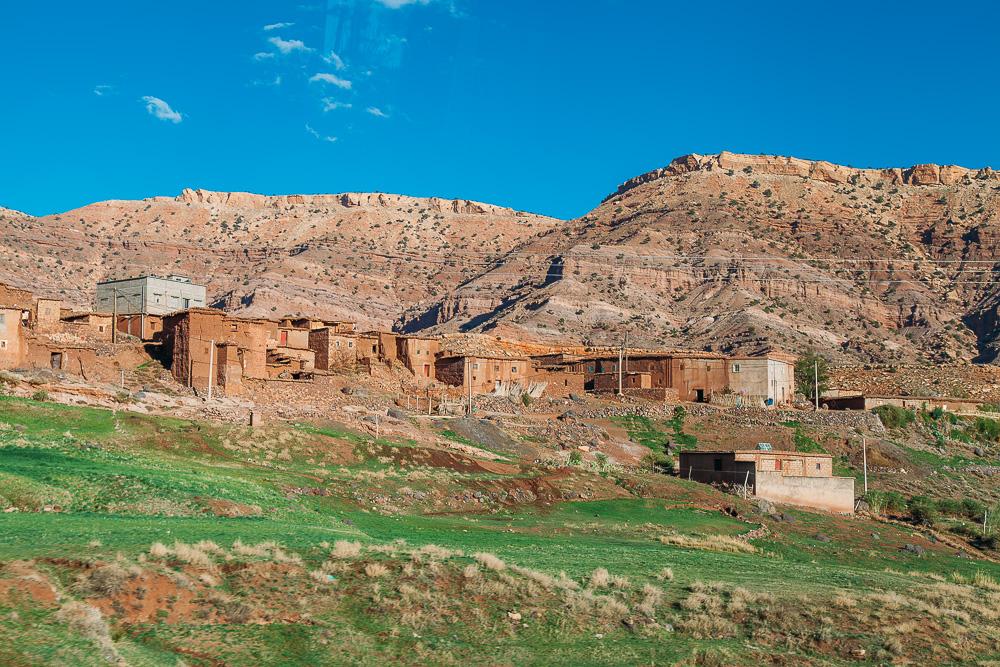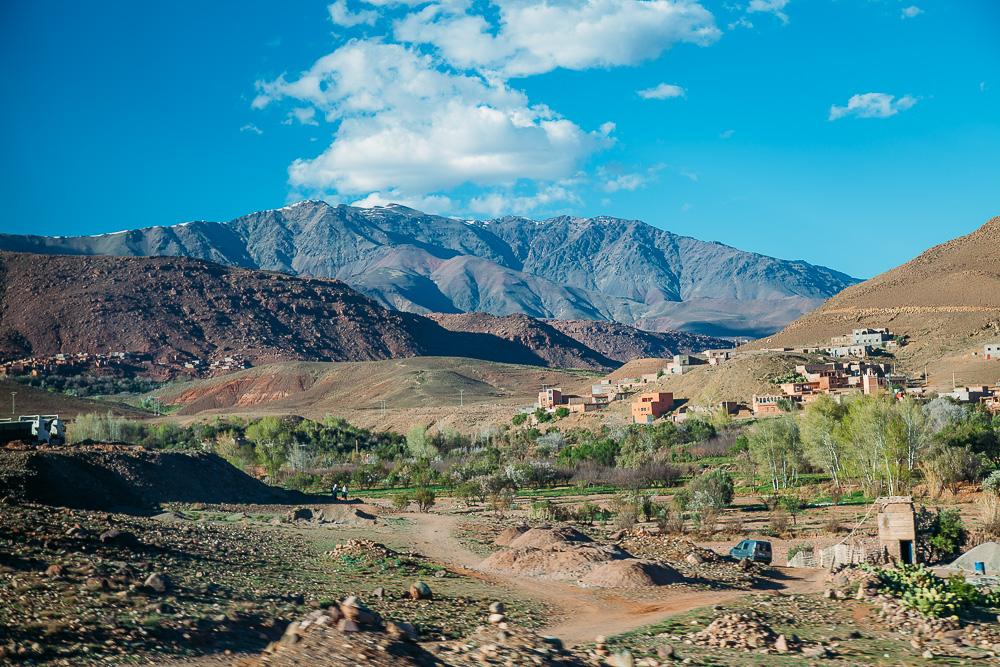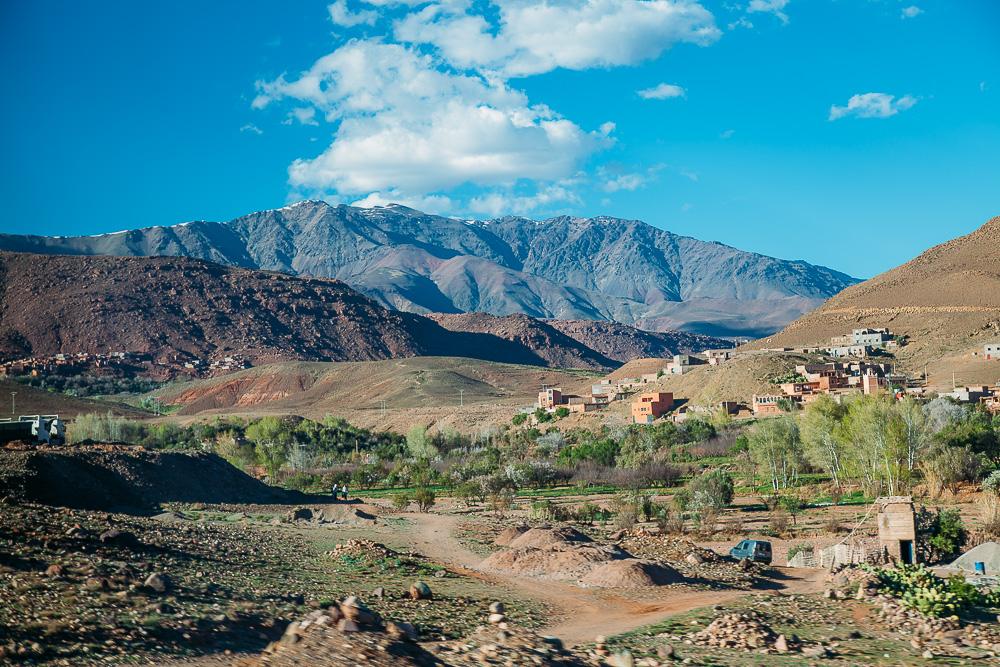 If you have an extra day or two (for example if you opted to only spend one day and night in Fes), it might be nice to break up this journey a bit. Tinerhir looked like a really interesting place, Ouarzazate is another popular stop, or you could stay somewhere high up in the Atlas Mountains.
You can also find a lot of cool tours that take you deeper into the culture of the Atlas Mountains like this tour through several villages and this trip to Ouarzazate and Ait Benhaddou.
After arriving in Marrakech we walked over to the shared taxi stand outside of the medina and caught a shared taxi to Essaouira, which arrived around 11 pm.
In Essaouira, we stayed three nights at Villa Maroc, a beautifully designed hotel (with a gorgeous pool!). This was one of the nicest places we stayed in Morocco, and I think Essaouira was the perfect place to splurge a bit on accommodation. Check here for current prices for Villa Maroc
If Villa Maroc is unavailable, check out the different stays in Essaouira, such as this apartment with sea views, this beautiful townhouse, or a room this riad.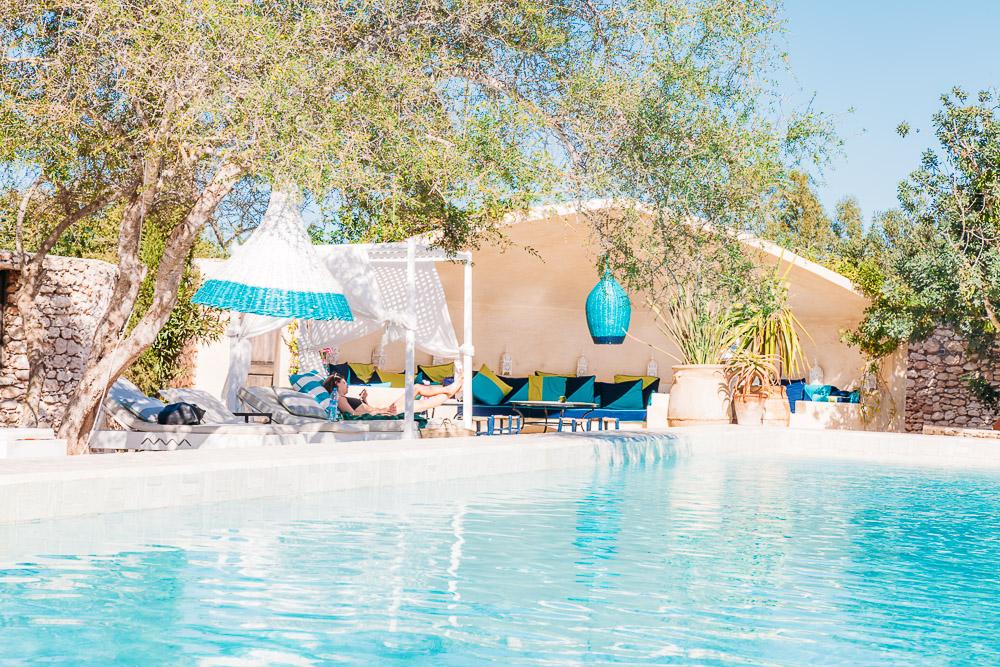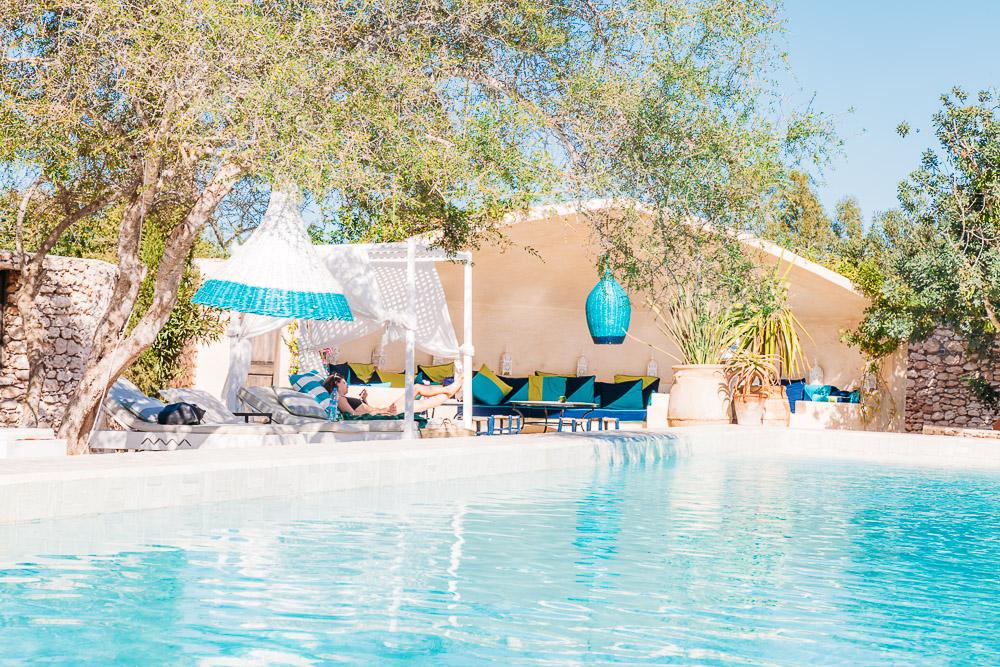 Days 9 – 10 Essaouira
Originally I didn't think we'd have time for Essaouira, but when we realized we could get the night bus from Fes to Merzouga and do a desert tour straight from there, we ended up having a few extra days to visit this beach city.
And I'm so glad we did! I would probably rate Essaouira as my #1 must-see in Morocco – at least (besides the village) it was my favorite place we visited during our two weeks in Morocco. Like, I would definitely choose seeing Essaouira over Chefchaouen or Marrakech if it came down to it. Personally I found Essaouira more beautiful than Chefchaouen or Marrakech, and the people there were really laidback.
It just seemed like the easiest place to be a tourist in Morocco, as I wasn't really hassled, the city is beautiful, and there's so much to do there. Plus it doesn't have that super touristy feel that Marrakech does.
In fact if I had a really short time in Morocco I would probably just go to Marrakech and Essaouira.
But if you're really pressed for time, you could book a day trip to Essaouira – though in that case, I would book transport ahead of time, as we spent hours waiting around for our shared taxi to fill up. Check rates and availability for Essaouira day trips here
Click here to read more about my time in Essaouira, including things to do and where to eat in Essaouira.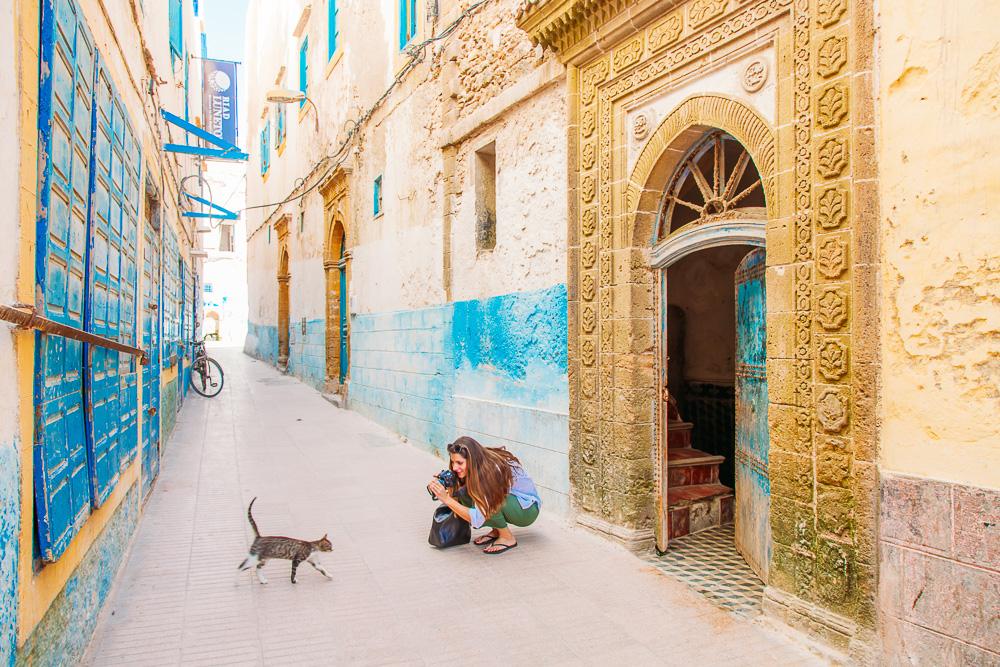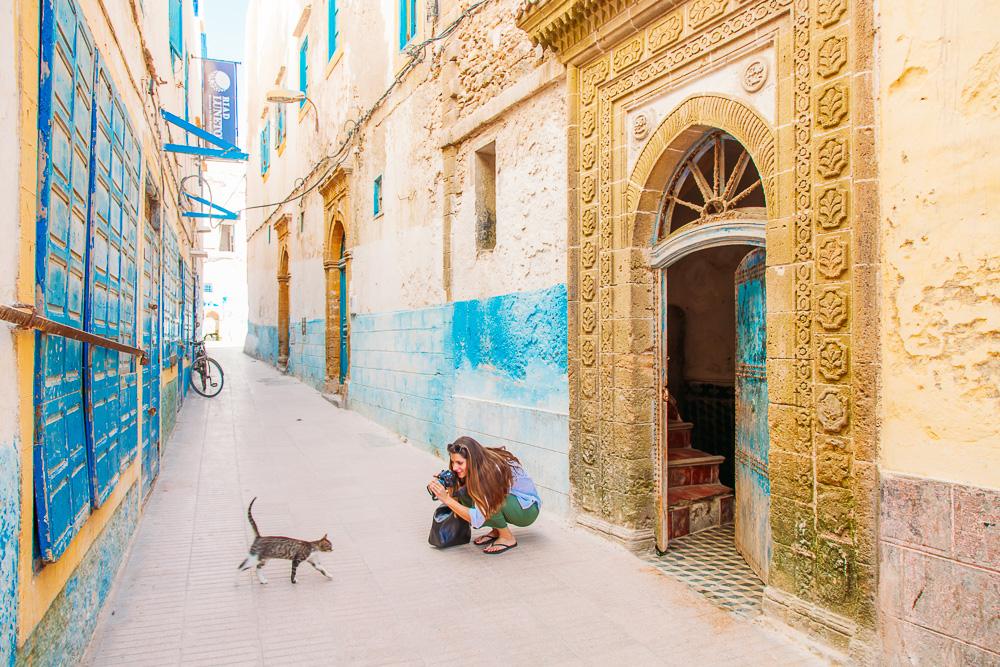 Day 11 – Essaouira to Marrakech
We spent the day in Essaouira and caught a shared taxi to Marrakech around 4 pm, which meant that we arrived in Marrakech just around dinner time.
If you'd rather book your transfer ahead of time, check out this option.
Days 12 – 13 Marrakech
I actually only spent two nights in Marrakech, but Danielle had three nights and I did wish I had had an extra day there!
That said, I'm also very, very glad that we did Marrakech last.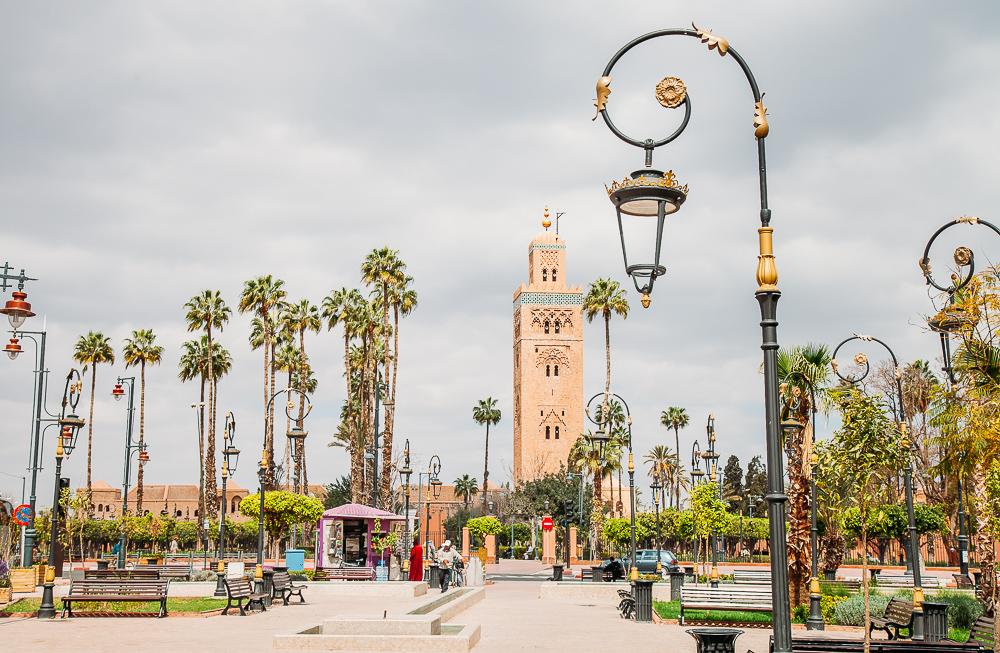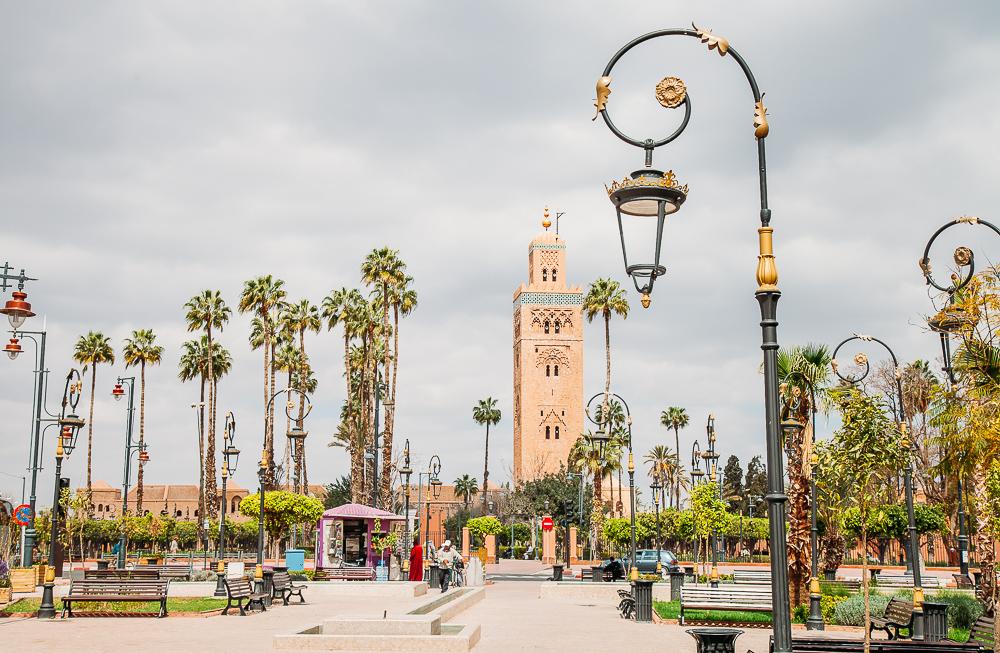 Marrakech is full of tourists (I mean, obviously) and I think it can be a bit of a shock for people who make it their first stop in Morocco. It's noisy and crowded and I would say because of the tourists it's probably the place in Morocco where you're most likely to be harassed, hassled, or ripped off.
But by the time I arrived in Marrakech I was already so in love with Morocco that I didn't even notice any of that. And while two weeks isn't a long time, I think it was long enough for me to feel at least a bit more confident in brushing off remarks and bargaining for pretty Moroccan items – and in Marrakech, you have to bargain hard.
It was kind of shocking how much higher prices the vendors were quoting than in the other cities I had been to, but they usually would end up agreeing on something more reasonable (usually around half, or sometimes less than half of the originally price).
And there is so much to buy there so you will need to get your bargaining on! I'm actually seriously considering taking a weekend trip from Norway to Marrakech purely for shopping since flights are so cheap and they seriously have the best interior products. Think amazing rugs, cushions, fabrics – you'll find it all in Marrakech.
If you're worried about being hassled in Marrakech, you could always sign up for a private day tour in Marrakech so that you have the comfort of a guide. My friends who did this said they weren't hassled at all when their guide was with them.
I also think my accommodation in Marrakech made my experience there all the more lovely.
We stayed at the Riad Dombaraka, run by the nicest French woman. Dominique has only been living Morocco for five years, but she's incredibly involved in local projects. She has designed her riad with love and it truly was the most beautiful riad I saw in Morocco.
Check current prices for Riad Dombaraka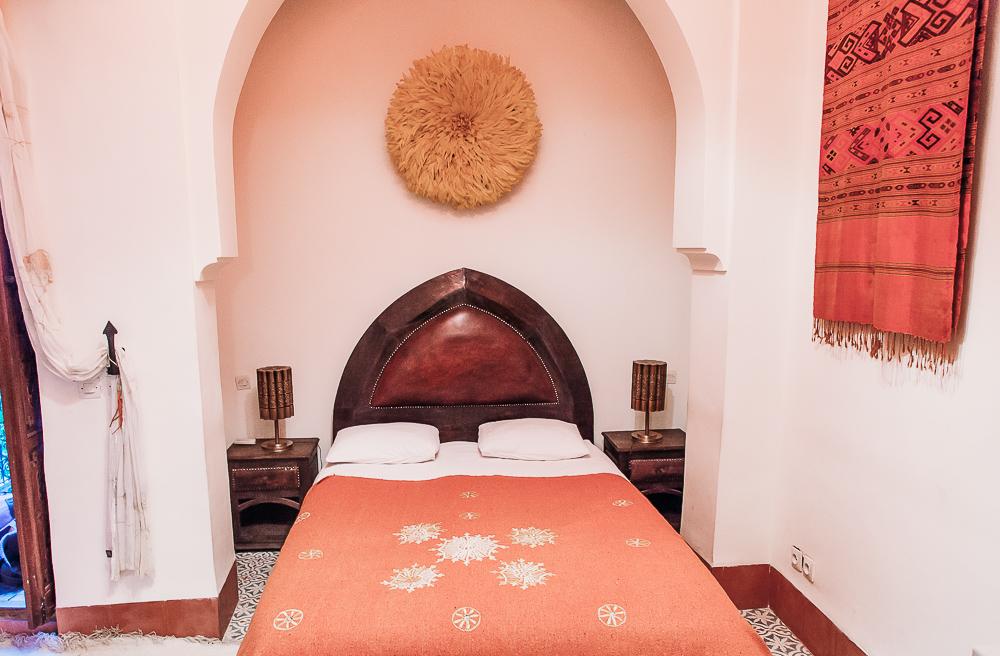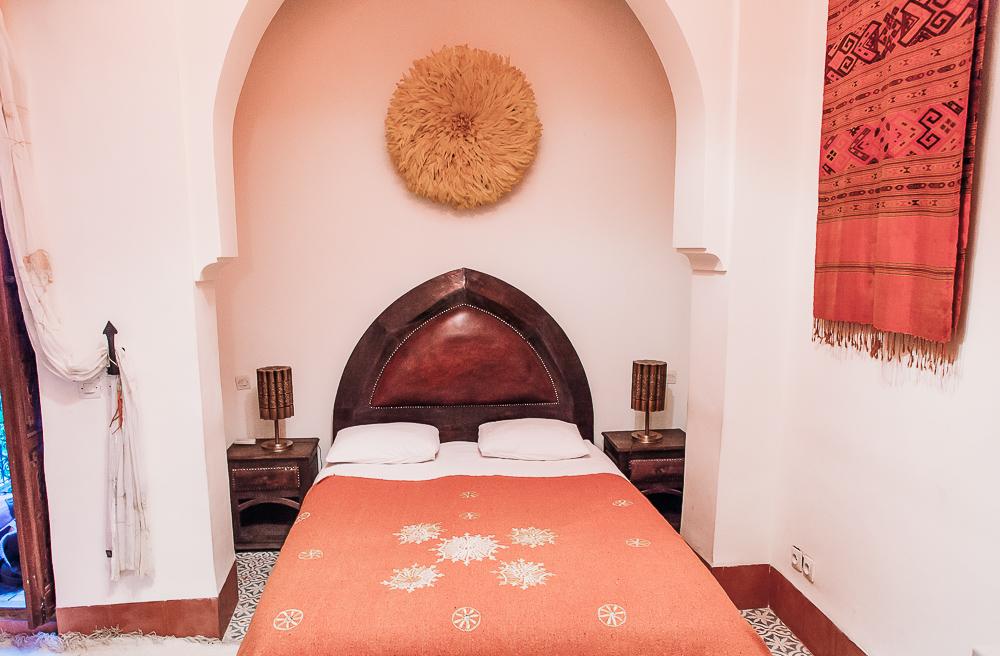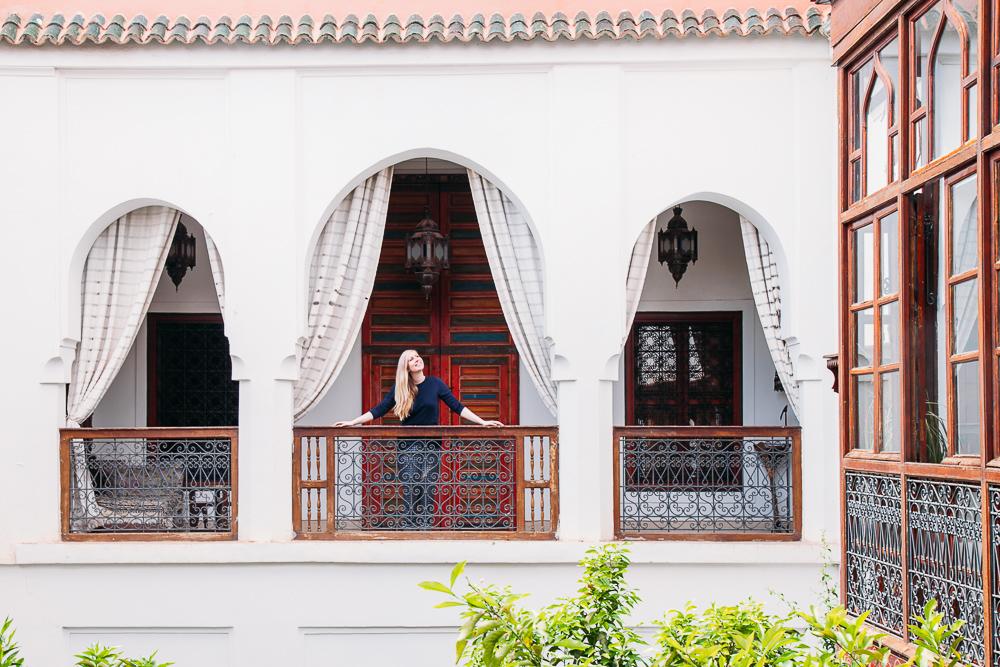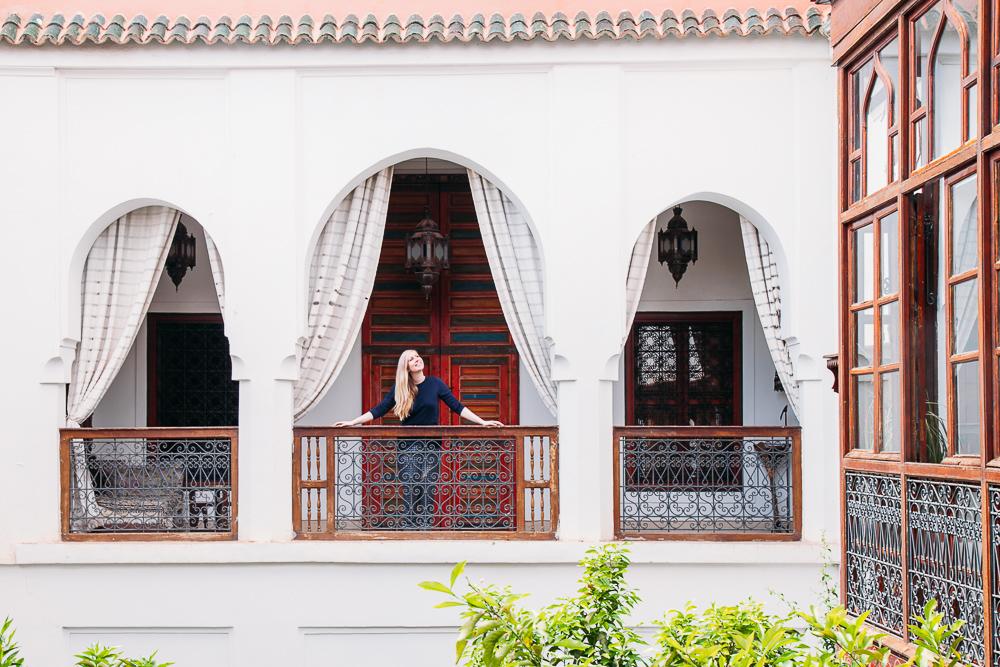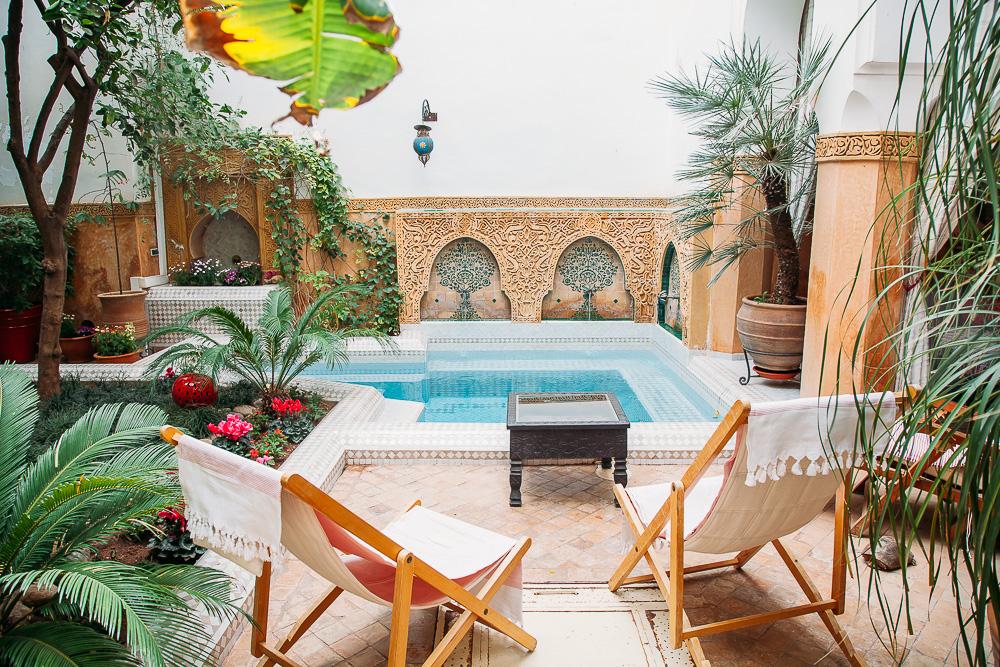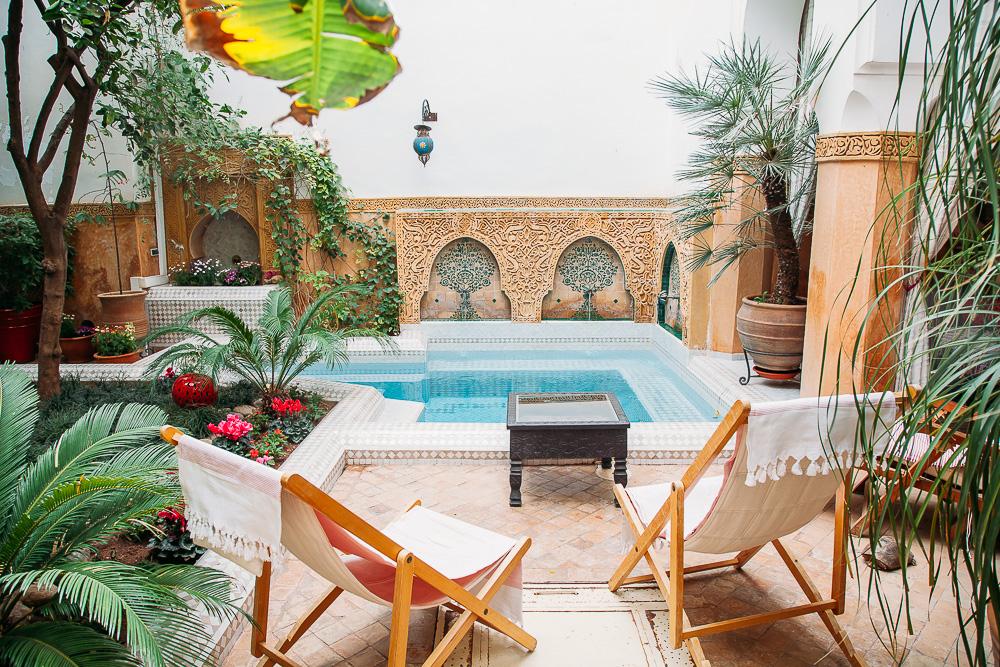 I also just loved the atmosphere at Riad Dombaraka. When we arrived we joined Dominique and some other guests for a glass of wine in the gardens, and it really did feel more like staying with a family than at a hotel.
Speaking with Dominique as well as a couple who rent an apartment from her helped me see Marrakech beyond the tourist appeal. I can imagine it being a great place for expats, and there are so many hidden gems in those winding alleys beyond all the tourist kitsch.
Because no, I can't say I was so very taken by Marrakech's main square. Maybe because I had heard so much about it before going, I felt like it was a bit of a letdown? At least, it was pretty much like an extra touristy version of other city squares in North Africa.
Day 14 – Fly home!
Marrakech's airport is really convenient as it's just a short taxi ride from the city center, and it's small enough that you can get through security really quickly. If you'd rather book a private transfer to the airport, you can book it here.
this post contains affiliate links