When Mina and I met for lunch in Tehran, I told her about my plans to visit Isfahan (or Esfahan) for a few days, and she confessed that she had never visited Persia's former capital city.
"Persians call Isfahan Nesfe Jahan, which means 'Half of the World,' " Mina told me.
And so it was decided, Mina would have to come with me.
While now a bustling modern city, Isfahan was once one of the largest cities in the world as it sat on a major intersection of the main north-south and east-west  routes crossing Iran.
We seemed to stumble on reminders of Isfahan's past glory around every corner, from impressive squares and tree-lined boulevards to covered bridges, palaces and mosques. It was like stepping into a historical novel, only so much better.
Naqsh-e Jahan Square (also Imam Square, or Shah Square) is a UNESCO World Heritage Site and one of the largest city squares in the world: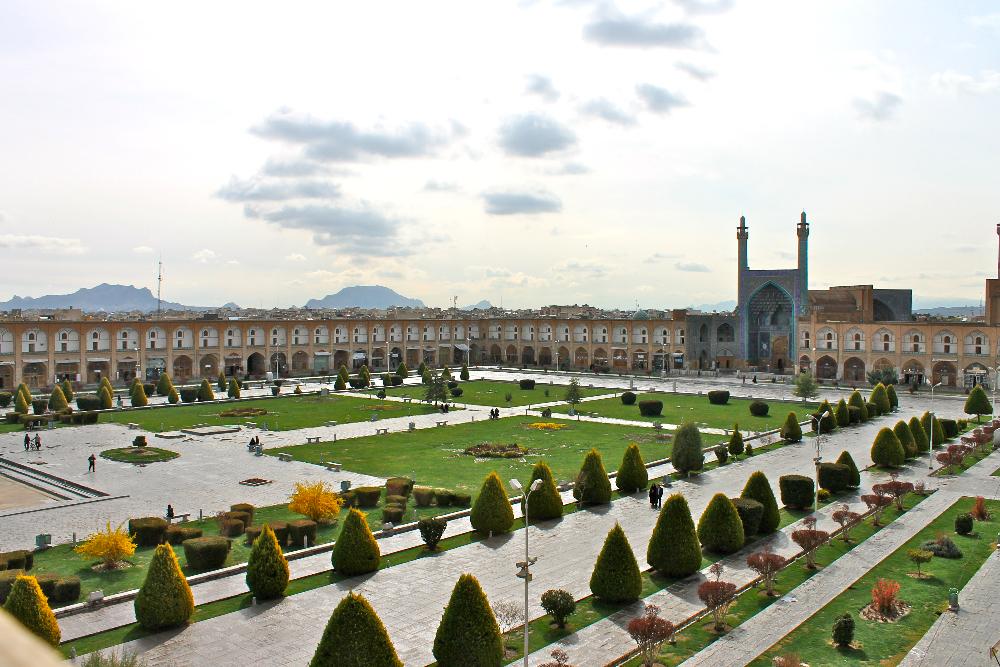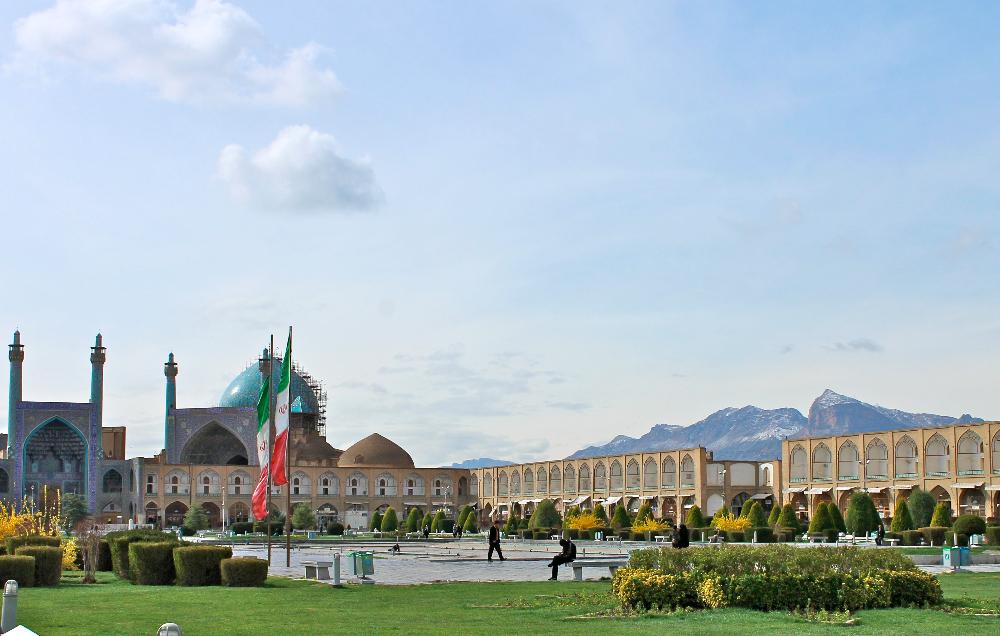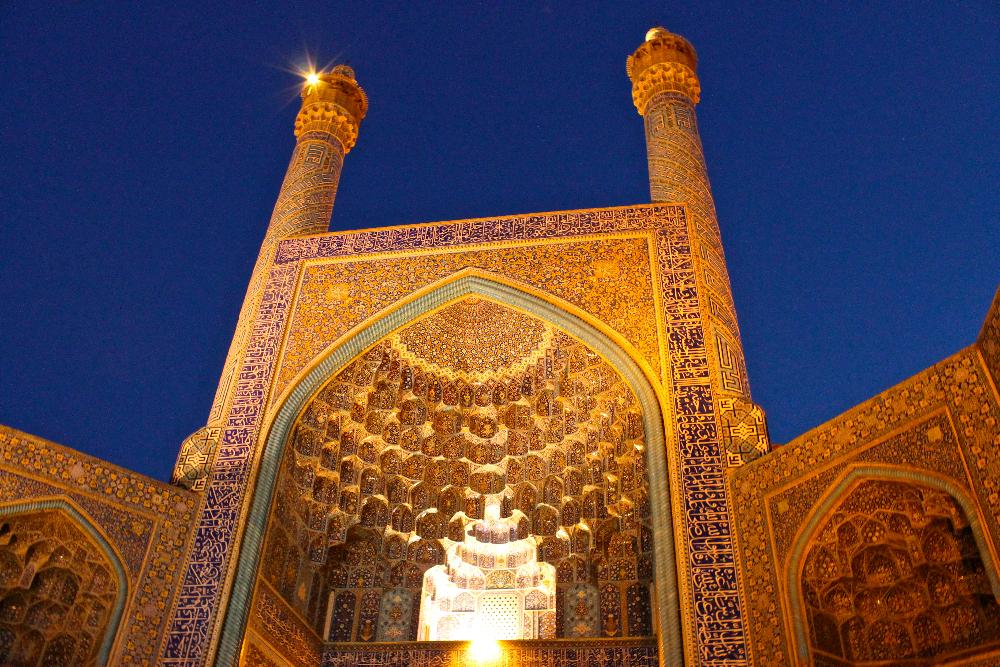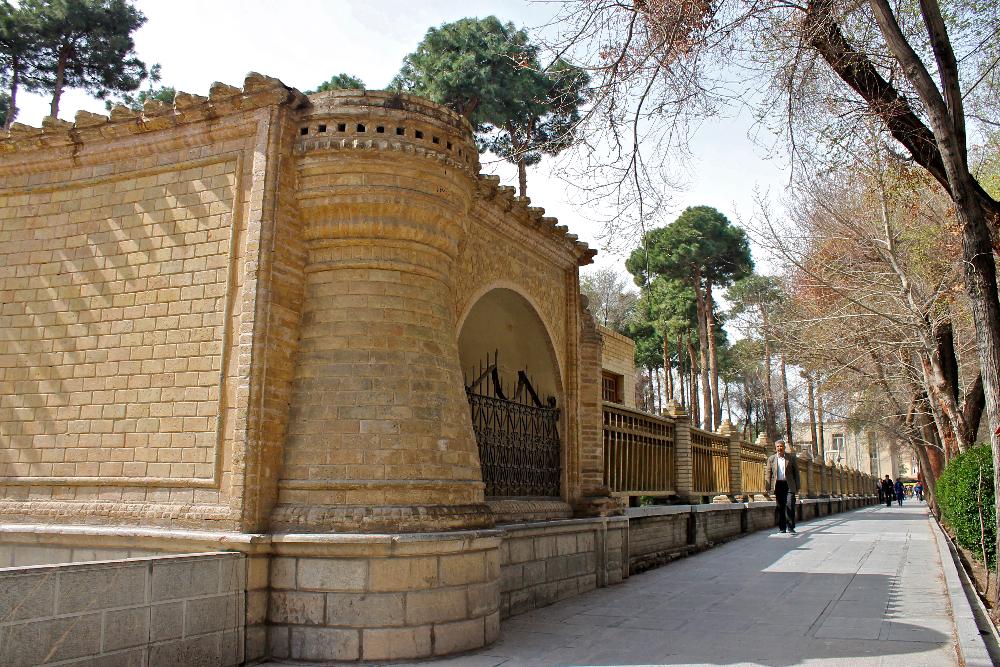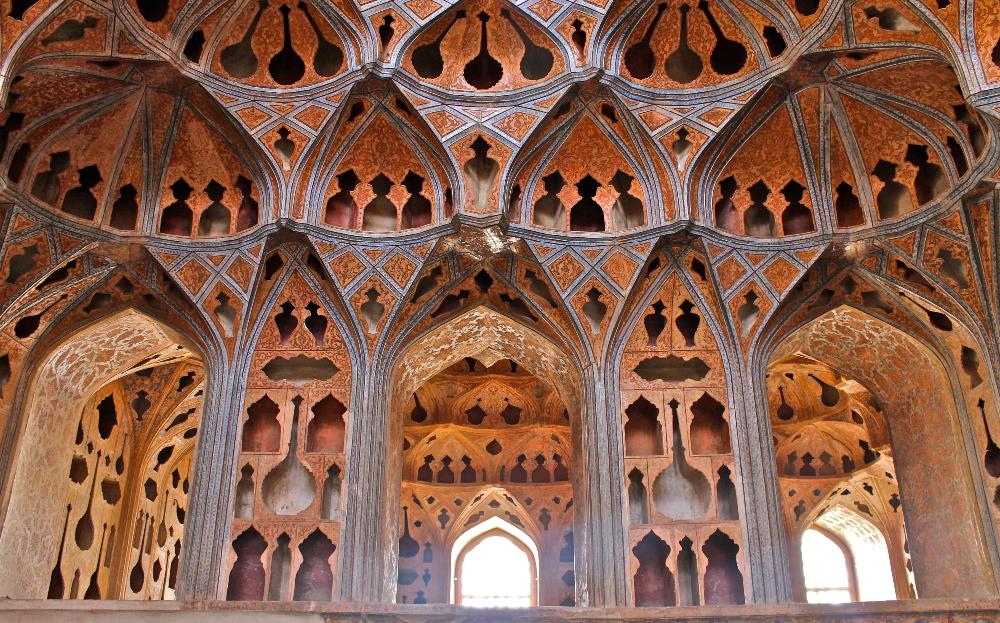 Rana was particularly excited to see Siosepol, Isfahan's famous 33-arch bridge: (photo source)

But as we approached the bridge Mina stopped dead in her tracks and stared in dismay. Instead of a glistening lake lying under the bridge, there was only dry, cracked earth. Where was the water?!
A local woman whom we later shared a taxi with explained to us that Isfahan had sent the water to fill another lake area somewhere (…what?), but that they might refill the lake for the Nowruz celebrations (Edit: A couple of helpful readers explained that it is an artificial lake filled by Isfahan's river, which is now usually stopped by a dam to conserve the water).
She then told us that Isfahan's sites all seemed to be a story of destruction – many of the palaces and mosques had been drawn or scratched on, water was missing from several places, and even the Menar Jonban's famous "Swinging Minarets" had stopped working properly after a scientist had come to examine them.
Mina and I looked at each other. Was half of the world falling apart? 
Most of the sites in Isfahan are centuries old, so I guess it's natural that they need a little maintenance now and again. So the city probably isn't actually falling apart, phew.
Moreover, while Isfahan might be dominated by Islamic architecture, the city is also home to important Christian, Jewish and Zoroastrian sites. Mina and I visited the Church of Saint Joseph of Arimathea, built by an Armenian community that settled in Isfahan in the early 1600s.
And of course no day on the town with Mina would be complete without stopping for a break in a coffee shop.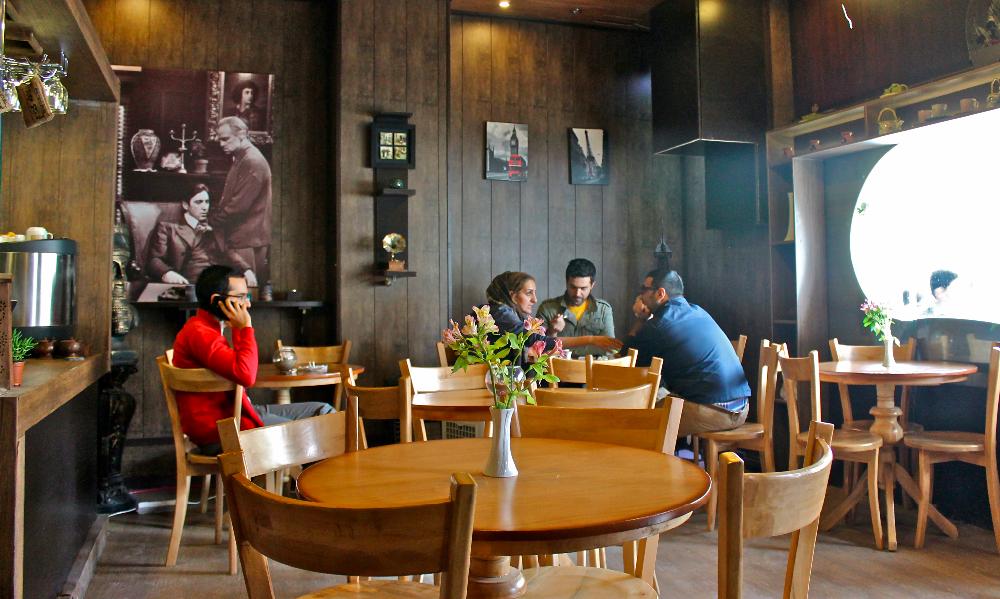 Mina was pretty critical of this café, which she had heard from a friend was popular in Isfahan. The lights were too bright and the window too open to the street for this Tehran girl!
In fact, while we joked about my having a girl from Tehran as my guide to Isfahan and Mina having a Norwegian-American guide, at the end of our three days in Isfahan we decided that we could have made more of our time if we had known some locals who could show us around.
As it was, we enjoyed visiting many of Isfahan's sites, but the city as a whole left us both a little underwhelmed. Locals boast that it's one of the most beautiful cities in the world, and while some of its monuments and architecture could certainly claim that superlative, I'm not sure I would give that title to the city itself.
Maybe I'm just not enough of an art fanatic or maybe we just didn't know the best places to go in the city, and maybe I'll just have to visit Isfahan again someday.
We did, however, really love Hotel Sonati, which was just behind Hakim Mosque, one of the oldest mosques in the city.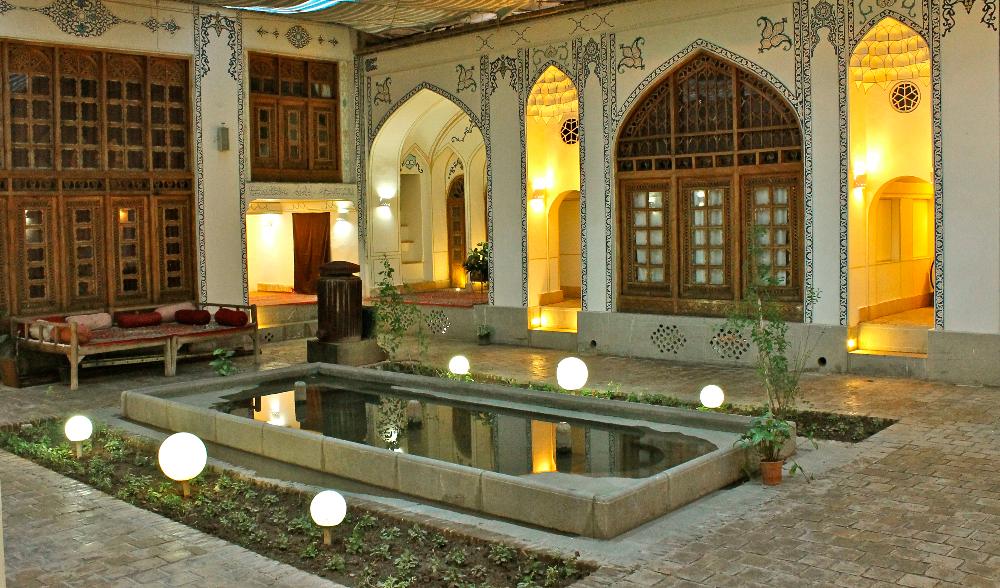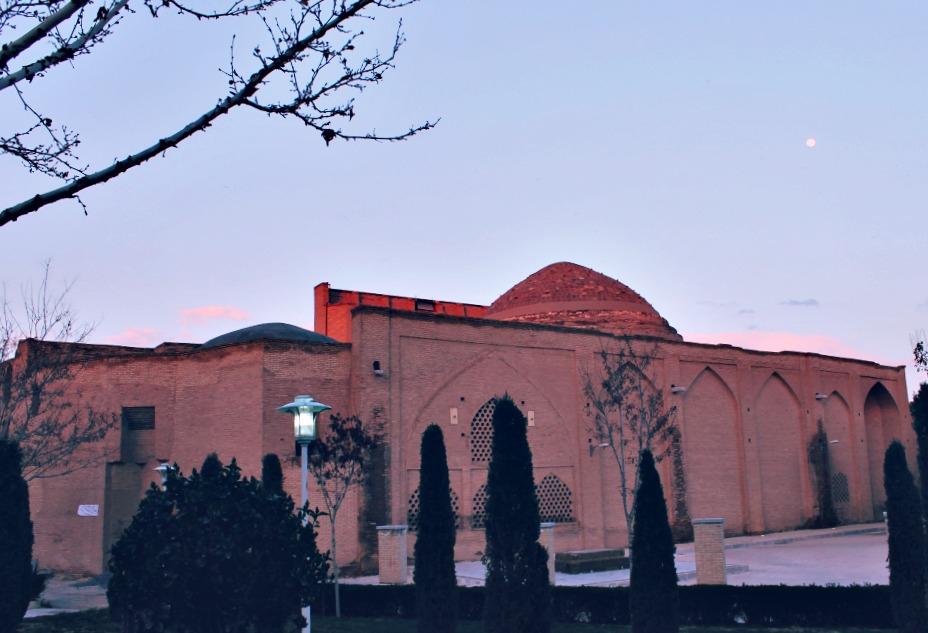 And we enjoyed hanging out at the tea house down the street from our hotel.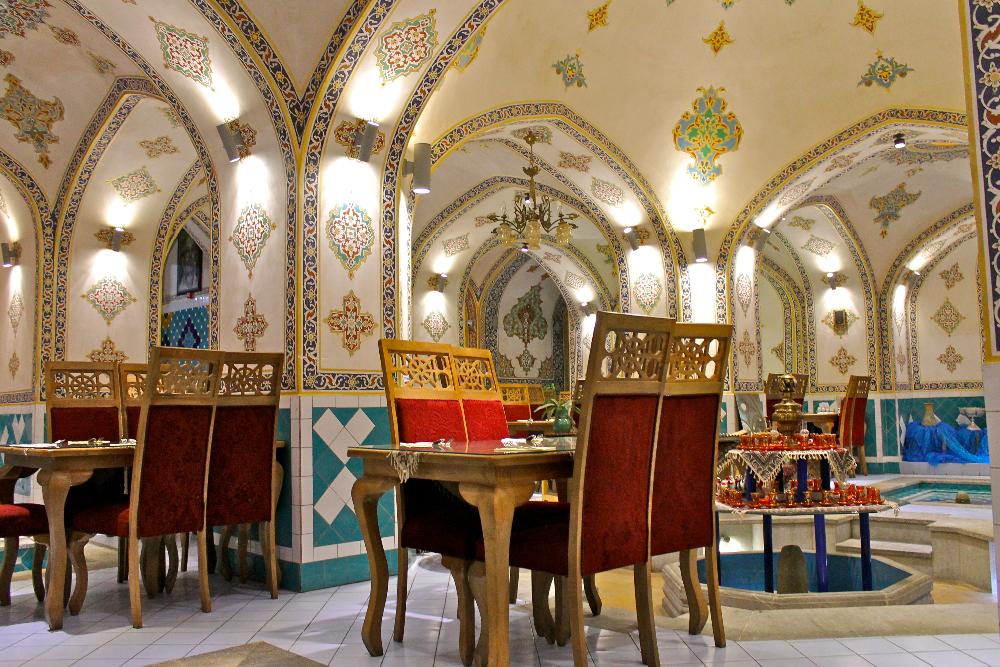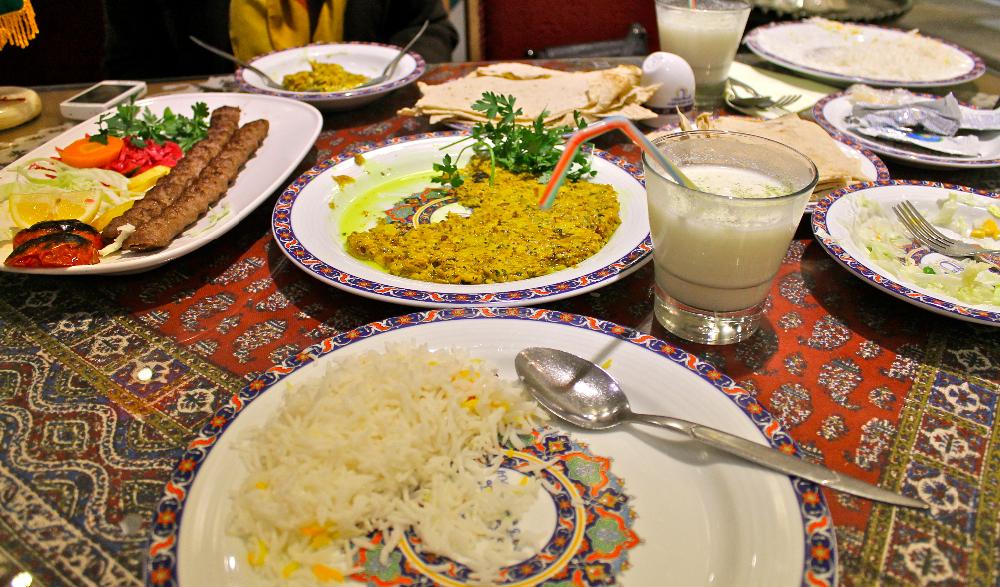 They even brought out flags so that Mina and I could pretend to be diplomats having an important business dinner (probably not the actual reason, but we enjoyed pretending nonetheless).
 What to pack as a female traveler in Isfahan
You do have to dress conservatively as a woman in Iran, but you can still wear colorful, pretty clothes! Just make sure that your tops and/or jackets that you wear outside hit around your mid-thigh and aren't low cut. And a normal scarf will work fine for covering your head – use a lightweight one in the summer and heavier scarf in the winter (and if, like me, you struggle with keeping it on your head, use bobby pins!).
Here are some of my favorite appropriate things to wear in Iran:
The bus from Tehran to Isfahan took about six hours and cost 190,000 Rial ($6).
We shared a double room at Hotel Sonati and each paid about $15 a night.
Most sites in Isfahan charge 150,000 Rial ($5) for foreigners to enter.
I traveled to Iran independently on my Norwegian passport. Some nationalities (including the US and UK at the time of writing) can only visit as part of a tour. And of course I know some people prefer to travel on organized tours anyway.
My top tour recommendation for Iran would be the Discover Persia 14-day G Adventures tour, which I've heard nothing but good things about (the itinerary looks amazing!). Check here for the latest Discover Persia tour prices and itinerary.
PIN IT!