1. It's not in Greece.
Okay, actually I already knew that Macedonia was also a country, not just an ancient area of Greece, thanks mostly to a mild addiction I had  to playing Sporcle's Countries of the World and Flags of the World geography games while living in Japan.
But it turns out there's some serious controversy surrounding the country's name, with many insisting it only be referred to as the Former Yugoslav Republic of Macedonia (FYROM).
Oh, and don't even get started on Alexander the Great…
2. Lake Ohrid completely deserves the hype.
When people in Serbia and Albania kept raving about Lake Ohrid and telling us not to skip it, I was a little skeptical. I mean hello, I'm from Norway, so it takes a lot for a lake to impress me.
Oh my goodness, Lake Ohrid was so impressive! Not only was the water beautifully clear and perfect for a refreshing dip, but the whole area is surrounded by quaint fishing villages and majestic mountains.
Slightly less impressive, however, was the weather. It rained almost our entire time in Ohrid, so I only managed to get a couple of photos between downpours.
If you want a real treat while on the lake stay at Villa Bisera – it's super luxurious with beautiful lake views, and actually a lot cheaper than you'd think. Check current rates and availability here
3. Skopje is home to 284 statues.
Okay that might be a rough estimate, but I'm pretty sure it's close. Seriously, there were enormous statues everywhere. Pretty bizarre. But it's bizarre in such a charming way too – in fact I think Skopje might just be one of my favorite European capitals.
4. Skopje was totally redesigned in 2014.
Apparently Skopje didn't always look this bizarre. "Skopje 2014" was a both costly and controversial project launched by the government in 2010 in an effort to transform the capital into a more unified and visually appealing European city.
We asked various locals what they thought about their city's makeover, and responses ranged from awkward silences to mild acceptance to full on disgust. One man complained that it was just an unnecessarily expensive display of nationalism aimed against Greece and ethnic Albanians living in Macedonia. Ouch!
5. This meal cost us a total of 3 euros, including a 2-liter jug of local red wine.
Restaurant meals in Skopje were similarly cheap and tasty.
6. People in Macedonia speak German!
After struggling in Albania due to my lack of Albanian/Italian/Greek language skills, I was so pleased to be greeted with "Sprechen Sie Deutsch?"
Why yes, I do spreche !
This especially worked with elderly men, as it seemed that all of them had at some point spent time working in Germany, which meant that we were hanging with a pretty cool crowd while in Macedonia.
7.
Šuto Orizari, or 

Shutka, the world's largest concentrated Roma population, isn't quite the outrageous gypsy festival one might imagine.

I had been both fascinated and horrified by the plight of the Roma community in Serbia and Albania, so when I heard that Shutka was just I fifteen-minute bus ride from Skopje's city center I was curious to visit. But while I did eat an extraordinarily tasty pita burger there, I didn't feel like I was anywhere particularly out of the ordinary.

For the Roma "Gypsies," however, Shutka is something quite extraordinary.

Having left India more than a thousand years ago, the Roma people can be found spread around the world and they are almost always discriminated against, living on the outskirts of society. Shutka is the only municipality in Europe with Romani as an official language and a Roma mayor.
8. Macedonia is incredibly easy to hitchhike through.
I know hitchhiking is easier for girls, but I can't imagine anyone having a hard time finding a ride in Macedonia. We hitchhiked everywhere, including from Skopje to Greece, with our longest wait being about eight minutes.
9. We didn't have to book any rooms in advance.
Sometimes it pays to visit a place during off-season (if even just barely off).
We weren't in Ohrid for three minutes before someone was pointing us to an apartment we could stay in for 6 euros/night. The owner was the sweetest woman who continuously fed us coffee and cookies.
Of course if you want to stay somewhere nicer you'll definitely want to book ahead, but if all you're looking for is a cheap room then you should easily find something on arrival (at least during the off season).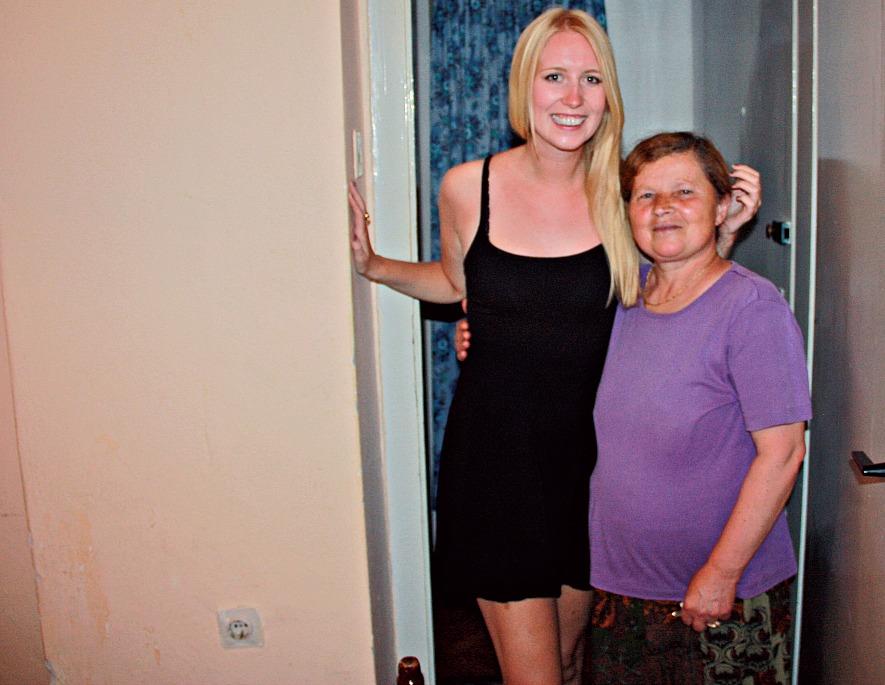 When we arrived in Trpejca, a picturesque fishing village about a 20-minute ride from Ohrid that everyone needs to someday visit, we wandered around in the rain until a kind family found us a room for 5 euros/night, possibly in their friend's summer home.
In Skopje we stayed at Backpacker's Skopje. The location was incredibly convenient and the rooms very comfortable, and we learned that a perk of staying somewhere with perpetually high staff is that they will keep bringing you food.
Click here for current prices and more details about Backpacker's Skopje.