My favorite stop along the Trans-Siberian route isn't actually on the Trans-Siberian train line. We had to switch trains in the middle of the night to go up to Tomsk, something that might have seemed like a hassle had Tomsk not turned out to be my favorite city not only in Siberia, but in all of Russia.
In fact visiting Tomsk probably ended up being one of the highlights of my entire six month journey from Asia to Europe, and I think this Tomsk travel blog will show you just why.
At over 400 years old, Tomsk is one of the oldest cities in Siberia, which means that instead of only uniform Soviet architecture, the city is also full of traditional "gingerbread" style wooden houses.
I really loved that Tomsk only has 500,000 inhabitants and is such an easily walkable city. With several universities, Tomsk is also full of students, which gives the city a great energy. But what I most loved about Tomsk was that Aleksey lives there!
I met Aleksey in Israel through Couchsurfing, so when I realized that we'd be passing nearby his hometown of Tomsk I insisted that we make a detour to visit him. Because Aleksey is the coolest.
Aleksey gave us a great tour of Tomsk, and his enthusiasm for his city was definitely contagious.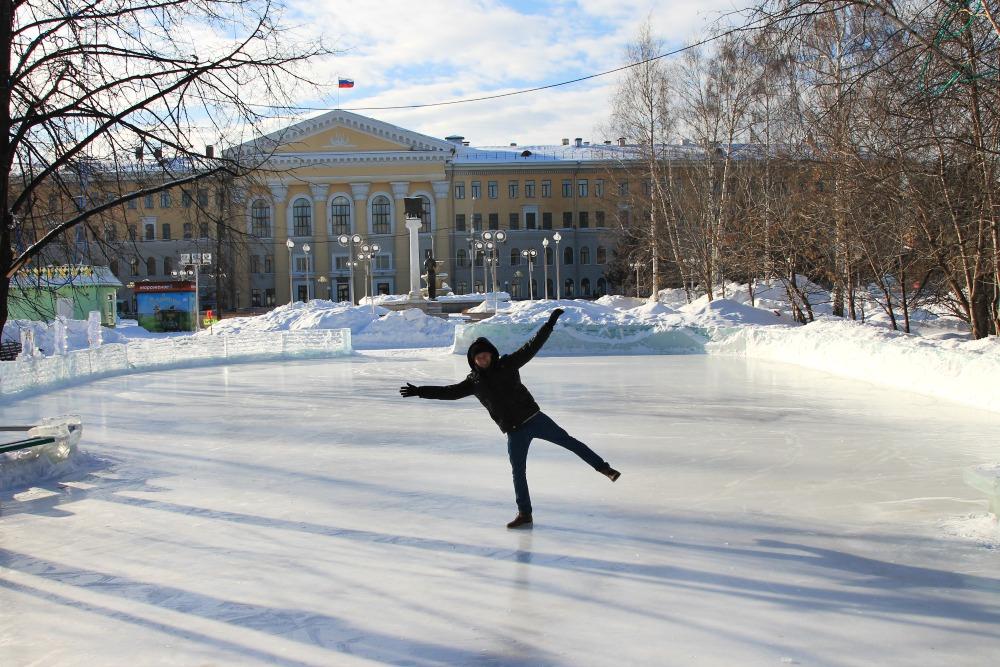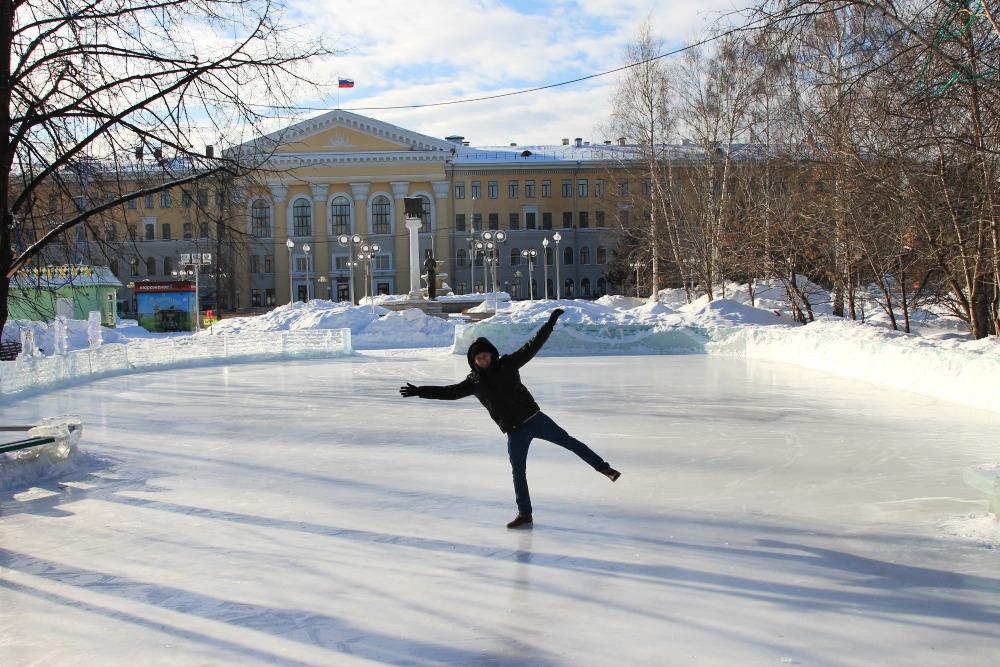 We were also really lucky with the weather in Tomsk. It snowed the day we arrived (bizarrely that was our first day in Siberia without perfectly clear skies) and then the sun came out to make all the freshly fallen snow sparkle! I mean, it was really cold – I think around -20°C – but I didn't really mind because it felt so perfectly Siberian!
Tomsk in winter is just so magical, and while I definitely plan to visit Tomsk in the summer as well, I'm really glad my first trip here was a frosty one.
And then something super exciting happened! Remember when Dan and I found the ice slides in Ulan-Ude but didn't have time to try them out? It was pretty devastating (I might have toned down my disappointment when I wrote about it, because I like to play it super cool on this blog). But then we found some in Tomsk! Imagine our squeals.
Also, are these not the prettiest ice sculptures you ever did see? I guess it shouldn't come as a surprise that Siberians are so skilled with ice.
Aleksey also invited us out to his friend's birthday celebration, which taught me some things about Russian culture. Like when Dan ordered a shot of vodka for the birthday girl and she looked at it in horror, shaking her head saying she simply couldn't drink vodka. And then everyone else refused to drink it as well, until finally one of the guys took it, but not without a big shudder. Way to defy stereotypes, Russians!
We ended the night at someone's apartment talking about movies, politics, and poetry. Well, the Russians talked about poetry, and stared in disbelief when Dan and I admitted that neither of us has read any Pushkin. Sorry, Russia!
Now, thanks to Tomsk, Dan and I are already planning our next Russian adventure – hopefully in the summertime (though sadly not this summer). I just think Tomsk would be magical in the summer. Well really, I think it's probably magical anytime of year. But Russians keep on telling us to visit Russian in the summer, so I think we definitely will need to return here then.
Where to stay in Tomsk
We stayed with Aleksey, but since I know a lot of you aren't so into Couchsurfing I made sure to ask him for some other accommodation in Tomsk as well.
Best luxury hotels Tomsk
If you want a luxury hotel in Tomsk, stay at the Magistrat Hotel in the city center. It's in a grand building and very luxurious, while still being quite good value. Aleksey said that this is the place to stay when you come to Tomsk! Check current rates and availability here
Best mid-range hotels Tomsk
If you're on a smaller budget, then you should definitely stay at Abazhur Hotel, located in an beautiful old Russian wooden house in the center of town. This hotel has tons of character, lovely clean rooms, and is amazing value. Check current rates and availability here
Best Tomsk hostels
Alesksey recommended two hostels:
The Eco Hostel is supposedly the best hostel in Tomsk. It's right by the river, the staff is amazing, and the beds have curtains for added privacy. They also have all female or male dorms, and private rooms. Check current rates and availability here
Nice Hostel is also very, well, nice. They also have beds with curtains, a vibrant and clean design, and the all male/female dorms are the same price as mixed dorms (and slightly cheaper than Eco Hostel). Aleksey said that personal he would choose Eco Hostel, but if you're on a tiny budget then Nice Hostel is also good. Check current rates and availability here
Read more about traveling the Trans-Siberian
Read about my other stops along the Trans-Siberian railroad through Russian here
Read about my time in Mongolia, and my trip from Beijing to Mongolia here
Read "Standing on the Deepest Lake in the World" here
When was the last time you fell in love with a new city?
Just so you know, the hotel links are affiliate links, so if you book these or any hotels through my links I'll earn a small commission, at no extra expense to you – this helps cover the cost of running my site. Thanks, guys!