Oh Lake Baikal, the deepest lake in the world, how can I begin to describe you? As in any modern love story, I first discovered you on the Internet (Pinterest to be exact), and then when I realized I'd be passing your neighborhood on my way through Siberia I thought I might as well stop and say hi, but I had no idea how magnificent you would really be! Seriously, those photos didn't begin to do your beauty justice.
Perhaps that's what Dan thought when he first met me after stalking my blog for six months?! (True story.)
Visiting Lake Baikal in winter truly was an impressive experience.
Actually, even on paper Lake Baikal is impressive. It's the world's largest (by volume) freshwater lake, and the world's deepest lake, reaching down 5,387 feet. If that's not reason enough to visit, Lake Baikal is also thought to be the oldest lake in the world (25 million years+) and contains over 1,700 different plants and animals, two-thirds of which aren't found anywhere else in the world!
As Lake Baikal is a couple hours outside of Irkutsk, Dan and I decided to spend two nights in Listvyanka, a small town on the southern end of the lake. Listvyanka looked like it's probably full of tourists in the summer, but it was pretty much dead when we were there.
We didn't see many people around Listvyanka in February, but Dan did make friends with this adorable puppy!
I've walked on plenty of frozen ponds and lakes without a problem, but venturing out onto Lake Baikal gave me seriously wobbly knees! Because the water is so clear, at parts we could see far down into the lake and it really felt like the ice could simply give way and I'd be sucked to the very bottom. It was ridiculous considering I could see quite well that the ice was incredibly thick, but I guess standing on top of the world's deepest lake just has to be a tad intimidating.
At one point a hovercraft drove by in the distance and the ice cracked and oh my goodness, I had no idea I could move so fast on ice. Dan and I both zoomed back to land so quickly.
standing on the deepest lake in the world was quite surreal!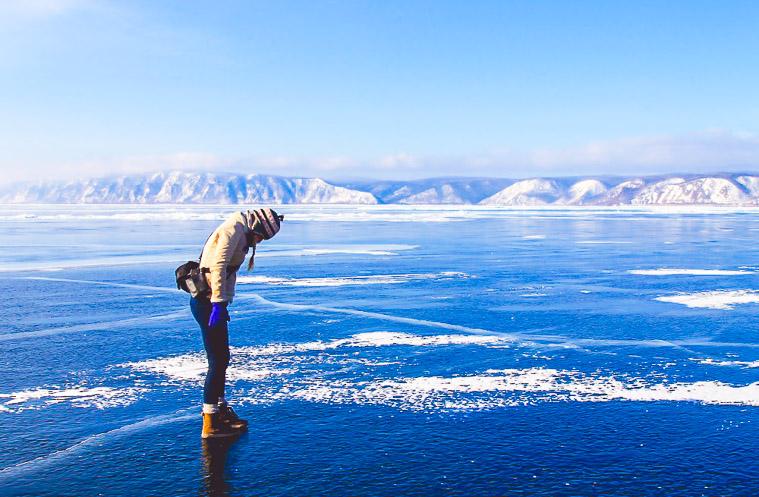 I wish I could have captured how clear the water was in photos, but I guess you will all just have to visit the lake in person instead!
I would have happily stayed on the lake all day, but it was incredibly cold and windy so we eventually made an escape in search of hot chocolate. But we were sure to return for sunset!
And it was the prettiest sunset I ever did see. Sorry, Boracay, but sandy beaches have nothing on blocks of ice when it comes to reflecting a setting sun's purple and gold rays.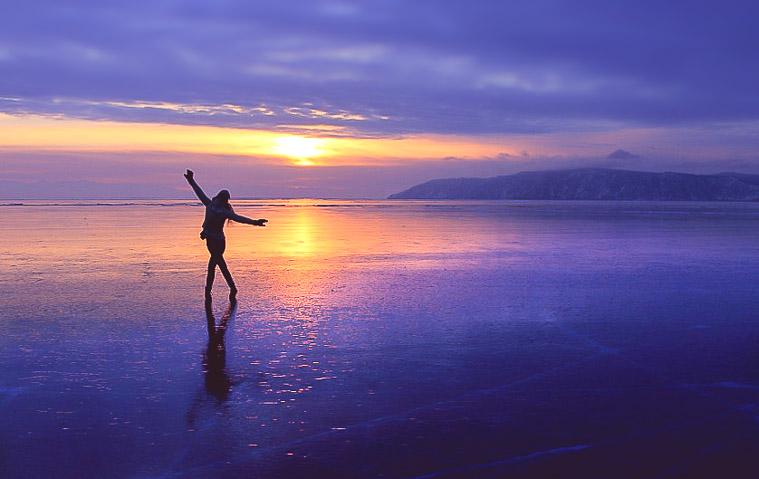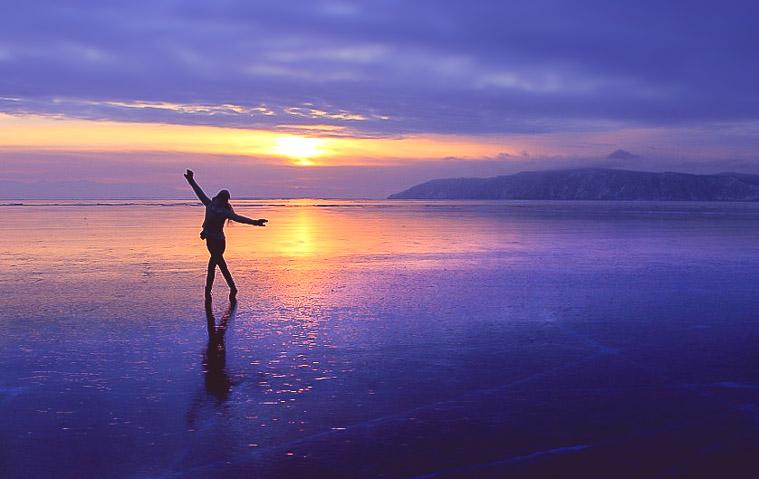 We took a minivan from Irkutsk's Central Market to Listvyanka for 120 rubles ($2). Vans leave about every 20 minutes.
We stayed at Belka Hostel, a cozy wooden lodge on a hill overlooking the lake. I loved it, and sort of couldn't believe our twin room was so cheap. I highly recommend staying there, though be aware that it's a 15-20 minute walk uphill (it was a bit of a struggle on an icy path with heavy backpacks) and there's no WiFi. Check current rates and availability here
If you want to stay in a hotel in Listvyanka, I've heard amazing things about the Malina Guest House, which has lovely views out over Lake Baikal (and they do have WiFi!). Check current rates and availability here
Have you been to Lake Baikal? Would you go in the winter?