When Alicia and I were researching our trip to Egypt we concluded that either 1. this is the best time to visit Egypt, as there are few tourists, prices are lower, and the country needs visitors! or 2. Egypt is super dangerous now and if we go there we will DIE.
It's always tough to know how seriously to take travel advisories – I mean, there's still an advisory up for Thailand and it's completely safe for tourists – so we decided to go ahead with our trip.
After our first day in Egypt, where we basically had the pyramids to ourselves, our decision was looking pretty good. We only had time to spend one more day in Cairo before heading to the Red Sea, so the next day we just visited the Egyptian Museum and Old Cairo.
When we got to the Egyptian Museum we had to wind our way through a street full of tanks to get to the entrance, so we obviously felt incredibly safe.
The museum itself was pretty strange – it barely seemed curated, and felt more like a storage house full of ancient treasures than a museum. Then again, if you're housing artifacts that are five thousand years old, people are going to be impressed regardless.
Have I mentioned yet that Egypt is really, really old? I couldn't even begin to wrap my head around how ancient some of the artifacts I was looking at were.
Alicia and I were also lucky enough to be at the museum for the opening of a new exhibit of artifacts that had recently been returned to Egypt from abroad. We knew it was a pretty exciting event because the museum's lower hall was filled with reporters and important people (not sure who they actually were, but they were definitely important).
But wait, I know what you're thinking: we were in a building surrounded by tanks, just down the street from Tahrir Square, in a hall full of journalists and notables – isn't that exactly the sort of situation tourists are supposed to avoid in Egypt now?
Luckily I had the same thought, which definitely had nothing to do with my very low museum stamina (maybe too many cultural trips as a child?), so Alicia and I decided to call it quits and go eat some koshary.
Egypt isn't exactly known for its amazing food, and after evening meals like "hot dog and cheese pie" Alicia and I decided that Egyptian food is sort of just like kids' food.
Koshary is an Egyptian favorite and consists of rice, lentils, macaroni, spaghetti, fried onions, chick peas and tomato sauce. It's the sort of strange concoction my dad would probably come up with on one of his dinner nights, but it's still pretty tasty. We went to Koshary Abou Tarek, which had been recommended by a friend who used to live in Cairo.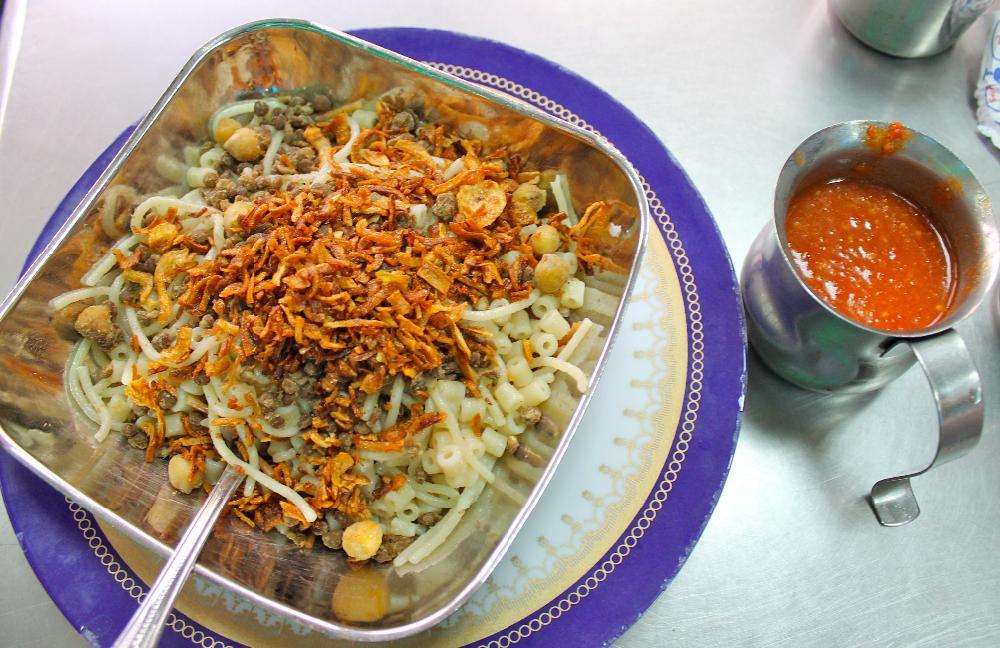 After lunch we hopped on the metro to visit Old Cairo!
Old Cairo is beautiful, and I wish I could just let my photos speak for themselves, but I didn't take too many photos as Alicia and I were a little preoccupied hatching plans for ways we can move to Cairo.
So does this mean Cairo is safe for tourists?
The situation there is always changing, especially with the upcoming elections, so that's an impossible question to answer. What I can say is that it was a pleasure to visit the city at this time, not only because we weren't surrounded by lots of other tourists (happy for us, sad for Egypt), but also because everyone seemed really pleased to see us there.
Several of our friends who had been to Egypt had warned Alicia and me about harassment on the streets, especially as we're both blonde, but, weirdly, the men in Cairo seemed to be on their best behavior for tourists. Sometimes people would begin to hassle us to buy things, but when we ignored them they would always stop and often call out after us, "Enjoy Egypt! Tell your friends to visit!"
The worst harassment we experienced in Cairo was by a group of eleven year old boys who wouldn't leave us alone until a young guy around our age (the type we'd usually be wary of) yelled at them. We decided he had probably said something along the lines of "stop pestering those girls, don't you remember we're supposed to be being super nice to the tourists?!"
Of course this was my first time in Cairo so I have nothing to compare it to besides my friends' stories, but it at least seems like Alicia and I were treated exceptionally well by the locals. Definitely no complaints from us!
Where to stay in Cairo
We stayed at City View Hotel which has lovely staff and a great location. Check current rates and availability here
If you want to stay at a hotel right by the pyramids, then I recommend staying at Guardian Guest House, which has amazing views of the pyramids! Check current rates and availability
What to wear as a female traveler in Egypt
Here are some favorites that I packed for my trip to Egypt: