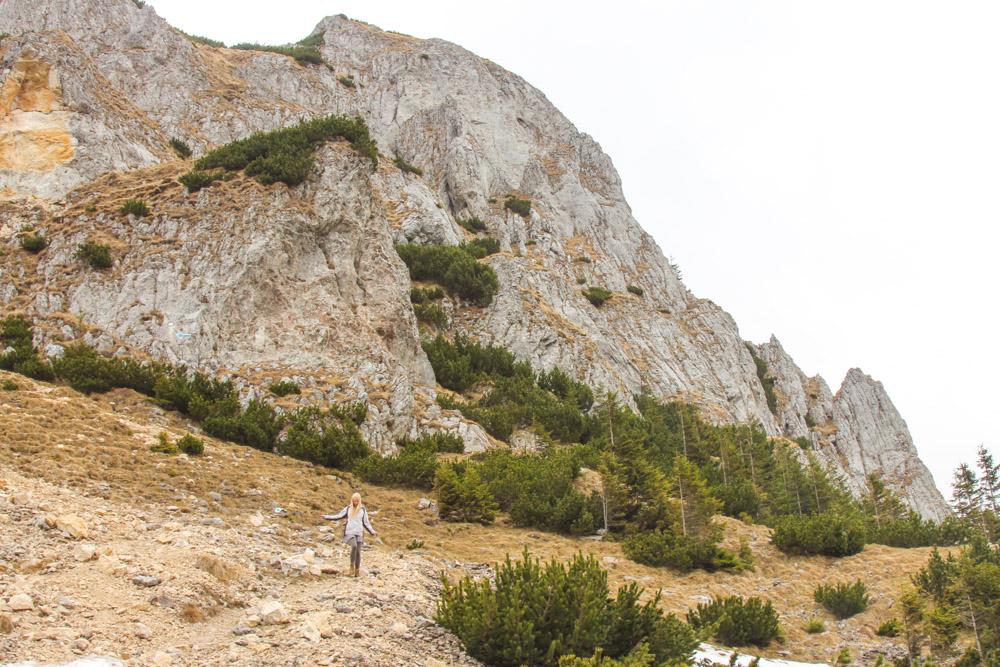 Arriving in Romania seemed to mark a new phase of our trip. I guess it was starting to feel like the end, as after Romania we would only have the Balkan countries left before flying to Norway and unpacking our backpacks.
Entering Romania also marked something exciting: my 70th country! I'm not entirely sure how that happened, but it felt good!
When Dan and I arrived in Cluj-Napoca, our Couchsurfing host Radu took us out to dinner with a bunch of his friends.
Their first question for us: "Why did you want to come here?"
Followed by: "Weren't you scared to come Romania?"
And: "Have you been robbed yet? Are you sure? Where's your wallet?"
It turned out Dan and I both still had our wallets, phew.
In fact, in a mind-boggling contradiction to the popular stereotype, we managed to hold onto our wallets during our entire two weeks in Romania.
Don't breathe sighs of relief too quickly, though. There's still a lot to fear from Romania.
To help fellow travelers out, I've come up with a list of the nine most important things to look out for should you be so intrepid as to consider a trip Romania yourself.
Because, let's be real, who doesn't prefer blog posts in the form of a list?
1. It's like being thrown around a bizarre time warp.
I had heard that visiting Romania would be like traveling back in time, where I could expect to see plenty of quaint villages sprinkled with haystacks and horses pulling carts along dirt roads.
Sure enough, look what I found!
Breb, Maramureș
Piatra Craiului
But a few days after blissfully traipsing through pre-Industrial villages, I found myself smack dab in the middle of Romania circa 1993 2015. At a Suie Paparude concert in Cluj-Napoca, to be exact.
https://www.youtube.com/watch?v=-n-RgLefrJw
And while zooming through the Transylvanian countryside, I didn't see many dirt roads. In fact, the roads I did see were quite impressive compared to, say, the often one-lane national "highways" in Norway. Futuristic much?
2. Vampires are real, and they're in Romania.
I try to be a savvy traveler, and sometimes that means taking cues from pop culture.
If living in the age of True Blood, Twilight and The Vampire Diaries has taught me anything, it's that vampires are real.
It's also taught me how to spot a vampire, so I wasn't fooled by all the beautiful and incredibly charming people I met in Romania.
Plus, hello, this is the birthplace of Dracula, aka Vlad Dracul, aka Vlad the Impaler, aka Mr. Creepy Pants.
Doesn't his hometown look scary?
Downtown Sighișoara – we stayed at this lovely pension
3. Palinka.
I shudder just at the thought…
4. If you hitchhike, you're up for some stiff competition.
On the plus side, hitchhiking is totally normal in Romania, so no one is going to think you're a serial killer. On the downside, lots of locals are hitchhiking too, so you'll have to compete for rides!
We usually use Hitchwiki to find the best spots to catch rides, but in Romania that tended to lead us straight to crowds of other hitchhikers. A few times we had to give up, which was bad news considering public transport in Romania can be surprisingly expensive.
Other times, however, hitchhiking in Romania was a breeze, and we found rides with some of the nicest people. My favorite was the father road-tripping with his 10-year-old daughter, which gave me a huge burst of nostalgia for bologna and mustard sandwich fueled father-daughter road trips from Massachusetts down to visit family in Kentucky. Oh to be ten again!
5. You're going to have flashbacks to your high school Latin/French/Spanish classes.
As Romanian is a Romance language, you'll have to forget the Russian that's been helping you through the rest of Eastern Europe and brush up on your Latin roots.
That's right, like you're back in HIGH SCHOOL.
6. The country will soon be empty.
Apparently you shouldn't bother going to Romania, because soon the country will be abandoned anyway. Because, you know, now that EU work restrictions have been lifted for Romanians, Britain is being flooded by migrants looking to live off UK benefits or steal jobs from locals.
Oh wait, you guys, I might have muddled my facts.
It turns out the flood of migrants never came (those who wanted to work in Britain were already there, and perhaps the rest felt a tad unwelcome?) and when British news reporters waited for the first flights from Bucharest to arrive in London after the lifting of the ban, they were only able to greet a couple of Romanians on holiday.
Whoops.
7. The towns look like they were ripped from storybooks.
If Romania's picture-perfect towns and cities aren't creepy I don't know what is.
Downtown Sighișoara
Downtown Sibiu – we stayed at this charming hotel
8. The mountains will seduce you.
Romania is full of gorgeous mountain peaks just begging to be climbed.
But beware. Read this if you want to know why.
Piatra Craiului National Park – we stayed at an amazing guesthouse in Zarnesti
9. In fact, the whole country will seduce you.
You'll probably just never leave.
Eek!
Downtown Sibiu
Have you been to Romania? Or met a vampire? 
PIN IT!