After traveling solo through Iran and Armenia, I was excited to meet up with an old college friend in Georgia. I had heard amazing things about Georgia from other travelers and could not wait to explore the country, though sadly I only had one short week there.
But while my exploration of Georgia was far from thorough, I did leave with one solid impression of the country: I love it! Its beautiful mountains, historic churches, European vibes, and delicious food didn't need more than a week to win over my heart. I will absolutely be returning to Georgia again someday, hopefully soon.
We did manage to squeeze in a couple of trips outside of Tbilisi during my short stay, the first being to Mtskheta.
A Day Trip from Tbilisi to Mtskheta
Mtskheta is one of the oldest towns in Georgia and its capital from the 3rd century BC to the 5th century AD. It's just 20 kilometers north of Tbilisi, so you can easily reach it with a public minivan or a private taxi.
The views are stunning and give you an immediate sense of Georgia's history, so I would definitely recommend a day trip out to Mtskheta if you're traveling to Tbilisi.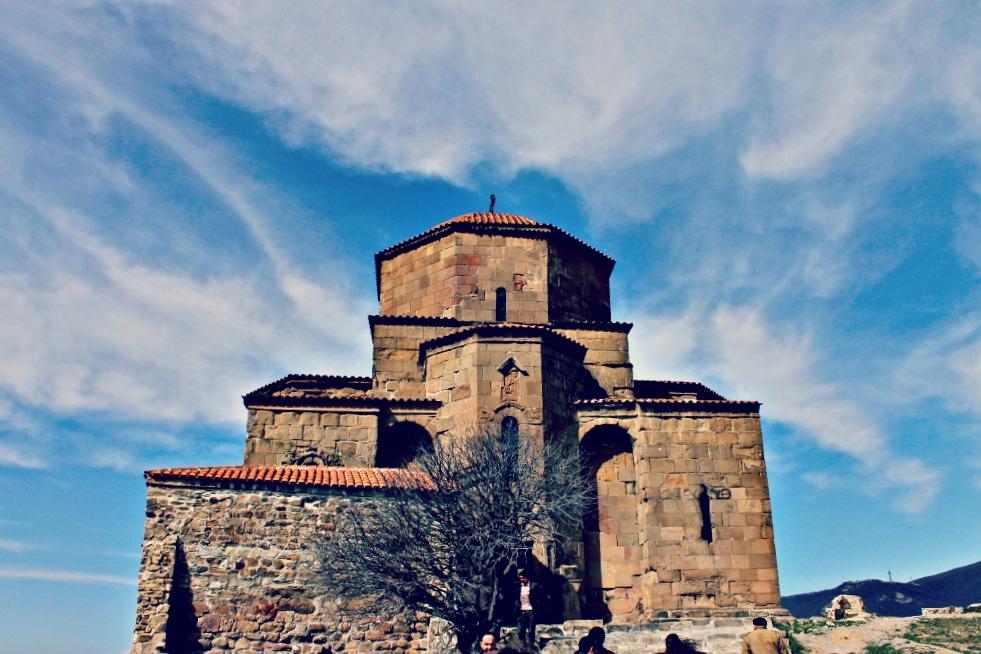 Mtskheta's old city lies right at the intersection of the Mtkvari and Aragvi rivers.
Mtskheta is often referred to as Georgia's most religious city, as even before Christianity was declared a religion in Georgia Mtskheta was an important site for pagan idols.
Visiting Kazbegi from Tbilisi
We also stayed a night in Kazbegi, a mountain village that's home to the Gergeti Trinity Church and some seriously stunning scenery. Like, if you make one outing from Tbilisi during your time in Georgia, go here!
I had forgotten how much I love hiking; even though it was incredibly muddy and we were slip sliding all over the place, the hike up to the church was beautiful, and more fun than just taking a taxi there (which you can also do).
In Kazbegi we stayed at Rooms Hotel, which honestly was one of the nicest hotels I've stayed at – ever! The views across to the mountains are breathtaking, and the hotel is beautifully designed.
The modern design elements actually reminded me a lot of Scandinavian mountain hotels. If you're looking for a hotel in Kazbegi, definitely stay here! Check current prices for Rooms Hotel here.
Exploring Tbilisi
With its eclectic mix of architecture styles and streets full of stylish hipsters and misfit expats, Tbilisi had no trouble charming my boots off (except that it was super cold and I needed those boots to keep warm). Like, I could totally live in Tbilisi. New life plan?
The only problem is, since I was playing it cool and relaxed in Tbilisi I didn't take many photos until my last day there, when I was pretty upset and grumpy.
Last night I showed these photos to a friend and he remarked how transparently they show my dark mood when I took them. I tried to brighten them up a bit with editing, but having refrained from adding sunbursts and unicorns, I think they're still a little grim. Next time I'm in Tbilisi I will try to capture its cheerier side!
Visiting Georgia (and Armenia) as part of a tour
While I traveled through Armenia and Georgia independently, if you don't speak any Russian, want something more organized, or would prefer traveling in a group a tour can be a really good option, especially as transport through the region can be quite chaotic.
My friends recently did the Best of Georgia & Armenia 10-day G Adventures tour and it sounded amazing. I wish I had managed to see so much of both countries! They said that their group was really fun, and they certainly had a more relaxing time than I did having to organize everything myself.
Check the itinerary and current prices for the Best of Georgia & Armenia tour here
Have you been to Georgia yet?
PIN IT!