Traveling through Karakul, Murghab, and Khorog on the Pamir Highway, Tajikistan
"How much money will we need to bring with us to Tajikistan" I asked the always-grumpy-but-secretly-nice manager at the Osh Guest House.
"$800"
Um, what? That was my entire budget for over a month of travel – and Sasha, Danielle, and I were planning on spending 10 days in Tajikistan – two weeks tops.
We had kept hearing that travel in Tajikistan, especially on the Pamir Highway, could be expensive. Being the budget backpackers that we are, we might have been tempted to skip it, except how can you be so close to Tajikistan and miss out on traveling the Pamir Highway, also known as the "roof of the world?"
So we did what any good budget backpacker would do – we each exchanged $200 and crossed our fingers that we could make it last as long as possible.
And so with the help of the grumpy-not-grumpy hostel manager, we set off in a shared minivan (the way all of our Central Asia travel adventures seem to start), headed for the Tajik city of Murghab.
Well, first we spent a night in Sary Tash (a Kyrgyz village we had already fallen in love with) so that we could get acclimated to the high altitude — a request from our fellow passengers, a couple of Swiss trekking guides. Although we didn't have time to track down our old host family, I did enjoy seeing Sary Tash again, especially as now the surrounding mountains were covered in snow!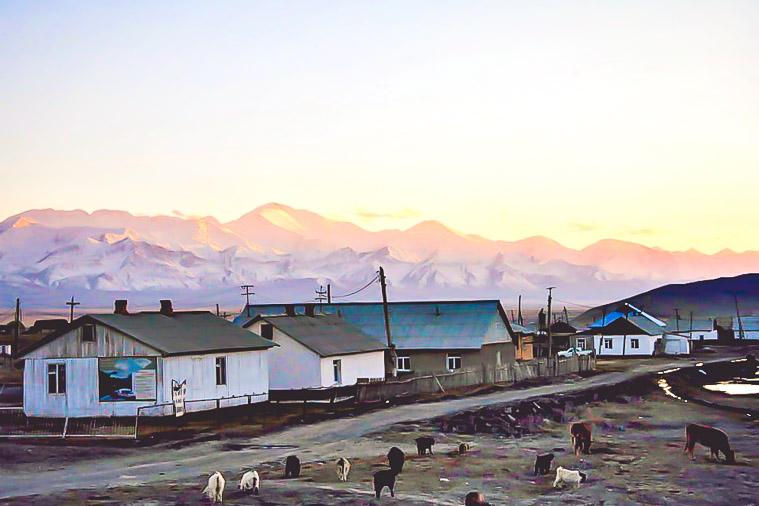 Traveling the Pamir Highway
The acclimating worked. I guess? Okay fine, I was still totally gasping for air when we stopped for a Pamir Highway selfie (just kidding, Sasha took the photo since she hates being in them herself) at 4655 meters (15,272 feet or about half the height of Mount Everest).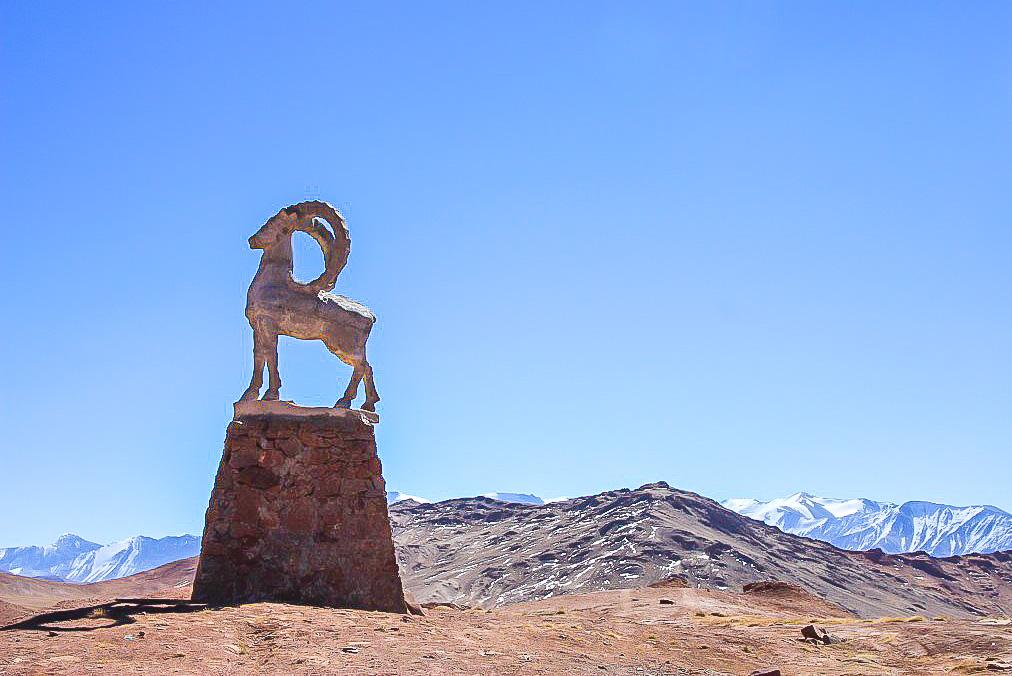 High up on the Pamir Highway, Tajikistan
We crossed the border from Kyrgyzstan into Tajikistan without any problems – well, except for Danielle's butter knife being temporarily confiscated and the border guards demanding beer, vodka, a mysterious $15 fee and copies of our passports.
But with a little bit of chit chat we managed to end up only parting with a pack of the driver's cigarettes. And of course we had to take a few photos – I guess Instagram has even made it up to the Pamir Highway?
See also: An Afternoon in Afghanistan
Karakul, Tajikistan
We spent our first night in Tajikistan in Karakul, a dusty, pretty much totally deserted town. The crumbling stone homes were a bizarre contrast to the gorgeous Karakul Lake they stood next to. Now, we didn't stay in Karakul long enough to get to know it much, but I would love to return someday for those lake views alone. I mean, right?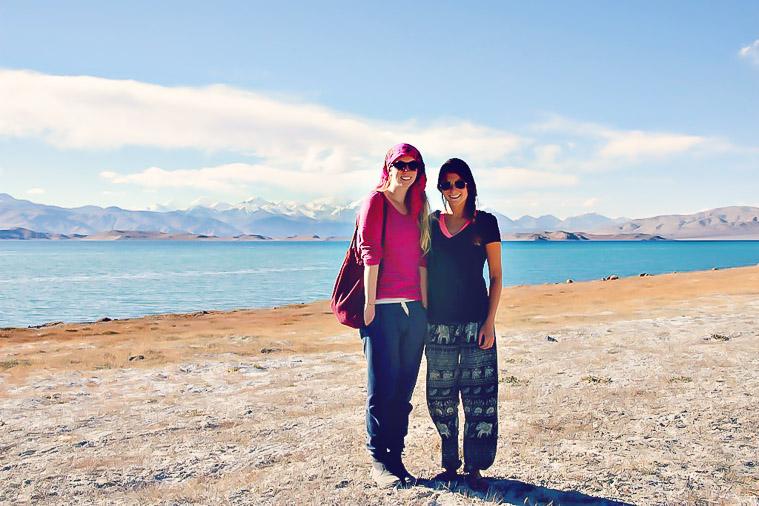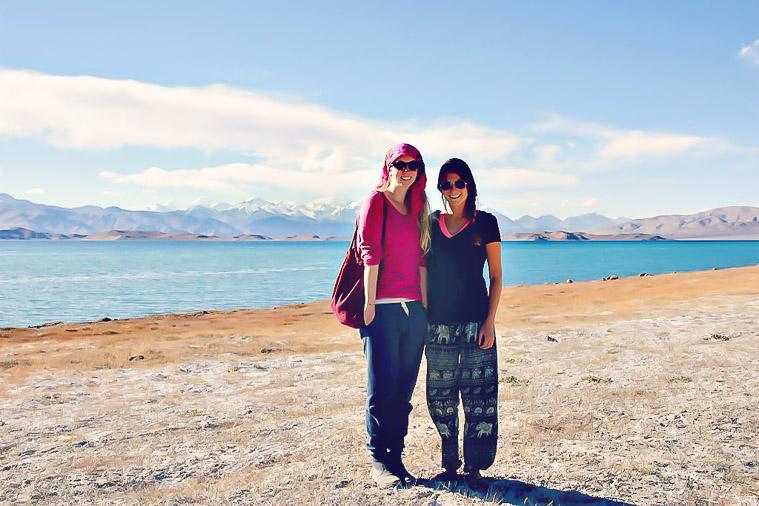 Murghab, Tajikistan
And the second stop on our Pamir Highway Tajikistan itinerary was Murgab, which suddenly felt like we really had made it to Tajikistan, with houses and a landscape that seemed more Afghan than Kyrgyz. We stayed at the Pamir Hotel, which seemed to be the only accommodation in town.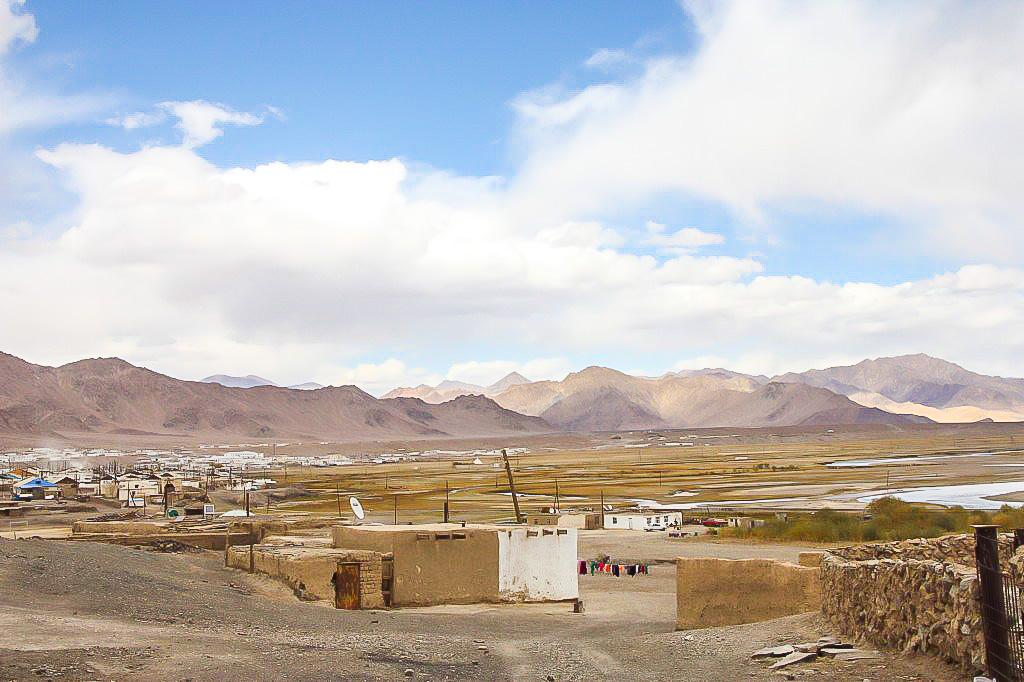 Actually Murghab was exciting. Murghab gave us our first taste of that famous Tajik hospitality that all the backpackers we met who had been to Tajikistan couldn't shut up about. Three police officers offered to give us lunch and show us around town.
"But it's your decision," they kept saying. "Tajikistan is a democracy, so you are free to do as you choose. We are a democracy." I almost asked them how long the dictator had been in power, but I changed my wording to "president" just in time, phew.
Hitchhiking on the Pamir Highway
Still determined to stretch out our $200, we found a free ride down the Pamir Highway to Khorog. Well, sort of free.
The three of us squeezed into the backseat of an old army jeep with two young guys while an old man, "The Boss," and a very muscular (think bodyguard) driver sat up front.
They told us they had been in Murghab for work, though what that work was would remain a mystery, as apparently their profession wasn't part of my Russian vocabulary.
So all we know is that the boss was a big enough deal to be presented with a Tajik flag when we drove through a security checkpoint, and that the driver was tough enough to survive whatever had given him the large knife scar across his neck. And the young guys were… comic relief?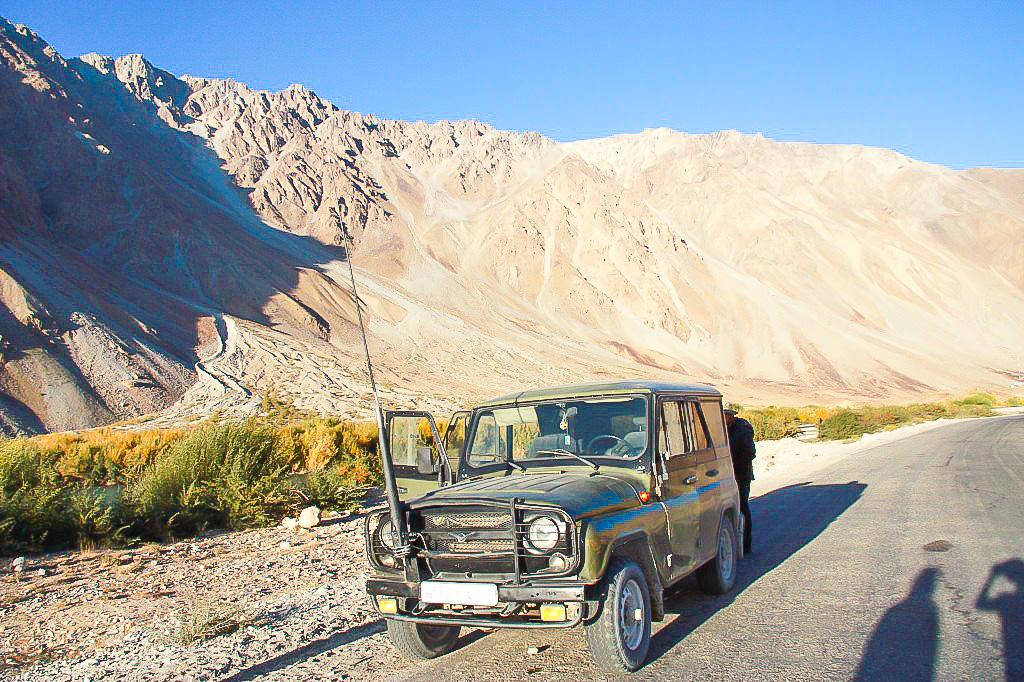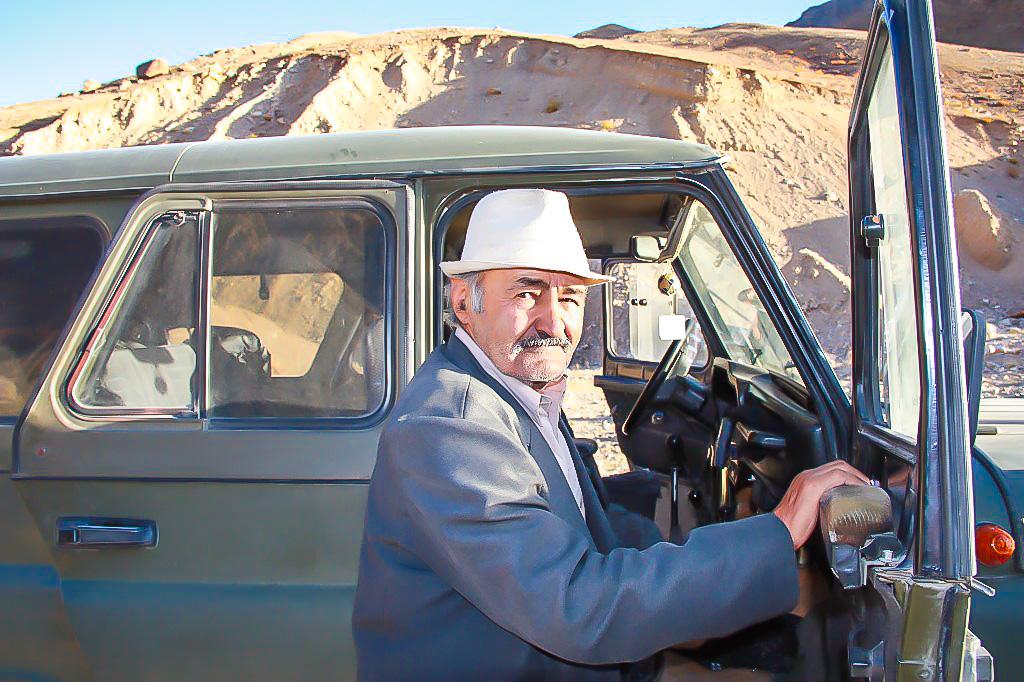 Okay, I'm going to be honest here: I don't think I've ever been more scared while hitchhiking.
Everything seemed strange about the situation, from the bizarre characters to our unexplained stops – first for lunch and then to a hot spring bath, and I worried that I was leading us into an unsafe situation since Danielle and Sasha don't speak Russian so couldn't communicate with our new friends/possible abductors.
And don't get me started on the guys in the back with us, who certainly weren't giving me any comic relief with their continued attempts to get us to share a beer with them (at 9 am on a dirt road? sorry guys, no means no).
But in the end? It turned out the boss was a total sweetheart, who really did just want to treat us to a fancy lunch and an afternoon at one of Tajikistan's best hot spring spas. He even personally walked us to our hostel door at the end of the drive. I only wish I had known they were all harmless from the start, to save me all the nerves during the ride!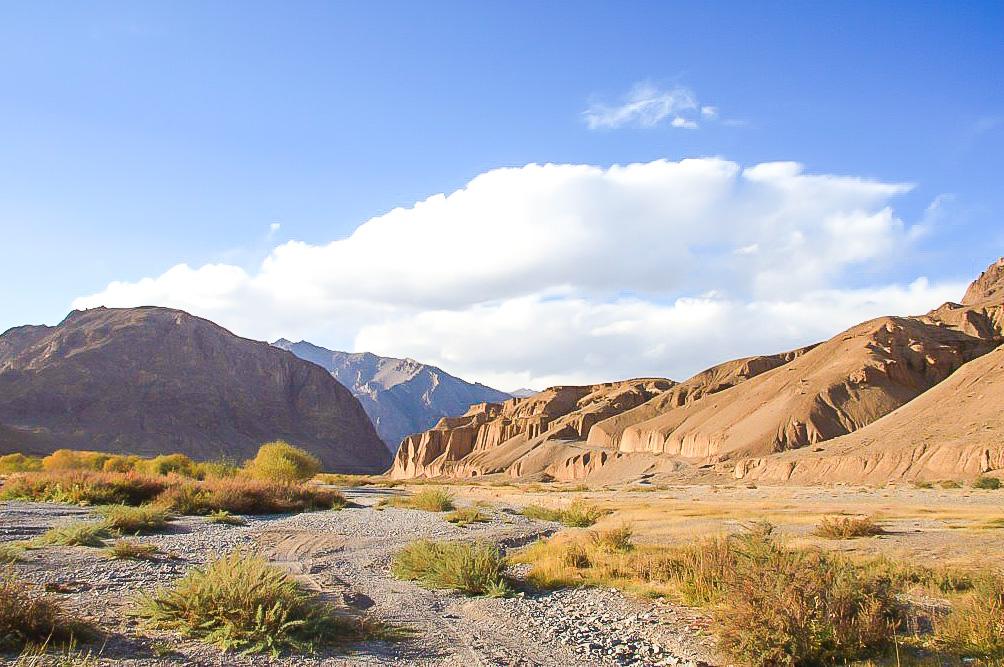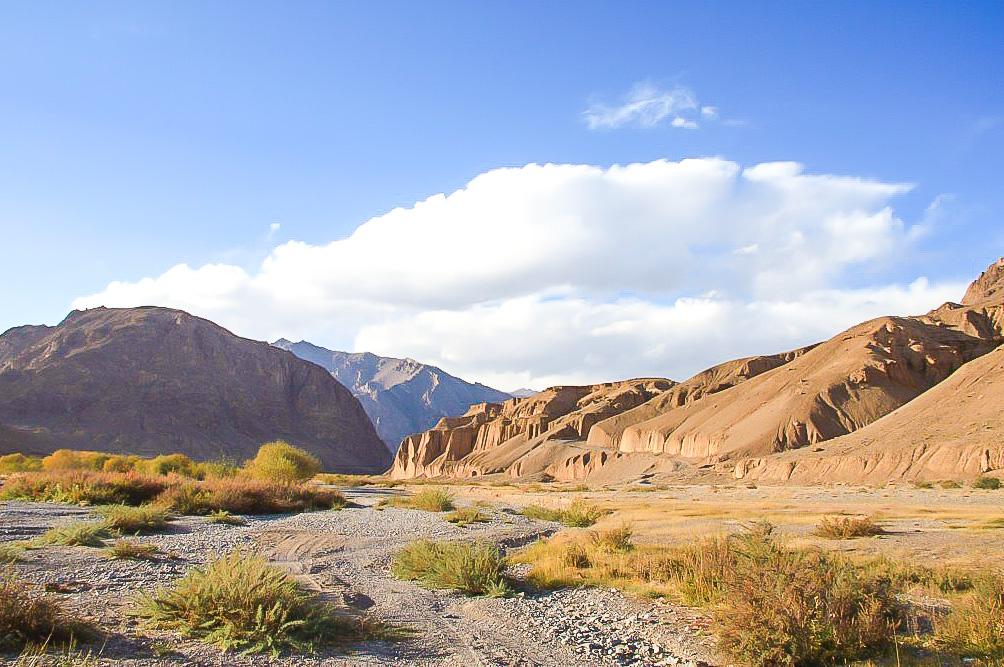 Money spent since entering Tajikistan: $18.
Were the savings worth the scary uncomfortable car ride? That's the hardest question about hitchhiking.
Next up: our adventure in Khorog, Tajikistan!
Travel to Tajikistan was arranged by Osh Guesthouse for $60 per person.
In Karakul our driver arranged a home stay for us for $5 each.
In Murghab we stayed at the Pamir Hotel, where we paid $20 for a triple room (we negotiated a "student discount").
In Khorog we stayed at the Pamir Lodge, which we LOVED. We payed $6 per person for mats in a shared room, but beds are available for $10.
Taking an organized tour of Tajikistan (and Uzbekistan)
Travel through Tajikistan (and all of Central Asia) can be difficult, especially if you don't know any Russian, but I assure you it's worth it! However if you're worried about your trip you can always leave the organizing and planning to someone else and take a tour.
I haven't done this myself, but I've heard back from several blog readers who chose to do Central Asia tours with G Adventures and they loved them. The tours organized everything for them, but I think the best part was seeing the region with a group of likeminded travelers.
The two best options for seeing Tajkistan would be:
Highlights of Tajikistan // this might actually be one of the most cost-effective ways to see Tajikistan aside from hitchhiking. It ends in Tashkent, so you'll also experience a bit of Uzbekistan during this short 6-day tour! Check current tour prices and the full itinerary here
Best of Tajikistan & Uzbekistan // this 15-day tour covers all of the main sites of both Tajikistan and Uzbekistan (more than I was able to see!). This one is actually also incredibly budget-friendly. Check current tour prices and the full itinerary here
Travel Insurance
Guys, please, please do not forget to get travel insurance for your trip to Tajikistan! I always get travel insurance wherever I'm going, but it's particularly important when going through more remote regions like this.
It costs so little, but will save you SO much in the long run – I've had to use my World Nomads travel insurance twice over the course of my travels (once when I got sick and once when my bag was stolen), each time saving me over a thousand dollars. They helped get me to the nearest hospital and all I had to do was send them my receipts and I had a check from them in the mail within a couple of weeks. So easy!
PIN IT!