This is going to make me sound like the Grinch Who Stole Summer, but I had been dreading August for probably the past six months. I know, I know. Like, I know. Watermelon, beaches, suntans, picnics, swimming – summer is awesome! But what I find a little less awesome is times of transition.
A little ironic for a girl who spent the past several years perpetually in transit.
I was really excited to move to Norway, but honestly, I sort of just wanted to skip over the whole finding a place to live, making friends, and finding a job thing. I wanted to have a life in Norway, but the task of actually setting one up felt a little heavy.
But I survived, and today marks the beginning of my second month living in Trondheim, woohoo! And phew. Want to see how I fared? (No but seriously, do you? This is the first time I've written a monthly recap post, so please tell me if this is the most boring thing ever.)
The Exciting
I have an apartment! Who knew a 25 square meter room could make a person so blissfully happy. But I am. It's so nice to have a home again, with a kitchen to cook in and walls to decorate, and it's tiny but I swear it must be the prettiest apartment in all of Norway.
We're on the top floor of the orange building on the hill.
I love Trondheim! So, funny story here. Before we found an apartment Dan and I Couchsurfed with a guy living in Sandmoen, in the southern suburbs of Trondheim. Not to hate on Sandmoen, but it's not exactly the prettiest part of Trondheim, and the bus ride there from the train station is probably along Trondheim's most depressing road. After passing the tenth warehouse Dan turned to me with a pale face and said that we had to move to Ålesund instead.
And for our first week in Trondheim we seriously thought about leaving – until finally we found the center of the city and realized that actually Trondheim is super beautiful!
I made a friend! Okay fine, actually Dan made a friend, in his Norwegian class, but then she became my friend and introduced us to her boyfriend and his friends, so now it's sort of like we have a bunch of friends here! Who would have thought?
The Depressing
I've probably spent a fifth of my life in Norway and my Norwegian is abysmal. I like to think it's my mother's fault for never speaking to me in Norwegian, but actually I think I'm just plain bad at languages. Which is weird because I've studied like ten of them, but how many have I mastered? Zero. I'm like that sad kid who desperately wants to be a ballerina but is too tall and awkward to actually become one. No but actually, I was that kid. WHY COULDN'T I JUST BE SHORT?
Yet just as I stuck with the dance lessons and loved them between my fits of tears, I'm still pretty thrilled to be learning a language again. So many new words! And grammar, how I love thee! So at least it's not all that depressing (except the being a total nerd part).
The Terrifying
I need to find a job, and to do that I have to interview in Norwegian ahhh. So far I've only dropped my CV off at a few shops and no one switched to English while talking with me, but no one gave me a job either. Probably because I was so nervous about my Norwegian that everything I tried to say came out backwards and they didn't know why I was telling them I tnaw a boj (except the Norwegian version of that). 
We still don't have Internet at our apartment. That's not the terrifying part – the terrifying part is how upset and lost and helpless not having Internet makes me feel. What's wrong with me?
The Instagram
I've been trying to Instagram more because each time someone likes a photo it feels like a little ego boost, and I really love ego boosts. This was my most liked photo this month and I'm still feeling a little blissed out over all that love. That's healthy, right?
  Though actually this was my favorite photo I took this month – doesn't it look like something from a cartoon?
The Budget
I'm not sure I'll always keep such close track of my budget here, but I was curious how much I would spend in my first month in Norway.
Rent: 4,800 NOK ($576)
Food: 1,100 NOK ($132)
Electricity: 9 NOK ($1) – they must have read the meter right after we moved in so this is probably the bill for a day, not the full month, but word on the street is electricity is fairly cheap here.
Phone: 199 NOK ($24)
Entertainment: 105 NOK ($12)
Total: 6,213 NOK ($746)
Rent was the biggest expense, which sort of seems appropriate because I've always spent all my money on places instead of things. We could have gotten a cheap apartment in the suburbs in the basement of someone's house, but I really wanted to be in the pretty center! I think it's worth the splurge, and of course it's more affordable since I'm splitting it with Dan. (A few people have asked if I'm going to do an apartment post with pictures and so I've put it on my to blog list!)
Food: I was actually really surprised how cheap food in the super market is here! Wait, let me rephrase that. Most food in the supermarket is crazy expensive, BUT if you stick to store brand products it's surprisingly cheap. Actually, sort of bafflingly so. Like, why is every loaf of bread over $5, but then one loaf (that looks just the same as the others) only $1. How? We also eat lentils for at least 3 meals a week, which is probably the cheapest meal ever, and we've eaten out a total of zero times this month. 
Entertainment: We went to the movies once this month to see Amy, because Dan and Amy Winehouse like, totally kissed at a party once when they were teenagers and he wanted to see if he'd make it into the documentary. He didn't. But it was so good! And so, so sad, I'm still depressed over it.
The Blogs I ❤
You may have noticed three lovely bloggers hanging out in my sidebar this month. I've really enjoyed discovering some new blogs through my blog ads, so I thought I would share a bit more about them with you!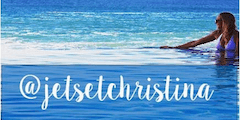 Christina is a recent college living in the San Francisco Bay Area, though she always seems to be jetting off to new countries – she's been to over 50. She blogs at Jetset Christina, but it's her Instagram account that really blows me away. I sort of have a love hate relationship with her Instagram – love because her photos are gorgeous, and hate because they make me super jealous.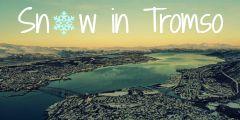 Van is a German native who's doing a master's program in Tromsø and blogs about life in Norway at Snow in Tromsø. She's incredibly frank about the highs and lows of life in the arctic, and I follow her blog extra closely because Dan has a not so secret hope that we'll eventually move to Tromsø. Her Instagram is also one of my favorites because, um, Norway is really pretty! She actually just celebrated her 1-year expat anniversary, so go over and congratulate her!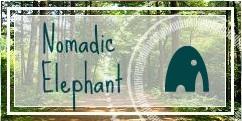 Mary is a fellow New England native blogging at the adorably named Nomadic Elephant. She's a new addition to my Bloglovin' feed, and I love that she writes a lot about Central America, where I have yet to visit! She also posts nearly every day, so there's always something new over at her site. Seriously, what discipline!
So tell me, how was your August?