In winter 1984 Wolfgang Hoppe and Dietmar Schauerhammer of East Germany zoomed down the Sarajevo bobsled track to win Olympic gold.
31 years later it was my turn to come crashing down – into Dan's back after unsuccessfully attempting to balance on the Sarajevo bobsled track wall. Olympic tracks are not playgrounds. 
Okay, so it's not a playground, but then what is it? Because it's certainly no longer looks fit for bobsleds.
I'm sure this isn't the first former Olympic site to fall into disuse (how is Sochi doing these days?) but I can't imagine many are now quite as eerie as the Sarajevo Olympic Bobsleigh and Luge Track.
Because while the abundance of moss and graffiti betray the bobsled track's age and disrepair, the many bullet holes and sniper windows quickly remind visitors that this is not just the site of an Olympic game.
It took Dan and me about an hour and a half to walk up to Sarajevo's old bobsled track (we were told it would take 3 hours, so I'd like to think that we're just super fast and fit, but that somehow seems unlikely). Even if abandoned sites aren't really you're thing, the walk itself is worthwhile just for the beautiful views over Sarajevo.
Plus it's pretty amazing to watch Sarajevo thin out over the steep climb. This must be one of the only countries in the world where you can live in the capital and have haystacks and chickens in your backyard. Um, can I move to Sarajevo, please?
When we reached the bobsled track Dan set off to take 400 photos, while I sat down to dig into a bag of pretzels. Climbing a hill mountain is draining!
We spent about an hour just walking up the track (and taking a billion blog photos, of course) and I found it so hard to imagine it in its Olympic glory. So once I got back to my hostel I had to do some Youtubing back to the 1984 Olympics.
Could this really the same place?
https://www.youtube.com/watch?v=-uhrOnHY3Yc
Bizarrely, it was less difficult to imagine the Sarajevo bobsled track during the Bosnian War. I guess there's a shooting range or something nearby, because throughout most of the walk I could hear gunshots.
Or ghosts?!
Plus, while the track itself isn't so damaged, the buildings nearby the finish line are.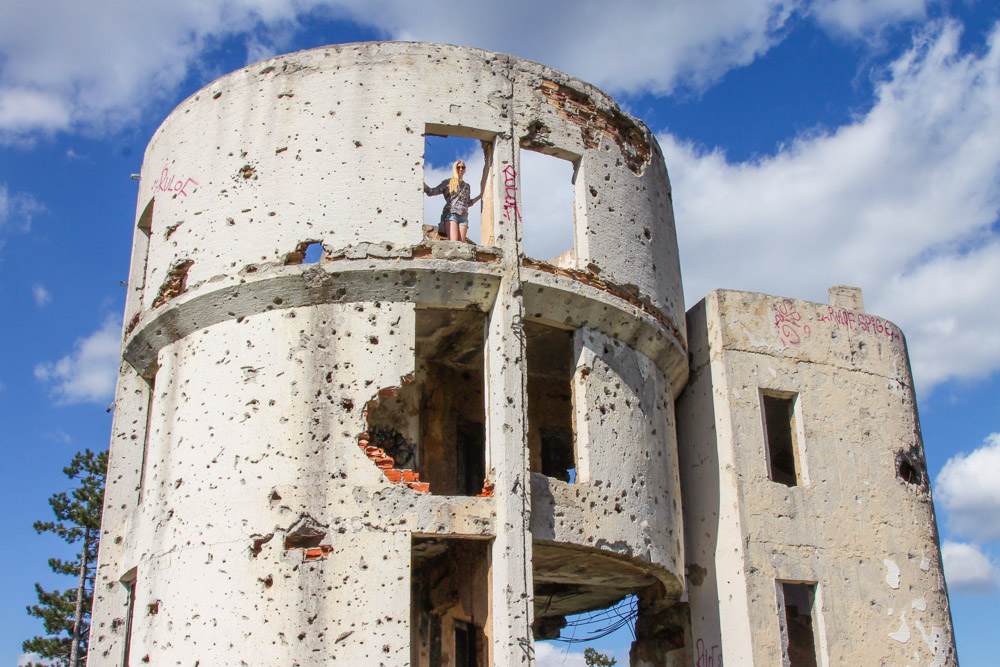 And when we reached the top of the track we walked farther up the hill to find an abandoned restaurant with, in typical Sarajevo fashion, a disconcerting mixture of heartbreaking reminders of the war and absolutely stunning views. You get me every time, Sarajevo.
Like, Sarajevo has definitely made it to the top of my list of favorite European cities. I mean, these views!
How to get to the Sarajevo Olympic Bobsled Track
We simply followed Google Maps on my phone up to the bobsled track, though it probably would have been easy enough to find without a map as well. Just walk straight up from the city center!
Where to Stay in Sarajevo
In Sarajevo we stayed at Travellers Home Hostel which was AMAZING – highly recommended. It's in a beautiful building, and the staff are just so nice and helpful. If you're heading to Sarajevo on a budget you have to stay there! Check current rates and availability here
If you're looking for something a bit fancier than a hostel, then I can also highly recommend Hotel Michele in the old town center – the inside is absolutely gorgeous. Check current rates and availability here
Read also
My article on visiting Sarajevo, including things to do and see in Sarajevo
Breaking into Buzludzha – another abandoned monument, this time in Bulgaria
But What About the Bunkers? – about Albania's 700,000 bunkers (one for every four citizens)
Do you seek out abandoned sites while traveling? Any favorites?