Despite its stunning, practically untouched landscapes, rich culture, low prices, and friendly locals, Kyrgyzstan is often overlooked by travelers. Maybe some people feel put off by the "stan" in the country's name, or quite possibly they simply have no idea what attractions the former Soviet republic has to offer.
Whatever the case, Kyrgyzstan's lack of popularity puts the country in a unique position of offering an abundance of adventures and attractions without crowds of tourists – something that in this global age is becoming quite a rarity!
In fact, after one month traveling through Kyrgyzstan, I can officially say it is one of my top destination recommendations for budget backpackers.
I mean, horse treks through the beautiful Kyrgyz mountains, evenings spent chatting with locals over glasses of fermented mare's milk, overnight stays in yurts, and shopping trips to bustling local markets? Do I even need to finish this blog post?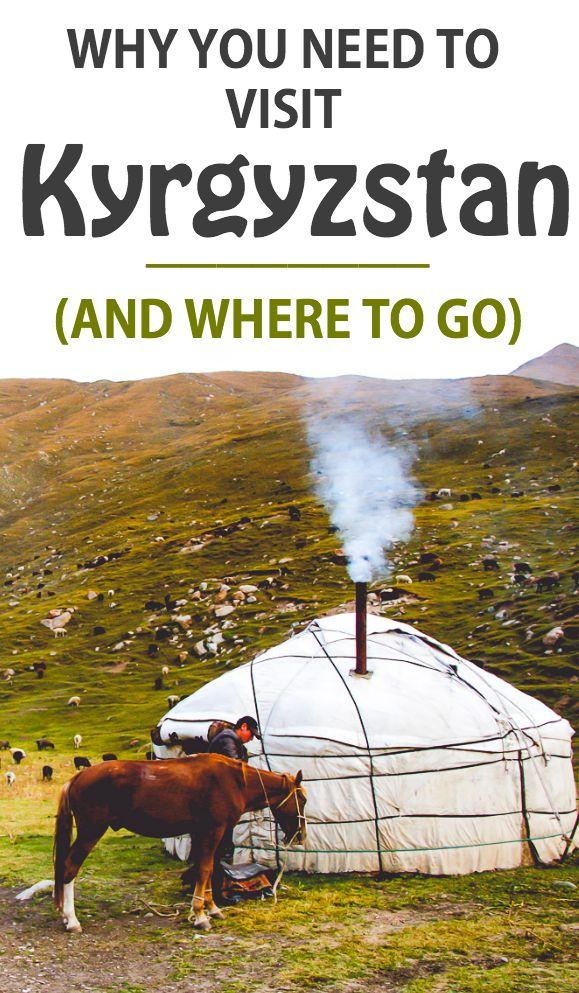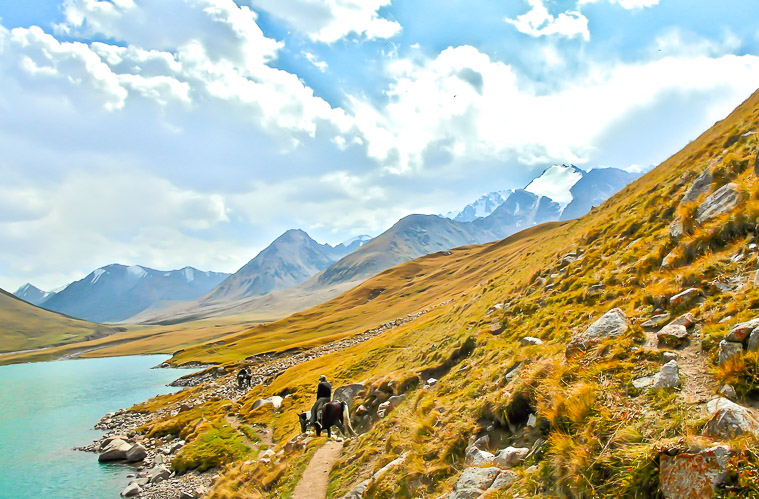 Kyrgyzstan's Culture and People
Kyrgyzstan boasts a proud nomadic tradition. While much of the Kyrgyz nomadic lifestyle was lost during Soviet rule, you'll still see plenty of families camped for the summer in yurts high in the mountains.
This nomadic tradition can also be seen in the local food, which, sorry veggies, is almost wholly meat-based. You'll be offered countless mutton, beef, or horse soups, meat pastries, and plov – a Central Asian favorite consisting of rice, meat, vegetables, raisins, and whatever else the cook may have had lying around.
People are warm and welcoming, always referring to foreigners as "guests" instead of "tourists." If you don't speak any Russian, language will be a bit of a barrier, as generally only youth in urban areas speak English, however this won't deter locals from smilingly offering you a cup of tea.
And if you can't seem to communicate at all with them, take this as an opportunity to flip through your camera and show off the photos you took of their beautiful homeland. They will be excited to see that you share their enthusiasm for Kyrgyz nature and will probably ask you to do a photo shoot with them!
Must See Destinations in Kyrgyzstan
Sary-Tash
If you're entering Kyrgyzstan overland from China or Tajikistan, the small village of Sary-Tash will be your first stop. Set high up against snowy mountains and filled with roaming horses and cows, Sary-Tash makes for the perfect introduction to Kyrgyz culture. Here you'll have the opportunity to take treks up into the mountains, sample traditional fermented mare's milk, and maybe even milk a cow! (SPOILER: milking a cow is hard)
There is a yurt camp guest house in the center of the village, or you can simply ask around for a place to stay (mime sleeping if you don't speak Russian!) and you'll be directed to a family willing to host you for the night.
Arslanbob
A small town in Kyrgyzstan's Jalal-Abad province, Arslanbob proudly boasts producing Kyrgyzstan's first (known) export to Europe: the Arslanbob walnut!
While the town's walnut forest offers the perfect setting for a tranquil afternoon stroll, Arslanbob has more to offer than just its famous nuts. The town's Community Based Tourism (CBT) center has established several trekking routes through the surrounding hills and valleys, and in the winter the town is a growing destination for cross-country skiing!
The CBT also sets up cheap home stays with local families, so make that your first stop on arrival and you should be set!
Read also: Get Off the Path: Complete Guide to Arslanbob, Kyrgyzstan
Issyk Kul
A favorite vacation spot for Kyrgyz, Kazakh, and Russian tourists, Issyk Kul is one of the largest alpine lakes in the world, second only to Lake Titicaca in Peru/Bolivia. Here you can spend the night in a yurt in one of the many villages surrounding the lake. Wake up early for a refreshing dip in Issyk Kul's crystal-clear water and take photos of the Kazakh mountains rising up behind the glistening lake!
A trip to Issyk Kul also warrants a stop in Karakol, a city near the eastern tip of the lake. Karakol offers a wealth of activities for tourists, including trekking, skiing, and Russian-style spas.
Where to stay in Karakol
If you're going to Karakol then you HAVE to stay at Askar Guesthouse – and tell Askar I say hi! You won't regret it, I promise. Check current prices and more details for Askar Guesthouse
Kochkor
While this small dusty town might not look like it has much to offer tourists, Kochkor makes for the perfect base from which to head up into the mountains to see the enchanting Song Kol lake. Organize a horse trek to the lake with an overnight stop at the yurt of a family of nomads for a truly authentic Kyrgyz experience! But be prepared to be very sore the next day.
Where to stay in Kochkor
My top recommendation for a hotel in Kochkur is Nur Guesthouse, which has clean and comfortable rooms and an ideal location. Check current rates and more details about Nur Guesthouse
Bishkek
With its limited historical attractions, Kyrygzstan's capital city might seem unimpressive at first, however it offers a unique glance into Soviet-era Kyrgyzstan. The city is set on a grid with wide boulevards, countless statues, and imposing Soviet-style buildings.
Bishkek might not ooze charm, however it does boast an active nightlife. Just know that things can get a little crazy late into the night!
Speaking of violence, if you're lucky enough to be in Bishkek at the end of August for the Kyrgyz Independence Day celebrations, head to the Hippodrome to enjoy an exciting (and shockingly violent) game of buzkashi (Ulak Tartysh in Kyrgyz), or goat-carcass polo. That's right – polo played with the headless carcass of a goat! I basically hid my face in terror for most of the match, but maybe you're braver than I am (you are).
Genghis Khan devised the sport, though legend has it that he preferred to use an actual human carcass for the ball. The game continues to be popular throughout Central Asia, and lives up to its violent roots. In fact, a Tajik buzkashi match in 2001 killed twenty-two people, and for years the sport had been banned in Afghanistan by the Taliban. The Kyrgyz version is a little tamer, but certainly not an event to be missed while visiting the country!
Where to stay in Bishkek
I loved the Sakura Guesthouse in Bishkek, though I did end up with bedbugs there! So my top hotel recommendation for Bishkek actually comes from a friend who says Interhouse Bishkek is amazing. Check current prices and availability at Interhouse Bishkek here
Osh
Osh is Kyrgyzstan's second largest city and at more than 3,000 years old, it is also the country's oldest. Lying against the border to Uzbekistan, Osh marks an important center for silk production along the Silk Road and is still today home to the largest outdoor market in Central Asia, the Great Silk Road Bazaar (commonly referred to as Osh Market).
Head straight to the bazaar, where you can by traditional Kyrgyz hats and eat EVERYTHING. The shashlik (meat kebabs), soft serve ice cream (the world's best), and samsa (meat pastries), are all to die for!
Where to stay in Osh
While Kyrgyzstan is great for home stays, in Osh I would definitely book a stay at the Osh Guest House, which is amazing and a hub for backpackers in the area. Check current prices and availability at Osh Guest House here
Taking an organized tour of Kyrgyzstan and surrounding countries in Central Asia
Travel through Kyrgyzstan (and all of Central Asia) can be difficult, especially if you don't know any Russian, but I assure you it's worth it! However if you're worried about your trip you can always leave the organizing and planning to someone else and take a tour.
I haven't done this myself, but I've heard back from several blog readers who chose to do Central Asia tours with G Adventures and they loved them. The tours organized everything for them, but I think the best part was seeing the region with a group of likeminded travelers.
The two best options for seeing Central Asia would be:
The Best of Kazakhstan & Kyrgyzstan // this is a 9-day trip that actually covers more of the two countries than I managed to. I would love to go back and do this very trip someday! Check current tour prices and the full itinerary here
Central Asia Adventure – Almaty to Tashkent // this is the ultimate Central Asia tour, taking you through Kazakhstan, Kyrgyzstan, Tajikistan, and Uzbekistan in 14 days. I love that this one covers so much ground while still spending time in each place, and one reader wrote back to me after doing this tour saying it changed her life, so it must be good! Check current tour prices and the full itinerary here
Travel Insurance
Guys, please, please do not forget to get travel insurance for your trip to Kyrgyzstan! I always get travel insurance wherever I'm going, but it's particularly important when going through more remote regions like this.
It costs so little, but will save you SO much in the long run – I've had to use my World Nomads travel insurance twice over the course of my travels (once when I got sick and once when my bag was stolen), each time saving me over a thousand dollars. They helped get me to the nearest hospital and all I had to do was send them my receipts and I had a check from them in the mail within a couple of weeks. So easy!
You can get a quick quote for your insurance here: