Osprey Ozone Convertible 28"/75L Wheeled Backpack
Quality

Looks

Comfort

Ease of packing + unpacking
Summary
I am officially converted to wheeled backpacks! I searched far and wide for the best wheeled backpack for travel, and I really think that this is it.
I love that it packs and unpacks like a suitcase (I always found backpacking backpacks really hard to keep organized), it's very lightweight as far as wheeled backpacks go, it's big enough for long trips, and it's actually quite comfortable when worn as a backpack.
Guys, this backpacker has converted to wheels! Don't worry, I still heart my backpack, but my new backpack just happens to also have wheels. I searched high and low (I literally searched for months) for the best wheeled backpack for travel, and I'm pretty sure I found it in the Osprey Ozone Convertible 28″/75L backpack.
I had been hearing more and more about wheeled backpacks from other travelers, and in the past year or so they've started appearing way more often in hostels. And yes, I'm nosey and asked everyone with a wheeled backpack what they thought of it, and if they'd recommend my getting their model or a different backpack with wheels.
I actually first heard of the Osprey Ozone Convertible backpack from a girl who had a different Osprey wheeled backpack (I think she had the Meridian version?) and she said that she had met someone else at a hostel with the Osprey Ozone wheeled backpack and that it was way lighter but nearly as big as hers.
And I was sold.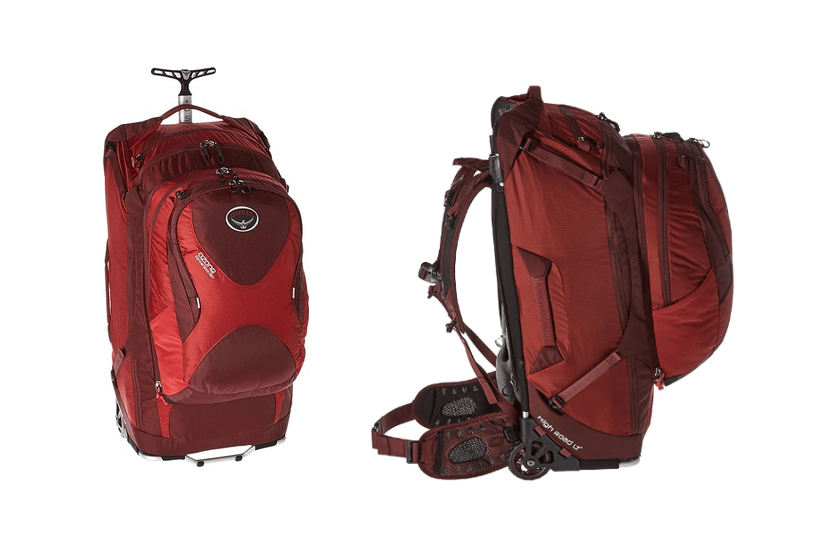 I've had my Osprey Ozone wheeled backpack now for a few months (stay tuned for photos of me with it in Portugal!) and I am already telling every backpacker I know to get one. I hadn't realized how rarely I would actually need to carry my backpack – mostly I just drag it around on the wheels like a suitcase – but I also love that when I do need to pick it up and carry it somewhere, it isn't too heavy and actually sits really comfortably on my back.
I mean, I wouldn't necessarily recommend taking this on a multi-day hiking trip when you know you'll be carrying it the entire time, but I've also had no problems when I've had to carry it.
I will say, however, that this is a high-end backpack, and while that means that it truly offers top quality and comfort, it's also also pricey. So if you're only going on a short trip or two a year you probably don't need to invest in the Osprey Ozone Convertible backpack.
But if you will be using this backpack a lot, then I think it absolutely is worth the investment. My first ever backpacking backpack cost $50 on Ebay and it seriously killed my back. The hip strap broke halfway through my 4 month trip through Central Asia, so for two months I was carrying all the weight on my shoulders, which took quite a toll on my body.
When you think about how important your back's well-being is, it's definitely worth spending a bit of extra money on it – especially for a piece of luggage that you can use for years and years.
Check current prices for the Osprey Ozone Convertible here
My unbiased Osprey Ozone Convertible 28″/75L wheeled backpack review
I am not working with Osprey and was not compensated for my review – I bought my backpack myself and am writing about it because I genuinely love it!
Things I love about the Osprey Ozone backpack
The size
You can get the Osprey Ozone Convertible in a smaller 50L version that is small enough for carry on, but since I go on longer backpacking trips 75 liters is perfect. Any bigger would become too heavy for me to carry easily, while if this were smaller I don't think I'd be able to fit enough stuff in it – especially for long term travel through different climates!
The detachable day pack
The detachable day pack is super useful, especially when I take my bag on bus or train rides where I'll want to access some of my stuff while storing the big backpack. It has a laptop sleeve that fits my MacBook nice and securely, and functions well on its own as a daypack.
I've actually also just detached the daypack and left it at home on trips where I know I'll want a sturdier/bigger daypack and that way I can lose some of the bulk of this backpack too. Other times I'll just always keep it attached to the backpack as a separate compartment for things. So yes, it's super versatile.
The wheels
Wheels always seem to be such an issue with luggage – I've seen so many people struggle with flimsy or broken wheels, or just wheels that don't wheel smoothly – so I love that the wheels on this are so durable and well-built. It might not be a huge consideration when looking at wheeled luggage, but it actually can make a huge difference!
The color
I have the red version and it's really nice to have a bright color to easily spot my bag places. Though since this isn't a typical suitcase shape, even if you did have the black version you'd be able to easily find it at baggage claim. I also just think this bag looks really good!
For some reason so many backpacking backpacks come in ugly colors (seriously, who is designing these?), so I really like having this pretty red color with the bright green interior.
Price
Okay, this backpack isn't exactly cheap, but when I bought it it was the cheapest of the Osprey wheeled backpacks, and it is quite affordable when compared to other top brands of wheeled backpacks. Of course you can also definitely find cheaper wheeled backpacking backpacks, but they probably won't be made by such a reputable brand so you'll end up sacrificing on quality.
Check current prices for the Osprey Ozone Convertible here
The shoulder and hip straps
A lot of wheeled backpacks seem to be built to primarily to be dragged around on wheels, with the shoulder straps just as an option for special circumstances. I've seen some brands where the backpack is incredibly uncomfortable when you put it on (yes, I did ask random people in hostels if I could try on their backpack!).
That's not at all the case with the Osprey Ozone Convertible backpack. It really fits like a proper backpack, with comfortable shoulder and waist straps. I think the only real difference I notice when having it on compared to a traditional backpack is that this one is a little bit heavier because of the wheels.
I also really like that the shoulder and waist straps stay attached to this backpack and are just tucked away when not in use. This makes it really easy to convert the bag into a backpack in unexpected situations where you suddenly need to carry it. A lot of the wheeled backpacks I looked at (including the other versions by Osprey) have detachable straps, which are a pain to reattach, and mean that you could end up leaving them at home when you think you won't need them, but then be out of luck when it turns out you do!
Customer service
I haven't actually had to contact Osprey for customer service, but they have a reputation for being amazing. This is actually one of the big reasons why I decided to go with an Osprey wheeled backpack. If anything happens to your bag just let them know and they'll replace or fix it (at least if you buy through Osprey on Amazon). They guarantee to fix any damage or defect for any reason, regardless of when you purchased the bag. So basically this backpack will last you for life!
When investing in an expensive piece of gear, a guarantee from the brand is a big relief.
It's easy to pack
I love that the top unzips so you can see all your stuff and pack the bag like you would a suitcase. Most backpacking backpacks only load from the top and bottom, which makes it really hard to find your things. This feels like traveling with a suitcase, which is so much easier to keep organized.
Things I don't like about the Osprey Ozone backpack
I honestly don't think I'd really change much of anything about this backpack, but I can try to nitpick!
It sometimes falls over when the daypack is attached
Unless I'm careful to pack all my heaviest items at the bottom and lightest on top, the backpack tips over pretty easily while standing. This means that when I'm standing in line somewhere I have to hold onto the handle, or if I set it somewhere I often have to lean it against something.
However I think part of the reason for this is probably just that the frame is so light, so it doesn't have a lot of weight to balance against the stuff that I've packed. And since I'm not super strong, I'd rather have a light frame than a heavier bag that doesn't tip over.
The daypack is quite small
Again, it probably wouldn't make sense to attach a giant daypack onto the backpack, but it's worth noting that the detachable daypack isn't huge. It really is just a daypack – it fits the stuff you'll need for a day out somewhere, but not much more.
Osprey Ozone Video Review
And here's a video review of the Osprey Ozone Convertible:
Comparing the 3 Different Osprey Wheeled Backpacks: Ozone, Meridian, and Soujourn
Osprey actually makes three different full-sized (75-80L) wheeled backpacks: the Ozone, Meridian, and Soujourn. So while I quickly decided on getting an Osprey (largely due to the Osprey guarantee), it did take some research before I decided that the Ozone version was best for me.
The Osprey Ozone Convertible vs Meridian Wheeled Backpack
If you're wondering how to choose between the Osprey Ozone vs Meridian backpack, this is what made me choose the Ozone:
When I ran an Osprey Ozone and Meridian comparison, the main two differences were weight and whether or not the shoulder and hip straps were detachable.
The Osprey Ozone Convertible 28″/75L backpack weighs 6.93 pounds (3.14 kg), while the Osprey Meridian 28″/75L wheeled backpack weighs 9.26 pounds (4.2 kg). The reason behind the Meridian's added weight is supposed to be extra durability, but honestly, considering that Osprey while repair any damage to my bag anyway, I felt like this wasn't really worth the added weight.
And I think I was right. My Osprey Ozone is already incredibly durable – I would actually be really surprised if it ripped or the wheels damaged anytime soon.
The other difference between the Osprey Ozone and Meridian wheeled backpacks is that the Ozone's shoulder and waist straps just slide out of a zipped compartment on the bag, while the Meridian's are fully detachable. In theory having detachable straps could save some space and weight (though not as much as the difference in weight between the two), but I actually really like that my straps are always there, because already I've had to use them at times when I haven't expected to.
The Ozone also comes with a suspension system, so I think it's probably better for carrying than the Meridian.
My Ozone was quite a bit cheaper than the Meridian when I bought it, which was an extra bonus.  The only thing really that I like more about the Meridian version is that it comes in blue.
Check current pricing for the Osprey Ozone Convertible here
Check current pricing for the Osprey Meridian here
The Osprey Ozone vs. Soujourn Wheeled Backpack
The main difference between the Osprey Ozone vs the Soujourn is the size. The Soujourn is 80 liters instead of the Ozone's 75 liters. The Soujourn also has some extra hooks for clipping things on the bag, as well as a detachable ventilated suspension system that is more advanced than the Ozone's suspension system.
While the Osprey Ozone weighs 6.93 pounds (3.14 kg), the Osprey Soujourn weighs 8.97 pounds (4.07 kg), which is quite a bit more. And again, the Soujourn's shoulder and waist straps detach, while the Ozone's do not (but like I said before, I actually like that they aren't detachable).
The Soujourn doesn't come with a detachable daypack, so if you need a daypack too you'll have to buy it separately and clip in on the bag.
I might go for the Soujourn over the Ozone if I knew I were going to be wearing the bag as a backpack a lot, but I'm now really happy that I went for the Ozone instead, because I really don't use the backpack function so often. Plus I love having the detachable daypack.
At the time I bought my Ozone backpack it was cheaper than the Soujourn, but only slightly (though again, if you want a daypack with the Soujourn you'll have to buy it separately).