Quality

Looks

Comfort

Ease of packing + unpacking
Summary
The Deuter ACT Lite 65 + 10 Liter backpack is perfect for long backpacking trips. It easily fits enough clothing and gear for long term travel (through multiple seasons!) without getting too heavy. The clever construction eases the weight off the back, making it possible to carry for long stretches without discomfort.
[easyazon_link identifier="B00SHYKZEC" locale="US" tag="heartmybackpa-20″]Click here for latest prices[/easyazon_link]
I used the Deuter Aircontact Lite 65 +10 Liter Backpack for two huge round the world trips and it never failed me. Guys, this backpack is perfect for long term backpacking trips.
Let me rewind a bit.
From July to November 2013 I backpacked across Southeast and Central Asia with a $50 backpack that I had ordered on ebay. It was horrible. By the end of the trip the waist belt had broken and it was literally held together by duct tape. But what's worse, I finished that trip with back problems that would continue to plague me for months.
So when in early 2014 I started to plan another round the world backpacking trip – one that would take me through multiple climates – I knew I had to do some serious research to find the perfect bag. And I did a lot of research. And this was the clear winner.
Well, first a Deuter backpack was the clear winner, as Deuter just kept getting the best reviews across the board out of all the backpack brands I looked at. But Deuter makes a lot of different backpacks, and after even more research I decided on the Deuter ACT Lite 65 + 10 Liter Backpack.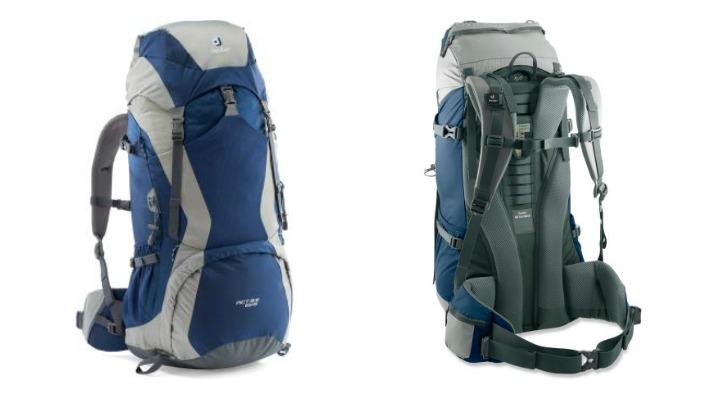 After months of backpacking and a lot of discussion with other seasoned backpackers, there were a few things I knew I needed my backpack to have:
Top + bottom loading
My first backpack only loaded from the top, which made it so easy to lose my belongings at the bottom of the backpack. This pack opens from the bottom as well, so all my gear is easily reachable. There's also an optional flap that you can zip to section of the bottom area from the rest of the backpack, which is handy if you want to keep dirty clothes separate or separate out your belongs for better organization.
Lightweight backpack
As light of a packer as I try to be, I'm still going to be bringing a lot of stop on long backpacking trips, so I definitely didn't want to add extra weight with my backpack. The Deuter Aircontact Lite weighs almost nothing (3 lbs 14 oz – way less than a lot of other similar sized backpacks), and more importantly, it sits so well on my body that I swear it makes the load lighter.
It's pretty amazing, and exactly what I needed to give my poor back some relief.
Slimming straps
I've mostly used this backpack on long trips, but sometimes I go on shorter 2 or 3 week trips where I don't really need such a giant pack. What I love about this Deuter backpack is that it's fully adjustable, so you can slim the backpack down and even bring the top down to make it shorter, so it essentially becomes a much smaller backpack appropriate for short trips as well. And because it's so lightweight, there's really no reason to buy another smaller backpack.
Lots of pockets
It's hard to keep all your gear organized on long trips, but having lots of pockets and compartments makes organization so much easier!
My favorite part of this backpack is probably the top 10 liter compartment, which clips off AND has a zippered pouch underneath. It's my secret weapon for keeping my stuff organized. I also love the little zippered pouch on the waist belt, which is perfect for keeping track of really tiny accessories which could otherwise get lost in the giant backpack.
Back ventilation
Carrying a heavy backpack on hot days can be rough, and with my old backpack I was always a bit embarrassed to take it off because back would always be drenched in sweat. Gross.
So I love that this Deuter backpack has back ventilation pads, which keep airflow even when the backpack is fully loaded and I'm carrying it on a hot day. I haven't had to deal with a sweat-stained back at all with my Deuter!
Quality build
No duct tape for this backpack! I've dragged it through some pretty rough conditions and have never seen so much as a tear on this thing. Deuter backpacks are known for their quality build, and the Deuter Aircontact Lite is no exception. The quality of the fabric is amazing, and it really seems like it's going to last forever.
Size
Someone stronger might be able to take a bigger backpack, but for me the 65 liters with the extra 10 liter addition is the absolute perfect size for backpacking. I mean, I could happily pack more things, but this size ensures that I don't overpack and can still easily lift my backpack and carry it for extended periods of time.
It's also large enough that I can pack everything I need, even when traveling through multiple climates, including cold winters where I'll be needing lots of thick sweaters and winter gear. I mean, I used this for a 5 month trip that took me through winter in Mongolia and Siberia and summer in the Balkans. That's a lot of stuff to pack!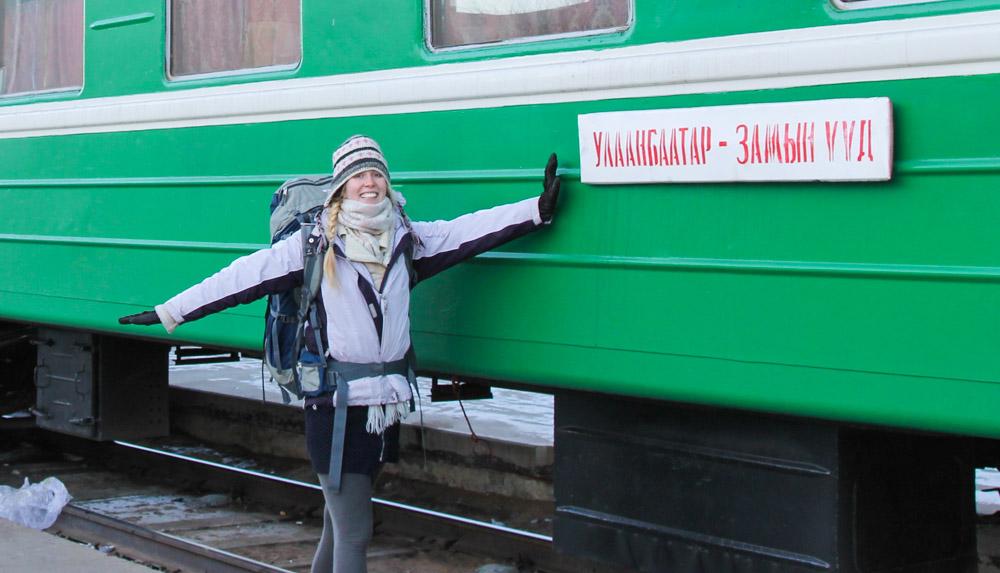 Affordability
I had learned my lesson about investing in something as important as a backpacking backpack, but hello, I'm still a backpacker – I can't go spending $800 on a bag!
Luckily the Deuter backpacks are super good quality AND affordable, so price wasn't a huge issue for this bag. Click here for current prices
Here's a video review of the backpack:
Possible improvements
I do love this backpack and won't be replacing it anytime soon, but of course there are a few things I wish it had.
Style // Okay, most backpacking backpacks simply aren't super stylish, I get that. I do wish this Deuter backpack came in more colors and looked a little less sporty (yes, I'm a girly girl!), but the blue is a really nice shade and not at all garish like a lot of the other backpacking packs on the market.
Waterproof // This backpack is water resistant, which in most cases is all I need, but a few really heavy downpours have left some of the clothes closer to the outside of my backpack a bit damp. If you're going to travel through very wet climates you'll need to get a quality rain cover for this backpack.
Backpackers love to compare their gear, and I'm proud to say that my backpack is always getting praised by other travelers. In fact, a friend that I traveled with ended up buying her own Deuter Aircontact Lite, which I think is the best testament to how awesome this Deuter Aircontact Lite backpack really is! Check current prices here