May 2016 Travel Blog Income
$320 – sponsored posts
$170 – affiliate links (mostly automatically placed links through Skimlinks)
$62 – Passionfruit Sidebar Ads
$269 – Mediavine
Total Income: $821
I'm so happy I switched to MediaVine last month! I made way more than I used to with my ads, plus I just love how transparent they are about the whole process. I had an RPM of $4.19 with MediaVine (meaning I made $4.19 for every 1,000 blog hits). Plus the Facebook group for MediaVine publishers has given me loads of helpful blogging advice beyond advertising. It just seems like a great community to be part of.
My affiliate and blog sponsor income was about the same this month, which I was really happy to see. I especially love how passive affiliate income with Skimlinks is, since I don't even have to convert my links to affiliate ones – they do it for me for any links to programs they're a part of. So easy.
May 2016 Travel Blog Traffic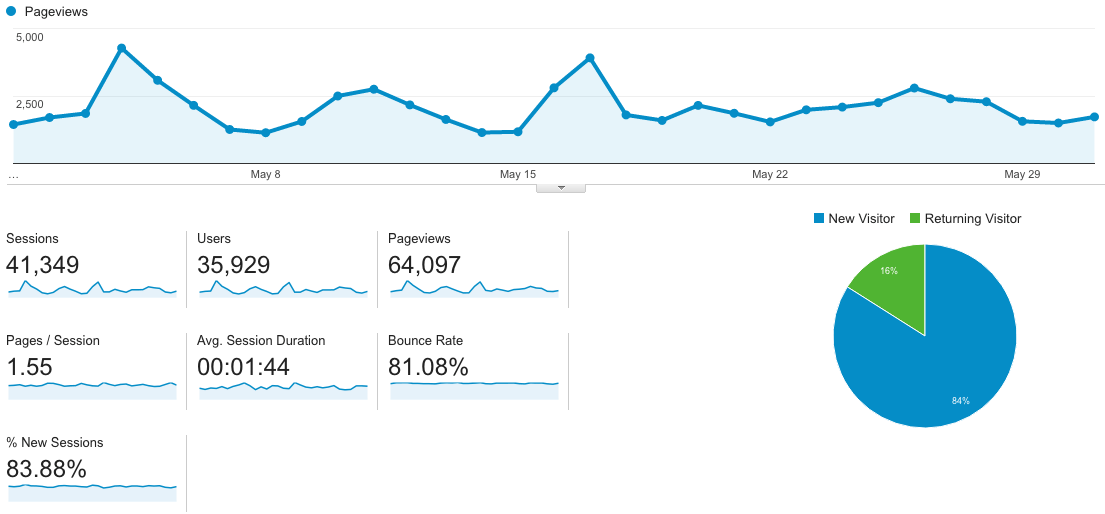 While I wrote it at the end of April, 7 Ways Norway Isn't As Expensive As You Think, continued to get tons of traffic this month. Those spikes in traffic you see on the graph are from when two big Norwegian Facebook pages shared the post – woohoo!
And of course Pinterest continues to send me the bulk of my traffic. (And for those of you wondering how I optimize Pinterest, I made an entire ecourse explaining all my Pinterest strategies and tricks!)
Travel Blog Resources
I'm copying this text from my last travel blog income report because my resources were the same this month!
HostGator: If you want to run ads on your blog you'll have to pay for hosting (so you have your own dot com). I use HostGator, which is one of the cheapest hosting options with plans starting at $3.95/month, but I've been really impressed with their reliability. I've never had issues with them, and as an added bonus my site became much quicker when I switched to them from GoDaddy.
Travel Blog Success: If you're a travel blogger than you've probably heard of Travel Blog Success. I have some mixed feelings about the course, as a lot of the lessons are written by people who started blogging ages ago and so many of their tips don't really work that well anymore. But their Facebook group is gold, as some of the biggest travel bloggers are part of it and happy to dish out advice and answer all your questions. Worth the price of the course alone if you ask me.
Travel Blog Monetization Summit: I've mentioned this summit before, and I am still so, so happy I signed up for it. It's full of concrete, actionable advice for monetizing a travel blog. Their SEO and affiliate marketing modules were especially helpful for me. I'd say this is the best travel blog monetization course out there right now, for sure.
This post contains affiliate links for products and tools I personally use and love.